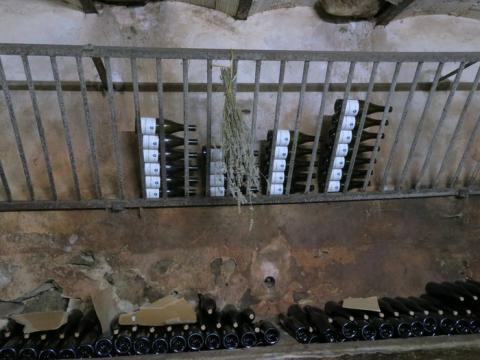 TWO ROUTES LEADING TO THE NORTHERN RHÔNE, NEITHER BEARING A SILVER SPOON
DECEMBER 2017
Starting up as a vigneron in the northern Rhône is extremely challenging these days. The surge in interest of the last five years has led to unparalleled prices for old wines; what I might term "the ELVIS SYNDROME" has led to bottles such as the 1991 NOËL VERSET CORNAS being offered for sale at £746 per bottle [reduced from £785 in the Christmas sale] at FINE + RARE.
Beyond the grave, the work of these past masters is being more than fully recognised in the second to fifth hand market. However, land prices for vineyards are rising all the time, the barriers to entry of anyone lacking a family connection, nor holding large sums of capital, or access to large sums of capital, are vertiginous.
With planting rights much loosened from 2018, there has already been something of a stampede to plant in an appellation such as SAINT-PÉRAY. There, around five to eight hectares of new plantation rights have been permitted over the past three or four years. The people pouncing on these rights tend not to be young debutants, which one would like to see, but the already major players such as CHAPOUTIER, where ready access to funds or lines of credit is immediate and comprehensive. The same will happen to the plain areas to the east of the CROZES-HERMITAGE appellation in the coming years: it's worth paying a top dollar price for modest fruit lands now, in the knowledge that vineyards will soon be allowed.
I recently visited two recent newcomers, neither of them a fresh faced twenty year old, who have approached their challenge in slightly different ways. JEAN-BAPTISTE SOUILLARD's parents were agriculteurs at ANDANCE, a pretty village on the RHÔNE possessing a famous MARC SEGUIN suspension bridge built in 1827, the same year that JEAN-BAPTISTE's great-grandfather PAUL built his cellar and stables.
From 2014 he has purchased harvest, using contacts established while he worked for several years with JEAN-LUC COLOMBO's oenologue service. Having made wine in AUSTRALIA, NEW ZEALAND, BURGUNDY and BORDEAUX before a Masters at DIJON, he is clear on what will work for him – and that does not include investing large amounts in land. He vinifies and bottles a range of 16 different wines from VIN DE FRANCE on to CORNAS and CÔTE-RÔTIE via SAINT-JOSEPH, the sums per wine usually between 500 and 1,000 bottles, and the wines mostly plot-specific.
Aged 35 and formally trained, JEAN-BAPTISTE vinifies in the rugged 1827 cellar and has novel storage facilities there, including using old mangers for horses and cattle for some of his bottle stock. He has swiftly established exports as a prime part of his model, with the USA, SCANDINAVIA and HONG KONG already on board.
SÉBASTIEN BLACHON's father-in-law was a CO-OPERATEUR at TAIN. Starting in 2009, when he made one cask of wine, SÉBASTIEN set out to buy, rent and plant land, all at the high quality SAINT-JOSEPH village of ST JEAN-DE-MUZOLS just north of TOURNON, like ANDANCE in the ARDÈCHE. In 2016 he took over a 0.7 hectare SYRAH plot part 1930, part 2004, from his father-in-law, while another prized vineyard is his 0.22 hectare on SAINT-ÉPINE, next to the old RAYMOND TROLLAT vineyard.
The theme here is one of tiny dimensions for each little step forwards, with the occasional step backwards, as in one of his landlords selling his old SYRAH VIN DE PAYS vineyard for housing development; now SÉBASTIEN has assembled 3.4 hectares of SAINT-JOSEPH [three hectares currently planted] by one method or another. That is a journey lasting from 2009 to 2018, a long way from the instant hits of the Big Operations.
This is true grass roots work; aged 40, and entirely self-taught, SÉBASTIEN acknowledges that he extracted too much on his 2015, but will be more hands-off with his promising 2017s. He reminds me of JEAN-CLAUDE MARSANNE at MAUVES in his natural, unforced approach. "I like elegance," he states, and no doubt he will sell much of his wine locally to people reared on the delights of the red-fruited, cosy appeal of old ST JEAN warriors such as ELIZABETH FOGIER or still thriving GUY FARGE, along with PHILIPPE DESBOS and PHILIPPE MICHELAS.