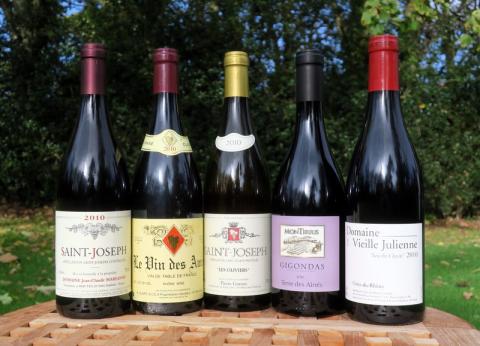 A LOOK BACK OVER THE FIRST TWO DECADES OF THE MILLENNIUM
NOVEMBER/DECEMBER 2020
THE NORTH, THE SOUTH AND THEIR WHITES
With a mostly healthy and abundant harvest safely gathered in for 2020, the third decade of the millennium is up and running. It's a good time to cast a look back over the first two decades, to gauge quality in runs of 10 years. Which was the better decade? Here are some selected years – subscribers can find the full review of the 20 vintages under the VINTAGE REPORTS tab.
2000 A mild vintage, soft tannins, approachable wines, aromatic in the NORTH; correct in the SOUTH, but a large crop diluted some of the REDs. There is less style in the fruit than 1999. It's a vintage short on real stars, a slippers beside the fireplace year.
N RHÔNE 6 S RHÔNE 6 WHITES 7
2005 Chunky, tannin-laden year, on the wild side, dark colours, energy, boom. Wines of character, demanding cellar time, can be stubborn. Not for the boulevardier consumer, more for the philosopher, probably a Nordic such as KIERKEGAARD. Still making their way. Decanting essential. High intervention winemaking - in pursuit of 100 points - in the SOUTH means the NORTH shades it. Firm WHITEs, capable of longevity.
NR 9 SR 8 WHITES 7
2014 Pests and flies, and rot, but you know what – there are some very pretty wines, so while most amateurs of body building felt cheated, I felt happy. Beautiful fruit in the best REDs, a serenade from CHÂTEAUNEUF-DU-PAPE CLOS DES PAPES, for example, and great, shapely WHITEs. A classic vintage – still – for la table, relaxed moments, Glou Glou on the go.
NR 6 SR 6 WHITES 8
2015 A mighty year in the NORTH, with large scale, abundant REDs, dazzling depth, heft in the tannins. The SYRAHs have tightened up recently, and must be left alone for another five years. It's a quieter vintage in the SOUTH, where late rain, followed by MISTRAL wind, came in early September to nourish the vines. Slow ripening, high degree GRENACHE, excellent MOURVÈDRE. Extraction in the cellar was a punishable offence. There is freshness, with tannins a little dry here and there, robust packing in the REDs.
NR 9 SR 7 WHITES 8
The challenge for the wines of the 2020s centres on two essential words and one desirable word:
BALANCE, FRESHNESS, PERSONALITY.
BONNE DÉGUSTATION TO ALL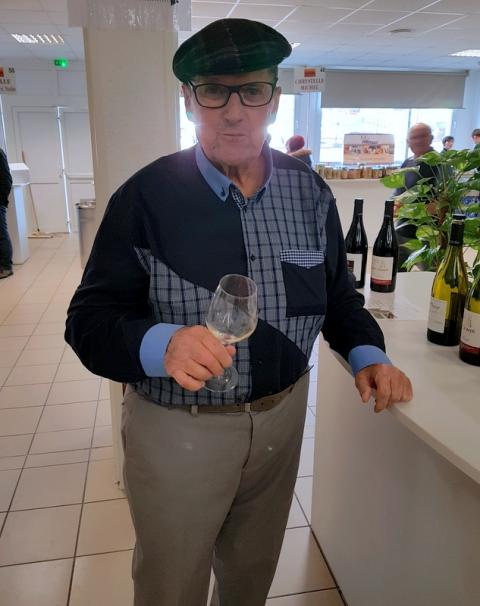 ALAIN VOGE 1939-2020: AN APPRECIATION
SEPTEMBER/OCTOBER 2020
TENACITY AND A HUNGER FOR WORK
ALAIN VOGE was a man without direct contemporaries at CORNAS, which set him apart from his milieu, the more so since he was suddenly obliged to take over the running of the family's then four hectares of vines in 1965 after the premature death of his father LOUIS.
By then, ALAIN had already experienced the horrors of the war in ALGERIA, events that stayed with him for the rest of his life; older than him, LOUIS SOZET was another CORNASIEN who had done time in that bloody event. "I learned to live there," he once told me, somewhat ominously.
His mother was a forceful, dominant, resolute personality, and when I first met ALAIN in 1973, he was wired and energetic, even a little chaotic, always in a hurry, as if he had to keep up with her firmly expressed wishes; his work ethic certainly tallied with hers. He had a lot on his plate: the vineyards and the winemaking, the commerce of the family domaine, but also activities of the VOGE family set up by previous generations.
There was the threshing machine service for wheat; there were fruit trees - apricots, pears, cherries; a nursery for vines, and most photogenic of all, the mobile alambic still that trundled into place on the side of the square at the end of each harvest, a fiendish assemblage of pots, pipes, spokes and boilers. It was a regular sight every autumn until 1980, used by many of the local domaines; to fit in everything in one working day while it was on the go, ALAIN would rise at 4.30 in the morning. In typical, gritty ARDECHOIS fashion, its spirit wasn't used for anything fancy like a Marc or Fine, but for surgical spirit, so everyone received a few Francs from the State.
As an ex rugby man for the then extremely successful First Division team VALENCE SPORTIF, their Number 8 at the back of the scrum, ALAIN was used to physical challenges. His drive led him to expand his vineyard, and to run with two appellations, CORNAS and SAINT-PÉRAY at the same time. Indeed his commitment to SAINT-PÉRAY was extremely strong, going as far as setting up a mini-Co-operative under the then good HOTEL DES BAINS, where I was a habitué during the 1970s – half bottles of old HERMITAGE LA CHAPELLE at no price at all, and a functioning of sorts tennis court beside a wonderful cedar tree.
The cellar master had worked at the SAINT-PÉRAY négociant of AMÉDÉE DUBOURG, and because sparkling SAINT-PÉRAY could not be made outside the village, ALAIN took the practical solution of hiring the space and the man for a group of about ten people, who included AUGUSTE CLAPE and a FRANCE TELECOM worker. It died a natural death once people started to sell their small vineyards for housing and the cellarman retired, with vinification subsequently allowed to occur beyond SAINT-PÉRAY – all the way in CORNAS!
In 1986, at a time when CORNAS was still on an unsure economic footing, ALAIN started to plant on what he called LA CÔTE, below TEZIER. ROBERT MICHEL, around six years younger and his nearest young contemporary, and AUGUSTE CLAPE also planted at that time, allowing a little momentum and statement of confidence in the future to develop.
His vineyard methods were traditional, with insecticides and pesticides employed, not especially detailed, allowing one old-timer to describe him as "a very good vinifier given the state of some of his harvest." But his association with ALBÉRIC MAZOYER who joined as the manager and part shareholder from CHAPOUTIER in 2004, led him, at times somewhat unwillingly, towards organic and then biodynamic practices, which he ultimately embraced.
By then his liking for new cuvées had enlarged his range of CORNAS to include a VIEILLES VIGNES – his top wine, and regularly in the four star and above bracket - and a wine called LES VIEILLES FONTAINES, while his SAINT-PÉRAY, from owned but also rented lands, had expanded to three cuvées, with an emphasis on new oak fermentation, started in the mid-1980s, with American as well as French oak used. The oak was most obvious on the - wait for it – CUVÉE BOISÉE, better integrated and emphatic on his more stylish FLEUR DE CRUSSOL, which received 18 months' raising when first launched.
Recalling ALAIN, PIERRE CLAPE told me: "ALAIN did a lot for the appellations of CORNAS and SAINT-PÉRAY; he was notable at spreading their reputation in the Restaurant trade, in LYON and VALENCE, but also widely across FRANCE. He was a very good communicator, and always liked to look forward, to have projects. His very latest was to enlarge the cellars under his house, but his wife ELIANE, was not much in favour of that." A woman of few, but pinpointed words, ELIANE is known at CORNAS as "The Sniper"!
The other aspect of ALAIN's later life that deserves maximum respect is how he kept going in the face of serious illnesses. He underwent a liver transplant in 1998, and for around the last ten years of his life he received kidney dialysis treatment three times a week.
The current manager of the domaine, LIONEL FRAISSE, took up the reins in 2018 after a few years alongside ALBÉRIC MAZOYER, so continuity has been assured - the 2018 VIEILLES VIGNES was a stylish, generous and convincing ****(*) wine, for example. If I were to toast ALAIN with one of his wines, I would select the 2010 or 2013 VIEILLES VIGNES, both years with STGT or Soil to Glass Transfer credentials, from recent vintages, or the 1999 from an older year.
The casquette at a jaunty angle, his staccato delivery intact and a smile for old friends, ALAIN was a true old soldier, a credit to the village and life of CORNAS, his rugged resolve well in keeping with his rocky surroundings. His was a life extremely fully lived.
RIP, ALAIN. May you be tinkering with new cuvées up in Heaven.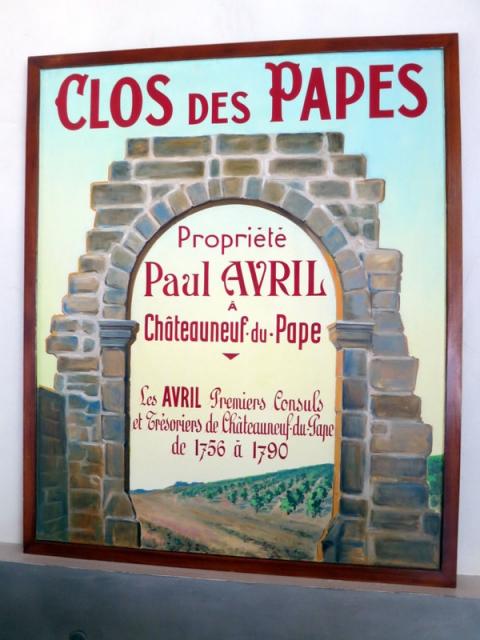 THE BEST DOMAINES ADAPT
JULY/AUGUST 2020
IN PRAISE OF LESSER VINTAGES
There have been three supposedly "off" vintages in the RHÔNE this millennium – 2002, 2008 and 2014. "Off" in the sense that the ripening seasons were tricky, perhaps dogged by wet conditions and blights such as mildew or oïdium, their harvests requiring careful sorting and selection to ensure only the best, cleanest grapes entered the fermenting vats.
At issue, such vintages are regularly written off by the great mass of critics, some of whom [one notably has now retired] have not even bothered to travel to the region to inspect the young wines of the year. However, I learned at an early age in the 1970s that the best domaines made good wines even if the years were complicated, AUGUSTE CLAPE at CORNAS the prime example.
Such wines often provide great drinking à table after around 10 years, and give variety and low-key complexity – pleasure for both palate and mind. Crucially, they are much cheaper than the GRANDES ANNÉES, which can fail to live up their reputation due to a variety of interim reasons: going through a closed phase, tannins not yet in tune with the content, wrong dish selected, and so on. I have probably had more success in serving underrated wines that please than I have serving highly rated wines that properly deliver their qualities to an audience beyond the committed enthusiasts.
When I visit CLOS DES PAPES at CHÂTEAUNEUF-DU-PAPE, something I have been doing since the 1970s, VINCENT AVRIL always offers me the chance to taste back vintages. On my last visit in late 2019, I asked to taste lesser years to see how they were getting on; intellectually this can be more stimulating than asking to taste a majestic 2010, and confirming that it's still way too young.
On this occasion, we tasted 2008 and 2002, flanked by years of expressive fruit, 2012 and 1999. 2008 was very rainy, a year of mildew, if not on the massive scale of 2018, the yield only 16.8 hl/ha. At ***(*), the wine on its fifth tasting by me was joli, interesting, still going well, worth studying, what I term a Thinker's Wine: lots of variety on the bouquet including truffles, spice, smoke, red fruits with a breezy attack, and a rose-floral nature that went beyond the mineralised effect that one usually expects from a wet summer. VINCENT's summary: "given all the mildew it is not at all a small vintage. For me this is similar to 2001 or 1993, both elegant years. It is 14.7°, a lot less than 2007 and 2009. It is a finesse, fruit year that can keep. If people like great BURGUNDIES from the NUITS, they will like this; a shoulder of lamb would be ideal."
2002 was the year of antediluvian rains in September, 600 mm (24 inches) in 24 hours on the 8-9th of the month. The adaptation of this year was that VINCENT performed a 10-minute bleeding of juice off the skins [saignée] to help it. There was no SYRAH, resulting in a 60% GRENACHE, 35% MOURVÈDRE, 5% MUSCARDIN and VACCARÈSE blend, yield at 17 hl/ha. Here the bouquet had something of a horse stable about it, with a PINOT NOIR connection, and spices of Christmas time. The palate attacked on cordite, red plum fruit, combined iron and floral moments, the freshness commendable, the finish quiet. a *** wine, VINCENT commented: "I find this vintage PINOTÉ (like a PINOT NOIR) in its fruit. It is 13.8° without any chaptalisation, I would eat a TOMME DE BREBIS cheese [firm ewe's milk cheese from the PYRENEES] with it."
As a postscript to this tasting, I would add that the 2014 CLOS DES PAPES is absolutely one of my favourites of that rather sodden vintage – record JULY rain, an absence of MISTRAL wind. This was a ****(*) wine described by VINCENT as "very BURGUNDIAN", one that summons symphonic thoughts, marked by cloves [the signature of a cool vintage], bearing ace finesse and serving much pleasure.
VINCENT's adaptable approach is a continuation of his father PAUL's. A determined, skilful man of vision, PAUL built a temperature controlled cellar in 1981 – an unheard of facility at CHÂTEAUNEUF-DU-PAPE at the time, and also ensured that the harvest was introduced by gravity, not pumping, something also done at DOMAINE DU VIEUX TÉLÉGRAPHE in those days. 1984 was a most testing year, and demanded special measures. There was much coulure - flowers failing to convert into fruit – which lowered the GRENACHE proportion to just 50%, the complement 30% MOURVÈDRE, 20% SYRAH, the yield a lowly 24 hl/ha.
This was the vintage when the domaine first destemmed some of the harvest: "we destemmed a bit due to a lot of stems and a small crop, implying that the presence of all the stems would make the wine too hard," in PAUL AVRIL's words at the time. The result was a ***(*) wine, with a ripe, rich bouquet, the palate attack approachable, clean and also rich, very easy to drink and still fresh in 1991, the finish marked by some chewiness in the tannins.
I recommend readers to see what they can find in auction rooms when it comes to less fanfare vintages, the sort of bargain being one of a mixed case of different wines from low profile years. Stick to the best, most adaptable domaines, whatever the region, and enjoy the fruits of walking more on the wild rather than the mainstream side. BONNE DÉGUSTATION.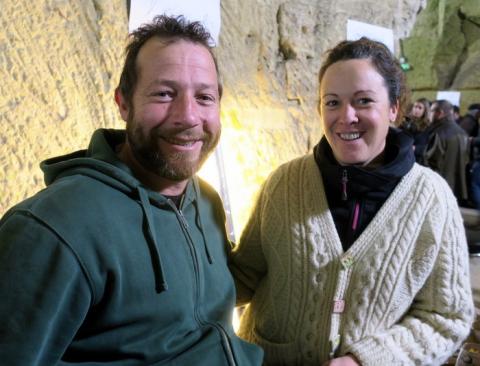 THE AGE OF SIMPLICITY
MAY/JUNE 2020
A RETURN TO THE ESSENCE OF A PAYSAN EXISTENCE
The Coronavirus has been hurting different segments of the wine trade, while a few have gained. If the sales model of an importer is based on the Hotel-Restaurant trade, there has been a scramble to change tack, to try to shift the model towards retail clients. But I know of companies now trading at 35% of their usual volume. Restaurants in CALIFORNIA have offered prized wines for sale in order to raise cash. Top class Sommelières and Sommeliers are on furlough.
On the flip side, well established retailers with good website and mail order systems report levels of business that resemble Christmas time at the very least, even if spend per bottle is a little down on that particular time of year. CHAMPAGNE is absent from many people's buying list, ROSÉ is soaring.
On the growers' side, the immediate task in the vineyards is to ensure that excess buds are taken off and that young shoots are attached before any wind damage. Soils, where they can be, are often worked at this time of year. Temporary labour is required for some of these tasks: that can be a challenge at present. Small domaines are also telling me that it's hard to impossible to ship orders at present. Sales of wines such as CORNAS from solid names have ground to a halt.
The virus pandemic has also steered people towards decisions that may have otherwise been postponed for some time during easier days. This situation has encouraged some to re-appraise how they wish to work in future, to take work-lifestyle decisions with the bigger picture in view. One such couple is PAUL and CHRYSTELLE ESTÈVE of the DOMAINE DES MIQUETTES up on the plateau at CHEMINAS, in the middle section of SAINT-JOSEPH.
PAUL was a CO-OPERATEUR with the CAVE DE TAIN, and has worked six hectares as the DOMAINE DES MIQUETTES since the mid-2000s, half SAINT-JOSEPH, the other half IGP. He has always eschewed the high profile route, hunkered down in his farm away from the limelight, and going for organic practices, as well as biodynamic ones latterly.
His wines are all made on zero-added SO2, with the leaning towards out and out VIN NATURE more pronounced recently. He also abandoned oak use from 2013, and most of his wine is now raised in buried amphorae, an inspiration taken from a visit to GEORGIA, south of RUSSIA.
With so much emphasis on bars and restaurants in big cities, the VIN NATURE movement is certainly feeling the pinch. The ESTÈVEs are part of that world – they sell most of their wine to what is termed the CHR [CAFÉ/HOTEL/RESTAURANT] trade in FRANCE - and this has collapsed.
When speaking to CHRYSTELLE recently, she explained: "with all the restaurant trade sales, commerce has been difficult; we will now be developing sales to local customers, but we also have decided to go back to being what we really are – we like to be paysans [literally peasants/country dwellers], and we want to be doing all the work ourselves, with no dependence on anyone else. That is why we are going to share the exploitation – the six hectares – and work with three hectares ourselves, which would allow us to be true paysans."
The idea is to rent out the remaining vineyards to friends or local vignerons/vigneronnes, with potential sharing of equipment. This has brought in a recent starter, ERWAN MASSE, a young man born in POITIERS in the West of FRANCE 33 years ago. He did his wine studies at BELLEVILLE in the BEAUJOLAIS, then moved around FRANCE working and seeing what he liked, taking in SAINT-ÉMILION, SAINT CHINIAN, the MÂCONNAIS, and finally, in 2013, the NORTHERN RHÔNE, which is where he decided to put down roots.
ERWAN is based in ARRAS, part of the middle sector of SAINT-JOSEPH; he originally bought a four hectare plot, of which under one hectare was taken with vines [for SAINT-JOSEPH] and apricot trees, the rest wooded and overgrown. However, the vines are at an altitude above the limit allowed to produce SAINT-JOSEPH after the 2021 vintage, so he next went in search of another location for a further smidgin of ST JO.
This he found on a site called LUBAC in the excellent commune of SAINT-JEAN-DE-MUZOLS. Having cleared its 0.7 hectare and unearthed walls and terraces which he wanted to keep and restore – "they were here long before me, for good reason" – ERWAN crowd funded via a website called MIIMOSA www.miimosa.com/fr/projets the final costs which involved the young SYRAH vines and their individual wooden stakes [échalas]. Their cost was €13,000, of which ERWAN needed €8,000 to complete their purchase.
In the event, more than €9,000 was raised; contributions started at €15, with the package for those giving €550 a domaine visit for two, a tasting, the aperitif with nibbles, your name on a cask, two nights at a bed and breakfast, six bottles and one magnum of wine. Now there is a tiny plot of 2018 SYRAH waiting to come on stream from one of the top three communes of SAINT-JOSEPH, the result of hard labour, graft and determination.
Added to that, the instant access to 0.8 hectare of SAINT-JOSEPH from an established, organic vineyard at SÉCHERAS previously handled by the ESTÈVES gives ERWAN an immediate propulsion as he sets out to establish himself. His story of a morsel here, a morsel there is very much one of the NORTHERN RHÔNE de nos jours. The idea of one door opening as another one closes comes to mind in an arrangement that is satisfactory for both parties, an arrangement prompted by the dreadful virus. No doubt more such stories will emerge in the months to come.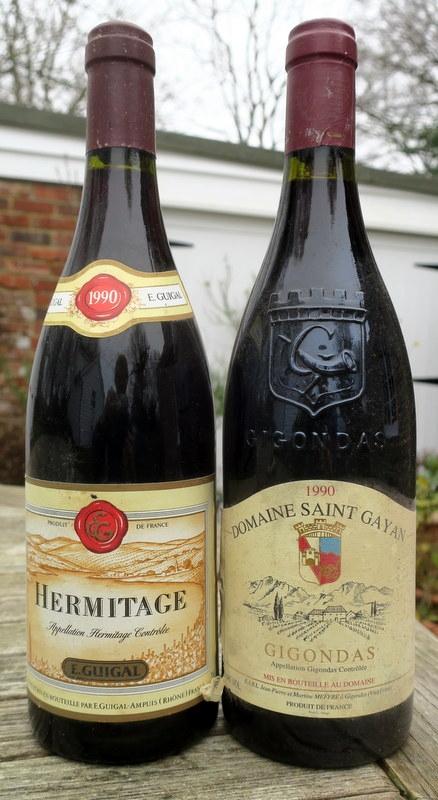 STILL CRAZY AFTER ALL THESE YEARS
JANUARY/FEBRUARY 2020
FRESH, WELL AND ENTERTAINING AT 30
Since I made my first RHÔNE visits in June, 1973, there have been three universally great vintages across the RHÔNE, both NORTH and SOUTH. They are 1978, 1990 and 2010.
With my future son-in-law BRENDAN chalking up his 30 years in JANUARY, 2020, it was an occasion to show him the wonders of such great vinous years. The two bottles selected were the 1990 HERMITAGE E.GUIGAL RED, and the 1990 GIGONDAS DOMAINE SAINT GAYAN RED.
1990 was a vintage of high sunshine, and completed what seemed like a trio of very good vintages. 1988 had been a dry year, with small, thick-skinned grapes and therefore firm tannins, but it was so far clear of the dodgy 1987 that it garnered attention for that fact alone. 1989 was a robust, full-blooded year, more sunny than 1988 and more generous of content.
1990 was impressive from the outset, a year with more sun and better balance than the previous two vintages. Its impact was immediate when tasted pre-bottling. At HERMITAGE, the harvest started around 22 September for vignerons such as BERNARD FAURIE, who, for the first time, spoke of cuvées coming in at 14°, his average around 13.5°. That was high for those days.
The difference with 1989 and 1988 was some August rain in 1990, a late in the month storm at GIGONDAS included, and that was the touch paper for its splendour. As JEAN-LOUIS CHAVE remarked, "nature was very generous."
My Tasting Note of what is now regarded as a legendary 1990 HERMITAGE LA CHAPELLE from PAUL JABOULET AÎNÉ, which I tasted from cask on 11 February, 1992, included "very ripened fruit aromas, a touch of surmaturité; perfect harmony of really big elements, very prolonged aftertaste, carries the great success of the tannins being completely enveloped by the fruit and the flesh. Challenging, Grand Vin, 30 years minimum."
The GUIGAL 1990 HERMITAGE [made before the purchase of JEAN-LOUIS GRIPPAT's 1.5 hectares in 2001, and the 2 hectares of de VALLOUIT, therefore pre-EX-VOTO] was raised for two years-plus, with no new oak – the new oak on it started in 1994. It was based on BEAUME and MÉAL, and was a wine that always lay in the shadow of the CÔTE-RÔTIES de la maison.
I bought a case of it on release, and have nibbled at a bottle here and there over the years. It has always shown well, with some reserve. The absence of new oak has always permitted it to be pleasingly more naked than many wines from GUIGAL. This bottle, with a very good level and a perfect cork, showed exemplary freshness, and bore the balance owned by only the very best vintages. It actually blossomed and improved from Day One to Day Two.
Its note: ****(*) good lustre in the red, pale topped robe. Smoky red fruits, lots of brightness at 30 years, notes of white pepper. The palate is also fresh, even linear, good bustle in its red fruits with cedar-smoke notes and tannins that sparkle. The main impression is how young, and Nordic, it is, with further gras and flesh to come around its spine. Has great style, true pedigree, the aftertaste salted. 13°. Day 2: violets, floral tunes on the nose, ground black pepper, mixed in with rocks – a bouquet of much elegance. The palate is getting into its stride, smoothing out, has brilliant length and a softer texture than yesterday. Up to *****, another 20 years.
Moving to the SOUTH, but not entirely, given the innate stamp of its fresh terroir, we come to GIGONDAS, and one of my favourite petits chous over three decades, the 1990 DOMAINE SAINT GAYAN, of which I bought numerous cases. Its composition in those days was 70% GRENACHE, 20% SYRAH, 5% MOURVÈDRE, 5% CLAIRETTE BLANCHE, CINSAULT from 14 hectares largely on the northern part of the GIGONDAS vineyard towards SABLET, clay-limestone with chipped stones, a little sand. Raising was two years in concrete vat, then one year in old barrels of 18 hl to 30 hl.
At the time, JEAN-PIERRE MEFFRE rated 1990 highly, ahead of a "sometimes very good 1986, a good-ish 1988 and a 1989 with its very big drought, and rather hard tannins that may soften with time."
My Tasting Note from concrete vat on 15 October, 1992, was ***** good dark purple robe. The bouquet is an earthy affair, lots of dark fruit and meaty, bosky aromas. The palate leads on striking fruit, really exemplary; it runs very well, the length is primo. There is good all-round substance here, very nice depth without being plush. This has great scope for the future.
I have drunk this wine at regular intervals, bar a stretch of two to three years around 2010 when it curled up, became grainy and dry, and led me to believe that its finest days might have been over. Now, at 30 years, it boomed out of the glass, the level and the cork also perfect: ***** good, clear ruby red; shapely, sensaround bouquet of appealing sunny depth, sweet plums, toffee apple, has a buttery association. The palate produces typical Gigondas freshness, a spine of menthol-cut, comes with real good forward movement, carries spiced, Christmas box flavours. The aftertaste has a discreet thickness, which is the main clue as to the high sunshine hours of the vintage. It's well orchestrated, well balanced, is a wine of detail, with lovely lift on the aftertaste. 14°. Day 2: nose is still vigorous, up front, more spiced than yesterday. Menthol and licorice prominent on the finish. This can certainly continue for another 15 years.
Both wines were remarkable due to their balance, which meant that the vintage imprint was barely noticeable – almost no suntrapping on the HERMITAGE, and just the thickness of the late texture on the GIGONDAS. Both these 1990s carry great detail and definition – study of them is well rewarded.
I am left wondering how the recent super-dooper vintages – 2015 NORTHERN RHÔNE, 2016 SOUTHERN RHÔNE, 2019 NORTHERN RHÔNE will show in 30 years – built as they are from dry summers, but increased heat levels compared to 1990. Will they show the same deft balance and detail? Bonne question, SHERLOCK.