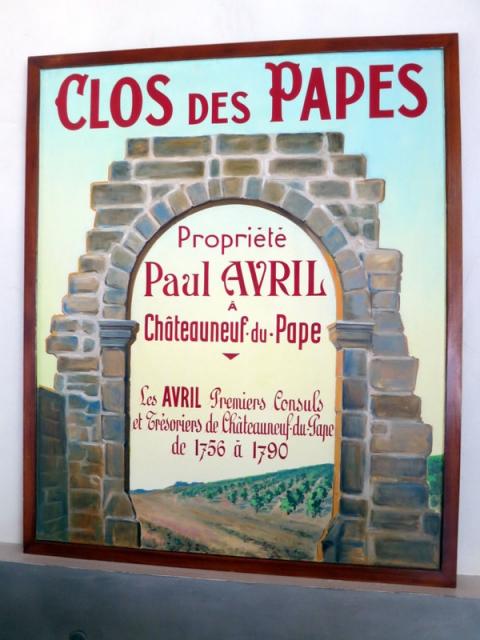 THE BEST DOMAINES ADAPT
JULY/AUGUST 2020
IN PRAISE OF LESSER VINTAGES
There have been three supposedly "off" vintages in the RHÔNE this millennium – 2002, 2008 and 2014. "Off" in the sense that the ripening seasons were tricky, perhaps dogged by wet conditions and blights such as mildew or oïdium, their harvests requiring careful sorting and selection to ensure only the best, cleanest grapes entered the fermenting vats.
At issue, such vintages are regularly written off by the great mass of critics, some of whom [one notably has now retired] have not even bothered to travel to the region to inspect the young wines of the year. However, I learned at an early age in the 1970s that the best domaines made good wines even if the years were complicated, AUGUSTE CLAPE at CORNAS the prime example.
Such wines often provide great drinking à table after around 10 years, and give variety and low-key complexity – pleasure for both palate and mind. Crucially, they are much cheaper than the GRANDES ANNÉES, which can fail to live up their reputation due to a variety of interim reasons: going through a closed phase, tannins not yet in tune with the content, wrong dish selected, and so on. I have probably had more success in serving underrated wines that please than I have serving highly rated wines that properly deliver their qualities to an audience beyond the committed enthusiasts.
When I visit CLOS DES PAPES at CHÂTEAUNEUF-DU-PAPE, something I have been doing since the 1970s, VINCENT AVRIL always offers me the chance to taste back vintages. On my last visit in late 2019, I asked to taste lesser years to see how they were getting on; intellectually this can be more stimulating than asking to taste a majestic 2010, and confirming that it's still way too young.
On this occasion, we tasted 2008 and 2002, flanked by years of expressive fruit, 2012 and 1999. 2008 was very rainy, a year of mildew, if not on the massive scale of 2018, the yield only 16.8 hl/ha. At ***(*), the wine on its fifth tasting by me was joli, interesting, still going well, worth studying, what I term a Thinker's Wine: lots of variety on the bouquet including truffles, spice, smoke, red fruits with a breezy attack, and a rose-floral nature that went beyond the mineralised effect that one usually expects from a wet summer. VINCENT's summary: "given all the mildew it is not at all a small vintage. For me this is similar to 2001 or 1993, both elegant years. It is 14.7°, a lot less than 2007 and 2009. It is a finesse, fruit year that can keep. If people like great BURGUNDIES from the NUITS, they will like this; a shoulder of lamb would be ideal."
2002 was the year of antediluvian rains in September, 600 mm (24 inches) in 24 hours on the 8-9th of the month. The adaptation of this year was that VINCENT performed a 10-minute bleeding of juice off the skins [saignée] to help it. There was no SYRAH, resulting in a 60% GRENACHE, 35% MOURVÈDRE, 5% MUSCARDIN and VACCARÈSE blend, yield at 17 hl/ha. Here the bouquet had something of a horse stable about it, with a PINOT NOIR connection, and spices of Christmas time. The palate attacked on cordite, red plum fruit, combined iron and floral moments, the freshness commendable, the finish quiet. a *** wine, VINCENT commented: "I find this vintage PINOTÉ (like a PINOT NOIR) in its fruit. It is 13.8° without any chaptalisation, I would eat a TOMME DE BREBIS cheese [firm ewe's milk cheese from the PYRENEES] with it."
As a postscript to this tasting, I would add that the 2014 CLOS DES PAPES is absolutely one of my favourites of that rather sodden vintage – record JULY rain, an absence of MISTRAL wind. This was a ****(*) wine described by VINCENT as "very BURGUNDIAN", one that summons symphonic thoughts, marked by cloves [the signature of a cool vintage], bearing ace finesse and serving much pleasure.
VINCENT's adaptable approach is a continuation of his father PAUL's. A determined, skilful man of vision, PAUL built a temperature controlled cellar in 1981 – an unheard of facility at CHÂTEAUNEUF-DU-PAPE at the time, and also ensured that the harvest was introduced by gravity, not pumping, something also done at DOMAINE DU VIEUX TÉLÉGRAPHE in those days. 1984 was a most testing year, and demanded special measures. There was much coulure - flowers failing to convert into fruit – which lowered the GRENACHE proportion to just 50%, the complement 30% MOURVÈDRE, 20% SYRAH, the yield a lowly 24 hl/ha.
This was the vintage when the domaine first destemmed some of the harvest: "we destemmed a bit due to a lot of stems and a small crop, implying that the presence of all the stems would make the wine too hard," in PAUL AVRIL's words at the time. The result was a ***(*) wine, with a ripe, rich bouquet, the palate attack approachable, clean and also rich, very easy to drink and still fresh in 1991, the finish marked by some chewiness in the tannins.
I recommend readers to see what they can find in auction rooms when it comes to less fanfare vintages, the sort of bargain being one of a mixed case of different wines from low profile years. Stick to the best, most adaptable domaines, whatever the region, and enjoy the fruits of walking more on the wild rather than the mainstream side. BONNE DÉGUSTATION.