STEP FORWARD, THE NEXT GENERATION
DECEMBER 2014
PIERRE-ANTOINE GAILLARD spoke of the travails the family faced in 2013, more so with the SYRAH crop than the whites, the red grape harvest being "complicated." "But at least we had more crop than in 2014, when our average of 40 hl/ha in 2013 fell to 30 hl/ha due to the attack of fruit flies – moucherons in French, biological name suzukii - when the grapes were ripening, a blight resulting in rot that had already hit a lot of the vineyards in Switzerland."
For him, the 2013 whites are very jolis, while his preferred appellation of the vintage is SAINT-JOSEPH. The PIERRE GAILLARD CLOS DE CUMINAILLE SAINT-JOSEPH RED has been a regular quality performer over the years, and the 2013 is as stylish as usual, holding admirably clear fruit.
Meanwhile in the 2013 En Primeur market, merchants are playing it cautiously. The vintage does not carry great advance billing, being in no way a grandiose affair. The style is for openly fruited wines that lack the normal stuffing of the warmest and best vintages. Some importers are not presenting 2013s pre-bottling, while others, such as H2Vin and BERRY BROTHERS (in 2015) have a reduced line-up in prospect.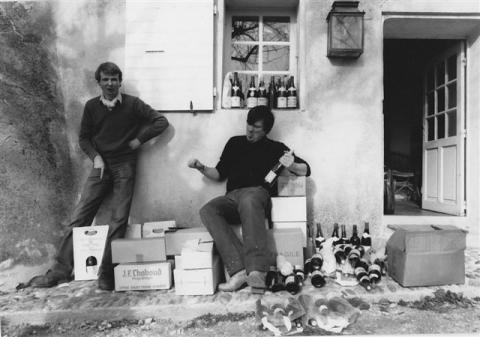 MEMORY LANE, 40 YEARS AGO
NOVEMBER 2014
Assembling such an array of wines, having tracked down their vignerons and domaines with only one's own initiative as a guide, was a very long task. I would visit domaines such as ALARY at CAIRANNE, CLAPE at CORNAS, VERNAY at CONDRIEU or CHAVE of HERMITAGE, and ask the owner if he knew of any other growers then bottling their wines. The alternative was to hang around the PTT, the village Post Office, and something of a meeting point before the midday aperitif, announcing that I was looking for vignerons. I got a few funny looks, as an itinerant Britannique was a complete rarity in those days.
Having asked endless questions and tasted at the growers' cellars with my young, unversed palate, I would bring bottles back to Aix-en-Provence to the house of MELVYN MASTER, whose idea it had been to write a book on the Wines of the Rhône Valley. He, TIMOTHY JOHNSTON and I would then taste the wines blind to add experience to the assessment of the wines. I recommend any young enthusiast to taste wines blind over and over again: it is a process that will form the bedrock of one's palate for life, since everyone can be a good label drinker. I continue to taste blind when in organised tastings in the Rhône, unlike a majority of wine critics.
Here we have enfant terrible TIM JOHNSTON pulling one of his usual controversial faces and brandishing a bottle of 1971 CHÂTEAU-GRILLET. I am standing above a three-pack from the CAVE DE TAIN. I note the presence on the window shelf back left, wrapped in paper, of the marvellous 1972 MUSCAT DE BEAUMES DE VENISE made by LOUIS CASTAUD at DOMAINE DES BERNARDINS. This had a green wax insignia on its neck, on which was stamped the vintage. It was brilliant wine, still going strong 30 years later.
Other wines included the 1971 SAINT-JOSEPH RED from GUSTAVE COURSODON, then Mayor of Mauves. This, too, was a wonderful wine, and over 40 years later I still have a couple of bottles chez moi. GUSTAVE followed the habits of the day by using a thick, coarse red plastic neck capsule that was perforated on the top of the bottle above the cork. Opening these bottles almost necessitated the purchase of an industrial drill.
From CÔTE-RÔTIE, where around 20 estates bottled their wine, some in quantities only for family and friends, there were wines from MARIUS CHAMBEYRON, devotee of heavily tilted casquettes or flat hats, and father of NICOLE LEVET of THE STGT DOMAINE LEVET today. GEORGES JASMIN'S marvellous 1971, of which he bottled six magnums each for me and Tim personally, was also present, a wine that was in super form when the last magnum was drunk in 2011.
CONDRIEU's total vineyard amounted to just 12 hectares (30 acres) in 1973. After a ravaging hail storm in July, the 1969 crop amounted to a mere 19 hectolitres, or 2,530 bottles all told. Think about that as you drink your VIOGNIER from VIRGINIA, the CAPE or SOUTH AUSTRALIA.
Apart from GEORGES VERNAY, there was dry CONDRIEU made by MARC DUMAZET, ANTOINE CUILLERON, ANTOINE PERRET, EMILE DAVID, PAUL MULTIER at CHÂTEAU DU ROZAY and DELAS. ANTOINE PERRET was the grandfather of ANDRÉ, and first bottled the family wine in 1969. ANDRÉ DÉZORMEAUX made good, concentrated sweet CONDRIEU from his vineyard on the COTEAU DU COLOMBIER above the N86. The most secure buyer of CONDRIEU in those days was the legendary 3 star RESTAURANT FERNAND POINT in VIENNE. Export was near impossible.
MELVYN MASTER exported the best of these RHÔNE wines to the USA, and subsequently went on to start and run successful restaurants in the USA, notably JAMS in NEW YORK, and to create branded wines such as TORTOISE CREEK, often using wines from the Rhône and/or Languedoc. He is still full of business beans today, based in the USA. TIM JOHNSTON started the buzzy, sometime action-packed JUVENILES WINE BAR in the rue de Richelieu in PARIS, and it is flourishing today under the guidance of Tim and his daughter MARGAUX. As for me: I am still tapping away, although I have had an upgrade from my portable OLIVETTI LETTERA 22 typewriter.
Incidentally, our nearest neighbour in Quartier Patheron in AIX was CHARLES TRENET, the chanteur-crooner best known for his ballad LA MER. He would be seen sometimes after rain gathering a few snails for his cuisine.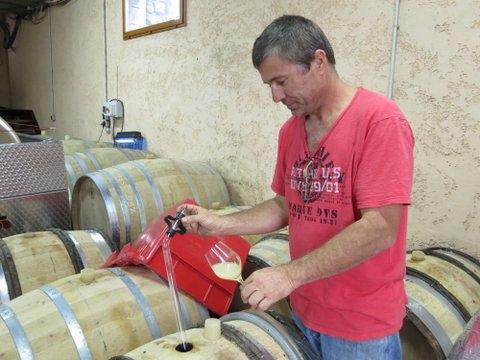 VINIFICATIONS WELL UNDER WAY: NORTH SLIGHTLY EASIER THAN SOUTH
OCTOBER 2014
Right until the end, the vineyard year of 2014 in the Rhône has posed hurdles and challenges for growers. It may be that the Northern Rhône has had a relatively more straight forward run into the harvest than the South, where copious amounts of GRENACHE NOIR and a lack of prolonged periods of sun and warmth have led to a stubborn ripening. By an act of providence, however, the disastrous 300 mm (12 inches) of rain that fell on MONTPELLIER on Monday 29 September did not move east into COSTIÈRES DE NÎMES and the GARD département, which had already harvested much of their crop, anyway.
NORTHERN RHÔNE
CÔTE-RÔTIE: the weather was pretty dry, the rainfall lower than at CORNAS, for instance. But there was the onset of acid rot, which meant that growers had to harvest quickly. FRANÇOIS MERLIN reported "a good colour and maturity on the crop; I have lost 25-30%, making my yield around 30-33 hl/ha – but the main reason was the poor budding in the spring; there was light rot as well. My SYRAH degrees for both CÔTE-RÔTIE and SAINT-JOSEPH are 12.7° to 13°. I harvested both mostly around 25 September."
CONDRIEU: FRANÇOIS MERLIN was happy: "it's very good, both ripeness and quantity on the VIOGNIER, with harvesting between 15 and 25 September. I didn't want to chase extreme maturity this year, and fermentations have turned out to be long – they are still going; it's a good vintage, with good pH and total acidity as well, the degree 13.8° to 14°. There is more charge in the VIOGNIER than the SYRAH this year, and it is perhaps more rich than 2013, maybe a little gourmand."
CORNAS: PIERRE-MARIE CLAPE gave this account of events: "we have devatted all the wines, and one or two malos have started. Our first harvesting was on PATOU in the south on 11 and 12 September, and we ended on 19 September. There was a big rainfall of 100 mm (4 inches) on the evening of 17 September, and between then and 22 September, we had 130-140 mm (5.2 to 5.6 in) altogether. Hence there is a divide this year between those who harvested before and those who harvested after the rain.
We harvested just in time, as did GUILLAUME GILLES and THIÉRRY ALLEMAND. Those with later vineyards high up at SAINT-PIERRE such as PAUL JABOULET AÎNÉ also had hail to contend with on 28 September, and you would expect their degrees to be around 11.5° in the first instance.
Our yield was up to the maximum – 40 hl/ha. There were very fat grapes due to the humidity, a lot of juice in them. On the wines finished already, our degrees are 12.8° to 13.5°, the total acidity 3.4 to 3.8, near a normal vintage; the pH is 3.8 on the old SYRAH. It's been a very complicated year, with a lot of weeds, and rain in July. We have had more rain than HERMITAGE, CÔTE-RÔTIE and SAINT-DÉSIRAT in the middle of SAINT-JOSEPH.
As for SAINT-PÉRAY, the degrees on the MARSANNE are good this year – 13.5° on the young vines, and 14° on the older vines. This year we have made 30 hl (4,000 bottles), which is wonderful – 2013 was only 6 hl (800 bottles)."
SOUTHERN RHÔNE
GIGONDAS: PIERRE AMADIEU noted the amount of effort needed this year, when he commented: "you had to sort an awful lot this year; we employ experienced Spanish harvesters, who understood that they had to be cutting back unripe or unhealthy crop in the vineyard. We had rainfalls in August and September that meant it was never really dry for long and the soils remained humid, so there were problems in those zones where the crop was copious; that was the case with the GRENACHE. If you took out the pink grapes, there is quite good fruit and balance in the rest, and there isn't too much alcohol. Our GRENACHE ranges between 13° to 13.5° for the early pickings, on to 14° to 14.5° or 14.8° for the later harvest.
The SYRAH yield was OK, while there was quite a lot of MOURVÈDRE. Overall, our quantity is full, at 40 hl/ha – after the recent tiny vintages such as 2013, people have taken the opportunity to stock up on GRENACHE. There are some extraordinary aromas, and it should be good for whites and rosés, their degree not high. To give an example of the slow end to the ripening season, I had some GRENACHE BLANC that went from 12° to 12.5° over three weeks – very slow progress indeed.
Domaines such as GRAPILLON D'OR and RASPAIL-AY finished harvesting on 7 October; I know that SAINT COSME are harvesting their GRENACHE now; we have another 25% to pick. It's definitely a vintage for the winemaker (vigneron)."
CHÂTEAUNEUF-DU-PAPE: DANIEL BRUNIER of DOMAINE DU VIEUX TÉLÉGRAPHE reported "after the tricky year, the result isn't bad at all; there are very handsome SYRAHs with attractive ripeness and nearly perfect health. The GRENACHE has been very slow to ripen, not helped by the rains from the West and a relative low incidence of MISTRAL Wind to clean things up. Late September harvesting was interrupted by spots of rain – just 5 mm (0.2 in) on 30 September, for instance, but enough in these conditions to halt us."
TAVEL: PASCAL LAFOND, DOMAINE LAFOND ROC-EPINE: "of course the climate was damp, which meant that rot started in September after the rains. Hence a lot of sorting was necessary, although given the rosé vinification, the rot – on skins and pips and so on – it mattered less in vinifying the rosé than the red wines. So it's an interesting year with less colour than recent vintages. It is perhaps like 2011 in style, and with a bit less concentration and richness than 2012. Alcohol degrees are less than usual, perhaps 0.5° lower, perhaps because we picked that bit earlier with the grey rot developing – we are at 13.5°, or a touch more. We started on 9 September."
On LIRAC, PASCAL commented: ""a lot of discarding and sorting was necessary, which you can't really do so well when you machine harvest, as we do for our CÔTES DU RHÔNE. We started harvesting on 15 September, but were halted for three days by the rainfall of around 70 mm (2.8 inches) on 17 September.
Grey rot was the big problem – we even had rot on the less abundant vines this year, which is unusual. Apart from the GRENACHE, there was also quite a lot of rot on the CINSAULT, though the MOURVÈDRE was OK. Our yield is normal, the maximum in fact – 41 hl/ha. We had some GRENACHE NOIR at 15° to 16° from a galet stone plateau vineyard at ROQUEMAURE near CLARY – it's very exposed, very windswept, but elsewhere the GRENACHE degree was often 13.5° to 14°. Our SYRAH was 12.5° to 13°. This year, with all the rot about, you have to watch out very closely for any Volatile Acidity when vinifying.
I am very confident about the white wine, just like recent years. The VIOGNIER and the ROUSSANNE both did well, and it's a good vintage for them."
SUNNY SEPTEMBER, FINGERS CROSSED, SECATEURS WELL SHARPENED
SEPTEMBER 2014
2014 has been marked by difficulties through the summer, its uneven rhythm causing extra work for the growers. The unseasonal early spring warmth pushed the vineyards into an advance of around there weeks, but this was reeled in as the summer weather failed to inspire, a modest and often rainy July the heart of the problem. However, from mid-August the weather has been stable and dry up and down the Valley, a stability that will prove central to the style of the vintage.
Harvesting has started in places, notably on the right bank GARD and in the CÔTES DU RHÔNE, with some estates on the go at CHÂTEAUNEUF-DU-PAPE such as CHÂTEAU FORTIA, CHÂTEAU LA NERTHE, CHÂTEAU GIGOGNAN and the CLEFS D'OR – all those with more southern sector vineyards.
However, the main game now for many is to allow as much time as possible for the pips and tannins to ripen, and the grapes to concentrate further. Any hint of rain will have them running for the secateurs, and cropping at great speed, though, with skins potentially fragile.
The white grape harvest is uniformly splendid across the SOUTHERN RHÔNE, and very good across the NORTHERN RHÔNE. Red grape yields are good, along the lines of 2011, which was the most abundant recent vintage. There is much more GRENACHE than in 2013.
A detailed report from several different domaines all over the Valley has been sent to Subscribers.
PROFILE OF A HARVEST TEAM
CHÂTEAU FORTIA employs a team of 33 to bring in the harvest from its 30 hectares of vineyards. As befits an estate of long standing, its vineyards are based around the Château itself, making access swift and easy to the cellars. Most family domaines at CHÂTEAUNEUF have been built up by marriage and liaisons (perhaps some dangereuses) over the decades, so tractors scurry here and there taking crop to the cool of the cellars.
"We have 3 full-time employees working with the 33," states PIERRE PASTRE, who is in charge of the estate; among those are 10 Poles, 7 Spaniards, 1 Ukrainian, 1 German and the rest French. They look after their own lodging and feed, and work 07.30 to 11.30 in the morning, and 13.00 to 17.00 in the afternoon. The team didn't want a longer lunch break, so we do it that way. They split the tasks of cutting and carrying among themselves. Our staff look over the sorting especially.
80% of them have worked with us before. I estimate that it will take 16 to 18 days to bring in all the harvest, with a 6 day week. Obviously rainy days will prolong the whole exercise, and can mean that some of them have to return to their countries before the end if we overrun."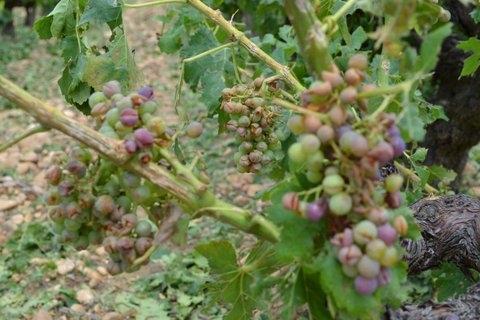 A MODERATE SUMMER, GRADUAL PROGRESS
AUGUST 2014
Apart from 10 days in June, the Rhône in 2014 has had no real sustained run of good, hot weather, and there has been enough rainfall to encourage a lot of greenery across the vineyards. Progress is therefore gradual, with growers cautiously content so far – unless they are in the north of the GARD département around the village of SAINT-JUST and the southern ARDÈCHE villages of SAINT MARTIN D'ARDÈCHE and SAINT MARCEL D'ARDÈCHE, where a tornado hit on Sunday July 20.
SOUTHERN RHÔNE: from the CÔTES DU RHÔNE at SABRAN in the right bank GARD département, RÉMY KLEIN of DOMAINE LA RÉMÉJEANNE told me: "it's been a complicated year – we have lost 30-35% of the crop from hail, but have fared better than those further north in the ARDÈCHE. We had a lot of rain in July, so what is shaping up this year is for us to make basic wines, but not the top level range of cuvées, and that is what a lot of people will do."
A lucky outsider – just – from the ravages of the July hail was CHRISTELLE COULANGE, who makes attractively fruited CÔTES DU RHÔNE wines at DOMAINE COULANGE, near BOURG SAINT-ANDÉOL, north of SABRAN. She told me: "we were on the fringes of the storm – we avoided catastrophe across the valley, just one slope away. The crop had been big before the hail, which lasted 20 minutes on the Sunday afternoon, came in from the south-west and at its worst delivered hailstones the size of ping pong balls at SAINT MARCEL.
We now need hot and dry weather, but haven't been able to have a run of good days. Nights are fresh, and the days are around 27-28°C. My father has worked hard against oïdium, but there are a few spots of mildew. There was no coulure on the GRENACHE, the SYRAH is a little in advance, and we are nearing the end of the véraison (grapes changing colour). On the white crop, there has been a threat of rot on the GRENACHE BLANC and the ROUSSANNE, less so on the MARSANNE and VIOGNIER.
As for our date of harvest, we could be around 10 September, but a lot depends on August, which is absolutely crucial. If it remains as it is now – not very hot, rather unsettled – it will be slow, but with heat, it would be earlier. It's been what we call a "special" year – not straightforward."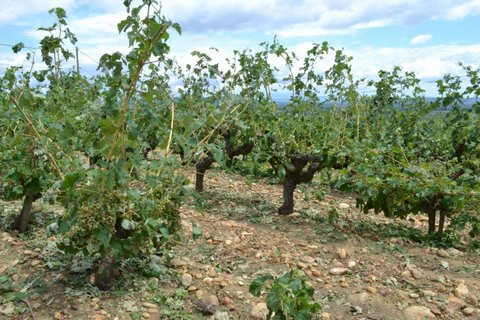 At SAINT MARCEL D'ARDÈCHE, two of the region's top names lay on the path of the devastating hail storm. The MAS DE LIBIAN of HÉLÈNE THIBON suffered around 80% damage, while their neighbour DOMAINE SALADIN, run by sisters ELISABETH and MARIE-LAURENCE, had just two plots spared from the hail. Their year was hammered on that fateful Sunday.
The left bank VAUCLUSE département has been spared the hail by and large. From the north-west of the 3,150 hectare area of CHÂTEAUNEUF-DU-PAPE, LAURENT CHARVIN of the excellent, STGT DOMAINE CHARVIN reported: "things are OK. The year was very dry from the end of the winter until early July, but in the past month it's been quite humid. We have work to do to air the vines because of the amount of vegetation. There has been hail, a very little mildew on the new small leaves and, as for oïdium we have worked on that. So the health of the crop is good overall. The GRENACHE looks very good, while the MOURVÈDRE is in good form. Yields can vary on the SYRAH, which happens every two to three years.
As for the rain, we have had around 100 mm (4 inches) over the past five weeks since early July. Days have risen to 30°-31°C, with nights down to 12°-13°C. Across the whole of CHÂTEAUNEUF, people say the same as me – we are all OK so far."
To the east at later ripening GIGONDAS, LOUIS BARRUOL, patron of CHÂTEAU SAINT COSME, told me: "we are a little in advance, and for once we have an enormous amount of GRENACHE – too many grapes, in fact – I have never seen so many, more even than in 2000. If we follow the 2000 comparison, it may not be a very great year, but a balanced, rounded one. However, if September's weather is bad, we could be in for a bad year.
Our July rain came in five or six falls totalling around 40 mm (1.6 inches), so the vines won't suffer even if we now have two dry months. In July temperatures weren't nearly as high as they had been for 10 days in June – a moderate 25°C to 28°C, and nights were fresh, as well. The vineyards now look magnificent – but note that both bunches and vegetation are still growing, whereas obviously I would prefer the plants' energy going into the bunches."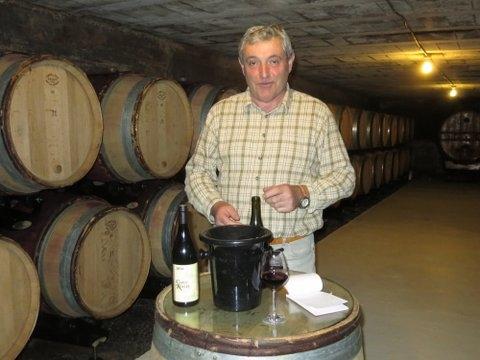 SINGING IN THE MESSIDOR RAIN
JULY 2014
The opening days of July have marked an important development in the ripening season. Rain, has fallen, and it has fallen in sensible, helpful amounts to free the vines of their stuttering progress as drought conditions started to build up. For those who do not study history, the period of mid-June to mid-July was named as the month of MESSIDOR under the Revolutionary regime in the late eighteenth century.
NORTHERN RHÔNE: as the vineyards prosper, so does the lawn. BERNARD BURGAUD in CÔTE-RÔTIE broke away from cutting his gras to tell me about current conditions: "the vineyard is magnificent, with perhaps a ten day advance now. The period of drought – pretty much in May and June (unlike 2013, which were the opposite – very wet) – could have given problems if it had gone on further. The recent rain has really got things going; it fell softly to nourish the vines and to allow the grapes to expand.
There was a little rain in May and June, but the drought was aggravated by a lot of wind, both North and South. Just now we have had a tranquil fall of around 30 mm (1.2 inches) a couple of times, and that water entered the soils well. Things are extremely healthy, with neither mildew nor oïdium. As for yields, the budding was partial in some of the precocious zones, so they may have less crop later on. We might be heading for a harvest date of 15-20 September at present."
Further south in the village of MAUVES, the cradle of the original SAINT-JOSEPH appellation, BERNARD GRIPA talked about his vineyards in SAINT-JOSEPH and a little further south in SAINT-PÉRAY: "the vineyard looks well, is handsome and healthy, but we may have a small crop, and I am not sure why. We had a lower budding than usual, and the white crop has been particularly hit. Everyone at SAINT-PÉRAY is in the same boat.
We've had 40-45 mm (1.6-1.8 inches) of rain recently, which has helped the grapes to expand. I reckon that's enough rain to see us through the season now, and maybe we have a mid-September date for the harvest in sight."
SOUTHERN RHÔNE: THIÉRRY SABON at CLOS DU MONT-OLIVET, CHÂTEAUNEUF-DU-PAPE: "things aren't bad for now; it has been a little more wet than we would have liked. Over the first week of July we have had around 120 mm (4.8 inches) of rain, the last a storm of 40 (1.6 in) on 7 July. The vegetation is very pretty, there is a decent amount of bunches, so much so that we will be cutting them back from the middle to the end of July. Nights have been cool - a help, also, and a light Mistral is drying the bunches, with the days not over warm at 25°C. It is all a lot better than last year.
This year, for once, we haven't had much coulure – flowers not converting into fruit – since our vines are mostly in an early sector. The bunches are good and loose, which helps as well. As for the Syrah, its crop may not be very big. The white grapes are splendid, and we may even have to cut them back this year, unusually. Our CÔTES DU RHÔNE vineyards near BOLLÈNE will give less crop than CHÂTEAUNEUF-DU-PAPE, but the old GRENACHE, while not very abundant, will be good quality."
From GIGONDAS, GUY BOUTIÈRE, father of MATHIEU at DOMAINE DU PESQUIER, often a source of STGT wines, related: ""it's not too bad; there is a very handsome crop in prospect – we have good bunches, and have had no hail. Between the very end of June and the first week of July we have had two 15 mm (2 x 0.6 inches) storms and 50 mm (2 inches) the week before, a total of around 80 mm (3.2 inches) that I reckon will take us through to the middle of August. Some areas here have had 100 mm of rain (4 inches), but it has been well-timed. What we need now is Mistral wind and heat. The fact that there has been no coulure on the GRENACHE has been good, and I would say we are just a few days ahead of a normal harvest date - not before the 15-20 September."
Across the river in TAVEL, which is always ahead of the VAUCLUSE vineyards of CHÂTEAUNEUF-DU-PAPE and GIGONDAS, GUILLAUM DEMOULIN from the excellent, stylish CHÂTEAU DE TRINQUEVEDEL at TAVEL, explained: "this year the vineyard is joli, very beau, very green. We have had two weeks of rain off and on, but that resolved the drought that had been building on some spots such as LES VESTIDES, and the sandy zones with young vines. In total, we may have had 75 mm (3 inches) in about three falls, but no hail, and no mildew.
Flowering went well, and for once we didn't have coulure on the GRENACHE, which was great after the catastrophe of 2013 with it. Things are good at LIRAC as well. I expect the crop size will be average, and we are probably heading for harvesting in the first week of September."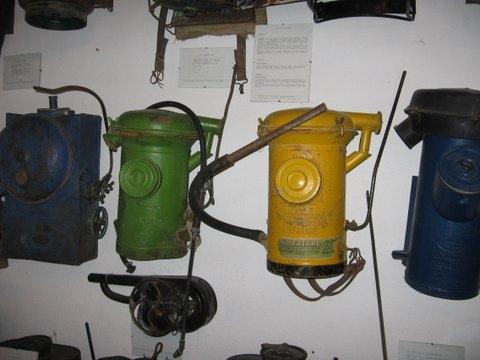 SO FAR, SO GOOD . . . WITH A TOUCH OF "PHEW, IT AIN'T HALF HOT, MUM"
JUNE 2014
The second week of June has brought the first real high summer heat to the Rhône - a gradual intensification up to levels of 35°C (94°F) in the shade at CHÂTEAUNEUF-DU-PAPE. "The vineyard is in magnificent condition," reported MICHEL ARNAUD from the traditional quality DOMAINE LA MILLIÈRE in the north-west of the appellation. "flowering is nearly finished, and I am optimistic; there is very little sense of coulure (flowers failing to convert into fruit) on the GRENACHE, which is encouraging for yields vis-à-vis the past two or three years. The last rain of consequence was around the middle of May, but our vines, which are mostly old, have deep roots and can draw on reserves built up during the wet winter and early spring."
Away to the eastern end of the appellation in COURTHÉZON, the charming and peerless JACQUELINE ANDRÉ of DOMAINE PIERRE ANDRÉ has remained loyal to her father's organic ideals that have been set in place since the mid-1960s, after PIERRE tried herbicides on two hectares and found that the effect in sandy soils was that the vine nourished itself above the soils and not deep down. "Our soils are in very good shape," she related; "the spring was nice and regular – no swings, the wind not violent, and there has been a joli flowering, a lot of bunches. The GRENACHE and SYRAH are largely completed, the MOURVÈDRE just starting out on its flowers. The leaf colour is good, and when I am in the vines I feel a good energy and pulse."
Further north at VALRÉAS, EMMANUEL BOUCHARD, the President of the Growers Union and long-time locomotive of the appellation with his late, much loved father ROMAIN at DOMAINE LE VAL DES ROIS, spoke of "a very good start this year, a lovely budding. There is very little blight, the leaves look good, and flowering is ending now. The only possible question will be the effect of the current high heat on the late flowers. A little hail hit the plain around TULETTE on 22 May. We are now shaping up for a classic harvest time of around 20 September."
From late cycle GIGONDAS, DÉLPHINE FARAUD of the very good, traditional DOMAINE DU CAYRON told me: "Flowering started in the last week of May after a very good budding. The wet winter – we had over half our annual rain in three months - meant that our pruning ended over two weeks later than usual, at the end of March. Since then we have had very little rain, and that is a little bit of a worry. The storm of 23 May only gave us 10 mm (0.4 in), against hail on the plain towards TULETTE and VISAN. Hence our freshly planted vines on the high part of COL DU CAYRON may suffer a bit from this dry spell."
From VISAN, MARIANNE FUES of the excellent DOMAINE DE COSTE CHAUDE had not been hit by the May hail: "things are excellent; we had lots of rain, which was needed, in the lead up to the season, but this hot and dry weather is just right; there has been no rain during flowering."
The NORTHERN RHÔNE is proceeding quietly and well; PIERRE CLAPE at CORNAS stated that flowering went well, while LAURENT FAYOLLE of the stylish DOMAINE FAYOLLE FILS & FILLE at CROZES-HERMITAGE spoke of the quick-slow nature of the start of the season: "the vegetation got going really quickly due to the heat in April, but the fresh, quite capricious weather in May slowed that down. Flowering has ended except for in the most north-facing and windy spots.
With this high summer heat, the vines are galloping along again. As for yield, the areas with the poorest soils seem to be giving small berries and not too many bunches – some of our old vines may have just one bunch instead of two or three per shoot. There is very little mildew pressure so far."
Across the river in the village of MAUVES, part of SAINT-JOSEPH, the STGT domaine of GONON view was as follows from vineyard chief PIERRE GONON: "well, it's a lot easier than last year! It is a bit heterogeneous – flowering has advanced a lot in some places such as the most sheltered, but not very much at all in others where the effect of the North Wind is more felt. Water reserves are good – our last rain was a big storm of 75 mm (3 in) in late May, but there was no hail with that. There is hardly a spot of mildew. The white crop didn't have a big budding, perhaps affected by the cold at flowering last year, but flowering on the MARSANNE and the ROUSSANNE is going well."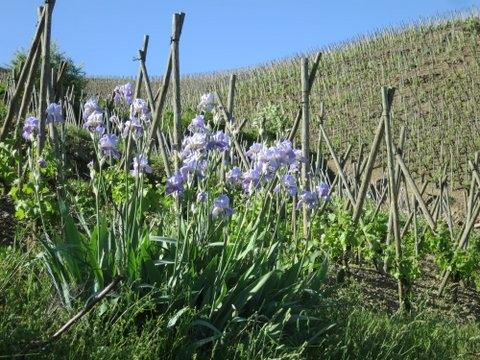 NEXT STOP FLOWERING
MAY 2014
As the buds turn towards flowers, growers of Grenache across the SOUTHERN RHÔNE are preparing themselves for the most critical moment of their year. If the weather is cold, if it is damp, or if there is a biting wind, the Grenache may lose crop from coulure – flowers appearing, but not converting into fruit. The economic hardship from this is extreme, as is the damage to the region's identity, which revolves around wines centred upon the Grenache, regarded as the natural Child of these soils.
"In 2013 I had a lot of coulure on my old vine Grenache," relates JEAN-PAUL VERSINO of the excellent, traditional approach DOMAINE BOIS DE BOURSAN at CHÂTEAUNEUF-DU-PAPE. In that regard it was similar to 1984, when there was also a lot of coulure, but those 1984s came back to give lovely surprises after 20 years, as their acidity settled in, their balance arranged itself, and their behaviour reflected that of Burgundy reds.
We are on target this year for flowering between 25 May and 1 June, similar to 2012. We must hope that we can avoid cold weather then. Budding on the Syrah, Mourvèdre, Clairette and Bourboulenc has been average, not a lot nor a little, but the big question revolves around the Grenache at the end of the month. The vegetation this year is going well, and has slowed since a cooler spell from late April into early May. There are no signs of any oïdium or mildew."
Reflecting the cooler zones of the Southern Drôme, PHILIPPE ARNAUD of the benchmark DOMAINE CHAUME-ARNAUD, makers of good VINSOBRES and also SAINT-MAURICE, spoke of flowering heading for 10 June or thereabouts. "What pleases me the most is that the vineyards are in a wonderfully homogenous state," he explained; "after all the heavy rains and little cold weather during the winter, the vines look good and are ahead of their usual evolution. There are no blights, and budding was joli."
In the NORTHERN RHÔNE, the early advance as a result of a mild winter and warm weather in March and April has been whittled back after some cooler conditions in late April and the first week of May. "We're still ahead of schedule," commented DAVID REYNAUD, who has been turning out excellent 2012s in the southern zone of CROZES-HERMITAGE from his DOMAINE LES BRUYÈRES. "Budding was belle on the Syrah, though the Marsanne was poor, and that will be a small crop this year. We had a lot of winter rain until mid-February. We need one more good raining before flowering."
At CÔTE-RÔTIE, GILLES BARGE, doyen of matters syndicales for the appellation, and proud traditionalist, spoke of the very fast start in March and early April 2014. "We are now one week ahead," he stated. "This year we had to delay our working of the soils by around two weeks because of the very wet weather in February. The vegetation's growth has slowed with the cooler spell of late April and the start of May. Reserves of water are good."
Meanwhile, the market for 2012s is strong and steady, the market for the lighter 2013s less stable. A good, abundant, sound quality vintage would be in everyone's interests this year. There is du chemin à faire, there are ways to go yet. Already present in the vines is the makings of the 2015 crop, though, which may reflect the stresses of 2013. The cycle is not merely from one year to the next.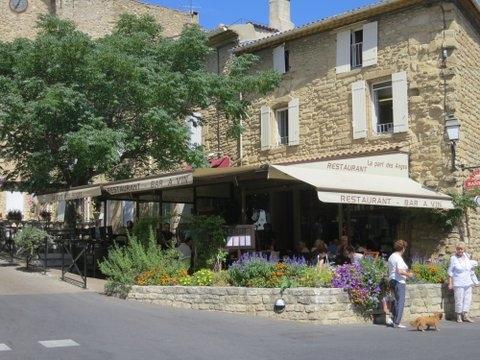 CHÂTEAUNEUF-DU-PAPE 2012 REDS: FLOAT LIKE A BUTTERFLY, STING LIKE A BEE
APRIL 2014
Ah, the darling buds of May, well, in the Rhône 2014, make that late March. The winter has been mild, there is a good level of water in the vineyards and the buds are starting to show - early after the late maturing of last year. Another season, another set of hopes and dreams.
I had a busy day at the end of July 1966. Apart from attending the World Cup Final for the Jules Rimet Trophy between England and Germany, I met a few people at Wembley Stadium. My father was responsible for the catering, and I was in with the VIP guests and high profile personnages of the day. My first and outstanding triumph was to meet and shake the hand of MUHAMMAD ALI, THE CHAMP.
He was seated in a corner of the Reception Room, no big crowd around him. I walked up and asked him for his autograph, while his couple of minders (would have been x10 in the USA) urged him "C'mon Champ, we gotta go see the football game…" to which My Hero responded, "No, I gotta look after my fans here in England." I thought it would be good to have his autogrpah in the right place, so I opened the page of the Final programme where the teams were written out, bang in the middle, he signed, we shook hands, my paw disappeared, and I departed. Years later, after the death of my parents, the programme was thrown out in the house clear-out. Gutter.
When living in Aix-en-Provence in the early 1970s, I wrote Muhammad Ali poems and pranced around, shuffling in my espadrilles, weaving, shadow boxing, bobbing and all, as some of my wearied friends will testify. Like a gnat or a stringy bluebottle on speed. Ali's Rumble in the Jungle in Zaire on the night of my birthday, 30 October 1974, had me up all night in my flat in Aix, twiddling the radio dials for some scrap of information on the fight. Nothing. Total anxiety.
One particularly horrendous line of homespun poetry ran: "Why, Muhammad he got brain, he ain't come from no drain, he make 'em pay their dues . . . with those flashin one-twos." [I admit to minor plagiarism of the Louisville Lip].
The Mighty Legend is the subject of this account since he is invoked in my review of the 2012 CHÂTEAUNEUF-DU-PAPE REDS, which I have just published. This is a FLOAT LIKE A BUTTERFLY, STING LIKE A BEE vintage. It has grace, charm, inner strength, and is the one year when just maybe the growers will realise that they do not have to churn out obviously heady, high sucrosity wines, and can make a decent living reverting to the finesse present in the best Châteauneuf-du-Papes of my youth.
This theme and over 200 wines that range from 2.5 to 5 stars are looked at in depth. As in such matters, the review is discursive, since I am my own Editor. In the matter of vintage comparison, I go back to possibly 1964, possibly 1979, and most possibly not, but for a fleeting moment, 2006.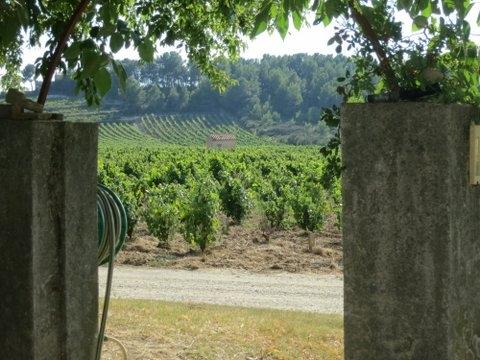 GIGONDAS 2012: FREE AS A BIRD
The 2012 vintage in the Rhône has been well received, even if at times I feel that wine merchants are talking it up in a big way since they cannot sell much Bordeaux at present. It is a good to very good vintage, with lucidity of fruit and freshness of texture the prime features.
A full Report on 2012 GIGONDAS REDS has been posted under 2012 Southern Rhône, The Leading Wines. Across over 120 wines there are two 5 star wines, and plenty of 4.5 and 4 star wines. The best are very enjoyable or will be in a few years. For good measure, there are also some GIGONDAS ROSÉS from 2012 cited – usually I find Gigondas rosé too heady, but the more moderate degrees in 2012 have helped the vintage. They are wines for the table, not for the aperitif.
A full Report on 2012 CONDRIEU has also been posted – see 2012 Northern Rhône, The Leading Wines. I like the vintage there - it bears the accepted vivacity of the year. There is also a trend towards lighter Rhône white wines, a matter that I debate in the Report. Outside influences can help, but they can also neuter regional character.
Meanwhile, many 2012 Tasting Notes have been posted across CHÂTEAUNEUF-DU-PAPE, RASTEAU and VACQUEYRAS. Full Reports will follow. Look for the LVT 2012 r code under each domaine – Last Vintage Tasted 2012 red.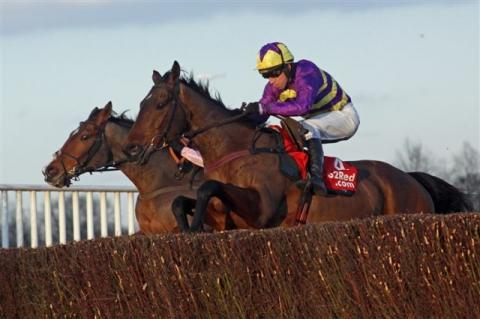 ADIEU TO CORNAS, THE DRINKRHONE MASCOT
FEBRUARY 2014
We welcome the Year of the Horse with the news that the drinkrhone CHEVAL MASCOT, our super equine friend CORNAS, has been retired from his racing career. Born on September 14, 2002, he officially became 12 years old on 1 January, 2014. He appears to have lost his zip, his last two races at Chepstow and Exeter (where he has a very good record) being very disappointing. He is showing signs of fatigue with the challenge, although he is sound in limb. At present, he is at the stables of Nick Williams, and a new retirement home is being sought for him. If any reader has a good paddock or two, please let me know.
CORNAS has always jumped with nimble accuracy, and perhaps could be retrained for more sedate jumping. During a career that started in October 2007, and has been followed with interest by readers from around the world, he ran 34 times, for 1st place 5 times, one of those wins in Ireland, 2nd place 4 times, 3rd place 3 times, one of those in France. He mixed in the best company, as they say. I know readers really get a buzz from the wines of CORNAS, old or young, rustic or polished, so please raise a glass to CORNAS, who, as I always tell the Mayor of the Village, is more famous than him. ALLEZ, CORNAS!!
On a personal note, I have been diagnosed with stomach bacteria probably picked up a few months ago on one of my journeys in the Rhône, the result being a sharp slowdown in the ability and energy to work. As a result, the close-up reports on appellations for 2012 have been annoyingly delayed. What I have done instead is to enter as many 4 star wines and above as I can for 2102, both Northern and Southern, so I recommend use of the Search engine for those. Treatment is now under way, so an acceleration in the data posting will occur later in February. Apologies for the delays. If subscribers have pressing questions about particular 2012s, send them in; I answer every email and the address remains jll@drinkrhone.com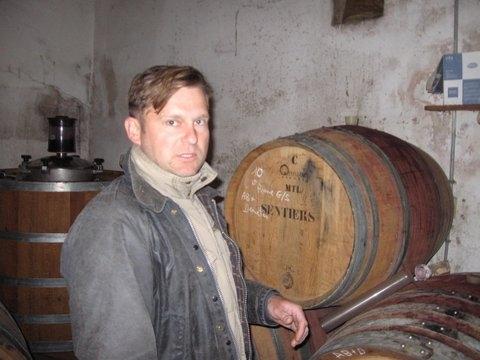 2014: THE YEAR OF CHARACTER
I greatly prize a grower's ability to create stimulating wine, to allow me to drink physically and spiritually, to provoke my sense of wonder. I taste thousands of wines, but remain wedded to those that appear in my notes with words such as "character", "interesting", STGT, w.o.w. and so on. These are wines that are not made to appeal to the fashion gallery and to make an impact by sheer weight of extraction, or through muscled cellar-derived depth.
Taking the 2012 CÔTES DU RHÔNE RED category, for instance, under CÔTES DU RHÔNE, MATTHIEU DUMARCHER, DOMAINE GRAMENON, MAXIME-FRANÇOIS LAURENT and DOMAINE SAINT MICHEL, to name a few, achieved this. At BEAUMES-DE-VENISE, the DOMAINE DES BERNARDINS, at CAIRANNE the DOMAINE ALARY and at LIRAC the DOMAINE DES CARABINIERS came up with such wines, all of which I commend to you. The CARABINIERS LUNAR APOGÉ with a spot of cool riff, jazz music, Sarah Vaughan on vocals, for instance. Get in the Mood, Readers. 2014: the year of CHARACTER.
INSPIRATION, MAESTRO
The inspiration that wine can bring was brought home to me recently when I received a lyrical, heartfelt report on a single bottle of wine from a subscriber in Switzerland. His name is PAUL CLARK. Paul wrote to me as follows: "I had a very nice windfall yesterday. I stumbled across a bottle of 1990 CÔTE-RÔTIE GENTAZ-DERVIEUX in my local caviste's shop. It was from his private collection. He looked at the fill (which was maybe 1.5cm low) and asked me CHF60 for the bottle. I was shaking with excitement. Previously I believed I would never have the chance to experience one of these wines because of cost and scarcity. I was literally trembling the entire way home.
It was a perfect bottle. My wife's first reaction after tasting the wine was "fumée". It was all bramble fruit, violets, smoky woods and burnt forest. The fruit was floral, incredibly fresh and sharp, yet there was a charred element, the smoke and truffle. Never a moment of confiture. It was so bright on the palate. It was so amazingly full yet never heavy, always incredibly aerien.
I had trouble sleeping last night. The excitement hanged in the air as long as the aftertaste of Gentaz-Dervieux's ethereal wine.
Incidentally I'm emailing you this because I've been a reader of your work for nearly four years and I can't think of anyone who would be able to appreciate the emotions I felt more than yourself. I reckon 99.9% of wine fanatics would wonder what all the fuss was about...Gentaz-Dervieux's is such a rare name let alone bottle to stumble across these days. Thanks for your passion and continued work to share your knowledge of these wines, it's your writing that gave me the ability to recognize this bottle and eventually have one of my most memorable vinous moments."
THE NITTY GRITTY: TRUE APPRECIATION
PAUL subsequently added this: "a debate ensued on the wineberserkers.com board as to whether or not other folk would have "flipped" the bottle for $1,985 pocketing a $1,925 gain. I wouldn't have paid $2k for the experience but, that said, I wouldn't sell the experience for $2k either! The story embodies everything I love about wine. The bottle came from a private collection, the owner / caviste is an amateur of aged wine, he recognized me as a guy that is passionate about wine but too young to have appreciated numerous versions of well aged wine. He proposed to sell me the bottle at an average "Côte-Rôtie price". I didn't see it as an opportunity to buy a bottle for CHF 60 but, rather, a CHF 1,925 gift from a very generous caviste (don't tell the tax authorities about that!). Its refreshing to enjoy opportunities which are increasingly becoming limited to oligarchs and Asian billionaires. And it served as a perfect Christmas celebration between my wife and I. A roasted pigeon and sautéed spinach paired with it perfectly!"
BRAVO to PAUL CLARK for embodying the true spirit of a wine lover. May we conquer "collectors" and "flippers" the world over.