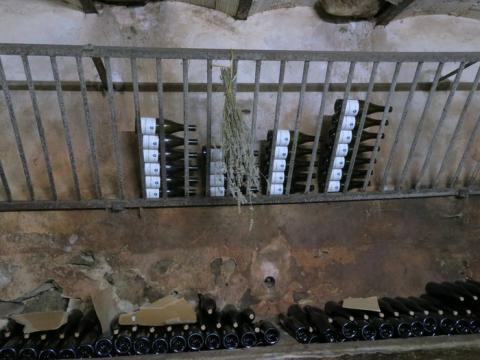 TWO ROUTES LEADING TO THE NORTHERN RHÔNE, NEITHER BEARING A SILVER SPOON
DECEMBER 2017
Starting up as a vigneron in the northern Rhône is extremely challenging these days. The surge in interest of the last five years has led to unparalleled prices for old wines; what I might term "the ELVIS SYNDROME" has led to bottles such as the 1991 NOËL VERSET CORNAS being offered for sale at £746 per bottle [reduced from £785 in the Christmas sale] at FINE + RARE.
Beyond the grave, the work of these past masters is being more than fully recognised in the second to fifth hand market. However, land prices for vineyards are rising all the time, the barriers to entry of anyone lacking a family connection, nor holding large sums of capital, or access to large sums of capital, are vertiginous.
With planting rights much loosened from 2018, there has already been something of a stampede to plant in an appellation such as SAINT-PÉRAY. There, around five to eight hectares of new plantation rights have been permitted over the past three or four years. The people pouncing on these rights tend not to be young debutants, which one would like to see, but the already major players such as CHAPOUTIER, where ready access to funds or lines of credit is immediate and comprehensive. The same will happen to the plain areas to the east of the CROZES-HERMITAGE appellation in the coming years: it's worth paying a top dollar price for modest fruit lands now, in the knowledge that vineyards will soon be allowed.
I recently visited two recent newcomers, neither of them a fresh faced twenty year old, who have approached their challenge in slightly different ways. JEAN-BAPTISTE SOUILLARD's parents were agriculteurs at ANDANCE, a pretty village on the RHÔNE possessing a famous MARC SEGUIN suspension bridge built in 1827, the same year that JEAN-BAPTISTE's great-grandfather PAUL built his cellar and stables.
From 2014 he has purchased harvest, using contacts established while he worked for several years with JEAN-LUC COLOMBO's oenologue service. Having made wine in AUSTRALIA, NEW ZEALAND, BURGUNDY and BORDEAUX before a Masters at DIJON, he is clear on what will work for him – and that does not include investing large amounts in land. He vinifies and bottles a range of 16 different wines from VIN DE FRANCE on to CORNAS and CÔTE-RÔTIE via SAINT-JOSEPH, the sums per wine usually between 500 and 1,000 bottles, and the wines mostly plot-specific.
Aged 35 and formally trained, JEAN-BAPTISTE vinifies in the rugged 1827 cellar and has novel storage facilities there, including using old mangers for horses and cattle for some of his bottle stock. He has swiftly established exports as a prime part of his model, with the USA, SCANDINAVIA and HONG KONG already on board.
SÉBASTIEN BLACHON's father-in-law was a CO-OPERATEUR at TAIN. Starting in 2009, when he made one cask of wine, SÉBASTIEN set out to buy, rent and plant land, all at the high quality SAINT-JOSEPH village of ST JEAN-DE-MUZOLS just north of TOURNON, like ANDANCE in the ARDÈCHE. In 2016 he took over a 0.7 hectare SYRAH plot part 1930, part 2004, from his father-in-law, while another prized vineyard is his 0.22 hectare on SAINT-ÉPINE, next to the old RAYMOND TROLLAT vineyard.
The theme here is one of tiny dimensions for each little step forwards, with the occasional step backwards, as in one of his landlords selling his old SYRAH VIN DE PAYS vineyard for housing development; now SÉBASTIEN has assembled 3.4 hectares of SAINT-JOSEPH [three hectares currently planted] by one method or another. That is a journey lasting from 2009 to 2018, a long way from the instant hits of the Big Operations.
This is true grass roots work; aged 40, and entirely self-taught, SÉBASTIEN acknowledges that he extracted too much on his 2015, but will be more hands-off with his promising 2017s. He reminds me of JEAN-CLAUDE MARSANNE at MAUVES in his natural, unforced approach. "I like elegance," he states, and no doubt he will sell much of his wine locally to people reared on the delights of the red-fruited, cosy appeal of old ST JEAN warriors such as ELIZABETH FOGIER or still thriving GUY FARGE, along with PHILIPPE DESBOS and PHILIPPE MICHELAS.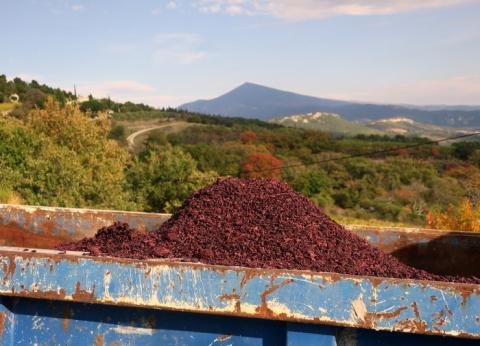 THE SOUTHERN RHÔNE VINEYARDS: HANDFULS OF DUST
NOVEMBER 2017
2017's harvest has been duly vinified across the SOUTHERN RHÔNE, although CHÂTEAU RAYAS at CHÂTEAUNEUF-DU-PAPE have been by some distance the last to pick. As EMMANUEL REYNAUD told me: "the big challenge is to find the balance of the fruit: you have to wait for that, the length of the fruit; you shouldn't be swayed by the sugars."
2017 yields are down often by 50%. With the crop so small, and the weather so dry, it has been no surprise that the grapes have had very thick skins, with only a little, concentrated juice inside them. At this juncture, I have a flashback to 1983, when just such a situation arose, and within living memory, 1957 as well.
Those were vintages with pushy tannins, and I spent years into the 1990s wondering if wines such as the 1983 HERMITAGE LA CHAPELLE would ever climb down off their tannic perch, and become presentable in polite company. The answer, for the most part, was NO.
However, I have been pleased by the style and flair of the 2017 fruit, but most happy of all to find tannins that are well embedded. As ROBERT CHARAVIN of the very good, biodynamic DOMAINE DES COTEAUX DES TRAVERS at RASTEAU remarked: "when you ate the grapes this year, you feared the worst with the tannins, because the taste was unbalanced, but after vinification, the tannins seem to fit in well."
However, outside, in the vineyards, the situation is grave across the SOUTHERN RHÔNE. At CHÂTEAUNEUF-DU-PAPE, there has been just 40 mm of rain (1.6 ins) since May, including a hailstorm of 28 mm (1 in) on 28-29 June, 2017, and annual rainfall of 236 mm (10.5 ins) between January and the end of October. Average annual rainfall there is 650 mm. Just a trickle of rain in JULY, AUGUST, SEPTEMBER and OCTOBER, thus. MISTRAL wind, as is blowing in early NOVEMBER, adds to the drought, and intensifies the absence of water reserves.
JEAN-PIERRE BERTRAND of the excellent, full-blooded DOMAINE GRAND NICOLET at RASTEAU, voiced this concern to me: "I consider the vineyard to be very tired, and I trace that back to 2003 [the year of extreme heat, hundreds dying in PARIS]."
JÉRÔME MATHIEU of SAJE, his own CHÂTEAUNEUF-DU-PAPE domaine created in 2015, talked about the new challenges in the vineyards this year: "it's now that we drill the holes to plant the new vines. It's extremely hard to make those holes now, and our work would then be destroyed if we then experienced three months of rain. There is only 5-10% humidity in the dry zones – there's dust everywhere. Each time you pass through the vineyard, you dry it by around 10 cm, so growers who have done 10 to 15 vineyard passages are in trouble. I have adapted already, and am going through the vineyard less as a result of the drought."
Vineyards whose soils weren't worked during the growing season had lost their leaves by the first half of October, 2017. Oak truffle trees and plane trees are also showing signs of stress. There is no local trade in CÈPES, which are being shipped south from the ARDENNES for the stylish L'OUSTALET Restaurant at GIGONDAS. The outlook for the TRUFFLE season is dodgy, as well.
Lastly, a poignant note about the predicament for nature. I was returning to my bed and breakfast one night after dinner, and heard a rustling in the dark. Normally one would think of a rat, but no, there was a toad, a crapeau. He or she was moving in a pile of leaves behind a small terracotta flower bowl. The leaves are now so dry that any movement in them gives away your existence to a potential predator. I returned to my car to retrieve some water to pour on the leaves around the toad, but the plight of the birds and more aquatic species must be immense at present.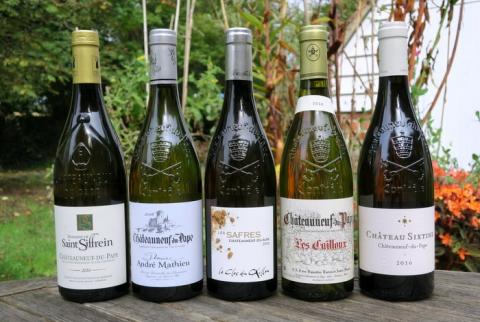 A PERFECT STORM FOR PRICES?
OCTOBER 2017
With news of half a harvest brought in across the SOUTHERN RHÔNE for 2017, and a deficit also in the NORTHERN RHÔNE due to coulure [flowers failing to convert into fruit] on the SYRAH, we could be looking at an unwelcome spike in RHÔNE prices. There will be pressure on RHÔNE growers due to the levels of interest in the 2016 vintage, hard on the heels of the much acclaimed 2015.
En primeur sales for the RHÔNE are growing year by year, and the date for this creeps ever forward. I maintain my position that en primeur is a fandango operation designed less for the consumer and more for the intermediary – the wine merchant – than even the domaine. The BORDEAUX system of offering the wines as early as April following the harvest has been creaking at the seams for some years now, and the RHÔNE is starting to be ramped up to follow that.
And yet, here we are with – in the SOUTHERN RHÔNE – multi variety wines, whose final blending has not been performed under a year after the harvest. Nor are they all raised in just a 225-litre BORDELAIS cask. The wines can be raised in large 40 hl barrels, the ever more popular demi-muids of 600-litres, the 228-litre of BURGUNDY, 400-litres also, steel vat, concrete vat, tronconic oak vats and so on. What is offered for the en primeur tastings is an approximation, a car with three wheels and no spare tyre.
The get out of jail card in 2016 is that the reds are stacked with pure and often ebullient fruit which is easy to appreciate and enjoy. Balance is good, tannins are ripe, and the wines are showing well young. I would expect there to be strong sales for the likes of CHÂTEAUNEUF-DU-PAPE and GIGONDAS, although the relative drop in popularity of the former over recent years due to the perception of high degree wines, marked up to very high prices in restaurants, may offset that to some extent. GIGONDAS prices have also been rising recently, by the way.
It's a delicate situation, therefore. I have seen RHÔNE stampedes before. Take the early 1970s, when speculation in wine futures was pretty rampant. On that occasion, BORDEAUX and BURGUNDY were bid up, with the RHÔNE following. Then the train hit the buffers. On 31 August, 1972, stocks of wine held at the properties of CHÂTEAUNEUF-DU-PAPE amounted to 58,910 hl. On 31 August, 1974, stocks were 112,505 hl. For GIGONDAS, stocks of 17,440 hl on 31 August 1972 became stocks of 33,903 hl on 31 August, 1974. Prices subsequently plummeted due to the supply and demand inequality.
Today there is such a wider choice for consumers than 45 years ago. The wine world is several times larger, literally. If perception, which more and more rules over reality, rules that a wine isn't worth it, or is uncool, that wine can fall away from favour in the blinking of an eye.
Hence there is pressure on growers to conduct their businesses with a calm, measured hand. Consumers take a hard line on someone pleading loss of crop = higher prices. They can just shift to the next door shelf in the shop.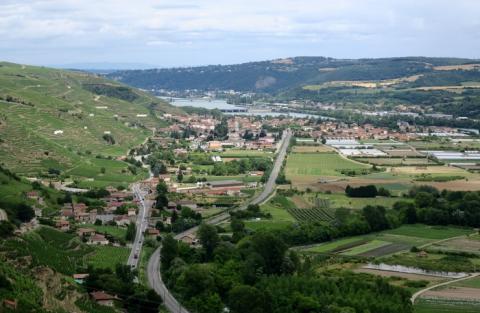 A RARE VINTAGE THAT WILL TIRE THE VINES FOR 2018
SEPTEMBER 2017
With the RHÔNE the subject of very little rain once more during August, the last three months have seen vineyards obliged to seek deep into their root systems for nourishment. The fact that growers are surprised that the foliage is not yellow by and large tells me that 2017 is going to be a high wear and tear year for the vines, especially plants under 20 years' old.
Any grower lacking in commitment of time and effort in the vineyard will be punished this year – and next. Working the soils has been essential. I find it hard to recollect a vintage in the past 45 years that has been so consistently dry, although 2003 gave higher, more intense heat. 2003 was also helped by some rain in early July, with the top spike in temperature late – the week of 10-17 August 42°C at HERMITAGE, for instance. I expect 2017 to hold better balance than 2003, even if it is a rare year.
2017 SOUTHERN RHÔNE
The central story in the SOUTHERN RHÔNE remains the lack of GRENACHE NOIR, and GRENACHE BLANC for the whites, savagely hit by the coulure at flowering. At TAVEL, RICHARD MABY, whose vineyards cover TAVEL, LIRAC and CÔTES DU RHÔNE, spoke of the economic effect of such a small crop: "it's worse than in 2013, and is 30% down on 2016 – some bunches have just one grape on them on LES VESTIDES. People are worried by the impact for their income."
VINCENT DE BEZ of the celebrated CHÂTEAU D'AQUÉRIA [TAVEL, LIRAC, CÔTES DU RHÔNE] agreed, telling me: "it's not very funny this year. There are very, very few grapes, right across the region, while the drought has meant that there is very little juice in the grapes. The result is -50%, which I have never seen in my career. The CAVE D'ESTÉZARGUES finished their harvest on 31 August – they had nothing more to pick. For small domaines that don't have a good foothold in the French or overseas markets, it's a worrying time."
CHÂTEAUNEUF-DU-PAPE has not been spared, with some estimates of crop around 20-25 hl/ha. The last week of August saw harvesting on whites, but in the first full week in September growers have stepped back, waiting for their GRENACHE NOIR to ripen properly. "I harvested my SYRAH on 30 August, and my whites on 1-2 September, but am now waiting until 11 September for my GRENACHE," related LUC CHARVIN of the top grade DOMAINE CHARVIN from the northern sector towards ORANGE. "Quality is very, very joli, and it's healthy, but it's only half a crop. We haven't been hit by the drought, unlike parts of the southern sector."
From the southern sector towards SORGUES, FRÉDÉRIC NICOLET of the very good, traditional styled DOMAINE CHANTE PERDRIX confirmed this: "the northern area has had a bit more rain than us, it's true," he stated. On 31 August we had just 4 mm and that was followed by a strong MISTRAL wind. I have harvested my whites – the GRENACHE BLANC, a low crop and 14°, the CLAIRETTE, very joli and 13.8°. The SYRAH is strong on colour and looks magnificent, but the GRENACHE NOIR loss is 30% to 40%. Its skins are very thick, as you would expect, and that is why I am waiting to harvest it. There's not much harvest activity this week after the early push last week."
Further north at VISAN, one of the leading CÔTES DU RHÔNE VILLAGES, owner of the excellent biodynamic DOMAINE ROCHE-AUDRAN, VINCENT ROCHETTE, gave this report: "I started at the end of August, and 2017 is a high quality vintage. We are down 50% on our usual crop – the spring frost, hail, coulure and drought forming four reasons for that."
2017 NORTHERN RHÔNE
Meanwhile in the NORTHERN RHÔNE, activity is starting here and there. OLIVIER CLAPE at CORNAS told me: "the 11 mm (0.5 in) of rain on 31 August wasn't enough to supply a little more juice in the grapes. We harvested our whites on 29 August, and with cooler temperatures we are on our CORNAS harvest from 4 September on."
CORNAS is usually some time ahead of CÔTE-RÔTIE, a fact confirmed by PATRICK JASMIN from the latter at his home in AMPUIS: "the vineyard looks in good shape, and we have a good week's weather to come. We received 10 mm of rain on 31 August. The degrees are coming along, and the acidity is correct. M.ROSTAING is harvesting on FONGEANT, but there is not much other activity, with, for me, a lack of ripeness still in the pips and stems. My SYRAH is now 13° to 13.5°, but the phenolic ripening hasn't happened yet. I expect to get going on 11 September."
Working well across vineyards at CÔTE-RÔTIE, CONDRIEU and SAINT-JOSEPH from his base above CHAVANAY, LIONEL FAURY reported that he was due to start his CONDRIEU VIOGNIER on 7 September. "Ripeness levels are quite high, we are at 14° to 14.5°, but the grapes have lacked flavour, and I can't harvest them until they have flavour. The vineyard isn't yellow, so isn't visibly suffering. I have colleagues bringing in only around 20 hl/ha. Normally I would expect to use 135 kg of grapes to make 100 litres [1 hl], but this year it's 160-170 kg.
For my SYRAH, the year is in advance; I will harvest the first plots on 11 September. Ripening has been gradual, and quality is quite normal, fine and beau. As usual, there has been more rain at CÔTE-RÔTIE than SAINT-JOSEPH, and I had some hail on 20 June on LE PLOMB in the northern part of CÔTE-RÔTIE."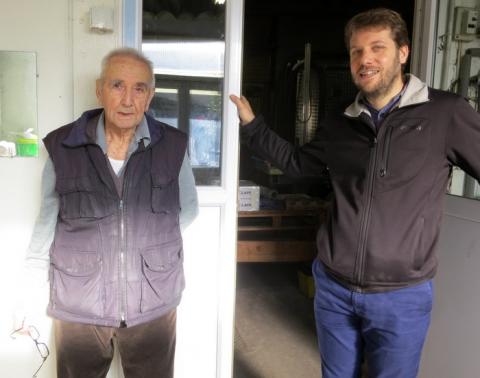 VERY HOT, VERY DRY, REDUCED CROP
AUGUST 2017
As the RHÔNE swelters under temperatures touching 40°C, the vineyards are heading for a blockage in their ripening season. Crop has already been reduced by coulure (flowers failing to convert into fruit) in both the NORTHERN and SOUTHERN RHÔNE. At CORNAS, OLIVIER CLAPE estimates a loss of around 30%, for example. "Flowering coincided with an enormous burst of vegetation growth, prompted at source by the heat in April, and the vines couldn't place their energy everywhere at once," he says. "We look like harvesting our SAINT-PÉRAY around the end of August, the SYRAH for CORNAS a week or so later.
"The second week of August may have some rain, and fresher conditions," he concluded, perhaps somewhat hopefully.
In the SOUTHERN RHÔNE, high speed Mistral winds in the third week of July also concentrated what are small grapes already. There are growing signs of drought, as reported by DOMINIQUE AY of the excellent DOMAINE RASPAIL-AY at GIGONDAS: "it was 28° to 35°C during July, and is near 38°C now. Depending on the soils, there is drought – though the signs of yellowing leaves haven't come through. Old vines with their deep roots are OK, but vines under 10 years' old are more drought affected. Some plots have zero crop, others are better."
The main impact of this news of shortfall will be pressure on prices, with the much acclaimed 2015 and 2016 vintages carrying a strong following among drinkers and investors alike. At least the crop is healthy for now, but the prospect of a drought-style vintage situated somewhere between 1983, 1989 and 2003 lies ahead.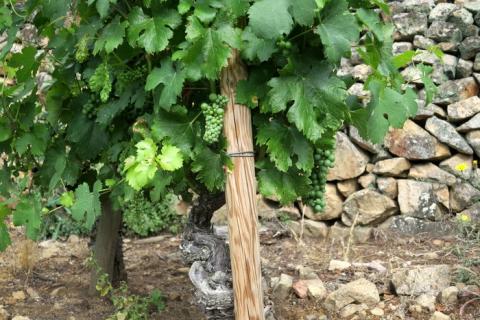 2017 SUMMER REPORT, THE RHÔNE IN PRETTY GOOD SHAPE
JULY 2017
2017 has started well for the NORTHERN RHÔNE, and better than those regions devastated by April frosts. "There was frost on the heights of the plateau, and on the plain by the Rhône on 22 April," reports ANDRÉ PERRET from CHAVANAY, which is part of CONDRIEU and also SAINT-JOSEPH. "Our MARSANNE and VIOGNIER for the VIN DE PAYS DES COLLINES RHODANIENNES were hit, the SYRAH a bit also, the MERLOT not as it happens." Since then, there was some hail on 23 June on the high vineyards above AMPUIS – very specific, not general, damage there.
These episodes apart, the vineyards have come through the high heat from the 10 June to the end of the month, when temperatures went into the 36°C-38°C range. 100 mm of good rain (4 inches, no storms) during May had fuelled water reserves, and was followed by one or two storms in June – one such storm in the second week produced 20 mm (0.8 inch) in just 15 minutes. Another 20 mm (0.8 inch) on 29 June also helped, with temperatures in early July dropping sharply down to the low 20°Cs. At the present rhythm, harvesting may be on 15 September, or a little earlier, with yields looking good. ANDRÉ added that his 1930s VIOGNIER "is in great form" this year.
Flowering across the NORTHERN RHÔNE has gone well, with only a little coulure (flowers failing to convert into fruit) here and there. However, GRENACHE in the SOUTHERN RHÔNE has been much harder hit by the coulure, with DANIEL BRUNIER of DOMAINE DU VIEUX TÉLÉGRAPHE at CHÂTEAUNEUF-DU-PAPE lamenting the fact that the 2017 crop is now certain to be small. There, temperatures were above 30°C from 9 June until 27 June, at times a full 10°C higher than the seasonal average, with some mornings showing 24°C at 06.00 – not much rest for the vines.
Only 14 mm (0.58 in) of rain fell on 28 June, so dry conditions prompted DANIEL to state that "we really need good rain before the 14 July – that would be cool for us." The two classic ripening season rainfall dates wished for by the growers are 14 July [on France's national holiday, no matter] and 15 August, before a dry run-in to the harvest.
Nearby at CAIRANNE, DENIS ALARY also lamented the coulure on his vineyards. "The year has been one of fast happenings so far," he told me. "The vineyards set off at speed in March, but then three weeks of very cold weather, including days of 2°C-3°C, slowed them down and sent them to sleep. As it warmed up again, the vegetation had a growth spurt at the same time as the flowering, which is one of the no-nos for a good flowering, since the vine's energy goes into the vegetation and not the flower.
We've lost 30% of our 2017 GRENACHE, meaning around 15% of our whole harvest, but that's not as bad as 2013, when we lost 100% in some plots from coulure. Rain in the last week of June [30 mm, 1.2 in] was very helpful, but we are looking at an extremely early harvest as it stands, the whites maybe heading for 20 August. The speed in the vineyard has been phenomenal this year."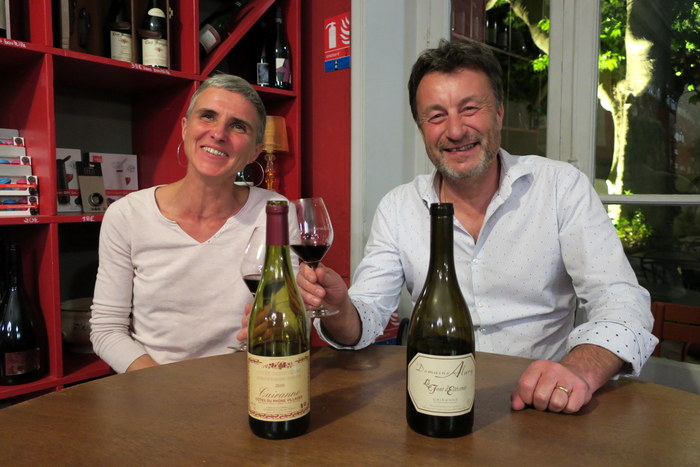 TWO OF THE PILLARS OF CAIRANNE: LAURE COUTURIER OF DOMAINE RABASSE CHARAVIN & DENIS ALARY
We also talked about the news that the appellation of CAIRANNE has been obliged by the highest jurisdiction in France, the CONSEIL D'ÉTAT in PARIS, to justify two paragraphs in its constitution, which was recently applied for the promotion from VILLAGES to CAIRANNE CRU. This follows a dossier submitted by the L'AMEILLAUD business and some CO-OPERATEURS seeking to recuperate the status of vineyards downgraded from VILLAGES to CÔTES DU RHÔNE when CAIRANNE rose to CRU – vineyards that were not considered of sufficient worth to be included in the promotion.
"Unfortunately, this matter has escalated, and is now in the hands of jurists and lawyers, and not within our control any more," stated DENIS ALARY. "We are being asked to re-write two paragraphs, one on the "aire géographique", the geographic lands of CAIRANNE, and one on what is obscurely termed the "facteur humain" – the human factor." Definitions are sought on these, which leads us into existential territory more usually occupied by the likes of JEAN-PAUL SARTRE, namely "why is the CAIRANNE wine made on the commune of CAIRANNE?", and being able to answer historical questions such as "why are 4,000 vines per hectare decreed?"
The lawyers will chew over the answers given by the growers of CAIRANNE, who plainly have better uses for both their time and their money. I get the impression that this will be ultimately regarded as a legal template for the whole of the French appellation system, especially when a region wants to be promoted, or vineyard zones are re-defined. Perhaps all growers could send 10 centimes to CAIRANNE for this service!
"The standing of the 2015, 2016 and 2017 vintages of CAIRANNE as a CRU wine are fine," says DENIS. "Our answers have to have been accepted, and the Ministerial decree published by 1 July, 2018, for the 2018 vintage to be in the clear."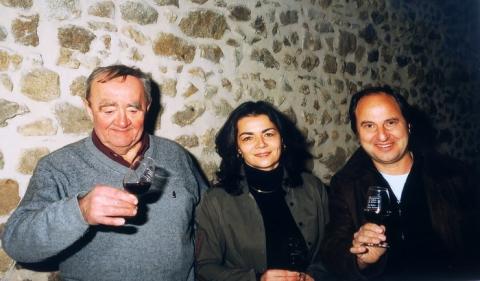 FAREWELL TO MY FRIEND AND TUTOR, LE GRAND PATRON
JUNE 2017
GEORGES VERNAY
There have been three men who shaped my understanding of viticulture, wine and the broader scape of life and its challenges, all resident in the northern Rhône. One of them, GEORGES VERNAY, has recently died aged 92. The other two are AUGUSTE CLAPE at CORNAS and GÉRARD CHAVE at HERMITAGE.
When starting my book researches in the summer of 1973, the only name mentioned to me to go and see at CONDRIEU was GEORGES VERNAY, who was then 48 years' old, and the single person keeping the depressed appellation on its feet. At the time I wrote: "above the river the scene is more melancholy. The gently inclined slopes are now largely uncultivated, and their abandonment has left them in a pitifully disordered state. 20 acres (8 hectares) – that is all there is of Condrieu, and the contrast with the neatly delineated and well-covered hillsides of Côte-Rôtie is immediately striking."
In those days, the average yield was also pitiful – between 1962 and 1971 it was 16 hectolitres a hectare, with the whole 1969 vintage reduced to a derisory 19 hectolitres after a disastrous July hailstorm. The wine was therefore just part of a polyculture existence, which meant that it paid growers to sell it as quickly as possible, with FERNAND POINT of the fabled three Michelin star Restaurant LA PYRAMIDE in VIENNE one of the regular takers, wine whose fermentation was stopped by all sorts of means in time for the Christmas trade, the result a demi-sec.
GEORGES entered his father's domaine in 1944, having started to work the family vineyards when he was 16 years' old. By the time I first met him, his role went far beyond just making the best wine in the appellation; he was the Papa of the appellation, the President of the SYNDICAT DU VIN, the man charged with defending the land against housing development, but also the man who lent equipment, such as the use of his new Vaslin press, and gave advice to his neighbours, who vinified the wine for the CHÂTEAU DU ROZAY, the man who ran the whole show almost single handedly.
As he told me at the time, "it's impossible to use machinery in the vineyards, which really makes it a young man's profession. What I would like to see created is something like a Protected Wine Zone, given over to viticulture and nothing else. In this way, the Wine Syndicate would rent vineyards from older growers, and pay them extra according to the size of the crop, the state of the market, and so on. I honestly think that if nothing is done France will gradually lose some of her best white wine slopes."
While fully aware of the need to respect the past, notably in the vineyard, GEORGES was also ready to embrace the future, as was shown in his winemaking, with investment in the latest vats, presses or casks, and an awareness that CONDRIEU needed to be a fresh rather than a heavy style of white wine. This baton was truly picked up by his daughter CHRISTINE.
Thus the VERNAY story goes far beyond praising a man for the work that he conducted for his own estate and family, and for the pleasure his wines gave to so many enthusiasts around the world, as well as for the inspiration he provided for winemakers outside France. To some extent, I feel that he never actually received the full recognition he deserved, in part because his legacy in bottles was more ephemeral than those of a maker of long-lived red wine, but also because he was so self-effacing about his own role.
Big hands, with an even bigger heart, GEORGES would always patiently answer all my questions, with a sprinkling of superb, pinpoint detail anecdotes such as that of HENRI LE FUNAMBULE – HENRI THE HIGH WIRE CYCLIST, based in SAINT-ETIENNE and known across France, who came to CONDRIEU one day in 1934 to cross and re-cross the 600 metre gulch between the two slopes of the celebrated COTEAU DE VERNON. His description included naming the oak tree [LA GABERTE] to which the wire was attached on the south side of VERNON, where YVES GANGLOFF now works some of his vines.
The mainstay of the family vineyard was always the 2.5 hectares of VERNON, with its topsoil of arzelle – decomposed, fine granite with mica and occasional schist. Its production of 5,000 bottles was always eagerly snapped up. I am lucky enough to still have old bottles in my cellar, and the day before GEORGES died, I drank a still flourishing 1983 COTEAU DE VERNON, a wine that WILLI'S WINE BAR in PARIS held as its wine of the year – for two years.
For some time in the late 1980s and early 1990s, there was uncertainty over the domaine. Son LUC attended the BEAUNE WINE SCHOOL, but his heart was not really in it, and he subsequently left to set up his own flying school, while his brother DANIEL was a horseman who went to live in the United States, raising and breaking in horses in Colorado.
It was in 1996 that daughter CHRISTINE returned south from a full and artistic life in PARIS with her bubbly husband PAUL AMSELLEM, her first vintage being the 1997. When I see CHRISTINE at work in the cellars on the slope of SAINTE AGATHE high above the Rhône, I see GEORGES smiling with contentment at his daughter's assured, accomplished presence, her keen eye for detail, and her commitment to any task in hand, with no distractions. She has also fought off ill health, and when her father died, the domaine's standing had never been higher.
I therefore salute the man I called LE GRAND PATRON, whose vision and labour enlightened the RHÔNE and well beyond, and send my deepest condolences to his loving family.
JOËL CHAMPET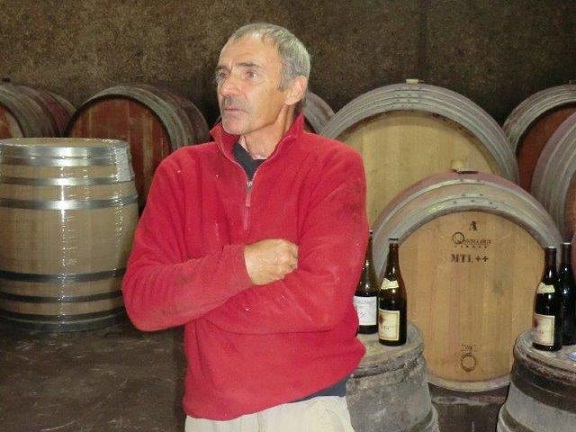 The first vigneron that ROBIN YAPP encountered in the RHÔNE was the late ÉMILE CHAMPET. ROBIN had tasted the CHAMPET wine at the Paris Wine Fair in the late 1960s, and, fired by enthusiasm, he drove south to CÔTE-RÔTIE to essay (a very Yappian word) a purchase of his wine for the British market. There were gestures of drinking elbows and thumbs up to illustrate the fact that ROBIN had much enjoyed ÉMILE's wine, and the deal was done.
YAPP still import the CHAMPET CÔTE-RÔTIE, and it was sad to hear that ÉMILE's son JOËL had died in May 2017, after a protracted fight against cancer that he valiantly fought off for many years longer than was expected.
The style has remained consistent throughout, with what I would call a good countryman's take on CÔTE-RÔTIE, a wine with a brambly fruit content and noticeable, sometimes puckish tannins in attendance. But always the classic violets and floral tones of a true RÔTIE, delivered at very reasonable prices.
JOËL was what the French call a Bricoleur – a handy DIY man – who liked to repair machines and do much of his own house building. He lived beyond the confines of life as a vigneron, so it is good news that his son ROMAIN has been active for some years now, with the wine in good form. JOËL's legacy is therefore secure.
My condolences go to the CHAMPET family, who can be proud of what JOËL achieved under the greatest of duress.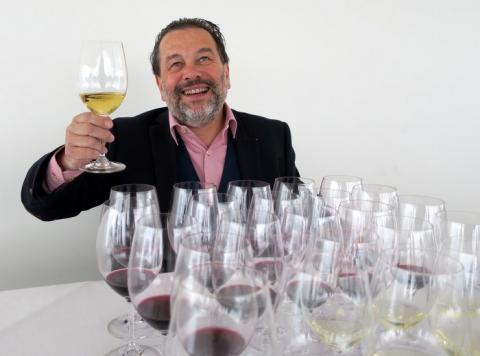 HIGH HO SILVER BRINGS 2016 NORTHERN RHÔNES TO LONDON
MAY 2017
In the panoramic lee of SAINT PAUL'S CATHEDRAL, MICHEL CHAPOUTIER made his annual pilgrimage on the iron horse known as Eurostar to display his 2016s in the last week of April 2017. The event was held at the TATE MODERN. As ever with MICHEL, he sailed in, spoke largely on message, had some lunch, then whizzed back to Gallic shores. He is much in demand these days for all sorts of committees and bodies that oversee the world of wine in France.
He is happy with the vintage, although his company was badly hit by the April 2016 hail on the hill of HERMITAGE, which reduced yields on the prized L'HERMITE and LES BESSARDS to a miniscule 10 hl/ha. The effect has been to concentrate those wines beyond the more cool features naturally found in this vintage, which stands in contrast to the copious, rich depth and size of the 2015s.
Prices have risen substantially between 2015 and 2016; 14%, even with the lowering in the GB£-€ rate, is going it somewhat, and it remains to be seen whether the recent momentum in popularity of the NORTHERN RHÔNE will be left behind, as buyers re-discover the classical joys of BORDEAUX in a good vintage there.
Full tasting notes on the upper end of MICHEL's range have been entered under M CHAPOUTIER; please log in to see those, including his two very good 2016 CHÂTEAUNEUF-DU-PAPE reds, CROIX DE BOIS and BARBE RAC.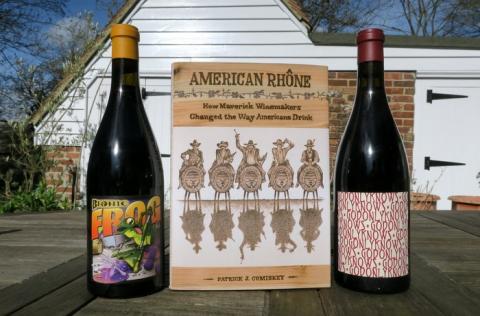 THE RHÔNE MOVEMENT IN THE USA
APRIL 2017
As opposed to the plastic surgeon, muy rico plunge of investment in the NAPA in the 1970s that heralded a slavish planting of the varieties that the surgeons and the ricos knew best – CABERNET [BORDEAUX] and CHARDONNAY [BURGUNDY], the development of RHÔNE influences in the USA was much more of a counter culture event.
Fuelling it often was the element of surprise. Given that RHÔNE wines were poorly known across Europe in the 1970s, in America, they were beyond sub fusc. But wait – who is this I see galloping towards me with a guitar on his back and home grown cigarette in his mouth – why, it's my very old friend KERMIT LYNCH.
KERMIT, a hippy musician at the time, travelled to Europe in 1971 and opened his store in BERKELEY the following year. RUTH REICHL wrote in her memoir "Tender at the Bone: "in the back of the store a slight man with curly brown hair and a scruffy beard stood by a make-shift desk, watching me. I could feel his eyes on my back as I went up and down the aisles looking at the wine in the cartons and repeating the names to myself. The words were beautiful. I reached for a bottle, picked it up, and stroked the label. "It's not fruit," said the man. "You can't tell anything by squeezing it."
And away he went, with his good chum ALICE WATERS just down the road framing the new American cuisine at CHEZ PANISSE, around a commitment to cooking with local produce in season, and honouring all contracts to buy fruit or vegetables even when crops were poor or damaged. For ALICE, like KERMIT, the reference point, the start point, was FRANCE.
Importing the likes of CHAVE HERMITAGE, TROLLAT SAINT-JOSEPH, CLAPE CORNAS and SAINT-JOSEPH JEAN-LOUIS GRIPPAT, KERMIT spread the word about the RHÔNE through these magic, unknown bottles and through a fervent advocacy of their virtues. Always an accomplished story teller and a shrewd marketeer, he lit many a fuse for future American experimenters and individualists.
I can recall JOSH JENSEN [of CALERA] talking about his discovery of VIOGNIER when drinking a bottle at the HOTEL BEAU RIVAGE in CONDRIEU in 1969, which led him to return the next year to harvest the grapes at CHÂTEAU-GRILLET, his payment for which was three bottles of that noble wine [with the 1969, he was in very good shape indeed]. From there he went on to be one of the first to plant VIOGNIER. I took a bottle of early 1970s VERNAY CONDRIEU to drink with him in SAN FRANCISCO in the early 1990s – the oldest bottle he had ever tasted, since the custom was to drink it up pretty rapidly.
It is said that my publisher, the UNIVERSITY OF CALIFORNIA PRESS, BERKELEY, is quitting publishing wine books, which isn't a great surprise given how poor the state's finances are. If that is indeed the case, they have signed out with a real winner in the form of AMERICAN RHÔNE by PATRICK J COMISKEY. PATRICK has done a superb job at capturing the straggling RHÔNE movement with a picture of vibrant anecdotes, humour and detail across nearly 50 years of development, setbacks, dawns and false dawns.
The subtitle is "How Maverick Winemakers changed the way Americans drink", and I can thoroughly recommend the book with its cast of characters, several of whom I know well. RANDALL GRAHM still owes me a royalty for CIGARE VOLANT, and I still haven't made my road trip with STEVE EDMUNDS, but I suggest you get to know these racy pioneers via the pages of this delightful, well researched and well written book. Its ISBN [for the book] is 978-0-520-25666-8, and for the e-book it is 978-0-520-96514-0.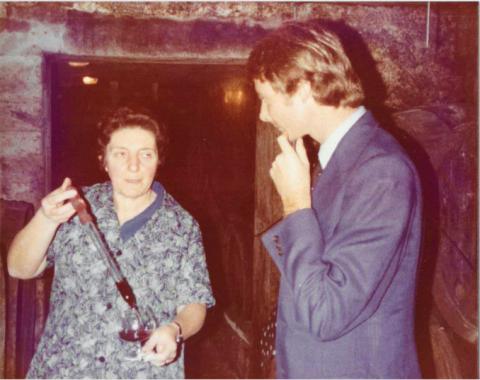 FAREWELL TO TWO CORNERSTONES WHO HELPED TO BUILD THE RHÔNE FROM THE ROOTS UP
MARCH 2017
This year we have said goodbye to two people whom I have known since the early 1970s, both of whom in their separate ways helped to lay the foundations for the flourishing, successful region that exists today. I feel it is important to recognise these often unsung heroes in a world hellbent on knowing the NEXT GREATEST THING, rather than taking time to pause, look back, ponder, and appreciate.
In the northern Rhône, HENRIETTE CLAPE, wife of AUGUSTE, died recently. Born in CORNAS in September 1924, she was nine months older than AUGUSTE. Her nom de jeune fille was ROUSSET, a family with extended local roots in those days, but, after losses in the Second World War, there are no close relations left there today.
HENRIETTE's family owned four and a bit hectares of land, which included about three hectares of vineyards. The plots were those that are the spine of the DOMAINE CLAPE, notably LA CÔTE and PETITE CÔTE, but also PIED LA VIGNE, where there are 1890s SYRAH, and LES MAZARDS. Their vineyard on COMBE gave a CÔTES DU RHÔNE red.
Land near the N86 road to SAINT-PÉRAY was used for growing cereals and apricot trees, while HENRIETTE was dedicated to her cows, milking them morning and evening, and making fresh cheese for her young family of one boy, PIERRE-MARIE, and two girls, MARIE-LAURE and BERNADETTE, into the mid-1970s.
"I especially remember her work with the cows – you had to be assiduous, twice a day, every day," relates PIERRE-MARIE. "We would eat fresh cheese nearly every day, while the milk she would deliver every day to the Épicerie in SAINT-PÉRAY. The hay was stored in the attic next to the house, along with the horse who was used to work the vineyards."
After her marriage to AUGUSTE in December 1949, HENRIETTE set about raising her three children, but she also continued to do what she knew - work the vines. "LES MAZARDS was virtually her own little vineyard," recalls PIERRE. "She pruned it all, she took out excess buds, she tied the young vines, she harvested it," he says. "As well as preparing all the sales paperwork and the accounts." [And receiving visitors such as me].
That is a full life lived fully, and, while HENRIETTE wasn't known to many of those who clambered through the small grey metal door on the N86, before going downstairs to taste, she was the veritable engine room behind AUGUSTE, and her contribution, never showy, was immense. I recall her as a true Ardechoise, capable of gruff humour, and not given to talking out of turn. Her friendships were firm and true, and I salute her and send my condolences to the family, content to know that she had met her great-grandson RUBEN before her passing.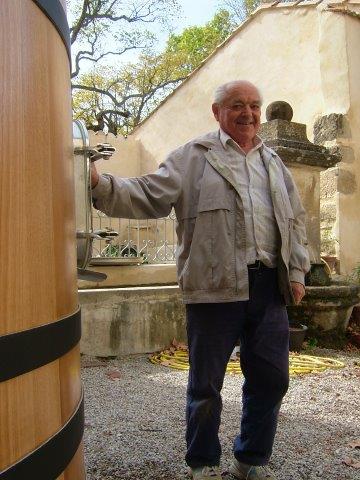 In the southern Rhône, HENRI BARRUOL, as true a child of Provençal lands as you could find, also died recently. In my first book on the Rhône, researched in 1973-74, I wrote "one of the most interesting of the small and old domaines is DOMAINE SAINT COSME. Its present owner, M.HENRI BARRUOL, is a small, energetic and entertaining character who stumbled into being a vigneron through marriage – and has no regrets at all in either department: "I used to be a full-time wood carver," he explained, "and after marrying and moving to Gigondas, I learnt a lot about wine from an old school friend who is a local oenologist. That was ten years ago, and now with the benefit of hindsight I'm really glad I kept up wine-making at Saint Cosme."
The reality was that HENRI had already lived a full life for such a young man when he arrived at Gigondas. Born in APT, his schooling at the Catholic College of AIX-EN-PROVENCE had stopped at 15 years due to the Second World War, and by August 1944 he was living on his own, away from his parents, in AVIGNON, learning his trade as a cabinet maker, with bombs falling as the liberation of France took place.
HENRI set himself up as a cabinet maker and restorer in MAZAN, a VENTOUX village, in 1950, with the help of his best friend's family - the oenologist JEAN-PAUL LAVAL, whose cousin CLAUDE ROLLAND had previously caught HENRI's eye. CLAUDE's family owned seven hectares at GIGONDAS, and the couple were married in 1957. Thereafter HENRI threw himself into planting vines wherever he could, also putting in a garden at SAINT COSME, taking out cherry trees, investing his project to revitalise a tired vineyard with his customary whirlwind zeal. Having worked on the land on a family property in the TARN as a young man, HENRI held some preparation for these tasks.
Not so the winemaking. By the early 1960s, his great friend JEAN-PAUL LAVAL was a complete rarity - a man who took a scientific approach to winemaking. He had a cabinet of oenology - a word little employed in those days - at CARPENTRAS, and "that's where my Papa learnt about all the mistakes and howlers that people were making when vinifying their crop," recalls LOUIS BARRUOL. "But Papa also emphasized to me that wine starts with discipline and hard work, but that one should never lose sight of the aesthetic side that the maker should want to present. As a man intensely interested in music, opera, archaeology, history, sculpture, cinema – all those influences helped to make and craft his wine," says LOUIS.
Henri continued with projects of restoration on the Chapel of SAINT COSME, including sculpting its altar, while restoring the estate cellars and guiding the vineyard from seven hectares up to 15 hectares in 1992, when son LOUIS started full-time. From the mid-1960s, he spent twenty years involved with the Syndicat of Growers, their Union, bearing a strong sense of collective responsibility. Throughout, HENRI encouraged those around him to appreciate the beauties of life, which could range from a piece of choral music to a rare bird. His mind would whizz along, right up to his end. "He didn't see himself as an owner, but as a guardian whose mission was to embellish and pass on what he received," concludes LOUIS. My thoughts and condolences go to all the extended members of the BARRUOL family.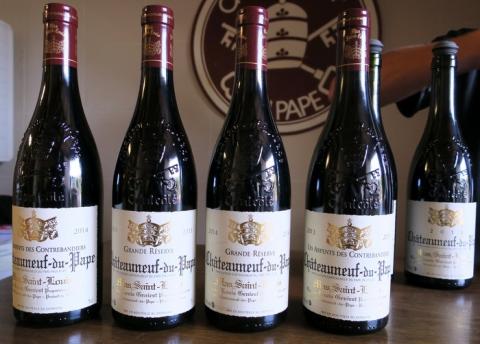 FORTY YEARS BETWEEN DRINKS
FEBRUARY 2017
MAS SAINT-LOUIS: 30 HECTARES OF A SINGLE VINEYARD AT CHÂTEAUNEUF-DU-PAPE
I first met LOUIS GENIEST (1909-1990) in the mid-1970s. I recall a visit, perhaps with STEVEN SPURRIER, to this domaine with high iron gates down at the bottom of the road running from the fountain, on the way to the route de BÉDARRIDES.
Then the domaine disappeared off my radar, with much of the wine sold in bulk. I must have walked past it hundreds of times, but signs of life were rare. LOUIS' son JEAN was a lawyer until his death in December 2008, and the domaine is now run with increased passion and commitment by his widow MONIQUE, a lady in her eighties, with a cellar chief called MATTHIEU FAURIE-GRÉPAN present since 2011.
The remarkable thing about this estate is that their 30 hectares, average age 40 years, are all in one extended plot in the south-east of the appellation, on the adjacent sites called CROUSROUTE and LA LIONNE, the latter close to an offshoot branch of the main RHÔNE RIVER. That is a very large single vineyard, more usually found with the big Château properties. There are three red wines, and, since 2013, one white. About 30% is sold in bulk, down from 50% in 2011.
The style from these sandy, galet stone covered soils is for perfumed wines, with a gentle take that is found in the southern sector. They unfurl gradually, and, after eight years or more, the bouquets become varied and interesting. There are still old vintages available, going back to the **** 2004 MAS SAINT-LOUIS. There are two smaller production wines, both very sound ***(*) to **** wines in 2013 and 2014. The ARPENTS DE CONTREBANDIERS RED was a most harmonious **** wine, like a feather in the wind, in 2014. This is a style that will slowly regain favour as the promoters of BIG wines at Châteauneuf lose influence. Raise your glass to that, dear reader.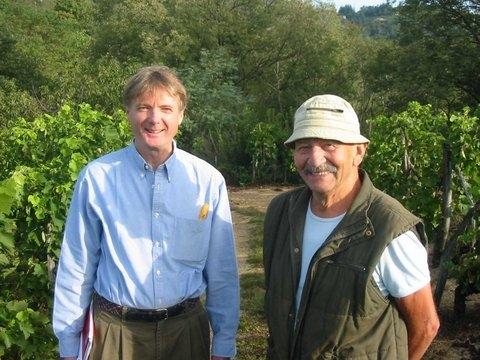 UNPRECEDENTED INTEREST IN THE NORTHERN RHÔNE, PAST AND PRESENT
JANUARY 2017
I have been fielding questions and enquiries about the history of the northern Rhône recently, and it appears that there is a welling up of interest in the region, with the USA and Britain two of the driving forces behind this. People what to know if there was a 1961 CHAVE HERMITAGE ROUGE bottled – answer very little – or what my impressions were of retired or deceased growers such as – in probable order of interest – NOËL VERSET at CORNAS, MARIUS GENTAZ-DERVIEUX at CÔTE-RÔTIE, RAYMOND TROLLAT at SAINT-JOSEPH and JEAN-LOUIS GRIPPAT at SAINT-JOSEPH and HERMITAGE.
Prices of wines from these producers have taken off - £300 is certainly involved in a VERSET wine, for example. Meanwhile, there is price pressure on the current wines due to the much heralded 2015 vintage. Such a thrust forward for the northern Rhône reminds me of the impact of the mighty 1978 vintage, which was the first one in modern times that allowed discovery of the true worth of these noble SYRAH wines. The export figures for Rhône wines make interesting reading if one compares 1976 to 1981.
By far the leading market in those days was SWITZERLAND, with some of the wines shipped there in cask or bulk for bottling on the spot. The vineyards of the Rhône were downstream from Lake Geneva, and there was a connection that crossed both cuisine – sauced dishes, robust flavours – and wine. In 1976 Switzerland imported 137,974 hectolitres of Rhône wines; in 1981 177,303 hl, a rise of 28%.
Runners-up were BELGIUM and LUXEMBOURG – 1976 49,685 hl v 104,351 hl in 1981 (+110%), then BRITAIN (24,213 v 55,043 hl, +127%, the NETHERLANDS (26,409 v 61,327 hl, +132%), and WEST GERMANY (31,365 v 68,235 hl, +118%). A curiosity, if one takes its current high profile, is that the USA imports actually fell – 24,049 v 24,005 hl. Those were the days before the imposing influences of wine journalists with 100 point scoring indices. Nowadays the USA accounts for the highest value per bottle of Rhône imports, by the way.
Another spur to export sales I should mention was actually the publication of my first book The Wines of the Rhône (Faber & Faber). I delivered the manuscript to Fabers in March 1975, but the oil shortage crisis and a three day working week meant that it didn't appear until early 1978. As the only work on the region, it was taken to the Rhône by wine importers looking for names and domaines.
One of the first cases was The Wine Society in Britain, who visited DOMAINE JAUME at VINSOBRES on the basis of my writing "One of the best private domaines belongs to M.Claude Jaume. M.Jaume's wine is rich and strongly coloured, and compares very favourably with the Vinsobres of either Co-operative [there were two Co-ops and only four or five domaines bottling their wine in those days]. A wine of good balance and long finish, it can live for up to eight years, but should be carefully drunk: its alcohol degree can rise as high as 14°, this resulting largely from the abnormally temperate climate of the whole Eygues Valley, which for wine purposes extends from Saint-Maurice as far as Nyons."
A very happy footnote to this is that The Wine Society still works with DOMAINE JAUME today, something that we toast when I visit the Jaumes.
The biggest volume of Rhone wines these days go to GB (21% of bottled wines), followed by BELGIUM and LUXEMBOURG (16%), USA (15%), CANADA (10%), GERMANY (8%), SCANDINAVIA (8%) and SWITZERLAND (6%). I expect export figures over the next two years to be robust and on the rise given the very high quality of 2015, and the at least good to very good 2016 vintage.
A FEW SOUTHERN RHÔNE THOUGHTS
While the NORTHERN RHÔNE is a hot spot for wine enthusiasts, I detect a certain drift in the SOUTHERN RHÔNE. Talking to importers in BRITAIN, it I clear that appetite for CHÂTEAUNEUF-DU-PAPE is weak compared to what it used to be. The wines are considered expensive, never more so than if featuring on a wine list in LONDON, and there are image problems, as well: high degree, overblown wines, with the special Prestige cuvées targeted at an American clientele more than suiting the evolving tastes of a European set of drinkers.
When tasting the 2015s in September 2016, there was an immediate step change in degree when I moved from the TRADITION wines to the PRESTIGE wines – 13° to 14.5° became 14° to 15.5°, or higher here and there. I continue to bang my tinny drum in insisting that the unique CHÂTEAUNEUF terroir and climate are made for wines of finesse, and not power. As a good deal, therefore, the grossly overlooked 2014 vintage lines up some real good buys, one of the favourites being the totally pleasurable 2014 CLOS DES PAPES, a wine of ace finesse, described by VINCENT AVRIL as "very Burgundian." Or take the 2014 TARDIEU-LAURENT CUVÉE SPÉCIALE, a wine of harmony, class and grand elegance.
Elsewhere in the SOUTHERN RHÔNE, GIGONDAS continues to give good wines, although prices are edging upwards. The longevity of GIGONDAS is frequently underestimated, by the way, including in lesser vintages which would include 2008 or 2014. Then there is CAIRANNE, home to 25 domaines full of confidence and generally accomplished winemaking, that will soon slot in as the third most important appellation of the SOUTHERN RHÔNE.
For sparks of interest, much of the rest of the SOUTHERN RHÔNE comes down to following domaines rather than appellations. However, there is a well-entrenched commitment to organic practices in VILLAGES such as VISAN and VALRÉAS; the vintages of 2015 and 2016, with high quality crop, have aided those working organically after 2014 pushed the limits due to attacks of acid rot.
As a final New Year observation, WHITE RHÔNE continues to gain in popularity, even if there is also a tendency towards lighter wines, which I term New Wave, and also an annoying over-use of carbonic gas, which I regard as a big distraction when tasting and drinking the wines. However, there are plenty that are rightly well suited to la table, and you can do no worse than buy some SOUTHERN RHÔNE white 2014s and 2015s and tuck them away until they are five years' old, when they will be complex and stimulating.