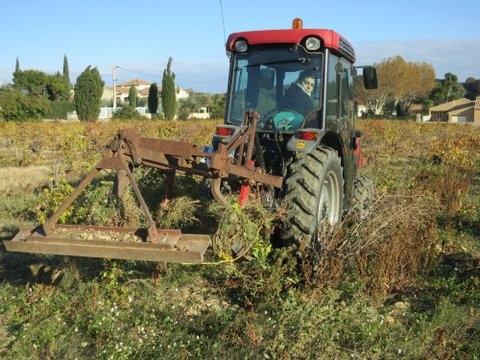 BACK TO WORK IN THE VINEYARDS
DECEMBER 2013: how swiftly the seasons roll on. Just as the malolactic fermentations have been occurring in the cellars, with 2013 harvest vinifications reported as presenting no challenges from north to south of the Valley, it is time to get straight into the vineyard for a series of winter tasks.
Some growers are preparing their holes for planting in the spring. The mortality rate of the February 2012 frost rose in 2013 in reality, since many old Grenache vines were not dead to the eye, but simply failed to produce crop. VINCENT AVRIL of CLOS DES PAPES at CHÂTEAUNEUF-DU-PAPE told me: "it has hit Grenache of over 40 years' old, and has been more catastrophic than was first imagined. A lot of vines revealed themselves as dead the next year, but then there was this series of vines standing there but not giving any crop – well, perhaps 3 to 5 hl/ha. The experts, the nurserymen, say we should wait, since it is only a lack of nourishment. That's hard to do, with the harvest so small. Just recently, with blight from the esca included, we have lost 3,300 plants per annum. The net result for me over the past six vintages is the loss of two whole harvests if you take the 2007 crop of 25 hl/ha as the standard average. 2013 has been just 13 hl/ha."
Holes of 60 cm (22 inches) are drilled at the rate of 250 or so a day, a rate slowed by the fact that plants here and there are dead, not those in just a straight line all the time. Growers such as LOUIS BARRUOL of CHÂTEAU SAINT COSME at GIGONDAS plant before the end of the year to benefit from the rains of the season - one year old plants that are protected against frosts. Others, such as MATHIEU BOUTIÈRE of DOMAINE DU PESQUIER, also at GIGONDAS, drill the holes in December, and plant in the spring, aware that they have to keep the holes watered and fed before planting.
Meanwhile, the basic task of tilling and turning the soils occurs, with pruning just starting now, later than usual, due to the vines keeping much of their foliage well into December this year. The three week delay in the 2013 ripening cycle will be absorbed over the winter months, however, and the 2014 season will re-start at square one as usual.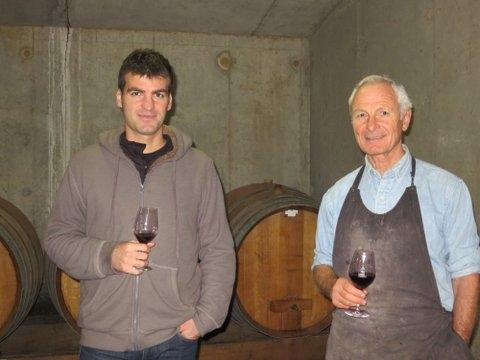 2012: COOL FRUIT FOR COOL CATS
NOVEMBER 2013: a clearer picture of 2012 is emerging in the Northern Rhône, after tastings of over 500 wines. The cool fruit will please, and the structure of the wines, their shape, is more delineated and promising than that of the 2011s. Notes are being posted on CÔTE-RÔTIE for now. In the South, similar comments apply to 2012: the reds have better balance than the 2011s, and will be more interesting over time, as well.
2013 vinifications throughout the Valley have proceeded smoothly, with everyone is in need of a good rest after what has been a tiring, worrisome vintage – late, late, late; complicated at all levels regarding quantity and health of the crop, hiring people to harvest when the usual pickers were back in another country after the month's delay and so on. Tiredness, illness and drunkenness have all been observed! However, the colours on the Syrah reds are dark, the juice concentrated.
ALLEZ, CORNAS and AMIS! CORNAS (CHEVAL MASCOT) revealed a breathing problem in his latest race at Chepstow, when he finished fourth. He is now an 11-year old, and is described as a VETERAN. I know how he feels.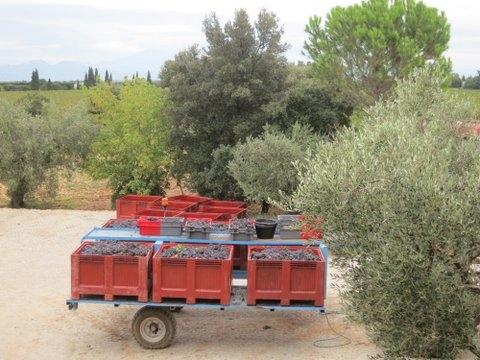 Rhône vinifications going well
NOVEMBER 2013
Growers across the Rhône, North and South, report their 2013 vinifications going well. At CÔTE-RÔTIE, yields of 30 to 35 hl/ha are encouraging. PATRICK JASMIN reported: "you had to harvest before the early October rain; I advanced my picking from 5 October to 27 September because of the weather and the forecast, and was glad I did; we had 30 mm (1.2 in) on Sunday 7 October, which brought botrytis, rot. My degree on the SYRAH ranges from 11.8° to 13.4°, and the wines have colour and structure." Yields at CONDRIEU, however, are low this year.
In the South, the late season has been fine, with pockets of rain among the generally mild days. Seasoning the GRENACHE so that its skins and tannins are ripe has been the final challenge. One can expect good surprises as always, but the 2013 Grenache expression may be subdued. Meanwhile, SYRAH and MOURVÈDRE have ripened well, and their degrees of 13.5° or a little more will help to stabilise the wines. Following on the footsteps of the clear flavours of 2012, 2013 looks like being a similar vintage, far removed from the baked ripeness of 2007 and 2009, and certainly in a vein similar to vintages of the early to mid-1990s or even the 1980s. The great difference with those earlier times, of course, is that both vineyard and cellar management are much improved.
RECENTLY ENTERED: a visit to CHÂTEAU DE BEAUCASTEL which involved tasting of the 2010, 2011 and 2012 BEAUCASTEL and HOMMAGE À JACQUES PERRIN reds, along with the latest BEAUCASTEL whites and COUDOULET wines. The FAMILLE PERRIN 2012s and some 2011s were also tasted. Some leading 2012 CHÂTEAUNEUF-DU-PAPE whites have also been entered. I suggest starting at 3 stars and above to reference those on the Search engine. I have been impressed by the whites and rosés of 2012, and the best 2012 CÔTES DU RHÔNE reds and 2012 VILLAGE reds also present themselves well. 2012 quality is more up and down than 2011, but the best wines are superior to the 2011s in terms of structure and balance.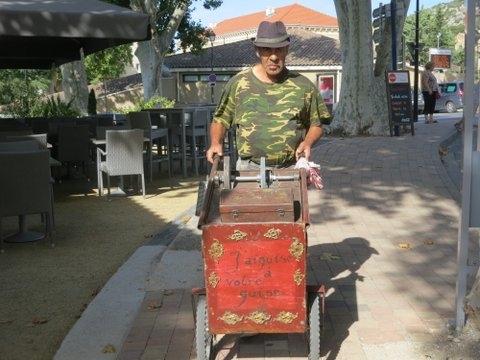 2013 VINTAGE REPORT
EARLY OCTOBER 2013
2013 VINTAGE REPORT: the vineyards continue to advance at the most sluggish rate. However, hands are being forced by the rain that fell all over the Valley on Sunday 29 September, 2013. Until then one important blessing had been the stable, dry weather of September. It is a question of getting in the crop in the early vineyards, as the spectre of rot grows, temperatures between 24° and 28° being unseasonably high and provocative for the season. This may last until 4 October.
In the SOUTHERN RHÔNE, CHÂTEAUNEUF-DU-PAPE, one of the most precocious vineyards, have harvested much of their SYRAH, but the GRENACHE NOIR is still only just being picked here and there. Some domaines there have not harvested a grape yet. The village received 20 mm (0.8 in), Courthezon in the north-east 22 mm and just south of there, Bedarrides 30 mm (1.2 mm). Many growers will attack their harvest properly from 1 October, having let the vineyards dry for a day. Matters are indeed on something of a knife edge.
At RASTEAU, ROBERT CHARAVIN of DOMAINE COTEAUX DES TRAVERS told me: "we had 45 mm (1.8 in). We hope the weather holds now. We are starting now on Syrah from garrigue [warm] soils." From GIGONDAS, LOUIS BARRUOL of CHÂTEAU SAINT COSME reported rainfall of 50 mm (2 in); "we will see," he said, since our Grenache still isn't ripe."
The NORTHERN RHÔNE, more accustomed to late harvesting, is also slowly upping the ripeness levels, but expectations are for a reserved, unshowy vintage. I have confidence that the best domaines, those that know and run their vineyards with intimate care, and who sort crop precisely, will emerge with sound wines. It is in some ways easier to be precise with a patchwork of small, half hectare plots visisted constantly on foot, than it is with rolling lands of ten hectare plots visited by tractor or 4 by 4, as can be found in the South.
From CORNAS, OLIVIER CLAPE gave this rundown: "we had 50 mm (2 in). We started on our white grapes on 25 September, then the Syrah the next day. We are very pleased we did start then, with harvesting on the low slopes now, since rot is arriving at the gallop. There is still a lot of harvesting to be done across CORNAS as a whole."
A final word from PAUL ANSELLEM of DOMAINE GEORGES VERNAY at CONDRIEU: "our rainfall here was 37 mm (1.5 in). We are starting on 1 October with the Coteau de Vernon."
NEW FEATURE for www.drinkrhone.com : I am also launching an occasional, simple Subscriber email which will nominate a high Value, STGT or w.o.w. wine, an estate to note and perhaps a restaurant as well. For the first one, the wine is LA CELESTIÈRE, a VIN DE PAYS DE VAUCLUSE red, DOMAINE L'ECHEVIN at SAINT-MAURICE, and RESTAURANT LA FLEUR BLEUE at CRESTET.
2013 VINTAGE REPORT
THIRD WEEK OF SEPTEMBER 2013
2013 VINTAGE REPORT: harvest 2013 gradually draws closer, but progress has been slow. The hope is that the seven to 10 days from 18 September onwards will be stable, marked by high pressure, Mistral wind in the south, and a lack of rain. In such conditions the already limited crop could concentrate, lose acidity, and gain in degree. Always remember the rule of thumb of a gain of 1° per week in the late stages of ripening – provided conditions are sound. Here and there in the more precocious parts of the South, varieties such as the VIOGNIER and the SYRAH are starting to be harvested.
NORTHERN RHÔNE: from GERVANS in the northern, hilly sector of CROZES-HERMITAGE, LAURENT FAYOLLE of FAYOLLE FILS & FILLE commented: "we have had good weather in early September, but in the third week progress has slowed because it's been cooler. The Syrah skins are very firm, but the balance in the grapes is improving. Our Syrah is at 10° to 11° now. We had 20 mm (0.8 in) of rain in the first week of September, and now need stable conditions. It's been cloudy with dribbles of rain here and there, but high pressure and good weather are forecast running towards the 26 September. Quantity will actually be OK, helped by two storms of 40 mm (1.6 in) each in the first half of August, rain at the same time as the veraison that served to expand the grapes. It's certainly my latest vintage since I started in 2002."
From CORNAS, VINCENT PARIS gave me this bulletin: "it's very late, but is presenting itself well. Our best Cornas Syrah is around 13°, the acidity is good, and the grapes are healthy. The later plots such as those at altitude will only get to 12° to 12.5° at most. We had 20 mm (0.8 in) of rain in the first week of September – it was interesting rain, since it fed the bunches after a long spell of dry weather. Since I started I haven't had such a late year, nor had such high acidity on my later zones, which is a challenge. I will start to harvest my Cornas on 25-26 September. This year SAINT-JOSEPH for me is closer in date to Cornas than usual, but is only at 10° to 11° at present [the vineyards are at 300 metres at ARDOIX, a late ripening zone]. The weather is fine now, at 20°C, rising to 23-24°C for the third weekend of September. For the time of year, nights have been fresh, around 10°C. I have to admit that it is years like this when I am very happy to have a south-facing vineyard like La Genale."
Up at CÔTE-RÔTIE, JEAN-PAUL JAMET had the following thoughts: "with rains returning every four to five days, it's not yet a problem – the grapes are sufficiently hardy still to resist that. I should think we will harvest around the first week of October, or later if the weather dictates [J-P Jamet is usually one of the last to harvest]. The vineyard is very healthy – we have stripped leaves off, tidied things up, so I am confident about the potential. Now we need to finalise things, so we have the potential for concentration and complexity. Quantity will be OK, without abundance, similar to the 1980s. If I had to select a couple of vintages like this, perhaps they would be 1996 and 1998 – the more direct, cooler years. Our Syrah is now around 10°. The early September rain around 7 September of 35 mm (1.4 in) helped us to avoid stress from dry soils. I expect the acidity, which is higher than ideal now, will show more this year. Nights have been fresh, down to 15°C, and today it is around 23-24°C."
SOUTHERN RHÔNE: VÉRONIQUE MARET, DOMAINE DE LA CHARBONNIÈRE, one of the top estates at CHÂTEAUNEUF-DU-PAPE: "all is fine; we will harvest our ROUSSANNE on Monday 23 September – it is at 14° now, and our CÔTES DU RHÔNE SYRAH is now at a healthy 13.8° to 14°. Across CHÂTEAUNEUF-DU-PAPE different sectors are giving different results; our ripest zone is on MOURRE DES PERDRIX and VALORI, on the sand near COURTHÉZON [north-east of appellation], where we are at 14°.
The GRENACHE is very much delayed this year," she continued, "so we still have crop around the cellars here at 12° - they are usually later, but are some way behind. Some vineyards are 50% down on crop, and my father says that the coulure on the Grenache reminds him of 1984; he is saying we have a 1970s to 1980s style vintage on our hands. Our yields will be 20-24 hl/ha. The last big rain a couple of week ago was 30 mm (1.2 in), which fell as the very first signs of hydric stress were starting in places. It is now cooler than usual, with mornings at 12°C, rising to 24-25°C, with fine weather and Mistral of 50 to 80 km (up to 50 mph) announced running towards 27-28 September.
The white crop such as GRENACHE BLANC and CLAIRETTE is also taking its time: the Clairette is at 10-11° now, the Grenache blanc one degree higher. We'll pick them at the same time. At VACQUEYRAS, our GRENACHE NOIR is around 14°, the SYRAH 13.8°."
Further north in the CÔTES DU RHÔNE VILLAGE of MASSIF D'UCHAUX, MARIE-PIERRE PLUMET of the good LA CABOTTE was calm and purposeful: "our VIOGNIER has advanced well since mid-September, and is now at 13.7°, so we are harvesting that on 20 September; the GRENACHE BLANC is at 13.3° now. The whites have good acidity, and their wines will be fine.
Yields on our GRENACHE NOIR will be around 20-25 hl/ha only, but the SYRAH, the MOURVÈDRE and the old CARIGNAN are all looking good. We will harvest the SYRAH around 25 September, and the main drive will come in the first week of October. Our last rain on around 7 September was 35 mm (1.4 in), and that helped to unblock the GRENACHE, so more rain now would not be welcome. The SYRAH skins are quite thick, firm, but are starting to fine down, and the current good weather is a great help. Our mornings are at 10°C and the days rise to 26-27°C. In our 32 years here we have never harvested as late as this year."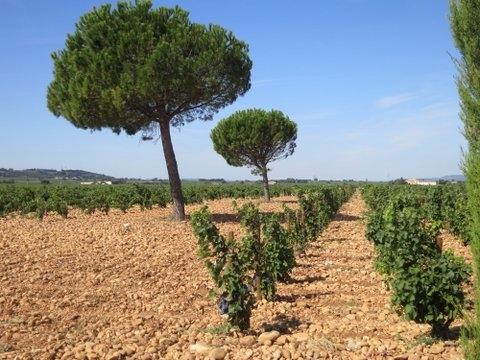 2013 VINTAGE REPORT
SEPTEMBER 2013
2013 VINTAGE REPORT: August and early September 2013 weather has been stable and warm in the Northern and Southern Rhône, as a ridge of high pressure has settled comfortably over the Valley. However, 2013 is shaping up as a vintage that will need considerable hard work, and even ingenuity, if growers are to produce good wines. Luck, in the form of the weather, will also be needed.
Putting aside the low level of crop, the problems are several. There is too much vegetation; vines are draped in Hotel Ritz blankets of green, deep green this year thanks to abundant water reserves, something not seen for a few years. The plants' energy is not all heading towards the fruit, thus. Conscientious growers are back in the vineyard cutting back leaves and excess shoots or spurs and exposing bunches as they realise what is (or isn't) happening. The complacent are still on holiday.
2013 CANOPY MANAGEMENT AT CHÂTEAU DE BEAUCASTEL, CHÂTEAUNEUF-DU-PAPE: THE PERRINS ARE MOST DEFINITELY NOT STILL ON HOLIDAY
The weather looks and feels great, with maximum temperatures of 26-28°C in the Southern Rhône. However, nights are cool - the temperature drops sharply from around 10 pm, and the day starts at 15°C or so, not really heating up until around 10.30 am. The heat then falls again from 15.30-16.00 hours. Hence the plants shut down and have to restart each day for only a little over five hours of proper, productive warmth.
Tests show degrees are struggling to rise. Tasting the grapes gives a little juice and a lot of residue skin, thick thanks to the long ripening cycle. On 29 August, 2013 GRENACHE grapes at CHÂTEAUNEUF-DU-PAPE, the precocious appellation as opposed to GIGONDAS, VINSOBRES and VALRÉAS, for instance, showed an average probable degree of 11.4° (27 Aug 2012: 13.8°), a total acidity of 5.4 (2012: 3.4), malic acidity of 3.89 (2012: 1.33) and a colour index of 424 (2012: 452). The 2013 SYRAH was 11.0° (2102: 14.1°), total acidity 6.40 (2012: 3.51), malic of 5.66 against 1.77 and colour index of 800 against 904. The 2013 MOURVÈDRE is similar.
The rule of thumb calculation is a gain of 1° a week, so we are stretching towards late September and October, and also assuming that the weather deals a fair hand; the Equinox has yet to occur, and the Episodes Cévennales – serious lashings of rains and floods that are built up by the warm water of the Mediterranean clashing with cooler Atlantic fronts – are predicted as possible this year. They stem in the Cévennes hills made famous by RL Stevenson and his donkey and travel north-east from there. The destruction in Vaison-la-Romaine in 1992 was an example.
The vintage trundles forwards, therefore, but I would not blame any grower for feeling uneasy about the outlook.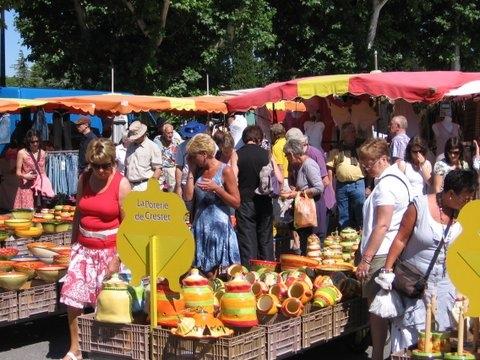 2013 VINTAGE REPORT
LATE AUGUST 2013
2013 VINTAGE REPORT: "Complicated" is a word I am hearing more and more this year. There is a definite sense of unease among the growers of the SOUTHERN RHÔNE, while their NORTHERN RHÔNE counterparts are more philosophical, and have a potentially better outlook, even if ripening is taking ages.
NORTHERN RHÔNE: from CORNAS, PIERRE CLAPE gave me the low-key findings of crop checks done on Monday 26 August, 2013: "in the best parts of CORNAS, on the full slopes, we were at 7.7°. HERMITAGE SYRAH was at 7.3° with 12 gm of acidity, while CROZES-HERMITAGE SYRAH was 6.9° and NORTHERN SAINT-JOSEPH SYRAH at 6.5°. We are still in the game, the hillside grapes had turned red by around 21 August. We need one month of fine weather - if the weather degrades, we have problems. According to the archives of the Chamber of Agriculture, this situation at this time resembles three vintages - 1987, 1983 and 1978. I would prefer it to be either of the last two, not the first! All we can do now is cut out all new shoots, but we don't need or want any more rain. Our CORNAS crop will be harvested in early October at this rate."
From CÔTE-RÔTIE, the doughty NICOLE LEVET of the STGT, traditional DOMAINE LEVET is calm, her life as the daughter of a vigneron (she is a Chambeyron) coming to the fore: "it's like the 1980s, a late year. We will probably harvest in the first week of October, like we used to in the 1980s. We have the experience for this, and we just need time – it's a question of a lot less crop and a better quality in this situation.
We've had heat since July, a lot of heat, and not a lot of rain. The last rain came a little while ago, and was just enough to help the ripening to advance. I have been dropping a few grapes on La Landonne – every fourth of fifth vine has too many bunches. I'd say the veraison (grapes turning colour to black) is about 80% completed, and there is no mildew and no oïdium. I am a bit on my own in the vineyard, since my daughter AGNÈS had a baby girl, her second child, on 6 August."
Further south and across the river at CROZES-HERMITAGE, OLIVIER DUMAINE, who works organically at Larnage, in the northern, hilly sector of the appellation, is relatively sanguine. He reported: "the vineyard is sympa for the moment, and the delay means harvesting towards the end of September or even the start of October. About 50% of the veraison has been completed. The bunches are poorly distributed across the vines – it's very variable, but actually the loss of crop may not be bad thing for a late harvest. The Syrah is complicated – only 70-80% of the normal yield. The white crop is small. The late spring has been the problem. We have no worries on mildew or oïdium, but what we do need is a joli autumn."
SOUTHERN RHÔNE: hmmm, the GRENACHE NOIR is not top of the popularity polls this year. As reported earlier, it has been ravaged by coulure - flowers failing to convert into fruit - but it is also taking ages to ripen. The veraison in the South has been extremely protracted, despite the warm to hot, and largely dry weather.
From VINSOBRES in the north, PASCAL JAUME of DOMAINE JAUME gave me the following account and personal observations: "it isn't too bad. We've had what we call selective coulure - it hit the early zones but spared the later ripening vineyards, and are 10 to 15 days behind now. Some of our 30 year old Grenache maybe won't give more than 15 hl/ha. Regarding the coulure that has so badly hit the southern Rhône, with severe loss at Châteauneuf-du-Pape and Vacqueyras, for instance, it's been less full scale in the later areas of the southern Drôme and northern Vaucluse – meaning vineyards such as VALRÉAS, SAINT-PANTALÉON-LES-VIGNES [one of the most obscure VILLAGES] and VINSOBRES.
We are crossing our fingers that good weather will come along. The veraison is happening slowly – it's about 50% completed on the Grenache, which is going more slowly than usual, especially as there isn't even a lot of crop in the first place. I reckon the stress of the cold month of May was the key factor; you only have to see tomatoes struggling to ripen, and the vegetation so abundant in the vineyards. The sap isn't going to the right places.
I go back to the 1980s for this year: in 1980, I was finishing my studies in Avignon, and remember the vines being in flower when I came home on 15 June, and then on 14 July they were still in flower. So slow years are from that time; in fact in 1980 we ended harvesting at Vinsobres on 4 November, while the Cave Co-operative and others ended 11-14 November.
Now it's nature driving the show, and we have to be patient."
Over at CHÂTEAUNEUF-DU-PAPE (ie further south-west, a much more precocious than VINSOBRES), the experienced GÉRARD CHARVIN, pa of LAURENT of DOMAINE CHARVIN, centred in the north of the appellation, gave me his views so far: "there is some blight but it's on the leaves and isn't troublesome. It's hot and dry, we've had no hail, and the veraison is starting now. We won't harvest before 20-25 September, and that depends on a good next 30 days. Our Grenache may be only at half crop size, but it's funny with the coulure this year – we have a Merlot vin de pays that didn't suffer at all, for instance. We don't need rain, and have probably had a little bit too much. Because we are behind, we are doing some leaf management, as the vegetation has continued to evolve, not helping the fruit."
JEAN-PIERRE USSEGLIO of DOMAINE PIERRE USSEGLIO & FILS works a good spread of plots with his brother THIÉRRY. He expressed the following thoughts: "it's been a very complicated vintage so far. We can make beau vin, but are being obliged to work on various different fronts, especially as we work our vineyards on a plot by plot basis.
Like 2010, we have a small crop, especially on the Grenache. Things are healthy, but the veraison is very slow to complete – it's very irregular, and we find the southern quartiers such as Les Serres to be better off and more attractive than the northern parts of the vineyard. The big difference between fresh mornings and temperatures later in the day has slowed down the veraison. Harvest date could be around late September.
Coulure on La Crau [the high-profile, important site east of the village, a big stony plateau with a lot of old GRENACHE], has been vast – yields of 12 hl/ha only, while there is some mildew on the leaves, not the bunches. The last rain was over two weeks ago, with 80 mm (3.2 in) in the south, and 50-70 mm (2-2.8 in) in the north; that caused problems if people wanted to treat their vines since tractors couldn't get in the vineyards to spray.
As for LIRAC [the brothers have a 6-hectare vineyard at ROQUEMAURE], the bunches are looking good there across the river, and the vineyards are a little healthier, I'd say. Harvest date there – perhaps 8-10 October."
But for a really bleak view, we turn to my amigo LOUIS BARRUOL of CHÂTEAU SAINT COSME at GIGONDAS. He is not a happy bunny, with the virtue of working a late to ripen area – beneficial in recent vintages at GIGONDAS – looking like a hangman's noose this year. Take it away, DON LUCHO: "well, John, you've tasted 1963? I think so, so it's possible you could re-taste it 50 years later in the form of 2013. Normally at this time my vineyards are at 13.5° - this year they are at 9.8°. We are three weeks behind, which we won't catch up. That means a start to harvesting around 18 October, like in 1963, the most dreadful of vintages. In the end, the very small crop could actually help us a bit. I am now relying on God to give us high heat in October, but in my profession, when you start to count on the aid of God, you already have one foot in the grave. I am pessimistic."
Summer Weather
AUGUST 2013
Following a pattern established over the past three or four years, the Rhône has escaped some of the worst excesses of France's weather during the ripening season of 2013. The slow start after the wet and cold of the spring and the early summer into June gave way to a July of generally fine and hot weather all over France and much of Western Europe.
Within this sunny context, the menace of build-ups of high pressure leading to massive thunderstorms has duly emerged, hitting Champagne and Burgundy, notable Volnay and Pommard, but also going as far as causing structural damage to Châteaux in Pauillac, including Pichon Lalande. Loss of crop and degradation of bunches create both headaches and much painstaking additional work for growers. Lower yields, higher costs = prices likely to rise if 2013 proves to be a correct vintage quality-wise.
NORTHERN RHÔNE: in the Rhône, the Atlantic storms of the last weekend in July that so hit Pauillac, came in the form of an extremely fruitful, helpful band of rain. "We had 50 mm (two inches) centred on 28 July – the rain fell softly, over nearly two days, without hail or violence," BERNARD BURGAUD told me from CÔTE-RÔTIE. "It is hot now, and ripening won't accelerate in the heat, so we are still on target for harvesting at the end of September, with yields around the 2010 level of about 35 hl/ha. It has been hot all through July, which made the late July rain so very timely. Our hottest days have gone to about 34°C, with nights mostly around 16-18°C."
Nearby, LIONEL FAURY of DOMAINE FAURY, with vineyards in CONDRIEU, CÔTE-RÔTIE and SAINT-JOSEPH, also appreciated the rain: "the two inches was so regular that it did a very good job, allowing the vines to breathe; it was our first rain since about 20 June. It's going to dry quickly, since we have wind now.
"Quantity is down – the Viognier has been very irregular now, with a loss of 15-20%, while our white Saint-Joseph crop has suffered from very small bunches. "On the plateau – the later zone – our Syrah has suffered from millerandage (small, seedless berries), but on the slopes, the earlier zones, the crop is in good shape. Looking ahead, I wouldn't mind less heat in August to help to preserve acidity, after the constant heat of July."
Hail hasn't hit the Côte-Rôtie, Condrieu, northern Saint-Joseph areas, but it has affected the south of CROZES-HERMITAGE near Pont de l'Isère, where DOMAINE COMBIER lost around 20% of its crop on that vineyard. LAURENT COMBIER stated: "the hail came in the second week of July, but the vineyard has dried out, and we'll have to do some sorting. The hail also struck Beaumont-Monteux, following the run of the Isère River and crossing the Rhône south of Mauves in Saint-Joseph territory. The 50 mm of rain (2 in) served us well on 28 July, and there is no mildew, the vines are healthy. We may green harvest on some young Syrah, while the Marsanne and the Roussanne for the white have seen a little coulure."
SOUTHERN RHÔNE: a most sorry tale came from RÉMY KLEIN of the leading CÔTES DU RHÔNE DOMAINE LA RÉMÉJEANNE at Sabran in the right bank Gard departement. "Quality – that's OK. Quantity – that's a problem. Our Grenache has suffered from such strong coulure that means our Grenache yields are 10 hl/ha against an average of 35 hl/ha. No-one in living memory has seen such coulure, including one 80-year old vigneron I talked to. Bunches have just fallen to earth, with no grapes on them.
"The sap had run up into the vegetation after a spell of hot weather between the early cold and the flowering, with branches growing by 40 cm (16 in) in a week during flowering, in competition with the fruit and the bunches. Some areas, such as Remoulins had very little coulure but the northern Gard and the southern Ardèche were ravaged. Either very late or very early sectors did OK. LAUDUN is very bad, while the village of Tresques had less than some. The Syrah has had no problem, while the Carignan, Cinsault, Mourvèdre are all OK. It is certain that bulk prices of Côtes du Rhône will rise, while we will all have to adapt our blends this year to compensate for the low Grenache content."
From RASTEAU, ROBERT CHARAVIN of DOMAINE DES COTEAUX DES TRAVERS gave the following bulletin: our Grenache here at Rasteau has lost a lot due to a serious bout of coulure, which hasn't hit us like this since 1983. We are talking about Grenache yields that can be as low as 1-15 hl/ha. Our Syrah is marked by small bunches, and average yields around 30 hl/ha, while the Mourvèdre has done well, and is likely to crop about 35 hl/ha. There are only a few spots of mildew, nothing serious, and we have no oïdium. As for hail, we had one episode in the south of the appellation, where 30% of the crop was affected.
JEAN-PIERRE CARTIER of DOMAINE LES GOUBERT at GIGONDAS also has vineyards at SABLET and BEAUMES-DE-VENISE. His report mirrored those of his neighbours. Not a man to deal with percentages, he nevertheless suggested that the coulure would cut his Grenache, although the higher, later zones of Gigondas had fared a little better than the more precocious vineyards on the plain.
"The late July rain I would say was 42 mm (1.6 in) at Gigondas, about 50 mm (2 in) at Sablet and about 60 mm (2.4 in) at Beaumes-de-Venise," he informed me. "It's been very useful. We are a good two weeks behind, heading for our first harvesting around 23-24 September, or two weeks behind. Morale is sad, though. Tourists aren't visiting cellars, and summer sales from domaines are super, super calm."
VINEYARD REPORTS
mid JULY 2012
The 2012 vintage is starting to present some shape now, and there is one refrain repeated across the Rhône, North and South - "above all, thank goodness we do not live in Champagne, nor in Burgundy, the Beaujolais and even Bordeaux." The wet, gloomy summer has brought on large problems for those regions, while the Rhône situation is still well manageable.
As expected, the SOUTHERN RHÔNE has been warmer than the North, and growers present a calm face for now. From CHÂTEAUNEUF-DU-PAPE, CHRISTOPHE SABON of the top-notch DOMAINE DE LA JANASSE, situated in the north-east corner at Courthézon, told me: "I have no complaints for now, unlike the other regions of France. Our yields will be low, like 2010 after we suffered coulure (flowers failing to convert into fruit) on the old Grenache. There are spots of mildew here and there, but we haven`t had storms and hail, only light rains when they have come. It`s been very dry and also hot for two weeks now, with temperatures around 32°C, our last rainfall being 3 mm last week and 20 mm (0.8 in) on the first weekend of July. Our Syrah are starting to turn colour, and we may be targeting a harvest for the Viognier, Roussanne and Syrah around 3 to 5 September, the Grenache 10-15 September for now. It is a year from the old days, when Parisians were forced to come to Provence to seek the sun," (did I detect a note of relish in his voice there?)
PIERRE AMADIEU at GIGONDAS told me a somewhat similar story: "it`s been fine for a month now, with a bit of oïdium around, as often happens at this time of the season. Flowering was very spread out over time this year, not helped by the freezing of the old vine Grenache with delayed vegetation all over the place a result. The bunches are loose which will mean less likelihood of rot (also noted by C Sabon), and the quantity will not be as great as 2011, more like 2009 and 2010, around 32 hl/ha or so. We have had to treat against mildew, and now especially against oïdium, but I am quite optimistic." The remarks about coulure on the old vine Grenache also apply to Vaucluse Villages such as CAIRANNE, so 2012 is set to not be a large yield year anywhere.
Over in the right bank Gard, FABRICE DELORME of DOMAINE DE LA MORDORÉE at TAVEL observed that there were no real worries, with a series of rains that had made very little adverse impact on their vineyards in TAVEL and LIRAC. "We are working to prevent oïdium and mildew, but seem to be heading for a normal date of harvest and normal yields this year. It is 32-34°C towards the end of the second week of July, and we have not had much rain since the end of June."
The NORTHERN RHÔNE situation is more delicate due to the lower heat levels, and hail has also played a role here. At CÔTE-RÔTIE, PHILIPPE GUIGAL stated "it is a classic vintage, indicating possible harvesting towards the end of September, about 10 days behind recent dates. There is pressure on the health of the vines, and the crop will be smaller than 2011, which is desirable. It is not a year when it will be at all easy to succeed with purely organic practices - it`s more a year for mushrooms with the constant cycle of rain then sun then rain. The vineyards look good, but I am aware that we have to be vigilant, even if I am not pessimistic." Philippe also informed me of a blow to their SAINT-JOSEPH vineyards at Le Lieu-Dit Saint-Joseph at Tournon on the night of 9 July - "we had hail there, which also hit the commune of SARRAS quite badly."
Neighbour PATRICK JASMIN at CÔTE-RÔTIE also talked of the continuing tasks this year - "we have to manage matters, with oïdium lurking and mildew to combat, and it is not a vintage for organic working. I was in fact agreeably surprised by the quantity of crop on my Côte Blonde vineyard this morning, which never delivers a lot, but has held up well; overall we might be at a yield of 35 hl/ha, which is OK. There has been coulure on the high vineyards, though. As usual for the first two weeks of July, mornings have been fresh, around 15°C today, with a high of 25°C. If I am at all morose, it is only that I personally would like to see more sun for myself!"
From CONDRIEU, LIONEL FAURY of DOMAINE FAURY commented: "after our fast start to the season in the spring, we had two months of rain, and since then it has been hot and stormy, a difficult year for the climate side of the equation. I am not too worried, but there are traces of mildew and black rot, while coulure on the Viognier will mean a loss of crop. Ripening is also very variable from one plot to the next, so I expect harvesting to be on a dateline from 15 to 20 years ago, not before 15 September. At SAINT-JOSEPH we have some oïdium on the white grapes. Overall, we have had to do a lot of work this year just to keep stable in the vineyard."
Further south at HERMITAGE, JEAN-LOUIS CHAVE told me: "the vineyard looks really green and joli, but the growers are less joli because of all the work we`ve had to do. There was some rain at flowering, and what we need now is good weather to get the grapes going well. There has been some mildew, but it is controllable, and not anything like Burgundy and Bordeaux this year."
At CROZES-HERMITAGE, JEAN-LOUIS PRADELLE of DOMAINE PRADELLE also spoke of the higher than usual work load this year: "we have had to take off a lot of vegetation to air the bunches, which are small this year; our main pressure came at Ascension, with that month until around 20 June being a time of some mildew, and now mainly oïdium as the principal threat. I may be heading for harvesting around 20 September."
From CORNAS, PIERRE CLAPE of DOMAINE CLAPE gave me the dry comment: "well, there are still grapes on the vines, but also a lot of grass; we need heat, although a few grapes are starting to change colour today after some days of 26-29°C. The big pressure has been oïdium, not surprising given our rainfall of around 300 mm (12 inches) in April, May and June. There has been some coulure, especially at the bottom of the slopes and with the old vines, but the full slope vineyards are in good shape. Our SAINT-PÉRAY vines have some mildew, but are better off than those further south towards Valence. It is a Year of the Worker."
In unfortunate circumstances is JEAN-MARIE LOMBARD at BRÉZÈME, whose 6 hectare vineyard in this "mid-Rhône" area was struck by mid-July hail, borne by a large storm coming across the river from the Ardèche. "It hit the west-facing vines, and we have lost 20-40% in places," he reported. "Until then, all was fine; the last serious hail we had here was 1991, on 31 July, when the damage was a lot more severe due to the vast amount of small hail stones; this time the stones were fewer and bigger. The fruit growers - peaches, apricots - have been very badly hit."

VINEYARD NEWS
JULY 2013
NORTHERN RHÔNE VINEYARD NEWS, EARLY JULY 2013: the theme of a late to ripen year is constant across the vineyards. Quantity is small. Flowering has been very late, in some cases three weeks behind the dates of recent years, and still occurring at CORNAS in early July. From there, LUDOVIC IZÉRABLE of DOMAINE PIERRE LIONNET told me: "things have been better in the past two weeks, but until mid-June it has been complicated, with rain and cool weather. The grapes are coming through, but are very small. We look like a year with 25-30 hl/ha yields, which for us as an organic domaine is not far off the usual mark. For other domaines, it will certainly be less abundant than usual."
PIERRE CLAPE of legendary DOMAINE CLAPE at CORNAS also talked of a "complicated time" this year. "Rain but also the low temperatures have been the main problem. Our flowering ended on 20 June, which, using the 100 day rule, would imply a harvest date around late September. The budding was modest, and flowering was irregular, with a lot of coulure (flowers not converting into fruit), while some plants did well. There has been some menace of oïdium, while mildew has been restricted to Roussanne and Marsanne at SAINT-PÉRAY."
From CÔTE-RÔTIE, BRIGITTE ROCH of the organic DOMAINE CLUSEL-ROCH reported the following situation: "The rain has meant a lot of grass in the vineyards, which we have to pick axe out, but we have big lads to do that work! Mornings have been very cool, with the Bise north wind around. Flowering went well, during a rare week of hot weather. The last 7 to 15 days until early July we have had good sunny days up to 28-30°C, with only a few spots of rain. We are 2 to 3 weeks behind recent years."
SOUTHERN RHÔNE VINEYARD NEWS, EARLY JULY 2013: a gloomy outlook here. The Rhône has been spared the catastrophic hail that has wiped out parts of VOUVRAY in the LOIRE and PROVENCE this year, but has been hit by widespread coulure on the staple Grenache variety. Just as the flowering got under way, very late, the sap was rising, vegetation was stirring, and a cold front came in. Bang.
As DANIEL BRUNIER of DOMAINE DU VIEUX TÉLÉGRAPHE at CHÂTEAUNEUF-DU-PAPE and DOMAINE LES PALLIÈRES at GIGONDAS told me in early July: "flowering was awful on the old Grenache at Télégraphe – a loss of 30-40%, also on our white vines. The young Grenache is OK, but the Syrah crop is also small; maybe we will achieve only 23-25 hl/ha. The vines look super belles. Ironically the budding was great, now we are in big trouble. At GIGONDAS, flowering isn't finished, but last week's weather was fine, and as it's a late ripening zone, things could yet be OK."
From GIGONDAS, DOMINIQUE AY of top-grade DOMAINE RASPAIL-AY summed up as follows: "it's not catastrophic, but is tense. We had strong coulure on our Grenache of all ages, thanks to the cold during flowering. All the most precocious vines were the worst hit, so there are now bunches with 3 or 4 grapes on them. The Syrah and the Mourvèdre are in good shape. Harvest date: the end of September. We are due a run of hot weather now into the second week of July."
ENTERED RECENTLY: in an attempt to unleash les bons temps rouler of hot weather, a full review of 2012 TAVEL ROSÉ has been posted under the sidebar THE LEADING WINES, subtab 2012 SOUTHERN RHÔNE. It is a generally good vintage, although the difference between the best and the worst is wider than it was in 2011. A series of notes on 2012 CÔTES DU RHÔNE WHITES and ROSÉS made by domaines at LIRAC, TAVEL and VACQUEYRAS has also been posted. Look for the LVT (Last Vintage Tasted) tag, either 2012 wh or 2012 rosé.
DOMAINE VISITS: a recent domaine, DOMAINE LA BARRIÈRE of PHILIPPE BRUN, listed under CÔTES DU RHÔNE. The main vineyard is north-east of Vaison-la-Romaine, at a little altitude near PUYMÉRAS. Philippe is married to a Taveloise, and also makes a good TAVEL, all 5,000 bottles of it. From VALRÉAS, MAS DE SAINTE CROIX, Belgian-owned, and making authentic reds and a sound Roussanne white. A visit also to one of the leading CÔTES DU RHÔNE estates, CHÂTEAU DE MONTFAUCON, which has raised its top red BARON LOUIS to LIRAC status, and is also now the owner of a fantastic pre-1900 CLAIRETTE BLANCHE vineyard in the good white wine zone of SAINT GENIÈS DE COMOLAS, one of the four communes within the Lirac appellation.
Winter Rainfall
JUNE 2013
SERGE FÉRIGOULE of DOMAINE LE SANG DES CAILLOUX at VACQUEYRAS reports the winter rainfall as a whopping 754 mm (30 inches), with 130 mm (5.2 in) in May 2013 alone. Temperatures across the SOUTHERN RHÔNE remain cool, often struggling to exceed 20-22°C, and the vineyards are regarded as being three weeks behind their usual dates. "The Mistral is blowing now," stated SERGE, there is sun, and at least we are not getting South Winds that would encourage mildew."
From the NORTHERN RHÔNE, JACQUES GRANGE, Supremo at DELAS, told me a similar story in graphic terms: "well, the vineyard is the same as it was three weeks ago – it has not budged. In last the three weeks of May we have had just 5 cm of growth on the branches, something I have never seen before – it is like a Still Life painting. We have done one tying up (attachage) of the shoots, but need sun and temperatures to improve. We have debudded, have worked the soils, and can't do anything more for now. It's been cold, and raining a lot, needless to say," he concluded.
CORNAS NEWS
MAY 2013
MORE CORNAS (CHEVAL MASCOT) NEWS: the mighty CORNAS returned to Paris in April, the swanky so and so, this time frequenting the classy Western reaches of the city, at AUTEUIL. He contested the Prix Quo Vadis (the French race names have more ring to them, n'est ce pas?), a steeplechase over 3,700 metres against 11 rivals. Cornas led into the home straight, after making the running, and finished an honourable fourth, backed in from 17/1 to 10/1 as French Turfistes appreciate the qualities of the horse they believe comes from the Ardèche and its Noble Wine Village. Connoisseurs, they all are, down at the PMU. ALLEZ CORNAS!
ENTERED RECENTLY: the main focus is on 2011 GIGONDAS REDS – the report is under 2011 SOUTHERN RHÔNE. If buying, I would go for the easy drinkability of some, and tackle them early in their life. Or I would cellar a select few that can develop over time, and give interest and satisfaction past the 10-year mark.
A lot of Notes on 2011 CÔTES DU RHÔNE and VILLAGES have been entered, so a whole range of CO-OPERATIVES and smaller DOMAINES has been added. Here we go: under CÔTES DU RHÔNE: the vast CELLIER DES DAUPHINS at Tulette, LE DEVÈS, the Languedoc-based VIGNOBLES FONCALIEU, the wide range, with some promise, offered by LES VINS PIERRE ROUGON, LA SUZIENNE at SUZE-LA-ROUSSE, TERRES D'AVIGNON, VIGNERONS DE VILLEDIEU-BUISSON.
At CAIRANNE, DOMAINE DE LA GAYÈRE. At GIGONDAS, the good new Merchant business MAISON UGHETTO-AUDOIN. At PLAN DE DIEU, the hearty DOMAINE LE GRAND RETOUR. At SÉGURET, MAISON PLANTEVIN, DOMAINE EYGUESTRE. At SIGNARGUES, DOMAINE MAGALANNE. At VALRÉAS, DOMAINE DES GRANDS DEVERS.
Early May sees the DECANTER WORLD WINE AWARDS, so there is a lot of tasting to be done in search of quality for that. Perhaps May will bring more sustained heat and growing weather for the vineyards, and for those wanting to drink coolly and outdoors. SANTÉ!
CORNAS NEWS
APRIL 2013
THOMAS PONSON is the enterprising owner of several businesses in the RUE LAURENCIN, LYON 2ème - a restaurant, wine bar, wine store, a café, an Italian café also. He has relations in CORNAS, and is an UNCONDITIONAL AMATEUR of les vins cornasiens, which are spread liberally around his Wine Shop. RESTAURANT THOMAS, 6 RUE LAURENCIN, 69002 LYON, +33472 56 04 76 www.restaurant-thomas.com
CORNAS (CHEVAL MASCOT) NEWS: the mighty CORNAS has been practising his French again. In late March he ran in the accomplished Prix Solitaire at Enghien, north of Paris. A steeplechase over 3,800 metres (2 miles, 3 furlongs), this involved all sorts of different obstacles – banks, hurdles, water jumps, bull finch fences, and CORNAS thoroughly enjoyed himself. He led for much of the way, only to be overtaken close home, finishing third, around 3 lengths behind the winner. His starting price was 14/1. This effort was all the better given that the meeting had been cancelled the week before due to snow, so CORNAS had travelled twice to Paris from the village of George Nympton in North Devon in just a few days. His next run is at swanky AUTEUIL, west ofParis, featured in the works of Ernest Hemingway, in mid-April. ALLEZ CORNAS - you are still better known than the MAYOR of CORNAS.
ENTERED RECENTLY: see GOINGS-ON for the full cast of characters visited or tasted, with an interesting full review of the 2011 CHÂTEAUNEUF-DU-PAPE WHITES. The role of the CLAIRETTE BLANCHE is put under scrutiny.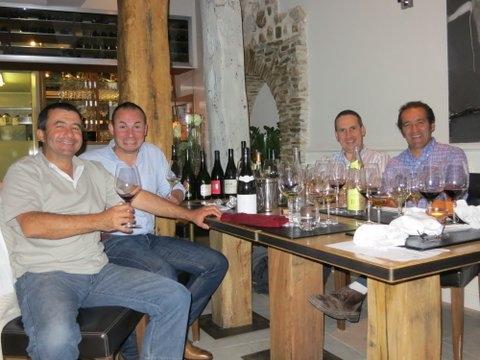 OUR BOOK TRIUMPH
MID-MARCH 2013
So the GIGONDAS, Its Wines, Its Land, Its People book, in French known as GIGONDAS, ses vins, sa terre, ses hommes has been given First Prize at the Annual Gourmand World Cookery and Wine Book Awards ceremony, held at the Louvre in Paris on Oscars weekend, late February 2013. Our very own Oscar, donc. The book's title was actually composed by yours truly sitting under the plane trees of La Place de Gigondas with a glass in my hand. So that saved a few thousand €€€/US$$$/£££ for starters, and the wine was really rather good, as well.
Then we had the task of translating it, with my part in English already, the rest in French already. The prize seems to have been awarded for the English version, so my English section was deemed up to scratch, it would appear.
The book will be entered in the Roederer Book Awards this year as well, and some other Awards further afield. For a collective effort, this is most pleasing, and brings the co-operative sense of the project to a most satisfactory level.
The score was Rhône 2 Bordeaux 0, since our book beat, among the other 4 short-listed titles, the Gault & Millau Bordeaux Guide for Hong Kong (presumably in Cantonese) and a French book on Saint-Emilion. Olympique de Marseille (OM) are above Bordeaux, les Girondins, in the French Football League, as well.
CAVES MERGER
On to matters plus sérieux: the economic squeeze is troubling for any wine producer whose image, pricing or brand loyalty is wobbly. The Beaujolais region is facing severe despondency, culling of domaines, bankruptcies, the culmination of a structure that has been uneconomic for many decades. In the early 2000s, the average size of a domaine there was a little under 5 hectares, and there was next to no co-operation between domaines, so each one had a wine press, tractor etc etc.
The Rhône has been spared the worst of the hardships, with the alliance between Co-operatives such as Laudun and Chusclan an actually healthy symptom of the crunch, or the presence of the vast, factory-like Cellier des Dauphins as a shareholder or main owner of Co-operatives a slightly less beneficial turn of events if one wants high quality, even though it keeps viticulteurs in business.
Now news comes of an integration between two of the largest, most high profile Co-operatives of the Rhône Valley– the BALMA VÉNITIA at BEAUMES-DE-VENISE, and the VIGNERONS DE CARACTÈRE at VACQUEYRAS. I have always preferred the wines of the former, to which I have a small emotional attachment. The latter Cave has lost growers such as JEAN-LUC FARAUD, now running a very good small domaine called MAS DES RESTANQUES at GIGONDAS, while the BURLE brothers of DOMAINE FONT SARADE have also quit the VACQUEYRAS CAVE, now sending part of their crop to LE VIEUX CLOCHER. Stories of harvest such as Syrah being picked at over 16° add to an unsatisfactory picture.
When living in Aix-en-Provence as a penniless student/writer in 1973-1975, my regular wine was the CAVE DE BEAUMES-DE-VENISE CÔTES DU VENTOUX, then VDQS or VIN DE QUALITÉ SUPERIEURE, red and rosé. It came in white Litre bottles with stars around the neck and a thin plastic capsule. Cost a Franc or so, bottles refundable when returned to the Cave, delivered in battered red plastic crates, the drinking often aided quite speedily by my old friend TIM JOHNSTON, now Proprietor of JUVENILES WINE BAR, 47 Rue de Richelieu, Paris, near the Palais Royale.
The Cave de Vacqueyras has over-emphasized marketing in my view, and also offered too many different wines, no doubt to satisfy the results of market surveys or focus group studies. Their Chief is ex-IBM and beholden to that world rather more than the world of Agriculteurs or Viticulteurs, in my view. The two Co-operatives will reduce costs in the future, and are working to come up with yet another glitzy joint name or sobriquet. At least Balma Vénitia is a title based on the place, the Latin of it. However, Question: where do you go after the height of generic blandness, Vignerons de Caractère? Answer: no idea.
From around 2,300 hectares, the joint enterprise will turn out about 8 million bottles.
RECENTLY ENTERED: a full Report on CHÂTEAUNEUF-DU-PAPE 2011 REDS. See THE LEADING WINES BY VINTAGE tab, then its side tab 2011 SOUTHERN RHÔNE. Some Domaine visits, also at CHÂTEAUNEUF-DU-PAPE: the promising DOMAINE DE LA BISCARELLE, the seasoned DOMAINE DE LA VIEILLE JULIENNE, where interesting, more terroir-focused changes have occurred since the 2010 vintage, and the peerless, Ne Plus Ultra CHÂTEAU RAYAS, whose 2011s are astounding. Also, the rock steady CLOS DES PAPES, always much sought after, the authentic DOMAINE LUCIEN BARROT & FILS of RÉGIS BARROT, who now he is past 60, spends half the year living on the beach with his new wife in the Philippines, and is set to hand on to his niece CHRISTELLE.
MID-FEBRUARY 2013: Can one have just too much of a good thing? A new James Bond film every month, a football World Cup every year, Glyndebourne Operas every day, champagne and caviar likewise? Well, unease is creeping into some areas of organic winemaking. The main reason I suspect is over supply.
Going organic – "bio" as the French term it – is certainly a passport to respectability, actually a rather devalued currency as there has been a landslide of arrivistes wanting to climb aboard the chic, save the planet wagon. This is no doubt much to the disdain or even disgust of the true pioneers, domaines such as MARCEL LAPIERRE in Morgon, and in the Rhône, GRAMENON near Valréas and DARD & RIBO at Crozes-Hermitage, to say nothing of the CHÂTEAU DE BEAUCASTEL and DOMAINE PIERRE ANDRÉ at Châteauneuf-du-Pape, who have been organic for longer than I have been covering the Rhône, but make very little fanfare about it.
The conversion of domaines attached to Co-operatives and those which do not have a tight-knit, assured sales network brings to the fore the trend supplied by the following figures: according to Inter Rhône, the open market price of 100 litres (1 hectolitre) of organic Côtes du Rhône red fell from €239 to €179 during 2012, which is still 55% higher than the conventional Côtes du Rhône price. This has been mirrored in Bordeaux, where the price of a 900 litre barrel has headed towards €1,300 against a level of €1,800 to €2,000 at the start of the current vintage campaign.
Part of the problem comes from the sheer amount of organic wine newly coming on the market. Between 2010 and 2011 the Rhône-Alps region production area rose by 15% to 4,691 hectares. Interestingly, a high profile organic area, Alsace, still lags some way behind the Rhône with production of 2,062 hectares, a rise of 19% over 2010. Languedoc-Roussillon, on the other hand, had 19,907 hectares under organic farming in 2011, a rise of a whopping 21% over 2010. Can I hear pips squeaking?
GILLES FERLANDA, the President of the CAVE DE VISAN, commented: "In 2012, a lot of domaines officially achieved organic status; the result has been that the volume available on sale has increased, without having the outlets for it. Overall, demand for organic wine doesn't exceed 1-2% if you take all sales channels into account."
The warning being issued to growers is thus this: make sure you calculate your cost price to avoid having to sell at a loss, and get your wines on the market as soon as you can in any given vintage.
For the Rhône, more recent, high quality names such as DOMAINE ROUGE-BLEU, with its tapping in to the USA market and blog-newsletters in English, will be fine, but one wonders about some of the less savvy, reticent growers who will certainly have to pound some pavements to make it pay in the future.
HERMITAGE
LATE JANUARY 2013
Reviews of HERMITAGE estates have recently been posted, the emphasis on 2011 and 2010, with one or two 2012s tasted at MARC SORREL and CAVE DE TAIN. Other visits to DELAS, BERNARD FAURIE and JEAN-LOUIS CHAVE have been written up, along with the full range of FERRATON and CHAPOUTIER wines. The fullest 2011 NORTHERN RHÔNE REDS come from the area around Tain, including CORNAS, CROZES-HERMITAGE and HERMITAGE, while the southern area of SAINT-JOSEPH around Mauves and Tournon has served very drinkable wines as well. For full reviews of 2011 HERMITAGE RED, HERMITAGE WHITE and CROZES-HERMITAGE RED, see LEADING WINES BY VINTAGE and scroll down to 2011 NORTHERN RHÔNE, then across to THE LEADING WINES.
EARLY JANUARY 2013: the outcome of the Brussels deliberations on allowing unlimited planting rights has been satisfactory for the broad mass of French vignerons and viticulteurs. Europe has now proposed a system of regulation across all countries and across all categories of wine, which has come as a big relief to the Rhône growers, even if details remain to be finalised.
Morale is also up thanks to the current pricing of Rhônes; at the grass roots CÔTES DU RHÔNE level, the current price of €115.90 per hectolitre (100 litres) for the 2012 represents a rise of between €6 and €7 for the third consecutive year. This is testament to the success, not only of the extremely drinkable 2011 vintage, but also the recognition already of the superior quality of 2012, a vintage of greater structure and body than the 2011.
2012 will be an interesting exercise in judging whether the Rhône has started to shake off its junior partner status, behind the heavyweights of BORDEAUX and BURGUNDY, regions that struggled for crop and ripeness in 2012. The tradition is for perception of Rhône quality to slavishly follow judgments coming out of Bordeaux, which in vintages such as 1991, 2007 and 2008 cast excess shadows over the Rhône.