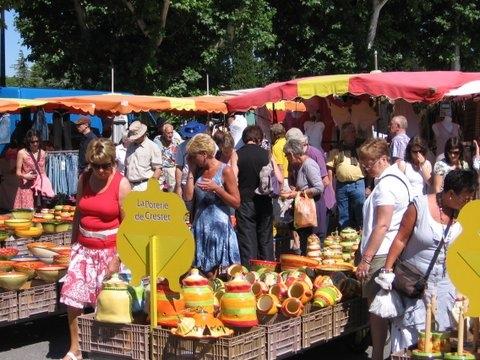 2013 VINTAGE REPORT
LATE AUGUST 2013
2013 VINTAGE REPORT: "Complicated" is a word I am hearing more and more this year. There is a definite sense of unease among the growers of the SOUTHERN RHÔNE, while their NORTHERN RHÔNE counterparts are more philosophical, and have a potentially better outlook, even if ripening is taking ages.
NORTHERN RHÔNE: from CORNAS, PIERRE CLAPE gave me the low-key findings of crop checks done on Monday 26 August, 2013: "in the best parts of CORNAS, on the full slopes, we were at 7.7°. HERMITAGE SYRAH was at 7.3° with 12 gm of acidity, while CROZES-HERMITAGE SYRAH was 6.9° and NORTHERN SAINT-JOSEPH SYRAH at 6.5°. We are still in the game, the hillside grapes had turned red by around 21 August. We need one month of fine weather - if the weather degrades, we have problems. According to the archives of the Chamber of Agriculture, this situation at this time resembles three vintages - 1987, 1983 and 1978. I would prefer it to be either of the last two, not the first! All we can do now is cut out all new shoots, but we don't need or want any more rain. Our CORNAS crop will be harvested in early October at this rate."
From CÔTE-RÔTIE, the doughty NICOLE LEVET of the STGT, traditional DOMAINE LEVET is calm, her life as the daughter of a vigneron (she is a Chambeyron) coming to the fore: "it's like the 1980s, a late year. We will probably harvest in the first week of October, like we used to in the 1980s. We have the experience for this, and we just need time – it's a question of a lot less crop and a better quality in this situation.
We've had heat since July, a lot of heat, and not a lot of rain. The last rain came a little while ago, and was just enough to help the ripening to advance. I have been dropping a few grapes on La Landonne – every fourth of fifth vine has too many bunches. I'd say the veraison (grapes turning colour to black) is about 80% completed, and there is no mildew and no oïdium. I am a bit on my own in the vineyard, since my daughter AGNÈS had a baby girl, her second child, on 6 August."
Further south and across the river at CROZES-HERMITAGE, OLIVIER DUMAINE, who works organically at Larnage, in the northern, hilly sector of the appellation, is relatively sanguine. He reported: "the vineyard is sympa for the moment, and the delay means harvesting towards the end of September or even the start of October. About 50% of the veraison has been completed. The bunches are poorly distributed across the vines – it's very variable, but actually the loss of crop may not be bad thing for a late harvest. The Syrah is complicated – only 70-80% of the normal yield. The white crop is small. The late spring has been the problem. We have no worries on mildew or oïdium, but what we do need is a joli autumn."
SOUTHERN RHÔNE: hmmm, the GRENACHE NOIR is not top of the popularity polls this year. As reported earlier, it has been ravaged by coulure - flowers failing to convert into fruit - but it is also taking ages to ripen. The veraison in the South has been extremely protracted, despite the warm to hot, and largely dry weather.
From VINSOBRES in the north, PASCAL JAUME of DOMAINE JAUME gave me the following account and personal observations: "it isn't too bad. We've had what we call selective coulure - it hit the early zones but spared the later ripening vineyards, and are 10 to 15 days behind now. Some of our 30 year old Grenache maybe won't give more than 15 hl/ha. Regarding the coulure that has so badly hit the southern Rhône, with severe loss at Châteauneuf-du-Pape and Vacqueyras, for instance, it's been less full scale in the later areas of the southern Drôme and northern Vaucluse – meaning vineyards such as VALRÉAS, SAINT-PANTALÉON-LES-VIGNES [one of the most obscure VILLAGES] and VINSOBRES.
We are crossing our fingers that good weather will come along. The veraison is happening slowly – it's about 50% completed on the Grenache, which is going more slowly than usual, especially as there isn't even a lot of crop in the first place. I reckon the stress of the cold month of May was the key factor; you only have to see tomatoes struggling to ripen, and the vegetation so abundant in the vineyards. The sap isn't going to the right places.
I go back to the 1980s for this year: in 1980, I was finishing my studies in Avignon, and remember the vines being in flower when I came home on 15 June, and then on 14 July they were still in flower. So slow years are from that time; in fact in 1980 we ended harvesting at Vinsobres on 4 November, while the Cave Co-operative and others ended 11-14 November.
Now it's nature driving the show, and we have to be patient."
Over at CHÂTEAUNEUF-DU-PAPE (ie further south-west, a much more precocious than VINSOBRES), the experienced GÉRARD CHARVIN, pa of LAURENT of DOMAINE CHARVIN, centred in the north of the appellation, gave me his views so far: "there is some blight but it's on the leaves and isn't troublesome. It's hot and dry, we've had no hail, and the veraison is starting now. We won't harvest before 20-25 September, and that depends on a good next 30 days. Our Grenache may be only at half crop size, but it's funny with the coulure this year – we have a Merlot vin de pays that didn't suffer at all, for instance. We don't need rain, and have probably had a little bit too much. Because we are behind, we are doing some leaf management, as the vegetation has continued to evolve, not helping the fruit."
JEAN-PIERRE USSEGLIO of DOMAINE PIERRE USSEGLIO & FILS works a good spread of plots with his brother THIÉRRY. He expressed the following thoughts: "it's been a very complicated vintage so far. We can make beau vin, but are being obliged to work on various different fronts, especially as we work our vineyards on a plot by plot basis.
Like 2010, we have a small crop, especially on the Grenache. Things are healthy, but the veraison is very slow to complete – it's very irregular, and we find the southern quartiers such as Les Serres to be better off and more attractive than the northern parts of the vineyard. The big difference between fresh mornings and temperatures later in the day has slowed down the veraison. Harvest date could be around late September.
Coulure on La Crau [the high-profile, important site east of the village, a big stony plateau with a lot of old GRENACHE], has been vast – yields of 12 hl/ha only, while there is some mildew on the leaves, not the bunches. The last rain was over two weeks ago, with 80 mm (3.2 in) in the south, and 50-70 mm (2-2.8 in) in the north; that caused problems if people wanted to treat their vines since tractors couldn't get in the vineyards to spray.
As for LIRAC [the brothers have a 6-hectare vineyard at ROQUEMAURE], the bunches are looking good there across the river, and the vineyards are a little healthier, I'd say. Harvest date there – perhaps 8-10 October."
But for a really bleak view, we turn to my amigo LOUIS BARRUOL of CHÂTEAU SAINT COSME at GIGONDAS. He is not a happy bunny, with the virtue of working a late to ripen area – beneficial in recent vintages at GIGONDAS – looking like a hangman's noose this year. Take it away, DON LUCHO: "well, John, you've tasted 1963? I think so, so it's possible you could re-taste it 50 years later in the form of 2013. Normally at this time my vineyards are at 13.5° - this year they are at 9.8°. We are three weeks behind, which we won't catch up. That means a start to harvesting around 18 October, like in 1963, the most dreadful of vintages. In the end, the very small crop could actually help us a bit. I am now relying on God to give us high heat in October, but in my profession, when you start to count on the aid of God, you already have one foot in the grave. I am pessimistic."
Summer Weather
AUGUST 2013
Following a pattern established over the past three or four years, the Rhône has escaped some of the worst excesses of France's weather during the ripening season of 2013. The slow start after the wet and cold of the spring and the early summer into June gave way to a July of generally fine and hot weather all over France and much of Western Europe.
Within this sunny context, the menace of build-ups of high pressure leading to massive thunderstorms has duly emerged, hitting Champagne and Burgundy, notable Volnay and Pommard, but also going as far as causing structural damage to Châteaux in Pauillac, including Pichon Lalande. Loss of crop and degradation of bunches create both headaches and much painstaking additional work for growers. Lower yields, higher costs = prices likely to rise if 2013 proves to be a correct vintage quality-wise.
NORTHERN RHÔNE: in the Rhône, the Atlantic storms of the last weekend in July that so hit Pauillac, came in the form of an extremely fruitful, helpful band of rain. "We had 50 mm (two inches) centred on 28 July – the rain fell softly, over nearly two days, without hail or violence," BERNARD BURGAUD told me from CÔTE-RÔTIE. "It is hot now, and ripening won't accelerate in the heat, so we are still on target for harvesting at the end of September, with yields around the 2010 level of about 35 hl/ha. It has been hot all through July, which made the late July rain so very timely. Our hottest days have gone to about 34°C, with nights mostly around 16-18°C."
Nearby, LIONEL FAURY of DOMAINE FAURY, with vineyards in CONDRIEU, CÔTE-RÔTIE and SAINT-JOSEPH, also appreciated the rain: "the two inches was so regular that it did a very good job, allowing the vines to breathe; it was our first rain since about 20 June. It's going to dry quickly, since we have wind now.
"Quantity is down – the Viognier has been very irregular now, with a loss of 15-20%, while our white Saint-Joseph crop has suffered from very small bunches. "On the plateau – the later zone – our Syrah has suffered from millerandage (small, seedless berries), but on the slopes, the earlier zones, the crop is in good shape. Looking ahead, I wouldn't mind less heat in August to help to preserve acidity, after the constant heat of July."
Hail hasn't hit the Côte-Rôtie, Condrieu, northern Saint-Joseph areas, but it has affected the south of CROZES-HERMITAGE near Pont de l'Isère, where DOMAINE COMBIER lost around 20% of its crop on that vineyard. LAURENT COMBIER stated: "the hail came in the second week of July, but the vineyard has dried out, and we'll have to do some sorting. The hail also struck Beaumont-Monteux, following the run of the Isère River and crossing the Rhône south of Mauves in Saint-Joseph territory. The 50 mm of rain (2 in) served us well on 28 July, and there is no mildew, the vines are healthy. We may green harvest on some young Syrah, while the Marsanne and the Roussanne for the white have seen a little coulure."
SOUTHERN RHÔNE: a most sorry tale came from RÉMY KLEIN of the leading CÔTES DU RHÔNE DOMAINE LA RÉMÉJEANNE at Sabran in the right bank Gard departement. "Quality – that's OK. Quantity – that's a problem. Our Grenache has suffered from such strong coulure that means our Grenache yields are 10 hl/ha against an average of 35 hl/ha. No-one in living memory has seen such coulure, including one 80-year old vigneron I talked to. Bunches have just fallen to earth, with no grapes on them.
"The sap had run up into the vegetation after a spell of hot weather between the early cold and the flowering, with branches growing by 40 cm (16 in) in a week during flowering, in competition with the fruit and the bunches. Some areas, such as Remoulins had very little coulure but the northern Gard and the southern Ardèche were ravaged. Either very late or very early sectors did OK. LAUDUN is very bad, while the village of Tresques had less than some. The Syrah has had no problem, while the Carignan, Cinsault, Mourvèdre are all OK. It is certain that bulk prices of Côtes du Rhône will rise, while we will all have to adapt our blends this year to compensate for the low Grenache content."
From RASTEAU, ROBERT CHARAVIN of DOMAINE DES COTEAUX DES TRAVERS gave the following bulletin: our Grenache here at Rasteau has lost a lot due to a serious bout of coulure, which hasn't hit us like this since 1983. We are talking about Grenache yields that can be as low as 1-15 hl/ha. Our Syrah is marked by small bunches, and average yields around 30 hl/ha, while the Mourvèdre has done well, and is likely to crop about 35 hl/ha. There are only a few spots of mildew, nothing serious, and we have no oïdium. As for hail, we had one episode in the south of the appellation, where 30% of the crop was affected.
JEAN-PIERRE CARTIER of DOMAINE LES GOUBERT at GIGONDAS also has vineyards at SABLET and BEAUMES-DE-VENISE. His report mirrored those of his neighbours. Not a man to deal with percentages, he nevertheless suggested that the coulure would cut his Grenache, although the higher, later zones of Gigondas had fared a little better than the more precocious vineyards on the plain.
"The late July rain I would say was 42 mm (1.6 in) at Gigondas, about 50 mm (2 in) at Sablet and about 60 mm (2.4 in) at Beaumes-de-Venise," he informed me. "It's been very useful. We are a good two weeks behind, heading for our first harvesting around 23-24 September, or two weeks behind. Morale is sad, though. Tourists aren't visiting cellars, and summer sales from domaines are super, super calm."