SWEETS FOR MY SWEET, SUGAR FOR MY HONEY (OR NOT)
LATE DECEMBER 2012
The news that Capt'n Bob, aka Robert Parker Jr, is about to cede much of his coverage in The Wine Advocate brings into line an enduring debate about his style of wine. He has stated that he will continue with Bordeaux and the Rhône, which of course includes Châteauneuf-du-Pape. On hearing this news, Jancis Robinson was quoted in The Financial Times, where she is Wine Correspondent, thus: "It's no surprise he's retaining Châteauneuf-du-Pape. He's probably the last person in the world who can take it."
Vroom, Vroom, JR! The week before she was quoted, Jancis had tasted hundreds of 2011 Châteauneufs, and 2011 is a mild vintage there. Her eye was in, as they say in cricket.
Another interesting exchange occurred at the same time between me and Yves Gras, the owner of Domaine Santa Duc, at Gigondas. Yves for long has been a whole bunch, 6 week ferment, "everybody into the Police Van" winemaker. His wines have been Big, sometimes unremitting, sometimes lucid. Now he is going all out for finesse. "I am destemming and shortening my fermentations. Now we do "infusions" more than macerations. I am suppressing the use of 228-litre oak casks and moving to 36 hl Austrian barrels to respect fruit and freshness," he told me. "The oak effect of small oak casks with alcohol when wines are at 15.5° to 16° is much greater than, for example, a Burgundy in its cask at 12.5°. I have had a frank exchange with Robert Parker about this, since he still insists that people want big scale, obviously flavoured wines. I don't anymore."
I am with JR and YG here, and of course have never deviated. Balance is what makes wine great. I was generously served a 2005 Domaine Giraud Les Gallimardes Châteauneuf-du-Pape red by young François Giraud at dinner the other day, in between wines from Clos du Mont-Olivet and Domaine du Grand Tinel. It was oppressive. At least 15.5°, its thickness of texture and sucrosity on both nose and palate made it hard going, a wine out of step with others at the dinner. You sip a tiny bit, then want something more refreshing. The sucrosity - consciously sought to my certain knowledge by some domaines, and zero to do with factors such as "global warming" or hotter summers, kills easy, pleasant table wine drinking. It is not just a question of degree, I must emphasize. Yves showed me his ROAIX LES CROTTES RED 2010 - a 15°-plus wine, but a tasty, balanced one, good and drinkable.
I am sure that history will look back and conclude that the chase for sweet, deliberately late harvested, high octane wines was an aberration at Châteauneuf-du-Pape, more than anything because they blurred the marvellous elegance and purity of fruit that this appellation produces. Never have I known such an extreme divergence between the palates of the USA, where sugar is mainstreamed into the diet from the earliest age, and the more mineral-appreciative tastes of Europe, and particularly Northern Europe.
FURORE OVER UNRESTRICTED PLANTATION RIGHTS PROPOSAL
EARLY DECEMBER 2012
A gradual crescendo is being reached on a topic that has not had widespread coverage as far as I can tell – the debate about the extension of planting rights in European appellation vineyards. The proposal by the EU in Brussels is that henceforth all land within an appellation zone can be planted with vines, the planting allowed at any time and in any amount. Take Crozes-Hermitage, for instance, where much of the plain of Les Chassis still produces fruit such as apricots, whose harvest in 2012 was a disaster, incidentally. This could be rapidly expanded at the drop of a hat, or a bureaucrat's pen.
Under the present system, planting rights are strictly controlled, with Grower A on the plain allowed a hectare or so, or Grower B up a hill at Côte-Rôtie just one quarter of a hectare. The quarter hectare would take more than 4 times longer to plant from a standing start, by the way, than the single hectare on flat ground: trees to be cleared, walls to be built, terraces to be constructed, versus a tractor banging in the new plants 10-4 along the flat lands.
The current system protects the integrity of the appellation, indicating that not all the land is suitable for vines (or it would have been planted in years gone by, before such strict new planting rules), and keeping a lid on supply: even in the Rhône there would be a fear of a €3 or €4 Saint-Joseph dumped into a hypermarket, for instance – a disaster for the image of the appellation. Think Beaujolais Nouveau, the Harvard Business School template for how to ruin a region's reputation through a marketing stunt.
The opposing view held by some, often larger scale growers, is laissez-faire – let the market decide. The Brussels proposal is motivated by the intention for free competition, stating that the current system is anti-competitive. What it does is exclude anyone who has no planting rights. How do you obtain planting rights now? By having vineyards already.
Hence a fruit tree cultivator cannot switch his or her land from fruit to vine. A newcomer with money has no access, likewise. There is a blockage in the system that favours the incumbents to the detriment of anyone trying to start up. However, the new system would actually favour incumbents who sell brands and have access to capital to buy into hectares of land at one fell swoop. One cannot imagine the owner of a three hectare domaine dancing in the streets at the adoption of the Brussels proposal.
France being France, the body politique is up in arms about this, and December 11, 2012 has been set aside as a Day of Action in the Rhône. The tussle over this plan has been going on for three years now, and the final meeting of the ultimate Committee on this is to be held on 14 December, 2012 in Brussels. Things get tricky with the prospect of some countries wanting a free for all, while others, such as France, favour restriction. The French clearly fear being undercut by floods of mass produced non-French wines.
Meanwhile, hot on the heels of the 2012 harvest, the digging out of dead vines is seriously en route after the 10-20% losses of February, 2012. Trails of smoke indicate the sorry end of these vines, meaning that growers in appellations such as the CÔTES DU RHÔNE, RASTEAU and BEAUMES-DE-VENISE have much more work than they would wish this winter.
Vinification
EARLY NOVEMBER 2012
Growers report that vinifications have been proceeding well, with JEAN-LOUIS CHAVE at HERMITAGE devatting his last wines at the end of October, and SOUTHERN RHÔNE growers also well down the road. Other tasks currently are replanting of dead vines after the widespread loss from the February 2012 frosts and cold winds. Central government and EU aid has been channelled the way of growers to help with this large task.
On the demand side of the wine trade, the market for the 2011s En Primeur starts to hot up, too. I receive e-mails from readers wondering if they should buy this or that 2011. In other words, they are being offered a wine that is not yet blended into its final form. Some of these wines cost €50 or more. It does amount to taking a bet, and in 2011, quality is not so gloriously widespread as it was in 2010. I will do my best to report back from the front with the latest news after tastings of over 450 NORTHERN RHÔNES this month, to be followed by CHÂTEAUNEUF-DU-PAPE and GIGONDAS.
Patrick Jasmin's Syrah
LATE OCTOBER 2012
as an example of what has happened in the Rhône this year, Patrick Jasmin's Syrah from the Blonde comes in at 12.44°, very satisfactory. Colours are good in both NORTH and SOUTH, and the wines that I have tasted so far, ranging up to 4 weeks old, have had aromatic fruit and better, more profound tannins than 2011. Growers prefer the vintage to 2011, and consider the wines to have the structure to be successful and to live better than 2011. I do not disagree. Acidity levels were low at harvesting, but their fermentations have actually perked them up, with the malolactic fermentation changes still to come. Yields are low, often short by 20-25%. The whites are promising, too.
Harvesting
EARLY OCTOBER 2012
Growers are in the home straight now with their harvesting, the main activity concerning the later ripening, often higher zones such as GIGONDAS and VINSOBRES in the SOUTHERN RHÔNE. MARC PERRIN of CHÂTEAU DE BEAUCASTEL at CHÂTEAUNEUF-DU-PAPE gave me the latest news from there: "we have completed 60% of our harvest, and haven't yet started the Counoise and the Mourvèdre. It's hot and fine now, so we will take the Mourvèdre ripening as far as we can, something like the 20 October of last year, when we harvested it at 13.5°, nothing excessive thanks to the Indian summer. We have picked our Syrah and 30% of our Grenache at VINSOBRES. We are 30% down on yields at BEAUCASTEL against 2011 – the story this year of having a lot of grapes but not a lot of juice in them."
In the NORTHERN RHÔNE at CONDRIEU, CHRISTOPHE PICHON is near the end of his harvest season. He has vineyards spread around, and reported as follows: "we ended the harvesting of our domaine vineyards on 1 October, and will finish the crop from our merchant, négociant, vineyards by about the weekend 6 October. I am very agreeably surprised – the crop is belle, and so is the quality, and the grapes' juice is good to taste. Fermentations are going very quickly, and I would like them to be a bit slower for quality reasons. Our Syrah at SAINT-JOSEPH is 12°-13°, the CONDRIEU Viognier 13.5°-14°, and the Syrah at CÔTE-RÔTIE is 12.5°-13.5°. Our yields are close to what is allowed."
DOMINIQUE PERRET of DOMAINE ANDRÉ PERRET at CONDRIEU was relieved that the finishing line was in sight: "we finished harvesting on 2 October with our Vins de Pays vineyards, our last Condrieu Viognier picked the day before. Our yields are 10-20% down, with our Marsanne minus 20-25%. We have also had a very low crop on the hill of CHÉRY at CONDRIEU – the old vines did not perform well, and we may have to take them out (they date from 1948). Degrees are correct this year."
Autumn equinox
LATE SEPTEMBER 2012
the autumn equinox has struck with its usual potent force, stretching nerves among the later harvesters across the Rhône. From the NORTHERN RHÔNE, one appellation is relaxed, thanks to its vineyards being tucked in and sheltered, away from the main Rhône corridor - CORNAS. The young and skilled GUILLAUME GILLES told me: "we finished on 22 September after 4 days of harvesting; I had a team of 12 cutters this year, and one of their main tasks was to cut out the burnt grapes from the heat this summer. There were two main moments of high heat – mid-July and the late part of August, when the setting sun on Chaillot was particularly hot. The yield is not enormous – 30 hl/ha. The harvest is healthy, even stunning, very, very ripe, very charged in sugar, and the potential degree is above 13.5°. Even the foot of the slopes and flat areas with less high heat are almost riper than the high slopes this year, since they weren't sunburnt."
Another voice, much more experienced, at CORNAS came from PIERRE CLAPE: "the Cornas phenomenon is that we have been riper than our neighbours even at Mauves and across the river at Crozes-Hermitage, where not a lot of people have yet harvested. Cornas vegetation was in advance in the spring, and it has been warmer here, and a lot of growers have now finished. The crop has been superb for most people, and the yield is around 35-36 hl/ha – in 2011 it was 40 hl/ha, a lot too much. The vintage is richer than 2000, perhaps like 2006."
Growers are working away at CÔTE-RÔTIE, with rain and squalls in the atmosphere. STÉPHANE PICHAT, thoughtful and talented, reported: "we started to harvest on Monday 8 September, and finished on 25 September. We have had some rain, but nothing too extreme, and it was followed by a lot of wind which dried the crop quickly. The skins are becoming very, very fine, and won't last long in the current conditions. September was a healthy month, and my Syrahs are not high in degree – 12.5° about, with Grandes Places 13° or so. The grapes are small and handsome. This year we have had to work hard all the way through, so we are quite tired after all that, and happy to have reached the finishing line. There is a forecast for 85 mm (3.4 in) of rain this weekend."
Elsewhere at CÔTE-RÔTIE, young XAVIER GÉRARD told me: "I finished my Côte-Rôtie harvest on 28 September – the 50 mm (2 in) of rain on 26 September didn't hurt, although the very ripest plots were slightly affected by that." From the excellent STGT DOMAINE VIGNOBLES LEVET, NICOLE LEVET remarked: "we finish the 29 September, and it has gone well. We waited to achieve a sound degree which ended at about 12.5°. We had 60 mm (2.4 in) of rain on 26 September, so after that we had to do some triage (sorting, discarding) in the vineyard."
Further south at Mauves, one of the villages that forms the original cradle of SAINT-JOSEPH, JEAN-CLAUDE MARSANNE a longtime grower with a traditional outlook and interesting wines told me: "the harvest is very joli for the moment. It rains from time to time, we have finished half, and the grapes are in good shape. Our yield is normal, less than 2011, and around 13°, which is good and ripe. Crozes is less ripe than Saint-Joseph, but also in good condition – there is always a delay between here and there."
Down in the SOUTHERN RHÔNE, some appellations such as VACQUEYRAS have almost finished harvesting, while others such as GIGONDAS are still very much on the go. DAMIEN VACHE of DOMAINE LA MONARDIÈRE, a mainstay estate, reported: "we ended on 22 September – we accelerated because rain was forecast, and we don't regret doing that since we had 65 mm (2.6 in) on Monday 24 September, a violent, early morning storm between 8 and 10 o'clock. We have had small storms passing through since then. The vats are fermenting very well, but the crop is very small, though very pretty – we are very happy with quality. We have been working on containing our alcohol levels and should be about 14°."
Elsewhere at VACQUEYRAS, MONTIRIUS finished harvesting on 20 September, and the STGT DOMAINE LE COUROULU on 19 September, the latter finding the crop down by 15-20%. Later to harvest, MAXIME BERNARD of the very consistent, traditional DOMAINE LA GARRIGUEinformed me: "we have not finished yet, but are at least 15-20% down in yield. The impact of the frost was long-lasting, and interfered with the flowering, I think. The crop we have is very joli, the acidity not bad, and degrees are normal, not high. Choosing the date of harvest was complicated this year – we started on 14 September, and will finish around 3-4 October. We had 40 mm (1.6 in) of rain on the evening of 26 September after 50 mm (2 in) on 24 September, but it is now fine. The crop is still in good shape, and just needs to dry. It is now 21°C, and a North Wind is expected, a turnaround from the recent South Wind."
Nearby at GIGONDAS, DOMINIQUE AY of the excllent DOMAINE RASPAIL-AY was having some weather problems: "we will finish harvesting on 1 October, but have been set back by the heavy rain on Monday 24 September and then again another 40 mm (1.6 in) on 26 September. We don't use weedkiller so there are grasses in the vineyard, and it is too wet for the tractor to get in, so harvesting is on hold while it dries out. The weather is magnificent now, so that's OK. Our Grenache from old vines has been around 14.5°. 2 of my 4 vats have started to ferment, and are going well, with the Syrah nearly finished."
Up the road in the southern Drôme at VINSOBRES, growers were pretty happy. HUBERT VALAYER who makes wines full of character at the DOMAINE DU DEURRE related: "we have completed 65-70% of the harvest, with just some Grenache and Mourvèdre still to come. 30 mm (1.2 in) of rain at the end of August helped the grapes expand after the drought. We are down 20% this year, with a very healthy crop. The Syrah didn't suffer from the drought, and maybe lost 10%. As for the Grenache, the mixture of the February frost and the drought hit it, but what we have picked is very joli. Alcohol degree is not high this year – 13° on the Syrah, 14° on the Grenache. This week, 24 September, we had another 30 mm (1.2 in) and now there is a South Wind and 23°C – it changed from a North Wind then."
Vinifications are going well nearby at the high quality VINSOBRES DOMAINE CHAUME-ARNAUD: son THIBAUD and his mother VALÉRIE informed me as follows: "there is good acidity, and less alcohol than in previous years. It seems very balanced, with "formidable" acidities. This year we observe fermentations taking off at speed, the yeasts are valiant, with the density in the vats falling fast. Unlike 2011, which was very slow and took forever, the sugars ended quickly. It has been a lot more comfortable working in the cellar this year."
Summertime
MID SEPTEMBER 2012
it's still summertime in the RHÔNE, and growers are happy. From the NORTHERN RHÔNE at CÔTE-RÔTIE, STÉPHANE OGIER reported that he was content with matters: "Well, things are certainly better than they were in June, when I thought we were heading for a catastrophe. I have never known a year with such blight pressure from June until the middle of July – grass growing everywhere, mildew potential, treatments needed, all very complicated. Since August the weather has been magnificent. It's now not the vintage of the century but we are well past the point of catastrophe. The next ten days will help the degree, which is not high at present. My samples on 10 and 11 September across my plots at Ampuis (Côte-Rôtie) and Seyssuel (vin de pays, across the river, north of Ampuis) showed Syrah at 11° to 12.5°. I have dropped a lot of grapes this year.
Now that we have had nearly 40 mm (1.6 in) rain on 12 September, the degree will be lower, but good weather is here now, and more of the same is forecast. I want to wait as long as I can, and may start to harvest around 19-20 September. The grape skins are fine, and I can envisage having to chaptalise some vats, since I expect low alcohol this year, The sort of vintage I expect is one of good aromas, a supple and round set of wines, not high in acidity – maybe along the lines of 2000 or 2004. If rot does come, it will be necessary to harvest super fast, unlike 2011 when I harvested over a month. For my Viognier at Condrieu, I will start next week, like Yves Cuilleron. Acidity will be low. They say that Château Grillet (Bordeaux owned) has already finished harvesting."
A few miles south in the SAINT-JOSEPH appellation at Saint-Pierre-de-Boeuf, XAVIER NOVIS of DOMAINE NOVIS was in sanguine form: "I will harvest in two weeks," he told me. "The vineyard is very joli, we have decent degree, it's a good year. We had 10 mm (0.4 in) of rain on 12 September, but it was followed by a healthy North Wind. There have been no blights, no hail, and we are expecting a yield of 35-40 hl/ha. The Syrah skins are still firm and need more time."
The rain that fell on 12 September dwindles the further south one goes, and from CROZES-HERMITAGE across the river, MAXIME GRAILLOT gave this assessment: "I harvested my white crop on 13-14 September. The white crop is magnificent, very healthy, and the yield is a good 45 hl/ha. There is not a lot of acidity, but I expect the wines to be very fine and beau. The Syrah crop is very handsome, very healthy. I expect to start to harvest it around 19 to 20 September – this year it will be around 40 hl/ha, a lot less than 2011 when it was 46 hl/ha or so.
Our last main rainfall was on three occasions – 25, 28 and 29 August, and amounted to around 55 mm (2.1 inches). Our rain on 12 September was a dribble, really, about 4 mm. The late August rain was a big help, as the vineyard was getting dry. The red grapes are aromatic, the pips are getting firm, but the skins are still thick. I have had to treat quite a lot this year – six times.
Crozes-Hermitage announced the ban des vendanges, the opening of the harvest, on 10 September, but I look around and do not see a lot of harvesting machines out and about yet. It's piano for now – people are taking their time given the good forecast. Laurent Combier has cut his white Crozes-Hermitage crop on 13-14 September, and at Cornas I know that Thiérry Allemand and the Clapes are under way on their Syrah."
The SOUTHERN RHÔNE is also in good shape. From VINSOBRES in the Southern Drôme, PASCAL JAUME of DOMAINE JAUME has started to harvest some white grapes: "the vines are ripening nice and quietly," he stated. "We have Mistral wind, and fresh but warm weather is forecast towards the 20 September, so it looks good. We picked some whites in the first week of September, and they are very aromatic. The Grenache blanc was 13.5°, the Marsanne 13°. This week we harvested Viognier at 14°. They are very healthy, just a little nice golden tone to them.
We are now on a harvesting date from 15 years ago, unlike the recent times; that means we harvested some Grenache noir for our Côtes du Rhône on 12 September, and the Syrah on 14 September. The week starting 17 September we will move on to the Vinsobres Syrah. The Syrah has small berries, but they come with a lot of colour and are well fruited, so a big potential, especially if this good weather continues. We have been having fresh mornings around 12°C, and the days going up to 23-25°C, with Mistral wind.
Yields will between 2010 and 2011 – down 15% on 2011, but ripening has been very inconsistent – berries within a bunch at different stages, and the old vine Grenache has notably been very variable, with some plants not giving a single bunch. On the other hand our 10 year old Grenache gave 50 hl/ha when we harvested it on 12 September."
As a late harvesting appellation, GIGONDAS always benefits from fine weather in September, and this year is no exception. DOMINIQUE AY of DOMAINE RASPAIL-AY sought the lee of his cellar to combat the fierce Mistral wind, and had the following report: "The weather is fine, it's very dry, there's no dew, there's a Mistral blowing and all is good and stable for now. It's been 26-27°C and people are not in a hurry to harvest at Gigondas – just one or two Co-operateurs have been out picking. There isn't a lot of crop, especially on the old vines Grenache, which suffered from the cold weather at flowering.
We had 30-35 mm (1.4 in) of rain on the 3 September after about 10 mm (0.4 in) on 25 August, the first rain serving to chase the dust away and to unblock the ripening of some vines. My Grenache is around 14°, 13.5° on the young vines now. The crop is concentrating now after expanding following the rain. Vacqueyras is harvesting, and so is Beaumes-de-Venise. The outlook is good towards the 20 September or later, and I will start harvesting on 20 September as things stand."
Across the river in the Gard, RODOLPHE DE PINS of CHÂTEAU DE MONTFAUCON, buoyed by the birth of a son, Odon, from his Finnish wife Marie in August had this news to announce: "things are going very well, I am happy. It's been a very dry year even after the spring rains. We had 15 mm (0.6 in) just before the 14 July landmark, but not a drop of rain during August. I was getting a bit worried, but we had a storm of 30 mm (1.2 in) in early September. There has been some blockage of ripening, with young vines, overcharged vines, some draining soils, but I also find that some of my vines in sand are fresh.
We are in pullovers and long trousers today - it's dry, with Mistral, and there is a good variation in the temperature – it was 12°-13°C this morning, and a maximum of 23°C today. Temperatures are expected to move up towards 28°C in the third week of September. If that continues, I will have a good sentiment for the vintage.
An unusual observation on the whites is that I normally pick early to avoid high degree; this year I have picked later, and have a lower degree – 12.5° at most - than usual. I have picked all my white crop. For the reds, the acidity is rather low after the heat wave – there is not a lot of juice, so the rain two weeks ago certainly helped the grapes to expand. I am very happy with my Cinsault this year – it is always extraordinary in dry years, in dry soils – with thick skins and fine tannins, a good quality. The Counoise and the Carignan will also help to raise the acidity, as usual."
EARLY SEPTEMBER 2012
EARLY SEPTEMBER 2012
harvesting is proceeding steadily across the SOUTHERN RHÔNE, but the majority of the main work remains to be done, with the Grenache taking time to ripen its tannins and pips. A high pressure front in the first week of September and hot weather for the season has meant that growers can be pretty sanguine and calm about their harvesting policies. From CHÂTEAUNEUF-DU-PAPE, PATRICK BRUNEL of CHÂTEAU LA GARDINE told me: "the vegetation looks good, we have had no mildew or oïdium, and there was a helpful rainfall of around 40 mm (1.6 in) at the end of August and the first day of September – that helped acidity levels and out things in place. We started picking our Roussanne on 3 September – we have a good crop, but the acidity levels are low - the Roussanne was 14°-14.2°. We have done one very small vat of red grapes, where Grenache and Syrah are 13.8°."
Patrick's wife EVE BRUNEL looks after the CHÂTEAU LA GARDINE vineyards at LIRAC, across the River in the Gard. She commented: "our Roussanne is very healthy – we picked for three days from 3 September, then paused, and will re-commence on 10 September, working on the Viognier. We have to wait for the red crop, since the tannins are a bit green, and you find the grapes still stuck to their stems – these need to time to ripen further. I go into the vineyard and taste the grapes to see where we stand, which I find the best way, so cannot tell you lots of figures on the crop for now. Our Syrah is looking very good, but I have noticed something unusual this year – the red grapes are nearly ahead of the white crop, whereas the whites are normally well ahead of the reds. The Mourvèdre is very variable, with grapes of different colours within the same bunches. Yields will be less than 2011, nearer 2010."
West of LIRAC, and little to the north of Uzès, American AMY LILLAND runs the expressive LA GRAMIÈRE. Her vineyards are in a CÔTES DU RHÔNE area, but she prefers to make VIN DE TABLE: "we may start on 10 September; our Syrah is around 12°, but the Grenache is backward – bunches on the same vine can have different ripeness levels, and the skins are still very bitter. We had good, steady rain of around 50-60 mm (2-2.4 inches) at the end of August, but it has been very, very dry before that – so dry that the crop will be small this year. The Grenache varies a lot in potential degree at the moment."
The NORTHERN RHÔNE is also blessed by stable weather for the time being. It, too, experienced very high heat in August, with a brief interruption before good, hot weather resumed once more in the first weekof September. From CONDRIEU, CHRISTINE VERNAY of DOMAINE GEORGES VERNAY informed me of her progress: ""we will harvest maybe around 14 or 15 October, starting on Vernon. It was very, very hot at the end of August, which was followed by rain and cool weather, which slowed down ripening. Now we are back to 27°-29°C, although rain is forecast for around 14 September. Analytically, the crop is ripe, and nearly have a Muscat sense about them. Vernon (the majestic hill behind their house, giving the top wine, the COTEAU DE VERNON) will be 13.5° to 14°, not high compared to recent vintages. The grapes skins are firm, and the pips are very ripe."
CHRISTINE also referred to their CÔTE-RÔTIE: "it has been a complicated season; 80 mm of rain (3.2 inches) in early July got mildew going, a real explosion. We have had to be extremely vigilant – you were in trouble if you missed a window of treatment. The vines now look in good shape, and we may be harvesting around 20 to 25 September. A few young vines in shallow soils have lost their leaves."
Zap! Bang! Wallop!
END OF AUGUST 2012
Zap! Bang! Wallop! The tapes have risen, the Starter's Gun has fired, THEY'RE OFF! Always the first to harvest at CHÂTEAUNEUF-DU-PAPE is CHÂTEAU LA NERTHE under the management of CHRISTIAN VOEUX. This year is no different, with the early harvest policy applied to all the estates in this group. CHRISTIAN reported as follows: "We started harvesting at La Nerthe and La Renjarde (their Massif d'Uchaux property) on 22 August, for the white crop, on 23 August for Tavel at Prieuré de Montézargues and on 24 August for my Domaine de l'Amauve at Séguret. We are now harvesting the red crop at La Nerthe on 31 August.
Normally La Nerthe is ripe at the same time as the Côtes du Rhônes, but is a bit later this year. The 8 to 10 days before we started harvesting were abnormally hot, registering up to 38-39°C. There has been very good ripening in clay soils, while sand-based vineyards have advanced more quickly. Nights in the ten day spell of hot weather were half fresh – down to 17-18°C, half hot – 25°C. It appears that tannin levels are high this year. The Grenache noir at La Nerthe is around 14.5° now, the Syrah 13.8-14°, and the Mourvèdre is lagging as it should usually do, around 12-12.5°.
Our researches show that the small yields lead to more advance in ripening, while La Nerthe is a precocious, even hot, zone at Châteauneuf. We expect yields long the lines of 2010 this year – not high, due to vines dying in the February freeze and to coulure (flowers failing to transform into fruit) at flowering."
Away to the east, SERGE FÉRIGOULE of DOMAINE LE SANG DES CAILLOUX (The Blood of the Stones) at VACQUEYRAS told me his story: "we started to pick the whites - Viognier, Roussanne, Marsanne – at around 13.6-13.8° on 29 August, and are harvesting the first Syrah today, 31 August, at 13.5°. We have had 15 mm (0.6 in) of rain on 25 August, 5-6 mm on 28 August and 27 mm (1.09 in) on 30 August, the last fall over a steady three to four hours, a total of nearly 50 mm (2 inches). That has inflated the grapes, but the skins are still in good shape, and there is acidity present. There aren't many leaves from the drought, which makes harvesting go faster, I have to say. The Mistral is blowing and we are in the mid-20°sC, good working conditions.
Yields will not be large, maybe around 28-30 hl/ha – more than 2010, less than 2011. The main areas to suffer are those where there are gravel soils, some of the zones towards Château des Roques, for instance. We will start on the Grenache around 4 September – it was at 14° last week."
In the NORTHERN RHÔNE, 2012 is also shaping up well. From CONDRIEU, PAUL AMSELLEM of DOMAINE GEORGES VERNAY recounted: "It's been a complicated year, needing a lot of action in the vineyard. We have lost a lot of crop on the plateau, for our vins de pays Syrah and Viognier, due to rain during flowering – it will be half the yield of 2011. But the slopes have done well; around 22 August, the Viognier on Coteau de Vernon was at 11°, so we may harvest that on 10-12 September.
Our luck was the high heat in August – regularly 37-38°C, with moments when we were at 39-40°C. Leaves have been turning brown and dropping, notably where the vineyards are on very rocky soils, which have become very dry. The rain over the past three days has been helpful – 14 mm then pockets of 3-4 mm, maybe a bit under 25 mm (1 in). Acidities in the crop have been low, but so far Christine has noted that the Viognier from the vin de pays has re-established its acidity post-fermentation. It's fresh today – hardly up to 20°C."
At HERMITAGE, JEAN-LOUIS CHAVE was calm and content on the last day of August: "things are good for now," he told me, "after a fine and hot August, with heat above 37°C some times. We may start to harvest the white crop around 20 September. The heat helped the stems to harden. We had 20 mm (0.8 in) of rain yesterday, which was useful."
Reports from CORNAS are also encouraging. PIERRE CLAPE of DOMAINE CLAPE summed up matters so far: "as we speak, there has been rain and a tiny bit of hail, but things have been almost very good up until now. It is not necessarily a very balanced year. Our Syrah was at 12°-12.4° on 29 August, before the recent rain of 18 mm (0.75 in), which came in two strong bursts. It's a good sign that the grapes have inflated after the rains now. Acidity is at 4.7-4.8, which is OK. At Saint-Péray we are on low acidity, though, nearer 3.5, with sugars at 11.7° on 29 August.
I think the vineyard handled the high heat – up to 38-40°C – this year better than last year. We had 4 or 5 nights above 20°C, which grilled a few bunches, but a lot less than in 2009. We are heading for harvesting maybe 14-17 September now, not the 10-12 September that we were anticipating, after this rain. There is no rot, and yields will be average. Our lowest spot is the 90 and 50 year old Syrah on the high part of Renard, which is at 15-17 hl/ha after coulure. It is forecast for the mid-20s°C next week, and our usual team of 15 or 16 people are ready to go."
A season of two halves
3rd WEEK of AUGUST 2012
as with a game of football, this is becoming a season of two halves. The deluge followed by the drought. The Rhône has enjoyed three-plus weeks of hot and dry weather now, so ripening is occurring steadily, even if fears of stress in the vineyards are circulating due to the lack of meaningful rain since the first ten days of June. This still places the Rhône ahead of much of the rest of France, from Bordeaux to Burgundy to Champagne.
In the NORTHERN RHÔNE, PIERRE-JEAN VILLA summarised the state of his various vineyards. As he walked through his FONGEANT holding at CÔTE-RÔTIE, he told me: "I am now dropping grapes from the young vines, but I notice that even with the heat, if you press a grape like this - squeezes it - it`s full of water. In a hot and dry year, that would not be normal, and it shows how well the spring rains have served the vineyard. So the Syrah here is ripening, but steadily, and shows that we have actually needed the heat of the last two or three weeks. Most recently we had 5 mm (0.2 in) of rain on 15 August which just refreshed the temperature more than anything else. Today it will be 32-33°C in the afternoon, but for the last two days, the nights have been cool."
His SAINT-JOSEPH vineyard is about 25 miles further south: here his report ran as follows: I lost 40% of my crop south of Sarras through hail on 17 July - Eric Rocher at Domaine de Champal had 20 hectares hit by the same hail. September will be more than decisive this year - we can make sympa wines if our summer - that is to say, the last two weeks - continues well. Bunches are quite loose and well aired. Rain is the fear now - one or two rain setbacks would hurt - rain over one or two days would be manageable, but anything longer would be grave. Good rain would be a 20-30 mm fall in the next two or three weeks."
The SOUTHERN RHÔNE is perhaps in even better shape. From CHÂTEAUNEUF-DU-PAPE, ANDRÉ BRUNEL, the wise and seasoned owner of LES CAILLOUX, noted: "things are looking rather good after our three months of fine weather. South of the village there is some drought, around Les Serres, but it is not yet dramatic. The grapes are well expanded, and have turned colour well, with ripening speeding along. We could start on our Grenache blanc before September. We seem to be one of the only French regions to have had this good weather. Yields will be correct, not excessive - we had coulure on the Grenache, while the Syrah is pretty, a bit in advance as would be expected in a hot year. We are looking at 30 hl/ha.
Our last rain was in early June, we have had 1-2 mm here and there, but nothing to speak of. It is 34°C today, and it`s certain that our spring rain until into May helped the vineyard a lot. My fear is for the young vines if this hot and dry weather continues, but at least recent nights have been fresh, with 17°C this morning, nor has there been any dew yet. So far, it is a year for clay sectors over gravel and sand zones. One concern is low acidity, but when I look back to my father`s vintages in the 1950s, there were cases of burnt acidity and high pHs then as well. The main difference, of course, is that now we make wines ready to drink soon, and to live a lot less long, unlike the 1960s vintages. I found some cuvée Prestige 2000s from colleagues here drinking at their best the other day, for instance. That doesn`t indicate a life much beyond twenty years in that case.
Our white vines are OK - we irrigated twice in early and late July, otherwise we would have no acidity and a degree of 16-17°, instead of 14°. You can irrigate drop by drop, by sprinkler or by cannon; drop by drop is the most efficient; we aim to put down 25-50 mm (1-2 in) each time. This year my Roussanne didn`t grow more vegetation after the irrigation - the benefit went into the ground and the vine wood - even though the leaves are turning yellow now."
From VACQUEYRAS, another early ripening vineyard to the east, BERNARD BURLE of DOMAINE FONT SARADE informed me: " it`s very dry. But we are not suffering on La Ponche thanks to the profound soils there. The crop is very small. Our Syrah is precocious and will be harvested around 5-10 September, while the Grenache ripening is very up and down - some bunches are ripe, others not. We are now cutting out the pink bunches, especially on the younger vines. Today, August 19, it is due to go up to 35°C, but this morning at 7 it was 14°C, which is helpful. What would be ideal would be 50 mm (2 in) of rain soon, otherwise we risk low acidity wines such as we had in 2006."
Across the river in LIRAC, the biodynamic DOMAINE DUSEIGNEUR gave the following assessment: "we are ripening very quickly, and have drought here now - water stress is our main fear. We need to avoid the grape skins withering, and want to pick before that. Our phenolic (meaning tannins, colour) ripening is not yet ready, and there is a gap between them and the sugars, which are further ahead. Loss of acidity is a risk. We could start picking around 25 August, on the white grapes Clairette and Bourboulenc. Syrah has suffered in the high slopes this year. Yields are likely to be 34 hl/ha, against 32 hl/ha in 2011 and 28 hl/ha in 2010."
VINEYARD REPORTS
early AUGUST 2012
If France is to have a viticultural champion in 2012, then it could well be the Rhône on current evidence. July was uniformly hot and dry, and the vineyards are in verdant, blooming shape. Yields are middling, not abundant, and the outlook until mid-August is for continued dry weather in the SOUTHERN RHÔNE.
On holiday from his CÔTES DU RHÔNE vineyard on the right bank Gard département, RÉMY KLEIN of DOMAINE LA REMEJEANNE told me: "we certainly cannot complain vis-à-vis the North of France - for us, of course, the North means anywhere north of Montélimar!" We have now had no rain for about six weeks, and the vineyards are in good shape. This year has given us more vineyard work than previous vintages. A few young vines are suffering from the drought. Yields will be lower than 2011, which is very good, but higher than 2009 and 2010. If the drought were to continue, there could be a delay in ripening, so rain, say 20 mm (0.8 in) on 15 August would be ideal. Otherwise we may face tannins that are too prominent and too dry. The white vines are in good condition, with the Roussanne as usual needing the greatest vigilance for oïdium and rot. We should harvest around 8 to 15 September, which is normal."
At RASTEAU, DIDIER CHARAVIN reported: "it will be a small crop, but there are no blights. There will be less harvest than in 2011, but it will be more concentrated. We had 20mm (0.8 in) of rain right at the start of July, and now a drop of rain would suit - mid-August, ideally. Today, Monday 6 August, we have lost 10°C over yesterday, which was 35°C, and there are some drops of rain, but it is forecast to be hot again by the end of the week. My harvest date at present would be around 10 September."
Across the River in the northern Vaucluse, VINCENT ROCHETTE of DOMAINE ROCHE-AUDRAN at VISAN, was in good form: "it`s been very, very beau for six weeks, which has saved, yes saved, the crop. Mildew was breaking out after all the spring rain. It`s been 35°C with a lot of sun, and we are edging towards drought, with a possible blockage of ripening that would delay matters. I could have a fear that it could become dry as in the years 2006, and also 2009. Young vines and those in gravel soils have been most susceptible, with a few yellow leaves visible. Conditions are there for a very good vintage. After some very hot nights, mornings have been a little cooler recently. Our veraison, when the grapes turn colour, is now at 80% completed for the Syrah, 50% for the Grenache noir. The vineyards look a bright green still, and we could harvest around mid-September, not precocious."
From the NORTHERN RHÔNE, JEAN GONON of the yardstick STGT DOMAINE GONON at SAINT-JOSEPH, was breathing a sigh of relief: "well, life was a bit complicated until the start of July, but now it`s been good weather for a month. We have had temperatures of 28-33°C, with nights and early mornings varying between 16-17°C and 23-24°C. Our veraison is half way completed, with Cornas a little ahead of that. The vines have certainly perked up, and I am a lot more content than I was in June. Mildew has been a very close thing this year, and we also had to contain oïdium, so it`s been a lot of hard work. The white crop is a bit larger than the Syrah, which was hurt by lack of quantity at flowering - the first week went well, but the second week weather was poor, which hit the later ripening vines. We should be harvesting around 20 September."
In the northern area at CÔTE-RÔTIE, BERNARD BURGAUD pointed to the amount of work required this year: "yields resemble 2010, which is acceptable, not high. The climate has been a bit chaotic, with rain, but no storms. Flowering was capricious, so budding was variable. We then had a fight against the usual illnesses, but now it has been dry for three weeks, the last rain in later June thanks to a good, steady 50-60 mm (2-2.4 in). We actually now need rain because our soils are not deep, and the main challenge is oïdium. Temperatures have gone up to 33-34°C, with nights hovering around 20°C. We now have a North Wind, and conditions are favourable for ripening - we could end up with a super vintage. The most precocious zones are half way through their veraison, so we are perhaps in advance of a classic year from 20 years ago, and could be harvesting around 21 September."

Growers report
LATE JUNE 2012
growers tell me that they are satisfied with the state of the vineyard so far this year, but there is no doubt that the threat of mildew lurks in the back of their minds. "It has been a battle this year," said ALAIN GRAILLOT, the supreme vigneron at CROZES-HERMITAGE: "as we are organic, we can treat with sulphur and copper only, and you have to have done at least one treatment this year to be in the clear. It demands being in the vineyard to spot any telltale signs, so it requires people and wits to keep on top of the situation.
In the SOUTHERN RHÔNE, JEAN-PIERRE MEFFRE of the excellent DOMAINE SAINT GAYAN remarked on a feature of the year so far across the Rhône - the spotty nature of the flowering: "in 2011 flowering happened in one week; this year it has run over three to four weeks. There was a lot of rain at flowering, and it was essential to treat the vines - if not, you have mildew. What we need now is heat, and some Mistral wind wouldn`t hurt if we are to knock any possible midlew on the head."
Sales of the 2010 have been excellent according to merchants who import Rhône wines to Britain, Scandinavia and the USA. The main problem is the lack of wine given the low yields of 2010. I am enthusiastic about the generous drinking qualities of the 2011s, both in red and white, and view this current vintage as ideal for the Restaurant and bar trade. Their southern ripeness comes in a well-fashioned style this year, looser and freer than any recent vintage. As an example, the 2011 CÔTES-DU-RHÔNE CHAR A VIN RED of DOMAINE DES COTEAUX DES TRAVERS at RASTEAU serves as an excellent, genuine version - very drinkable now, with local feel in the wine. I suggest subscribers use the Search engine for 2011 notes - start at **(*) and upwards.
Growing Season
EARLY JUNE 2012
the growing season is taking off now, with flowering on the go in the Southern Rhône. Temperatures have been creeping up, but rain has come in handy bursts in the second half of May, helping the lacklustre reserves of the vineyards. However, drama has struck in Provence - in late May the central Var departement, based around Brignoles and the Issole river, was ravaged by a ferocious hail storm, which left banks of snow along the Autoroute to Nice, and, worse still, thousands of hectares of vineyards devastated. Growers spoke of hail stones the size of apples. The 2012 vintage is severely reduced as a result, and because of the force of the stones on the vine woods and next year`s shoots, it is likely that 2013 has also been cut back. The line between "good rain" and "bad rain" can be a very fine one. The area is seeking government aid after this catastrophe.
In Britain, events are lively with widespread celebrations to mark Queen Elizabeth II`s 60 years on the throne. She stood in cold rain for over 4 hours on Sunday 3 June admiring the flotilla of boats including friends of mine who were rowing down the Thames in London, and showed her great stamina in the process (she is 86 now). As a link to the Rhône, I think the GUIGAL family should be pleased at her naming of her steeplechaser HARVEST SONG (she always takes enormous trouble over the naming of her racehorses, the art being to link both sides of the pedigree). Harvest Song`s sire was Sadler`s Wells, and his dam La Mouline. Yo, Marcel!
February Frosts
MID MAY 2012
now that buds are coming out, the sombre black shadows in the vineyards show the damage wrought by the frost of early February, 2012. Julien Mus, owner of the promising DOMAINE DE LA GRAVEIRETTE, which has vineyards at CÔTES DU RHÔNE and Châteauneuf-du-Pape, told me: "It is very mixed between one plant and the next; I have some plots where I have 15-20% dead Grenache of 60 to 80 years`old. My average is a loss of around 10%, I think."
Growers at Rasteau, Beaumes-de-Venise and the Northern Rhône tell a similar story. Temperatures were around -11°C on Monday 6 February, accompanied by a Mistral wind of 110 km, which brought in a severe wind chill factor. Old vines have been worst hit, perhaps simply because they were old. But contrary to the big freeze of 1956, olive trees have surivived. However, an 80-year old at Rasteau recounted that in all his life he had never seen a frozen pine tree - until this year.
Linking 1956 and 2012 was a warm period before the big freeze, with the sap high up in the vines. Pruning was on hold - for the sensible. Apparently some foolhardy folk tried to carry on pruning, but the branches would just snap, even before the cutters were rendered insane by the wind and the cold. The DOMAINE DE FENOUILLET at BEAUMES-DE-VENISE lost old Muscat in some quantity: "our Muscat was hardest hit by the frosts," Patrick Soard told me; "One plot has 20% of its vines dead, and 60% are just budding now, way behind the others, in mid-May. Our worst hit vines had not even yet been pruned". So the frost took out pruned and non-pruned vines alike. Total losses of around 10% mean that a low crop may be in prospect, since the weather has been very mixed during April and May - 2 days of 32-34°C at the end of the first week of May were followed by a drop of at least 10°C, and mid-May has been marked by sun, cool nights, and days not exceeding 24°C, with rain on the weekend of Ascension.
Cool April
EARLY MAY 2012
a cool April, when the vines stagnated according to some growers, has ended. The main benefit was the rainfall, after an exceedingly dry March. At Condrieu André Perret recounted that at Chavanay they had received 130 mm (5.2 in) in April, while Anthony Vallet at Saint-Joseph told me that the Viognier was advancing ahead of the Syrah. The rain has , of course, been very popular in the Southern Rhône, where early May temperatures are around 20°C.
The DECANTER World Wine Awards week saw bling hit the Rhône in London. Usually the Panel of which I am Chairman gives 2 or 3 Gold Medals, after a few early years with none at all(2012 was the 9th year). This year, in the last week of April, we went haywire, and awarded 9 Gold Medals, and numerous Silvers. Most encouragingly, most of these wines were inexpensive, and featured, with no surprise, the fantastic 2010 vintage for all the reds, and the lovely 2011 vintage for the two white Gold Medals. The wines were all tasted blind, and their ID is not yet known, but I have a put a list of them under GOINGS-ON. ALLEZ RHÔNE!
ALLEZ CORNAS! The life and times of our Cheval Mascot have been at the bottom of the slope, metaphorically, recently, on the less noble terroir. He had an expedition to Auteuil Racecourse in the west of Paris, where Ernest Hemingway used to spend time, but unfortunately misjudged the Water Jump (different obstacle to the ones in Britain), and fell. He returned to England and a week later ran at Sandown Park, a track he likes, and finished last of 8 runners in a top 2 mile chase. Un peu fatigué, the Noble Beast. He may have a small holiday now. Hats off to CORNAS, none the less. His fan mail continues to grow.
News
MID-APRIL 2012
news that the good Séguret DOMAINE DE CABASSE, which has run a restaurant and rooms for over 30 years, has been sold. The Swiss family Haeni and their fellow Swiss investors have withdrawn, and the estate has been bought by Monsieur Benoit Baudry from the Loire, a man who previously worked in Insurance. The tender style of their wines has been a pleasure to drink, and Nicolas Haeni will continue with 4 hectares at Séguret, high up behind the Domaine de Mourchon. The hotel will have a few changes, and is due to re-open in June, 2012.
ENTERED RECENTLY: a full review of 2010 CROZES-HERMITAGE REDS and WHITES, both very successful. Click on the 2010 NORTHERN RHÔNE tab, then the subtab THE LEADING WINES.
A good collection of 2010 CHÂTEAUNEUF-DU-PAPE WHITES has been entered, while around 25 2009 CHÂTEAUNEUF-DU-PAPE WHITES have been posted, with a definite upgrade after their bottling. The 2009s are rich and well-installed wines that are food-friendly; the 2010s are fresher. Look for the LVT 2009 wh or LVT 2010 wh tag for The Last Vintage of white tasted under the Châteauneuf-du-Pape domaines. The best 2010 VILLAGES and CÔTES DU RHÔNE REDS from these Châteauneuf-du-Pape producers have also been put up, following a February 2012 tasting.
Hot Weather
APRIL 2012
a surge of hot, stable weather has propelled the vineyards forward, and growers face the prospect of a dry year as well. Water reserve levels are low, as they are all along the eastern side of France and England; there are widespread parts of England that start hosepipe bans in the first week of April, 2012. for instance. Yes, England. Forage costs are rising, as they did last summer as well.
The charade known as Bordeaux 2011 primeur is about to kick off, with bitchy comments abounding about who has or has not got prior access to the wines. I fight hard to preserve the sanity of the Rhône in the British market, where magazines want immediate reviews that in turn only serve to give interest-free cash flow to wine merchants as punters buy their offerings up to 15-18 months ahead of delivery. I would signal two recent offers of 2010 Rhône, NOT 2011, from Haynes Hanson & Clark http://www.hhandc.co.uk/and Vine Trail http://www.vinetrail.co.uk/ The former - more a Burgundy, Bordeaux house, but good men of the Turf - have picked up the highly promising ROAIX estate of DOMAINE PIQUE-BASSE, while the latter remain a benchmark maison for hand-made, often organic wines of true character. Note their CAIRANNE ORATOIRE SAINT MARTIN, for instance.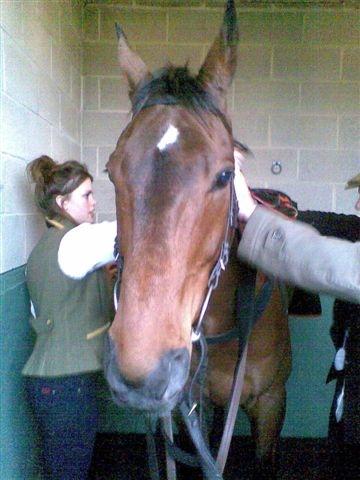 Cornas
APRIL 2012
ENTERED RECENTLY: see RECENT TASTINGS, and once logged in, click on 2011 ORGANIC RHÔNES for a tasting held in late March 2012 in Paris involving the longtime organic estates DARD & RIBO at CROZES-HERMITAGE, DOMAINE GRAMENON in the CÔTES DU RHÔNE and the more recent DOMAINE ROMANEAUX-DESTEZET at SAINT-JOSEPH. Also, more entries of 2010 CHÂTEAUNEUF-DU-PAPE REDS and 2010 GIGONDAS wines.
CORNAS (Cheval Mascot) ALERT: VineTrail pay a fair amount of the feed and keep of CORNAS, our Cheval Mascot, so we must report that he ran 8th in a field of 21 over 2 miles at Cheltenham in March. He travelled in the first four for much of the race, but younger legs got away from him on the downhill run towards the stands. His next mission will be in France. He ran at Cheltenham mainly because his trainer, Nick Williams, was busy saddling 4 horses at Cheltenham, and had no stable staff who spoke French available to take him to France. Next time I will ask for volunteers from readers who would enjoy a little sortie avec le Bon Cheval, plus some bistrot grub near Enghien. CORNAS being saddled pre-race at Cheltenham, March 2012, below: ALLEZ CORNAS!!
British WIne Trade
MID-MARCH 2012
the British wine trade has been shaken up by further consolidation, this time in the form of BERRY BROS & RUDD, Berry Brothers to most of us, buying RICHARDS & WALFORD, agents based in the potato growing area of Lincolnshire. Roy Richards and Mark Walford were the first British merchants to take an interest in the Rhône after Gerald Asher and Robin Yapp, going back to the early 1970s. They have an impressive number of estates on their books. Berrys have really taken a big view on the potential of the Rhône, even though it is still tiny compared to their Bordeaux trade. They assembled about 25 growers in London at the end of February for their tasting of 2010s.
CORNAS (Cheval Mascot) ALERT: the famous horse, who receives fan mail e-mails here from around the world, runs at Cheltenham in the mighty meeting of the whole year, on Friday 16 March, in the 2 mile handicap chase, the Grand Annual. He will have a young rider taking 5 lbs off his back. He has had a winter break, and we hope he can run well. His odds are around 25/1 at the moment. I recently opened a bottle of 1990 CORNAS A.CLAPE for the VERNAYS and YVES GANGLOFF of CONDRIEU, for JEAN-MICHEL GÉRIN of CÔTE-RÔTIE, and for PIERRE-JEAN VILLA, who makes SAINT-JOSEPH as well. They all found it stunning. ALLEZ CORNAS (VIN et CHEVAL)!!
Round up
MID-MARCH 2012
ENTERED RECENTLY, a round-up of over 165 2010 CHÂTEAUNEUF-DU-PAPE REDS that rate 3 stars or higher. See 2010 SOUTHERN RHÔNE in the left-hand column - click the subtag The Leading Wines. The main tranche is starting to be bottled now, and these are usually high quality, complex, delightful wines; the early bottled wines - within 11 months of the harvest - can be agreeable, but simple. I prefer 2010 to 2009 across the board - it has much better balance and freedom.
Vinisud
MARCH 2012
VINISUD at MONTPELLIER, celebrating its 10th edition, was a very busy show for me, but for the exhibitors Day 3 was light; the first day, Monday, was full of Cavistes, French wine store owners. The halls became hot on the afternoons of Day 2 and day 3, and on the communal tables where domaines put 1 or 2 bottles of their wines to taste, their stand being elsewhere, about 1 in 25 bothered to provide ice and cold water to keep their whites and rosés in shape: simple rules of the game that people are incredibly lax about.
My star moment was on Day 1, when I arrived before the start. I was happily tasting 2010 RED VENTOUX (a very good vintage there) at 09.20 when approached by a silver-haired man in a blue blazer. What ho, I thought - a cordial welcome in prospect. From a distance, I thought I heard him say that it was not good for the palate to taste before 10.00 in the morning. I replied that I was used to it, so don`t worry about me. But no, he didn`t want me to taste at all. As I was in the Palais de la Mediterranée, it turned out that he was telling me that I could not taste in the Palais - his Palace - (but palais also = palate) before 10.00 o`clock. The wines were all laid out, open, ready. Is this how the French CONTINUE to do business, I ask you?? Lots of people attend from far-flung continents, and are still met with this sort of pedantry. INCROYABLE. I continued to taste and note, nevertheless, insisting that I had come a long way to meet him, and the wines. So there. I tell you, it`s not easy, this tasting lark.
YOU CAN`T CALL IT VIN ON AIR: Another "Only in France" vignette was the Télématin broadcast on 30 January, 2011. On the France 2 channel, this is a very popular programme anchored by the charming, urbane William Leymergie, who in this case was dealing with the show`s food reporter Isabelle Martinet. Her item was on bread, and three types of bread including Speciality Bread, namely one made in Lyon with Beaujolais wine in it. Amid giggles as if they were discussing someone else`s illicit affair, neither person, paid by the State to do the job, could bring themselves to utter the word Vin, Wine. We had "the product of the local vineyard", the "red-coloured liquid" and so on. William tried to say that it was not their fault that they were speaking this way, but it is a deplorable state of affairs all round. Growers I have met in New York in the past have actually said to me how much they enjoy their overseas visits, since "at least there we are not regarded as peddlers of drugs."
I find this INCROYABLE (bis), and I am not alone; the growers of Châteauneuf-du-Pape are thoroughly fed up as well, as should be all vignerons. I have subsequently spoken to sources close to the seat of power, literally, and was told that there is the No Alcohol Advertising edict on French TV, but this really takes a large Hovis biscuit, especially since the Boulanger happily spoke about Le Vin de Beaujolais when filmed making the bread.
For this piece of nonsense, see http://telematin.france2.fr/?page=chronique&id_article=34781
2010 VINTAGE: Further confirmation came of the star quality of the 2010 vintage, both North and South, although my main focus was on the Southern Rhône. Notes will be posted on some lovely wines, with STGT qualities, such as the CÔTES DU RHÔNE CLAVIN red from DOMAINE DE LA VIEILLE JULIENNE, a vineyard bang next to the Daumens` CHÂTEAUNEUF-DU-PAPE. The cool nights and fresh, even ripening, has really allowed the land to speak in this vintage.
2011 VINTAGE: a first proper look at some 2011s, mostly whites and rosés, shows that this is an easy drinking, restaurant-related year, the wines coming out nicely sunny and supple. Off we go, indeed. The challenge may well be for the top domaines to achieve a proper tannic structure to make the wines interesting and capable of a purposeful second stage of life. The other total pre-requisite was to sort out the vast crop. There will be w.o.w. wines in 2011, and that is helpful, given the big structures of the 2010 and 2009.
Asimov
MID-FEBRUARY 2012
ERIC ASIMOV, who is the best New York Times wine correspondent in my memory, has written a wistful, attractive piece on CÔTE-RÔTIE in early February, 2012. Eric is a writer who likes to think outside the usual areas when describing wine and the issues surrounding it, and he also like to go into the wide context behind vineyards, wines and their winemakers. In this way, he resembles to some extent the Proven maestro, the Doyen, as I call him, namely Gerald Asher, for long the man at the vinous helm of the good ship Gourmet Magazine.
Eric contacted me prior to writing the piece whose link is posted below, and some of the answers I gave him are reproduced below.
The discourse is really on what one terms traditional. I can think of Levet (Neal Rosenthal imports it, as you know) and that is traditional, gamey, fungal, wild, has flaws but emerges the right side. It may have Brett for the white coat police. Barge is also more traditional. Louis Clerc`s family is also trad, also Gallet (but flaws here and there), also Domaine Bernard (good wines, but not funky). Jasmin was traditional (I drank my last personally bottled magnum of 1971 just before Christmas, made by Georges Jasmin, and it was in very good, drinkable shape, a super level, too, the fruit delicate and typical. One careful, conscientious owner, few kilometres on the clock). Nowadays the Domaine Jasmin is not traditional, but the fruit is clearer, has more cutting edge. Ah ha. The fruit is clearer. Does that mean pristine?
If you look at the fruit profile of many Côte-Rôties today, the fruit for me correctly resembles northern climes, even Pinot Noir. I expect greater liaison between Côte-Rôtie and Burgundy than I do between Côte-Rôtie and Hermitage. Maybe I have changed, but I think that link was always a feature, but was clouded by indifferent winemaking, dodgy harvesting dates and so on in the past, especially when I set out in 1973. In this clear fruit camp I would place Jamet (ie v clean trad), Duclaux, Garon, Clusel Roch (wonderful, organic, detailed, precise, terroir = trad or modern? Answer: in between, with modern meaning good vineyard and cellar practices), Billon, Joel Champet. Modern modern would be J-M Gérin, Vins de Vienne (although they have been throttling back on oak), Bonserine, Bonnefond. Stéphane Ogier is de-modernizing, as I bet him in my book in 2005, ie his wine is less extracted and less oaked up. Stéphane Pichat is modern, but his fruit is darned good, including on his vin de pays.
Note that I have left René Rostaing out: fruit precision, Burgundian = what? Modern? Rostaing is not trad but it is fruit and terroir-expressive. And of course Guigal, who makes Guigal.
For me, modern is some way towards better winemaking, and yes, it involves obvious oak, in the Burgundian vein, but the wines draw together and sparkle over time, so we come back to the word precise. They are also made from destemmed crop, of course, as opposed to the whole bunch methods of my youth.
So I see genuine Côte-Rôtie as alive and well, capable of expressing the crystal-clear Syrah fruit that is not found at most of Hermitage, the latter being rounder and plumper. This precision is helped by Côte-Rôtie`s northern placing in the Valley.
Recent additions
MID-FEBRUARY 2012
ENTERED RECENTLY a review of the glorious 2010 HERMITAGE WHITES placed under 2010 NORTHERN RHÔNE in the left-hand column - click the subtag The Leading Wines and scroll down past 2010 HERMITAGE RED.
Recent additions
EARLY FEBRUARY 2012
ENTERED RECENTLY visits and talk with LOUIS BARRUOL of CHÂTEAU DE SAINT COSME at GIGONDAS, especially his vins de table and cheaper merchant wines.
Also, both at RASTEAU, GEORGES PERROT of DOMAINE LA COLLIÈRE as well as the newly entered DOMAINE GOURT DE MAUTENS.
New entries also: the respectable CHÂTEAU SAINT LOUIS PERDRIX at COSTIÈRES DE NIMES, and the above-average VENTOUX Co-operative CAVE TERRAVENTOUX which combines Villes-sur-Auzon and Mormoiron. Look at DOMAINE DE LA RENJARDE at MASSIF D`UCHAUX and DOMAINE DE L`AMAUVE at SÉGURET for the latest vintages there - both very good names in their Appellations.
The Wine Society
LATE JANUARY 2012
the last week of January heralds the issue of proper 2010 Rhône offers from two highly respected sources in Britain, The Wine Society (which is a Members Society on http://www.thewinesociety.com/ and Berry Brothers of London, http://www.bbr.com/ The Wine Society offer, for example, features 180 wines from North and South. These are correctly timed offers, allowing the importers main men to have assesed the wines recently, when they are closer to their final nature than they are back in October and November.
2012
JANUARY 2012 NEWS
a Happy 2012 to all readers and subscribers. The year beckons the release of the exceptional 2010s, and an emerging picture of the 2011 vintage, which is undoubtedly uneven in quality, implying careful selection on a domaine by domaine basis.
JEAN-JACQUES SABON: The extremely sad news just before Christmas was of the death of Jean-Jacques Sabon, the owner of Domaine Roger Sabon at Châteauneuf-du-Pape. Jean-Jacques was an ebullient, witty man with whom I was lucky enough to be a good friend; he attended my 50th birthday party lunch at La Mère Germaine, and was in great form then, as he was at any social event. He was a man of different interests, ranging beyond wine.
After his first bout of cancer a few years ago, Jean-Jacques fought back and developed a skill that he felt he had possessed for some time, without previously giving it full attention: this was his ability to use his hands to magnetise people, to cure them of aches and muscle ailments. Magnetiseur is the term in French, I believe. This was a fascinating ability, and while he had been suffering severely himself, he selflessly took to helping others in pain or distress.
The most extraordinary and compelling Rhône white wine that I have ever drunk was the Roger Sabon 1934 white which I drank with Jean-Jacques and the well-known merchant and ex-vineyard owner Robert Dahm of Domaine de Terre Ferme in the mid-1990s. We lunched at the Sommellerie on the route to Roquemaure, and found the wine oxidised, flat and severe, when we opened it at the start of lunch. After the main course, Jean-Jaques suggested we re-try the wine. What an experience! It was as if the clouds had been chased away, the sun had come out, and all was well with our young and fresh world. Made mainly from Grenache blanc and Clairette, the malo of course completed, this was spectacular - rich and lasting, a storming bottle. Jean-Jacques was delighted, since 1934 had been the year of a family wedding, and several bottles remained in his cellar - we had chosen one with a good high level in the bottle.
Didier Negron, Jean-Jacques` son-in-law, has been running the estate in the past few years, and I send my condolences to Jean-Jacques` widow and to him. Jean-Jacques illuminated my life, and the lives of many others.
MORE ON GIGONDAS BOOK: an early, complete and whimsical review of the book has been posted up on http://www.les5duvin.com/article-les-40-ans-de-gig-et-le-livre-qui-va-avec-95367051.html by Frenchman Michel Smith (despite his surname) who is one of 5 bloggers including Jim Budd, famous for his wine scandal sleuthing (think Campogate) and his knowledge of the Loire Valley. Michel knows the Rhône and Languedoc-Roussillon well (has published a good book on the latter). It is in French, for those who comprend la situation, and Michel is very enthusiastic.
GIGONDAS, Its Wines, Its Land, Its People was published in mid-December, 2011. I am pleased. This has been a project that lasted over three years, with several contributors. It is a true close-up of a wine village and community, with sections on the History of Gigondas, on its Geology, on its Domaines and on its Wines. I rate it as the most intimate and detailed portrait of a wine village ever produced, with sumptuous photographs. 500 pages, 1.9 kilos. Like a baby. Click on Gigondas Book in the Left Hand column to order.
MY SECTION: I have written the last named section, covering the vintages from 1959 to 2009. I have been back to my tasting notes from 1973-1974, and been able to compare those impressions with current impressions of the wines nearly 40 years later. It is a genuine archive with the odd personal story thrown in, nothing too stiff in the prose. The book is available in France from the Growers website http://www.gigondas-vin.com/ and for outside France it can be bought through drinkrhone - click on the left-hand tab Gigondas Book. I send the orders on to Gigondas for despatch from there. The book is in both French and English. The price is £35, pounds sterling, inc postage.
CORNAS (Cheval Mascot) alert: the game, gallant Cornas ran in the best 2-mile steeplechase before Christmas at Sandown Park on Saturday 3 December, yes, the best one. He finished an admirable third behind the Irish champion, perhaps his best ever run. His attitude is wonderfully Cornasien - whatever the challenge, he has a go. I know he is applauded by readers, and his recognition continues to exceed that of the Mayor of Cornas. Fittingly, he ran on the middle day of the Marché aux Vins de Cornas, which perhaps aided his propulsion - so many gathered under the one roof, in the one Syrah of the Ardèche cause. Allez Cornas! He will now have a holiday before running in Paris in the spring, early summer. Very fancy.
2010 Northern Rhône notes have been loaded on a wide selection of Cornas, Hermitage red and Côte-Rôtie. See the left-hand tab 2010 Northern Rhône, and once logged in, click on the subtab The Leading Wines. Domaine visits to Marc Sorrel and Bernard Faurie are also featured, under Hermitage. Under Vin de Pays, I suggest a look at the most promising Domaine Les Alexandrins, a Northern sector venture co-run by Marc Sorrel`s son Guillaume. From 2011 they will be offering a Crozes-Hermitage red, but for now their red from 85% Gamay and their Viognier are very good in 2010.
mid November 2011: well, 2010 Northern Rhône is indeed a beauty, as I can testify having tasted 350+ wines recently, with Côte-Rôtie up in the stars, and Cornas (the wine for once, not our noble Cheval Mascot, who came second the other day in a top race at Exeter) delivering superb fruit and quality. A supreme Cornas vintage, so it is, yer honour. The whole area is well off, and the whites from the Marsanne and the Roussanne are superb, rich and food-friendly. Notes to be posted under different domaines. Look for the LVT (last Vintage Tasted) 2010 tag.
In the Southern Rhône, visits to three domaines at Châteauneuf-du-Pape to taste 2010s and some 2009s in bottle: Font de Michelle (which includes their very promising Gonnet Selection range, eg Ventoux and Gigondas), Vieux Télégraphe (which includes their Gigondas Les Pallières) and the Bruniers other Châteauneuf-du-Pape Domaine La Roquète, and the Château de Beaucastel, where the estate wines were tasted, along with the wider range, whose name has changed from Perrin & Fils to Famille Perrin (I note on the internet that there is a silk manufacturer in France called Perrin & Fils, but I bet their silk wasn`t as good as that in the Gigondas Vieilles Vignes 2010).