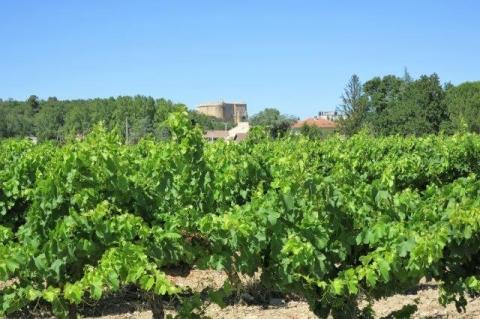 THIS OTIS ELEVATOR ONLY GOES UP, MESDAMES ET MESSIEURS
DECEMBER 2016
THREE NEW CÔTES DU RHÔNE VILLAGES
To the strains of "everyone's a winner, baby, that's all right…" I write about the CÔTES DU RHÔNE VILLAGES. At the moment, there is one way traffic, or an unseemly stampede, towards the lift panel marked UP. CÔTES DU RHÔNE COMMUNES want to become VILLAGES, while VILLAGES want to become full CRU wines.
And yet, the hierarchy is shaky across the SOUTHERN RHÔNE. I exclude the NORTHERN RHÔNE thanks to its compact and long-established structure of appellations, although there are two causes for concern there. The first is the out-of-hand expansion of my beloved CORNAS [where I own some vines] up to the grazing pastures on CHABAN, well beyond the main granite locations opposite the village. There is about a three week delay in ripening in these fields, where I have known horses, goats and cattle graze in my years out on patrol.
The second is the headlong rush to buy land around the plain of LES CHASSIS and nearby at CROZES-HERMITAGE, with a view to planting these fruit tree and ordinary lands with vines in 2018, when the rights of planting have been opened up. A certain very big local name is in the front rank on this, which drives up land prices of current vineyard zones for any young starter growers, quite apart from calling into question the quality of the resultant wine from these areas previously deemed unworthy.
In the SOUTHERN RHÔNE, the quality of the VILLAGES category is pretty shaky. There are lots of Villages no-one has ever heard of: ROUSSET-LES-VIGNES, SAINT PANTALÉON, PUYMÉRAS, GADAGNE, SIGNARGUES, even SAINT-GERVAIS and perhaps SAINT-MAURICE. The problem with all these is that they lack critical mass - the area under vines is small, the number of standard bearer domaines is tiny, and the quality, reputation or survival of the local CAVE CO-OPERATIVE is wobbly.
CAIRANNE's ascent to CRU leaves a hole in the edifice, with now the front runners being PLAN DE DIEU, SÉGURET, VISAN and VALRÉAS. Meanwhile, it is incredible to think that LAUDUN in the west bank GARD département has filed a request for promotion to CRU, on its own standing. The CO-OPERATIVE President is a bigwig in the INAO (National Institute of Appellations of Origin), so go do the maths. Meanwhile, apart from the estimable LUC PELAQUIÉ, there are virtually no well-known domaine names there.
There will be three new VILLAGES starting with the bountiful and high quality southern Rhône vintage of 2016, so at least that is a good platform. They are SUZE-LA-ROUSSE in the southern DRÔME (26), SAINTE-CÉCILE-LES-VIGNES and VAISON-LA-ROMAINE in the VAUCLUSE (84). The starting point for all three is their CAVES CO-OPERATIVES. LA SUZIENNE: decent CÔTES DU RHÔNE reds, rosés and whites, ditto GRIGNAN-LES-ADHÉMAR red and white, good ROCHEGUDE (yes, it's a VILLAGE) red. There are two CO-OPs at SAINTE-CÉCILE: LES VIGNERONS CHANTECÔTES: indifferent. CAVEAU CÉCILE-LES-VIGNES: OK CÔTES DU RHÔNE reds. Lastly, CAVE LA ROMAINE: decent CÔTES DU RHÔNE reds, wonky ROAIX, PUYMÉRAS, SÉGURET reds.
On the domaine front, all three Villages have names that are good, some of them organic, with switched-on winemakers who seek crisp fruit and vibrant drinkability, while there are also domaines that breathe the inner strength of their warm lands, issuing proper middle-term wines for la table.
Hence all these three Villages can make some sort of impact in the next three years, which is the time I give a new VILLAGE or new CRU before the mists of indifference descend around its portals. You have all been warned.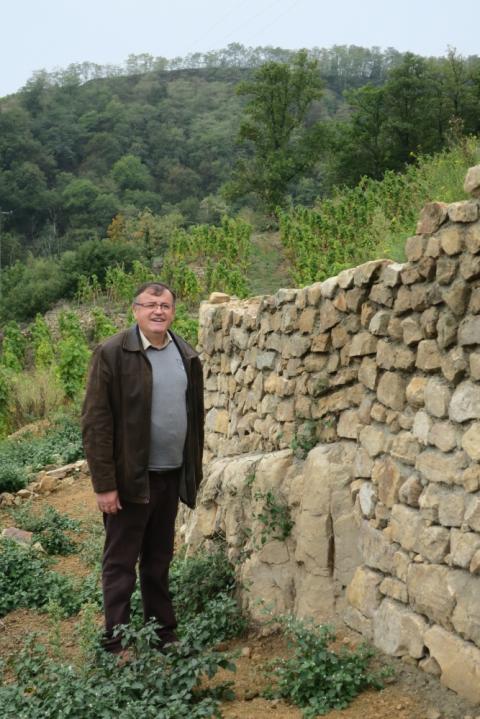 THE 2016 HARVEST IS IN, NOW STRAIGHT BACK TO THE VINEYARDS
NOVEMBER 2016
After the rigours of bringing in a crop that will be among the best in France in 2016, both from a quality and a quantity perspective, Rhône growers return immediately to the vineyard tasks that need attention as the vines themselves take a pause.
In the northern Rhône, the time to attend to walls is now – either their upkeep, repair or construction. ANDRÉ PERRET (pictured) recently told me that he received a quote from a company said to specialise in wall construction for building a 35-metre retaining wall on his prime CONDRIEU site of CHANSON at CHAVANAY: "it was €25,000, so I did it myself."
The wall has to be built before the vines can be planted on their ledges, and is fundamental to the garden aspect of hillside vines, which are likely to be pick-axed or worked by pulley when it comes to looking after the soils later on.
ANDRÉ is gradually increasing his vineyard on CHANSON from 1.9 hectares to 2.5 hectares. The effort involved for this 0.6 hectare is immense. A neighbouring mature vineyard is for sale, with the owner hoping to get €2 million per hectare, but more likely to receive half of that. It's highly likely to be sold to a prominent regional merchant or an investor from outside the Rhône. At these levels, young local people simply cannot get a look-in.
Inside his cellar, ANDRÉ is very happy with his 2016 CONDRIEU, which he terms "better balanced than 2015."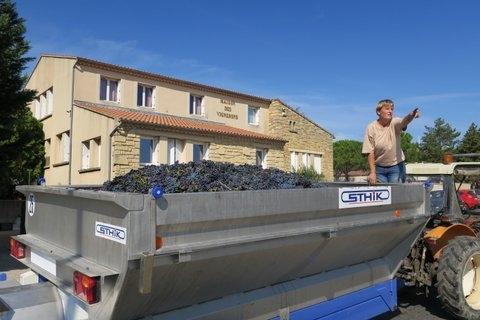 A FANTASTIC SEPTEMBER SETS THE SEAL ON A VERY GOOD 2016 VINTAGE
OCTOBER 2016
With mixed reports on the quality of the Bordeaux vintage in 2016, and distress in many parts of France from frost, then hail, 2016 is going to receive a subdued welcome from many critics. PIC SAINT LOUP in the LANGUEDOC saw about one-third of its 2016 crop taken out in a most savage storm that has qualified the region for State aid, while the early year woes of BURGUNDY and the LOIRE are by now pretty well known.
All the time, pressure on 2015 prices is tightening. As I predicted earlier in the year, 2014 will be very quickly forgotten about, although wise purchasers will have bought and tucked away cases of highly drinkable, spherical and en finesse 2014 CHÂTEAUNEUF-DU-PAPE RED, which will dance with pleasure in the glass around 2021-2022.
SOUTHERN RHÔNE 2016
The focus for the very immediate moment is on the vintage being brought in now. I have returned from Châteauneuf-du-Pape where tractor drivers rev their engines like Formula 1 car drivers when spotting me walking along by the road (c'est toi, JULIEN BARROT) and where large smiles are the order of the day, so utterly happy are they with 2016.
I walked around the vineyards, tasting TERRET NOIR, VACCARÈSE, CLAIRETTE ROSE, and all the usual regulars such as GRENACHE and MOURVÈDRE before they were harvested. The juice is rich, the tannins supple enough to ensure balance in the wines. If the humans play their role without getting carried away into mass extraction, then 2016 will be very good indeed. The weather that was 25°C-30°C in the last week of September was glorious and settled. Most domaines had brought in all their crop before the rain on Saturday 1 October: this varied between 33 mm (1.3 in) at BÉDARRIDES in the East of the appellation to 25 mm (1 in) in SORGUES in the South-East of the appellation, on the way to AVIGNON.
The Southern Rhône reports pretty much the same story across the board – the warm to hot, stable weather of middle August to the end of September has invited ideal harvesting conditions, and crop without any semblance of blight. Sorting tables have been got out, set up, and then quietly folded away.
Most estates in GIGONDAS will be harvesting this week, with a stable, Mistral wind set-up for now, and more than a week of fine weather in prospect; there has been a loss of crop there of 10-20% due to coulure (flowers failing to convert into fruit), and the high zones around the DENTELLES have felt the drought.
NORTHERN RHÔNE 2016
The harvest is a little behind the South, naturally enough, but growers are also pleased with events. From CROZES-HERMITAGE, MAXIME GRAILLOT of DOMAINE DES LISES told me: "I'm very happy – it's been an unexpected year. Yields are around 39-40 hl/ha, against 45-47 hl/ha in 2015, but the analysis of 2016 lines up as the same as 2015 for degree, total acidity, pH, with perhaps thicker skins this year. The crop is very healthy indeed, and the first vats came in at 12° to 12.3°, the last at 13°."
Covering CORNAS and SAINT-JOSEPH, JOËL DURAND of DOMAINE DURAND was similarly content: "It's very beau and healthy," he reported. "It's a late vintage, but a good one. The degree varies according to zones, affected by the dry weather. But we had 50 mm (2 in) of rain south of TOURNON in early August via two storms, and 15 mm (0.6 in) on 20 August, which set the vines up for the very hot weather in late August and early September. Acidity levels are good on the one hand, and on the other there are some jam and very ripe aspects to some of the wines – the solar influence of the late high heat."
CORNAS has completed the harvest by and large around the village, with the high, near the plateau outlying and less convincing zones bringing in the crop over the next ten days. Degrees can be irregular, with some spots at 12.8°, others at 13.5° to 14°.
CÔTE-RÔTIE is also reported to be in good shape via levels of ripeness and degree that are on the button.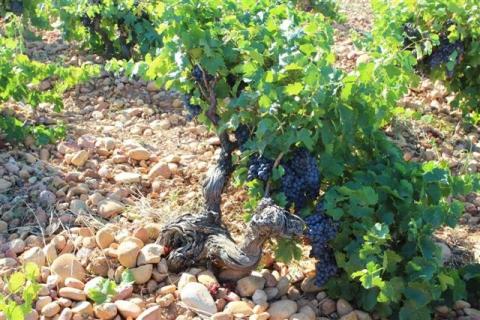 THE HOME STRAIGHT BECKONS: THE GOING DRY, THE GRAPES DENSE
SEPTEMBER 2016
The 2016 picture across the Rhône is indeed satisfactory, with the weather since early July playing an important role in lifting quality, both north and south.
From the SOUTHERN RHÔNE, reports congregate around the high quality of the crop after a hot and dry high summer. At CHÂTEAUNEUF-DU-PAPE, LAURENT CHARVIN of DOMAINE CHARVIN, in the north of the appellation, used the very same word as LAETITIA BARROT of DOMAINE LA BARROCHE. "MAG-NI-FIQUE . . you know this word?", he asked me. "It's the best crop since I started in 1990. There is great potential, unbelievable health in the vineyards. Working organically has posed no problems this year, neither from mildew nor oïdium, for example. My vines aren't suffering from drought. The grapes are concentrated.
Working the soils paid off in acting against the stress that some areas have known. We had only 2-3 mm of rain during August, and the forecast is for weather that is warm, around 28°C, and dry until the second weekend in September. I will start on my white grapes on 7 September, the SYRAH at the end of the week, and the GRENACHE the week commencing 12 September."
Away to the east at GIGONDAS, MATTHIEU BOUTIÈRE of DOMAINE DU PESQUIER on the lower levels, the more garrigue zones, gave me this report: " the spring was very cold and also very dry. The weather wasn't great at first, and there was some mildew. Then the summer was very hot and dry, and things improved then. We have drought pressure, with only small pockets of rain, around 5 mm only during August. The rain that we like in mid-August every year never came.
As a result, the grapes are very small. There is some drought stress here and there, especially after the high heat of last week – 30°C to 35°C. The grapes are concentrated, very healthy, with very dense juice: that will mean gentle extractions when vinifying. Judging by the weight of the bunches, we are 25% to 30% down in yield compared to 2015. There's been no blockage in the ripening – so far. I will harvest my first SYRAH on 15-16 September. I know there has been coulure (flowers failing to convert into fruit) in the high areas of the DENTELLES DE MONTMIRAIL, with the drought stress less pronounced there as a result."
Across the RHÔNE on the west bank of the GARD département, RICHARD MABY of DOMAINE MABY at TAVEL gave me this take on events: "things are OK," he told me; "it's been an unusual year, since it's been very dry. The positive is that there have been no blights. The negative is the suffering of the young vines; almost all our vines have kept their leaf cover, but SYRAH planted in 2008, for instance, may not ripen this year.
The grapes are concentrating now, and losing part of their juice, while the degree is rising. We were seven days behind, but with such heat as we have had in the last two to three weeks, we have caught up most of that time. Some growers say they want to wait to harvest until the weekend of 10-11 September, when there may be rain, so the grapes can expand. But I feel that if you take that route, you have to wait a further week for the full effect to take place. So I will start my TAVEL harvest on 7 September – I slightly feel I could have started on the 5 September, but there you go. The SYRAH at LIRAC won't be ready until the week of 19 September. In a year such as this, the GRENACHE is favoured over the SYRAH, as is the MOURVÈDRE. There are comparisons with 2005 – tannin, colour, structure, and not a lot of volume," he concluded.
From the NORTHERN RHÔNE, RENÉ ROSTAING at CÔTE-RÔTIE considered that matters were going well: "things are fine, " he reported; "June has been pretty catastrophic with rain and cold, and the sap being held back. But July and August have been formidable, and that has continued into September. We have had no rain for 30 days, and temperatures of 30°C to 35°C. Having been two weeks behind at the end of June, we have caught up, and are only a week behind now. The coming week is set to give good, hot weather. The SYRAH is 10.5° to 11°, and I would hope we can gain 1° per week now. Yield is good. We may start on 17-19 September. My VIOGNIER at CONDRIEU is also in good shape, and there is no rot on it, which had been a concern early in the ripening season."
Further south, covering SAINT-JOSEPH from ARRAS, PASCAL JAMET gave this appraisal: "things have been tricky from hail this year. Our vin de pays near PORTES LÈS VALENCE was hit in June, and our SAINT-JOSEPH around 10 August, which blocked the veraison (grapes changing colour), and set ripening back. At least there was a decent amount of rain at the same time, so there hasn't been drought on the hillside vines.
Because we have very few clone vines, our yield is down – even without the hail, with coulure another factor hitting the crop this year. We are now looking like harvesting around 20-25 September, with an average of 11.5° as we speak. There has been no real rain for four to six weeks, so there is some drought stress. The whites look good, including my young ROUSSANNE at SAINT-PÉRAY, with no drought influence there. This year is going to be around two weeks behind recent vintages such as 2015."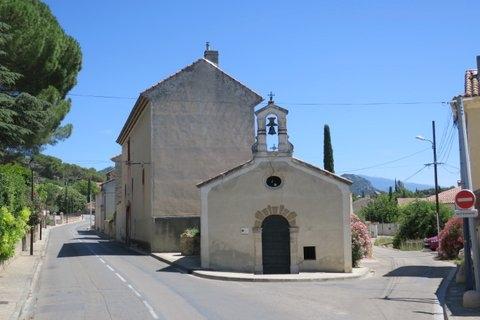 EARLY GLIMPSES OF SOUTHERN RHÔNE 2015 FROM VENTOUX
AUGUST 2016
2016: THE STORY SO FAR
Many regions in France have suffered badly from frost and hail this year. However, apart from some very bad frost high on the hill of HERMITAGE in April, the RHÔNE has largely been spared. From both the NORTH and the SOUTH, growers give encouraging reports, with the main difference one of levels of rainfall – regular, but not really heavy bouts in the NORTH, and conditions approaching drought in the SOUTH.
From CÔTE-RÔTIE in the NORTHERN RHÔNE, BENJAMIN DUCLAUX of DOMAINE BENJAMIN & DAVID DUCLAUX, one of the two talented brothers, told me: "things are going very well. It's been a year of a lot of vegetation, so there has been more work than in a classic year. There have been regular rainfalls – but luckily no storms - so no drought stress. Normally we clip the excess shoots twice a year, but this year will require three gos on that. There has been mildew pressure, requiring treatments.
Right now a lot of growers are out in the vineyards with their traille (pulley system to work hillside soils) to cut back on the weeds and grasses. We have taken on more seasonal workers than usual as well, because of all that growth. The veraison is just starting now, with a few grapes turning colour.
If you take the 100 day rule from flowering, we are on course for harvesting 20-25 September."
From CHÂTEAUNEUF-DU-PAPE, the young, motivated JULIEN BARROT, who is very content with his enlarged cellar in the village, talked to me about his DOMAINE LA BARROCHE vineyards: "things are impeccable, and the potential is good," he related. "There is a slight fear about drought, we need rain, and without rain there may be a blockage in ripening. There's been no mildew, oïdium nor black rot. The veraison is happening now – the grapes changing colour – and we may start the harvest around 15 September. The yield is good so far, similar to 2015."
At the celebrated CLOS DES PAPES, owner VINCENT AVRIL gave his report: "the grape harvest looks very joli, with no blights at all because it's been very dry; the vines are resisting well. There aren't many weeds because of the dry conditions. Overall, we have had just 260 mm (10.2 in) of rain since early January. The bunches aren't too tightly knit and look fine. The grapes are small, and there isn't a lot of juice in each grape – but that's good for quality. We do need rain, though.
The veraison started around 18 July, and is going quite quickly, 70% completed in some places. Harvest could be around 12-14 September, not before. It all depends on August. It's a normal year vis-à-vis ripening, and we are running at 22-25 hl/ha, before discarding, which beats our recent averages."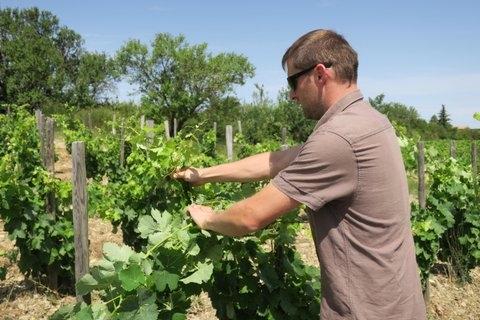 BUILDING BRIDGES IN THE VINEYARDS
JULY 2016
The task of doing the bridge between vines is not universal, but the gains are clear to DAMIEN VACHE: "if I cut the apex of the vine, the vine will become stressed, and in turn will encourage the growth of entrecoeurs – inner shoots – down below, which will only serve to take energy away from the main areas of growth.
If you make the bridge, you avoid the development of the vine being blocked. It also allows the tractor to pass through when working the soils. I started this in 2014. It takes around 10 to 15 hours per hectare, and I do it in the first half of July, before the veraison – when the grapes change colour." I bet DAMIEN wraps his Christmas presents well. Here is the result: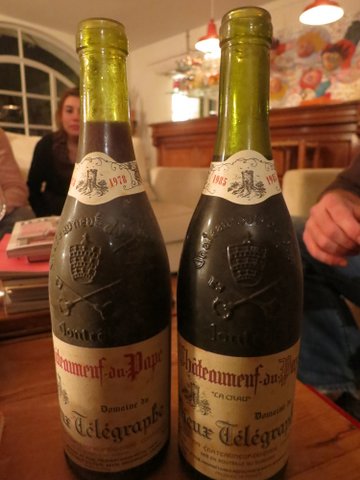 2016 is proceeding well in the southern Rhône vineyards, although the subsoils are in places dry. Visually, the vines do not look stressed, but a good 40 mm (1.8 in) or so of rain will be very useful in the next ten days for the more porous soils. However, the forecast is for a fine two weeks towards the third week of July. There is only a tiny bit of oïdium, likewise a only few mildew stains here and there.
The usual prayer of the growers is for a rainfall around the national holiday of 14 July, and a similar rainfall in mid-August. Then, hopefully, it's the home straight into the harvest. Yes: in theory, it is!
However, in the case of DOMAINE LA MONARDIÈRE at VACQUEYRAS, father CHRISTIAN VACHE had this to say:" the bunches are already very fat, so rain will not suit us now: in fact, it would be catastrophic. If it doesn't rain, it will be a late harvest, and could be a grand year, in the style of 1995 or 1998."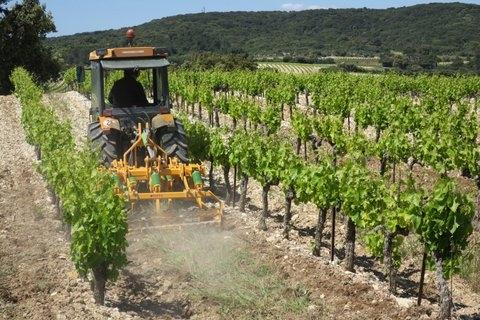 AFTER AN EXCELLENT 2015 VINTAGE, PREPARATION FOR 2016 AT TAVEL
JUNE 2016
The near tidal wave of light pink rosés from PROVENCE has left traditional rosés such as TAVEL, and also LIRAC, very much in the shade in recent years. With their red-tinted robes, they seem to "scare the horses", and people prefer often more bland drinks, at ever higher, more marketing-spend heavy prices. The Provence rosé hall at a wine fair always reminds me of walking through the perfume counter area at Galeries Lafayette or Harvey Nicholls. Image is paramount, and the producers, clad in loafers, chinos and cool branded shirts, all look as if they have never been near a tractor.
So it is a pleasure to encounter the 2015 vintage at TAVEL. The wines are full-bodied but nicely fresh, they go long and set themselves up for la table; all dishes based around garlic or its cousin aïoli, a Marseille fish soup, soupe au pistou, grilled fish, aubergine dishes, extending to lamb cutlets in rosemary, white meats. The accompaniment with Asian, Japanese cuisine is also a neat fit this year.
It's important that the growers hold their nerve, and continue to make properly traditional Tavels; I feel there are times when they despair of recapturing market popularity and share. One only has to look at the inroads made by BANDOL ROSÉ in Britain, to the detriment and decline of the classic BANDOL ROUGE, a stern and sturdy operator when young, and requiring cellaring before the MOURVÈDRE loosens its tight grip. A BANDOL ROSÉ is also some way more expensive than a TAVEL, please note. So I heartily recommend a little bit of a voyage back in time to the dining friendly virtues of TAVEL 2015.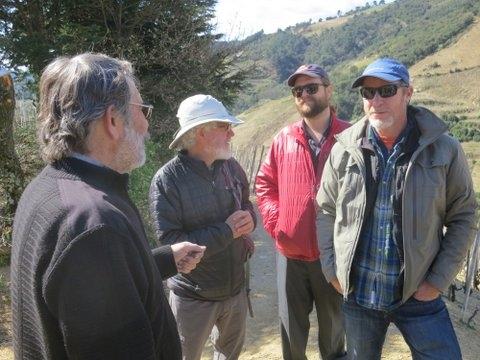 OPERATION COOL HITS THE NORTHERN RHÔNE
MAY 2016
There is a confirmed trend these days towards lighter style wines, be they red or white (or rosé for that matter, if you consider how the pale pink Provence rosé style has upstaged at least half of all formerly red-blooded TAVEL). I have already written about New Wave Rhône whites from sources such as FRANÇOIS VILLARD and DELAS.
Now, in the shape of M.CHAPOUTIER, I find the MARSANNE whites of 2015 to have followed this path, even for noble giants such as ERMITAGE LE MÉAL, which should be a wine founded on glycerol and richness rather than giving some form of "tension" and stretched out feel, like a guitar string about to go "twang".
I also found this recently when tasting a CHAUME from the LOIRE VALLEY, a pedigree wine whose pedigree had been clipped by this move towards a more decisive style, a wine presented as clear and clean and blah blah, lacking the true pomp it should have displayed. Will it age as well as the richer versions? I am not so sure, since I consider the lessened contact with the lees to imply a lower intake of richness from the start.
However, in the world of red wines, there is also a definite swing towards cooler and clearer. On that basis, I accompanied five estates from California around the NORTHERN RHÔNE in early April 2016. It was a voyage of study for them, all of whom were seeking to make precision wines via help from altitude or ocean breezes, coupled with lands that featured schist or some amount of granite by and large. This is a good idea, if it acts as a counterbalance to the big heavyweight, high degree wines of California's recent past.
I named this project OPERATION COOL, and will be writing it up. The five estates involved were THE OJAI VINEYARD (ADAM TOLMACH), JAFFURS WINE CELLARS (MATT BRADY), BIG BASIN VINEYARDS (BRADLEY BROWN), HALCON VINEYARDS (PAUL & JACKIE GORDON) and DREW FAMILY CELLARS (JASON DREW).
It was striking that the Californian delegation felt inspired at the end of the trip, but all admitted that it was not straightforward to sell SYRAH back home – still. There is still obscurity surrounding some of them. So it is timely that the author PATRICK COMISKEY is set to publish a good book on the RHÔNE movement in the USA later this year – "AMERICAN RHÔNE WINES", from my publisher the UNIVERSITY OF CALIFORNIA PRESS, BERKELEY.
That traces the development of an inspiration and credo that were much more free-spirited and unruly than the purring machine with armour-plated finances attached that was the early BORDEAUX-inspired movement. Definitely something to look forward to; I have read the manuscript for the University deans and dons.
Meanwhile, as the LOIRE - the CABERNET FRANC vineyards of CHINON and BOURGUEIL particularly savagely hit - and places such as VOLNAY and CHASSAGNE MONTRACHET (the worst frost damage since the 1980s) suffered from the hard bite of frost in late April, the Rhône's season has got off to a sound start, except for some April hail on the hill of HERMITAGE that ran out of steam before reaching MERCUROL at CROZES-HERMITAGE to the east. It paid to be at, near or below the 45th Parallel last month.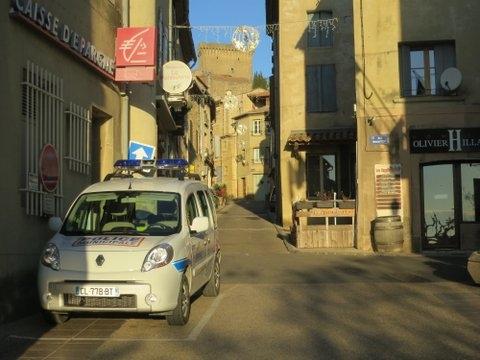 REFLECTIONS ON THE PASSING OF CHÂTEAUNEUF-DU-PAPE'S LAST TRUE ORIGINAL
APRIL 2016
HENRI BONNEAU
The death of HENRI BONNEAU at 78 years recently brought to a close an era when growers could be subversive in the face of "the authorities". Now, if you have 1% too much GRENACHE GRIS or TERRET NOIR in your vineyard, it is swiftly sniffed out by the forces of law and order – usually young men and women in their twenties, probably clad in white.
Central governments and bodies hate such outsiders, since the former thrive on homogeneity, what is written in the dossier. If the dossier says you cannot exceed 10% of alternative varieties, then those offending percentages in excess must be ripped out, or your wine is declassified.
Well now, this becomes quite funny, since many growers have started to show they can't be bothered with some of these petty fogging rules, meaning a rapid increase away from VIN DE PAYS and its complicated names – COLLINES RHODANIENNES, PRINCIPAUTÉ D'ORANGE etc - and towards the broader, less restrictive category of VIN DE FRANCE.
My thoughts turn to JÉRÔME BRESSY of DOMAINE GOURT DE MAUTENS, who abandoned the RASTEAU appellation due to hassle from the authorities over his growing too many less recommended vines – PICPOUL BLANC, PICPOUL GRIS, CARIGNAN and others, which he considers form part of the local heritage, unlike the variety that the INAO (INSTITUT OF APPELLATIONS OF ORIGINE) constantly bangs the drum for – the SYRAH, a variety that should remain in cooler areas rather than being scatter bombed all across the SOUTHERN RHÔNE to the shores of the Mediterranean.
It is no surprise that VINSOBRES, with vineyards at 400 metres, is a source for JEAN-LOUIS CHAVE in his CÔTES DU RHÔNE MON COEUR, made up of 40% SYRAH. In recent vintages such as 2013 and 2014, the SYRAH has also performed well thanks to those two cool summers. But put SYRAH in the deep clay soils of RASTEAU, and it can risk giving wines that are jammy, and lacking all-important cut.
Refuseniks such as MONSIEUR BRESSY are hard to find these days. But when I started out in the 1970s, vinegrowing and winemaking were much more liberal, the actions of the growers often guided by intuition, available time and effort, even hearsay. In this Kingdom of The Individual, HENRI BONNEAU held a sometimes rather cultivated place, whereas the REYNAUD family of CHÂTEAU RAYAS, for example, were genuinely out on a limb, eschewing much contact with the outside world.
The fact that HENRI lived in the village made him immediately more visible, and yet the company he most wanted to keep as a natural starting point was that of his fellow vignerons and vigneronnes. For yes, he had a twinkle in his eye when meeting ISABEL FERRANDO of DOMAINE SAINT-PRÉFERT or the ARMENIER sisters, SOPHIE and CATHERINE, of DOMAINE DE MARCOUX.
As to his relations with the Fourth Estate, I can only say they were uneven. I first visited him in the 1980s; in my first book, written in the early 1970s, it was his father MARCEL who ran the estate, but I do not, alas, have any tasting notes from that period.
Well, HENRI received me courteously in his warren of grimy rooms that comprised his cellars. We tasted, discussed, I noted things down. As I was about to leave, he requested me not to write about him, a request to which I acceded. If he didn't want people tramping along to see him, then so be it. I also discovered that the redoubtable PROFESSOR ROBERT MAYBERRY, who wrote a long and detailed book on the SOUTHERN RHÔNE, very much a work of loving, academic appreciation, had likewise maintained silence on MONSIEUR BONNEAU.
I continued to visit every now and then, and remained silent in print on him. However, when I read a report by ROBERT PARKER JR on HENRI some years later, I somewhat felt that what was good for the goose was good for the gander. Accordingly, I revisited him and wrote an essay of some pages in the 1992 edition of THE WINES OF THE RHÔNE.
That was the turning point! At one juncture, I wrote the following: "his family have worked in the same maze of interconnected cellars under Châteauneuf-du-Pape since the time of Napoleon III, and there are some wonderful winding nooks and crannies that M.Bonneau knows well as he moves around the rough earth-strewn surface, muttering obscenities about Napoleon Bonaparte. Any tasting in the company of a Briton is interrupted with a rapid, Provençal-infested verbal swipe about the wrong person being burned at the stake – Joan of Arc and not Bonaparte – before he wanders off to another dull, grimy cask, full of marvellous young red wine."
After learning about this, for he was certainly not an English speaker or reader, Monsieur Bonneau barred me from tasting chez lui. I ran into him occasionally in the street, here and there. One exchange recalls the old PETER SELLERS joke from an INSPECTOR CLOUSEAU film "does your dog bite?"): I saw him in the street up the hill from the fountain, on the way to the church. I saluted him as he stood watching a mason on scaffolding that obscured the façades of the houses go about his work on some outside walls, a pretty good job, it seemed to me.
JL-L: "that mason is doing a good piece of work..."
HB: "he is."
JL-L: "your house is going to look in good shape after this."
HB: "it's not my house."
I tried to enter via the good offices of the ARMENIER sisters of DOMAINE DE MARCOUX, but once you cross a Provençal, that is that, as I know only too well after living in AIX-EN-PROVENCE from 1972 to 1975. HENRI was having none of me, at all, punto final.
I therefore tasted his wines every now and then, not in any formal sequence. In hot summer vintages, I found them heated, and potent to the point of headiness. In the cooler vintages, I preferred them – their balance was better, and they sang more. Of course, yields were desperately low; I once visited his vineyard during the Forbidden Years, and it was a shock to see how many gaps there were – dead plants hadn't been replaced, and the impression given was one of doing just enough.
There were wines of greatness mixed in – his 2005 RÉSERVE DES CÉLESTINS was a six star wine – complete, interesting, with bursts of freshness and the gras texture of traditional Châteauneuf. His trio of CÉLESTINS 1988, 1989 and 1990 was splendid, a real gale force of intensity blowing through them - "three glorious, exuberant vintages", as I wrote at the time.
HENRI BONNEAU leaves an unrepeatable legacy; his bottles of course are there for the delectation of mainly rich collectors nowadays, but under all the Provençal bluster and canny actions lay a man with the welfare and renown of his village deeply rooted at the centre of his being. He enhanced the life and times of Châteauneuf-du-Pape and I salute him for that and for all his wondrous foibles.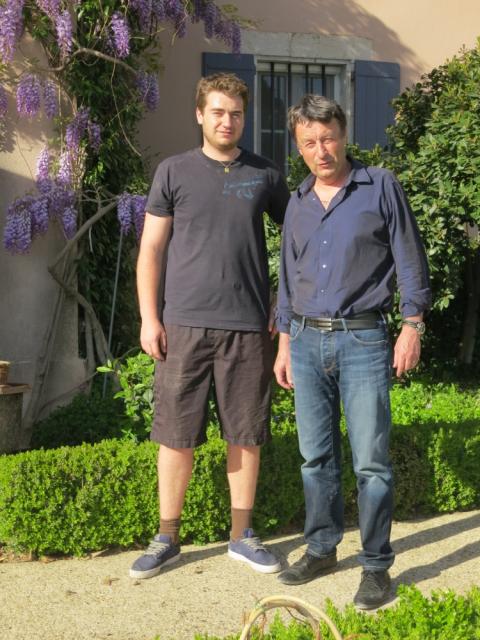 HATS OFF FOR A MIGHTY EFFORT
MARCH 2016
CAIRANNE: THE FULL STORY
I wonder how many of you can vividly remember the financial crash of 2008. I was in a lift in New York when I heard about the imminent collapse of Lehman Brothers, a softly spoken, fearful comment from a friend of mine. That was September, 2008. It probably seems quite a long time ago now.
Well, imagine if you had started a project two months earlier, in July 2008, and that project only came to fruition just now, in February, 2016. That would represent what could be termed a lot of hard yards covered.
Such has been the epic struggle of DENIS ALARY, President of the Growers Union of CAIRANNE, who in July 2008 deposited a dossier at the Ministry of Agriculture requesting the promotion of CAIRANNE from CÔTES DU RHÔNE VILLAGES to senior status, stand alone CAIRANNE, appellation d'origine protégée (as it now is). It's a path trodden by RASTEAU recently, and before that, by BEAUMES-DE-VENISE in 2005. It's a natural progression if the quality runs deeply and widely in an appellation.
However, disputes arose, often because the proposed redrawing of the vineyard area excluded 262 hectares, cutting the Villages nominated vineyard from 1,350 to 1,088 hectares under Cairanne cru. The discarded zones were mainly in the southern part of the appellation, and their wine henceforth will either be CÔTES DU RHÔNE or CÔTES DU RHÔNE VILLAGES without the name of a commune attached. The last point has not yet been resolved, but currently RASTEAU and VINSOBRES have ex-Villages land allowed to produce CÔTES DU RHÔNE VILLAGES, so that may be an option for Cairanne as well.
The decree applies to the reds and whites of Cairanne; the rosé will be sold as CÔTES DU RHÔNE. In practical terms, the next decision for the growers is whether to sell their 2015 reds and whites as CAIRANNE or CAIRANNE VILLAGES. According to DENIS ALARY, about one-third of the domaines will opt for Cairanne Cru, and two-thirds for Cairanne Villages with the 2015 wines.
"There are two reasons for this," he explains in his lucid fashion: "the first is that the Villages wine status allows a yield of 41 hectolitres a hectare for the red wine, against 38 hectolitres a hectare as Cru red. For the whites, it's 44 hectolitres a hectare as Villages, and 40 hectolitres as Cru. So in what is a full yield vintage, people have more wine to sell if it's Villages, albeit at a slightly lower price.
The second is that by selling the wine as Villages, it can go out on the market, in bulk or bottle, by 1 March 2016. Those wanting to sell as Cru will have to wait for the official stamp of approval from the French administration and Customs, which could take until May or June 2016. If they choose the latter path, some growers have told me of their worry of having 2015 wine taking space in their cellars at the time of the 2016 harvest."
DENIS confirmed that both he and his ALARY cousins at ORATOIRE SAINT-MARTIN will be in the group waiting until they can sell their 2015s as CRU wines. Usually Cairanne produces 35,000 to 37,000 hectolitres (HL) per annum, and about 10,00-12,000 HL of the 2015 will be sold as CRU, it appears.
A welcome consequence of the promotion is also an immediate increase in interest in Cairanne from the Rhône Valley négociant or merchant trade. There have been just a handful of merchants involved with the appellation previously – the PERRIN family of CHÂTEAU DE BEAUCASTEL, JULIETTE AVRIL, also from CHÂTEAUNEUF-DU-PAPE, PIERRE AMADIEU from GIGONDAS and ARNOUX from VACQUEYRAS.
"At the VINISUD show (Feb 2016) in MONTPELLIER, I was approached by eight or nine Rhône merchants," Denis Alary related; "they are interested in Cairanne, especially given the void left by the ailing CAVE DE CAIRANNE; the Cairanne red wine in bulk price runs somewhere between €250 and €270 the hectolitre, and is being favourably compared with RASTEAU, whose bulk price has gone up quite rapidly to €360 a hectolitre. That's why the usual 4-6,000 hectolitres of Cairanne in bulk has risen to around 14,000 hectolitres of the 2014 vintage, sold during 2015."
The CAVE CAMILLE CAYRAN, once a marvellous, forward-thinking paragon of Co-operative virtue in the 1970s when I first knew it, has suffered from mismanagement and excessive costs and has slipped dramatically in recent years. Indeed, the exodus of growers who simply hadn't been fully paid for their crop has meant that it is now producing under one-third of its usual capacity across all appellations – a fall from 55,000 HL to just 13-14,000 HL. Dramatic signs of this collapse have also been visible in the vineyard, with prime site vineyards untended and neglected.
For around two years the Cave was officially in "Redressment Judiciaire", which is a form of receivership, whereby the finances and cheque book are controlled by an outside appointee. In February 2016, it emerged from that position, with a deal that sees the Rhône négociant LES GRANDES SERRES extend their rented space to over one-third of the buildings. Les Grandes Serres own the bottling line at the Cave, and its service will be rented out to the Cave as and when it is needed. Other sources of cash flow for the Cave will come from Grandes Serres paying for stockage of their wines, and for the use of vinification facilities.
The Cave now has a rolling annual repayment schedule programme to repay their outstanding debts, be they to the banks or creditors. In 2015, they will be issuing as much wine as they can as CRU in order to sell it at a higher price than were it Villages. So a start has been made on the comeback trail.
I have the greatest confidence in Cairanne for the future: there are 45 domaines, over half of which make good wine. There are six Co-operatives that can sell the wine, and there is a widening négociant level of interest.
The promotion excites me, and I am sure that this village will continue to issue extremely good quality, garrigue-inspired wines in the decades to come. The building blocks for the next generation have been put in place. I say Bravo to the tenacious DENIS ALARY, and thank you, Sir.
THEY MAKE 'EM TOUGH AT CORNAS
FEBRUARY 2016
LOUIS SOZET, game as a pebble, is the oldest working vigneron at Cornas. He will be 80 on 22 April this year. He now has 0.85 hectare and sells part of his crop to CHAPOUTIER, vinifying enough to give 400 bottles, many of which he sells at the MARCHÉ DE CORNAS in December each year.
Louis was doing his military service in Algeria when news reached him of his father JEAN's sudden death from a brain clot in 1958 – "he was misdiagnosed, and went in three days," recalls Louis. I served my final month with the regiment, then started full time on the vineyards (3 hectares in those days). I had worked with him since I was a boy, so got straight on with it."
Louis worked two hectares for most of his life, the wine his sole source of income; he now rents out vineyards to the talented STÉPHANE ROBERT of DOMAINE DU TUNNEL, based at SAINT-PÉRAY. His two sites are EYGAS and CHAMPELROSE, both well placed. He describes the average age of his vineyard now as 35 years.
He has three nephews, FLORENT, MARTIN and ROMAIN, and a niece, OLIVIA, who will start a CORNAS under the title LES ENFANTS DE BERNARD SOZET in 2016, so the name will carry on.
His vinification is based on the classic Cornasien habit of whole bunch crop; until two years ago the wine was raised in a mix of used 228-litre pieces and 550-litre demi-muids. Since 2013 he has raised it in stainless steel, cutting back from 18 months to 10-12 months.
Louis' 2013 is *** wine, and I say "chapeau" to him, someone I have often seen when visiting Cornas. His tenacity fits the rugged countryside perfectly.
His last word comes on the sudden, rapid expansion of the Cornas vineyards, especially in the high zones way away from the village. "I see a lot of planting now, without reason, clearing scrubland. People have to be reasonable. Experiments have always been ill-fated (néfaste), and people should be prudent. There are too many merchants imposing whatever they want in the wrong places."
The review of CORNAS 2014, with nearly 60 wines assessed, is now available under WINES AND TASTINGS, 2014 NORTHERN RHÔNE, THE LEADING WINES.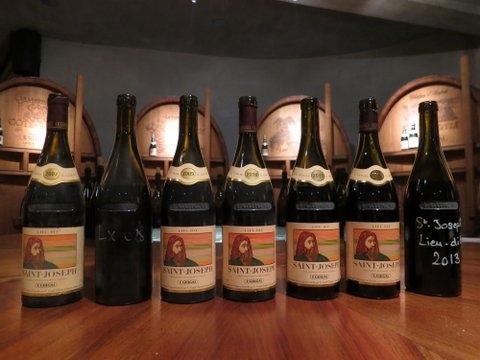 SEVEN VINTAGES OF THE GUIGAL SAINT-JOSEPH LIEU-DIT SAINT-JOSEPH
JANUARY 2016
TWO VISITS TO GUIGAL, SOME VERTICAL TASTINGS
Two visits to GUIGAL in late 2015 saw enjoyable and informative tastings; among the 66 wines tasted were a vertical of the SAINT-JOSEPH LIEU-DIT SAINT-JOSEPH red featuring the vintages 2007 to 2013 inclusive and the top-class SAINT-JOSEPH VIGNES DE L'HOSPICE red 2010 to 2012. Both vineyards were acquisitions by MARCEL GUIGAL in 2001 from JEAN-LOUIS GRIPPAT and from the MAISON LOUIS DE VALLOUIT. The quality of both wines indicates that mastery of the vineyards and coaxing out the best from them is starting to take place. In both cases, the mighty 2010s were outstanding, confirming the exceptional nature of that vintage.
Another vertical was that of the HERMITAGE RED 2006 to 2011 and the ERMITAGE EX-VOTO RED 2010 and 2012-2014 (there was no 2011). The years when there is no EX-VOTO – 2008 and 2011 the most recent – undoubtedly benefit the classic red wine. Quality is consistent with the HERMITAGE, and in very good years such as 1990 the wine lives for a good 30 years.
The most recent vintages of CÔTE-RÔTIE LA MOULINE, LA TURQUE and LA LANDONNE were also tasted – 2011 to 2014, the 2011s in bottle, the other vintages still in cask.
Standards in a large house such as this should always be judged by the quality of the largest production wines, and GUIGAL set a very high bar with their trio of CÔTES DU RHÔNEs – the RED, WHITE and ROSÉ. I am also impressed by the standard of the whites, be they the MARSANNE-based wines such as SAINT-JOSEPH (a **** 2014 white), the CROZES-HERMITAGE blanc – regular ***(*) quality – or the CONDRIEUs – LA DORIANE 2014 being a ***** wine.
For full details on these tastings, please log in.
A 2016 THOUGHT
MY MOST PRIZED WORD IN DESCRIBING WINE: BALANCE
MY MOST DESPISED WORD IN DESCRIBING WINE: SUCROSITY
A HAPPY NEW YEAR TO ALL READERS!