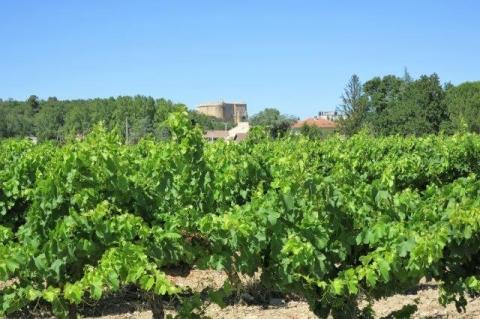 THIS OTIS ELEVATOR ONLY GOES UP, MESDAMES ET MESSIEURS
DECEMBER 2016
THREE NEW CÔTES DU RHÔNE VILLAGES
To the strains of "everyone's a winner, baby, that's all right…" I write about the CÔTES DU RHÔNE VILLAGES. At the moment, there is one way traffic, or an unseemly stampede, towards the lift panel marked UP. CÔTES DU RHÔNE COMMUNES want to become VILLAGES, while VILLAGES want to become full CRU wines.
And yet, the hierarchy is shaky across the SOUTHERN RHÔNE. I exclude the NORTHERN RHÔNE thanks to its compact and long-established structure of appellations, although there are two causes for concern there. The first is the out-of-hand expansion of my beloved CORNAS [where I own some vines] up to the grazing pastures on CHABAN, well beyond the main granite locations opposite the village. There is about a three week delay in ripening in these fields, where I have known horses, goats and cattle graze in my years out on patrol.
The second is the headlong rush to buy land around the plain of LES CHASSIS and nearby at CROZES-HERMITAGE, with a view to planting these fruit tree and ordinary lands with vines in 2018, when the rights of planting have been opened up. A certain very big local name is in the front rank on this, which drives up land prices of current vineyard zones for any young starter growers, quite apart from calling into question the quality of the resultant wine from these areas previously deemed unworthy.
In the SOUTHERN RHÔNE, the quality of the VILLAGES category is pretty shaky. There are lots of Villages no-one has ever heard of: ROUSSET-LES-VIGNES, SAINT PANTALÉON, PUYMÉRAS, GADAGNE, SIGNARGUES, even SAINT-GERVAIS and perhaps SAINT-MAURICE. The problem with all these is that they lack critical mass - the area under vines is small, the number of standard bearer domaines is tiny, and the quality, reputation or survival of the local CAVE CO-OPERATIVE is wobbly.
CAIRANNE's ascent to CRU leaves a hole in the edifice, with now the front runners being PLAN DE DIEU, SÉGURET, VISAN and VALRÉAS. Meanwhile, it is incredible to think that LAUDUN in the west bank GARD département has filed a request for promotion to CRU, on its own standing. The CO-OPERATIVE President is a bigwig in the INAO (National Institute of Appellations of Origin), so go do the maths. Meanwhile, apart from the estimable LUC PELAQUIÉ, there are virtually no well-known domaine names there.
There will be three new VILLAGES starting with the bountiful and high quality southern Rhône vintage of 2016, so at least that is a good platform. They are SUZE-LA-ROUSSE in the southern DRÔME (26), SAINTE-CÉCILE-LES-VIGNES and VAISON-LA-ROMAINE in the VAUCLUSE (84). The starting point for all three is their CAVES CO-OPERATIVES. LA SUZIENNE: decent CÔTES DU RHÔNE reds, rosés and whites, ditto GRIGNAN-LES-ADHÉMAR red and white, good ROCHEGUDE (yes, it's a VILLAGE) red. There are two CO-OPs at SAINTE-CÉCILE: LES VIGNERONS CHANTECÔTES: indifferent. CAVEAU CÉCILE-LES-VIGNES: OK CÔTES DU RHÔNE reds. Lastly, CAVE LA ROMAINE: decent CÔTES DU RHÔNE reds, wonky ROAIX, PUYMÉRAS, SÉGURET reds.
On the domaine front, all three Villages have names that are good, some of them organic, with switched-on winemakers who seek crisp fruit and vibrant drinkability, while there are also domaines that breathe the inner strength of their warm lands, issuing proper middle-term wines for la table.
Hence all these three Villages can make some sort of impact in the next three years, which is the time I give a new VILLAGE or new CRU before the mists of indifference descend around its portals. You have all been warned.