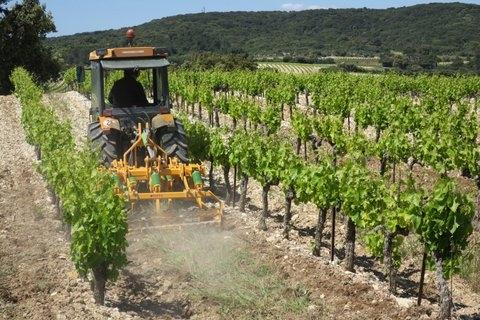 AFTER AN EXCELLENT 2015 VINTAGE, PREPARATION FOR 2016 AT TAVEL
JUNE 2016
The near tidal wave of light pink rosés from PROVENCE has left traditional rosés such as TAVEL, and also LIRAC, very much in the shade in recent years. With their red-tinted robes, they seem to "scare the horses", and people prefer often more bland drinks, at ever higher, more marketing-spend heavy prices. The Provence rosé hall at a wine fair always reminds me of walking through the perfume counter area at Galeries Lafayette or Harvey Nicholls. Image is paramount, and the producers, clad in loafers, chinos and cool branded shirts, all look as if they have never been near a tractor.
So it is a pleasure to encounter the 2015 vintage at TAVEL. The wines are full-bodied but nicely fresh, they go long and set themselves up for la table; all dishes based around garlic or its cousin aïoli, a Marseille fish soup, soupe au pistou, grilled fish, aubergine dishes, extending to lamb cutlets in rosemary, white meats. The accompaniment with Asian, Japanese cuisine is also a neat fit this year.
It's important that the growers hold their nerve, and continue to make properly traditional Tavels; I feel there are times when they despair of recapturing market popularity and share. One only has to look at the inroads made by BANDOL ROSÉ in Britain, to the detriment and decline of the classic BANDOL ROUGE, a stern and sturdy operator when young, and requiring cellaring before the MOURVÈDRE loosens its tight grip. A BANDOL ROSÉ is also some way more expensive than a TAVEL, please note. So I heartily recommend a little bit of a voyage back in time to the dining friendly virtues of TAVEL 2015.