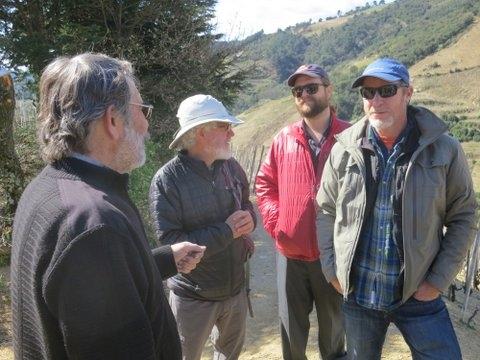 OPERATION COOL HITS THE NORTHERN RHÔNE
MAY 2016
There is a confirmed trend these days towards lighter style wines, be they red or white (or rosé for that matter, if you consider how the pale pink Provence rosé style has upstaged at least half of all formerly red-blooded TAVEL). I have already written about New Wave Rhône whites from sources such as FRANÇOIS VILLARD and DELAS.
Now, in the shape of M.CHAPOUTIER, I find the MARSANNE whites of 2015 to have followed this path, even for noble giants such as ERMITAGE LE MÉAL, which should be a wine founded on glycerol and richness rather than giving some form of "tension" and stretched out feel, like a guitar string about to go "twang".
I also found this recently when tasting a CHAUME from the LOIRE VALLEY, a pedigree wine whose pedigree had been clipped by this move towards a more decisive style, a wine presented as clear and clean and blah blah, lacking the true pomp it should have displayed. Will it age as well as the richer versions? I am not so sure, since I consider the lessened contact with the lees to imply a lower intake of richness from the start.
However, in the world of red wines, there is also a definite swing towards cooler and clearer. On that basis, I accompanied five estates from California around the NORTHERN RHÔNE in early April 2016. It was a voyage of study for them, all of whom were seeking to make precision wines via help from altitude or ocean breezes, coupled with lands that featured schist or some amount of granite by and large. This is a good idea, if it acts as a counterbalance to the big heavyweight, high degree wines of California's recent past.
I named this project OPERATION COOL, and will be writing it up. The five estates involved were THE OJAI VINEYARD (ADAM TOLMACH), JAFFURS WINE CELLARS (MATT BRADY), BIG BASIN VINEYARDS (BRADLEY BROWN), HALCON VINEYARDS (PAUL & JACKIE GORDON) and DREW FAMILY CELLARS (JASON DREW).
It was striking that the Californian delegation felt inspired at the end of the trip, but all admitted that it was not straightforward to sell SYRAH back home – still. There is still obscurity surrounding some of them. So it is timely that the author PATRICK COMISKEY is set to publish a good book on the RHÔNE movement in the USA later this year – "AMERICAN RHÔNE WINES", from my publisher the UNIVERSITY OF CALIFORNIA PRESS, BERKELEY.
That traces the development of an inspiration and credo that were much more free-spirited and unruly than the purring machine with armour-plated finances attached that was the early BORDEAUX-inspired movement. Definitely something to look forward to; I have read the manuscript for the University deans and dons.
Meanwhile, as the LOIRE - the CABERNET FRANC vineyards of CHINON and BOURGUEIL particularly savagely hit - and places such as VOLNAY and CHASSAGNE MONTRACHET (the worst frost damage since the 1980s) suffered from the hard bite of frost in late April, the Rhône's season has got off to a sound start, except for some April hail on the hill of HERMITAGE that ran out of steam before reaching MERCUROL at CROZES-HERMITAGE to the east. It paid to be at, near or below the 45th Parallel last month.