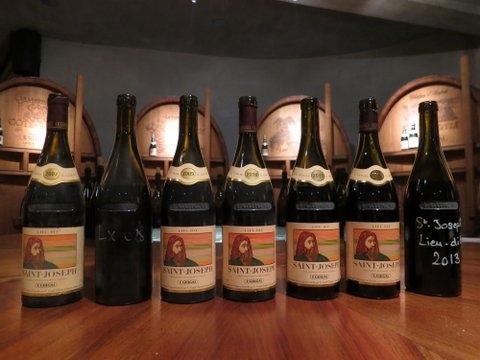 SEVEN VINTAGES OF THE GUIGAL SAINT-JOSEPH LIEU-DIT SAINT-JOSEPH
JANUARY 2016
TWO VISITS TO GUIGAL, SOME VERTICAL TASTINGS
Two visits to GUIGAL in late 2015 saw enjoyable and informative tastings; among the 66 wines tasted were a vertical of the SAINT-JOSEPH LIEU-DIT SAINT-JOSEPH red featuring the vintages 2007 to 2013 inclusive and the top-class SAINT-JOSEPH VIGNES DE L'HOSPICE red 2010 to 2012. Both vineyards were acquisitions by MARCEL GUIGAL in 2001 from JEAN-LOUIS GRIPPAT and from the MAISON LOUIS DE VALLOUIT. The quality of both wines indicates that mastery of the vineyards and coaxing out the best from them is starting to take place. In both cases, the mighty 2010s were outstanding, confirming the exceptional nature of that vintage.
Another vertical was that of the HERMITAGE RED 2006 to 2011 and the ERMITAGE EX-VOTO RED 2010 and 2012-2014 (there was no 2011). The years when there is no EX-VOTO – 2008 and 2011 the most recent – undoubtedly benefit the classic red wine. Quality is consistent with the HERMITAGE, and in very good years such as 1990 the wine lives for a good 30 years.
The most recent vintages of CÔTE-RÔTIE LA MOULINE, LA TURQUE and LA LANDONNE were also tasted – 2011 to 2014, the 2011s in bottle, the other vintages still in cask.
Standards in a large house such as this should always be judged by the quality of the largest production wines, and GUIGAL set a very high bar with their trio of CÔTES DU RHÔNEs – the RED, WHITE and ROSÉ. I am also impressed by the standard of the whites, be they the MARSANNE-based wines such as SAINT-JOSEPH (a **** 2014 white), the CROZES-HERMITAGE blanc – regular ***(*) quality – or the CONDRIEUs – LA DORIANE 2014 being a ***** wine.
For full details on these tastings, please log in.
A 2016 THOUGHT
MY MOST PRIZED WORD IN DESCRIBING WINE: BALANCE
MY MOST DESPISED WORD IN DESCRIBING WINE: SUCROSITY
A HAPPY NEW YEAR TO ALL READERS!