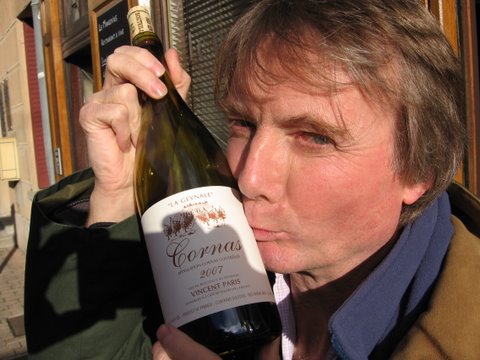 John Livingstone-Learmonth has dedicated most of his life to writing and talking about the wines of the Rhône, since he first visited its vineyards and estates in June 1973. He has published four books on the Rhône – his approach in his first was called 'new journalism' by John Arlott in The Guardian, 'as it involved letting growers talk about their outlook and a more precise appraisal of wines than had been the case before'. The first three books, called The Wines of the Rhône, were published by Faber & Faber in 1978, 1983 and 1992.
His fourth book was written after he felt he had served his apprenticeship of 30 years, and could go for a truly detailed coverage. This saw him split the Valley into two different entities, as he felt they were different enough to be covered separately. The Wines of the Northern Rhône won the Louis Roederer International Book prize in 2006, and was commended in the André Simon Awards. He is gradually working towards an equivalent book on The Wines of the Southern Rhône. Using his first-hand knowledge of every vintage at Gigondas since it received its status as a cru on its own in 1971, John wrote a major section covering the wines of each vintage in the book entitled Gigondas, Its Wines, Its Land, Its People, published in 2010 by Les Editions du Bottin Gourmand Uni-editions in Paris.
John has also written on the wines of the Loire, Beaujolais and Bordeaux, with articles published in a broad range of British magazines, and he contributes to annuals such as the Hugh Johnson Pocket Wine Book and Wine Atlas, and the Oz Clarke Wine Atlas and Pocket Book. He has given talks and tastings in Britain, the US, France, Australia and Asia, and tasted on Panels including the Mâcon and San Francisco and McLaren Vale Wine Fairs. He is an Honorary Citizen of the Rhône village of Châteauneuf-du-Pape, and a close follower of the Turf, having been The Daily Telegraph Racing Hero of the Year 2000. He was also given the honour of being made a Chevalier de l'Ordre du Merite Agricole a few years ago by the French state, but has forgotten the exact year.
John is happy to own a few old Syrah vines at his beloved Cornas. These contribute to the Cornas La Geynale of Vincent Paris.
He can be contacted on jll@drinkrhone.com