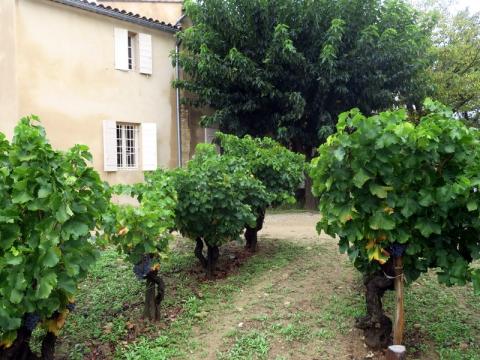 2019: WELL, AT LEAST WE HAD A HARVEST THIS YEAR
NOVEMBER/DECEMBER 2019
2018 at CHÂTEAUNEUF-DU-PAPE turned out to be a nightmare for three of its finest names, CHÂTEAU RAYAS, CHÂTEAU DE BEAUCASTEL and CLOS DES PAPES. Their harvests were ravaged by mildew, the problem exacerbated by working organically, and, in the case of BEAUCASTEL, unable to rustle up workers to get into the vineyards at night and at weekends, which was the only salvage option for the lesser sized family domaines. Tractors were also stuck if they tried to enter the waterlogged ground as the mildew moved relentlessly on to the bunches in just 24 hours in May.
At CHÂTEAU RAYAS, the birth of EMMANUEL REYNAUD's first grandson, AUGUSTIN, the son of BENOÎT, was the reason to celebrate the year - the vineyard certainly wasn't. "99% of the bunches were destroyed, the leaves also," EMMANUEL recounted. "The leaves re-generated with grapillons or secondary bunches later on. On 28 November, 2018, in one day, we harvested 12 hl of RAYAS, 4 hl of CHÂTEAU DE FONSALETTE, and 5 hl of CHÂTEAUNEUF-DU-PAPE PIGNAN. There will be 400 litres of RAYAS BLANC and 800 litres of RAYAS ROUGE." This will hopefully all be drunk en famille to toast AUGUSTIN as he grows up.
"I am quite content to have a year like that, since it shows the young generation why I keep wines back to sell," affirms EMMANUEL philosophically. "It's good if they can learn that early in their careers."
In 2019, EMMANUEL was once again the last estate to harvest, bringing in his crop in the last days of October, and on 1 November. "It's a large harvest," he tells me, "a good budding, with very joli grapes aided by the mid-October rain, which served to re-balance the sugars, to render the fruit supple and less bitter than it was."
Talking of 2018, CÉSAR PERRIN of BEAUCASTEL told this tale: "we lost 70%, and concentrated on the MOURVÈDRE, since the mildew hit the GRENACHE and then the SYRAH first. It is a high MOURVÈDRE vintage for the BEAUCASTEL ROUGES. Our yield was 7 hl/ha, the white crop a complete catastrophe. We are only selling our 2018 CHÂTEAUNEUF-DU-PAPE WHITES in FRANCE and GERMANY – you can't sell six bottles here and there to different countries."
At BEAUCASTEL, there is delight over the 2019 harvest, too. "The vineyard was very generous at 26-27 hl/ha this time round, which is high for us," states CÉSAR. "The old vines didn't feel the drought: the fact that they didn't give harvest last year, coupled with their deep roots, saved us. We could take our time over the harvest, starting the first CÔTES DU RHÔNE whites on 27 August, and finishing with the last of the CHÂTEAUNEUF-DU-PAPE MOURVÈDRE on 10 October. Fermentations have been rapid, there's enormous colour on the GRENACHE, degree isn't much past 15° [that's on the MOURVÈDRE], and the wines seem complete, balanced, elegant."
VINCENT AVRIL has worked organically at CLOS DES PAPES for many years now, and suffered the consequences in 2018, with just 9 hl/ha. "The mildew attack at the end of May spread in 24 hours from a few spots on one leaf, just one leaf, into being all over the leaves and bunches. The last such year, I am told, was in the late 1940s. We took 18 days to harvest, to ensure that absolutely no dry matter entered the vats, and at least the quality of what we have is good. The wine has been pre-assembled this year, rather than being raised in six portions – there isn't enough for six vats!"
In 2019, many fewer copper treatments were necessary, as the harvest was healthy, no sorting required, no maladies. "We are at 20 hl/ha this year," states VINCENT. "Colour is very good, the tannins are jolis, and there's good acidity. With only 72 mm [just under 3 in] of rain between 1 May and mid-September, when we started the red CHÂTEAUNEUF harvest, the profile of the year will be very distinct from 2018."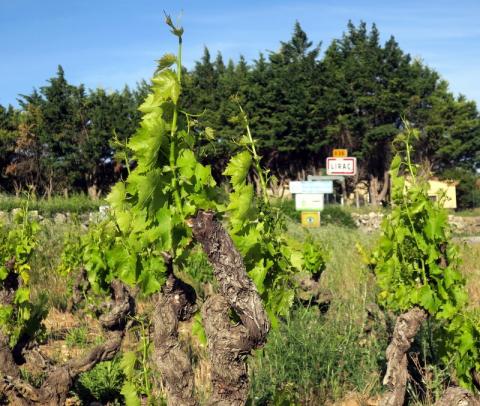 THE PERILS OF RECORD TEMPERATURES
JULY 2019
The highest temperature ever recorded in FRANCE was on Friday 28 June, 2019: 45.9°C in the afternoon at GALLARGUES-LE-MONTUEUX in the GARD département [30]. GALLARGUES stands just west of the COSTIÈRES-DE-NÎMES vineyards, which duly suffered from the consequences of this extreme episode.
ANNE COLLARD, of the excellent, organic CHÂTEAU MOURGUES DU GRÈS, told me: "the vines were stressed by that heat spike; for us, burning on the grape bunches was limited, but I know of vignerons across COSTIÈRES who lost 20-30% of their harvest. It's very dry now, and there is a risk of fires. For the vineyards, the undersoil of clay below the galet stones has helped to lock in some humidity. We'd love an August storm!"
Up the road at TAVEL, RICHARD MABY, whose TAVEL and LIRAC rosés are winners each year, explained: "I have never before seen what is termed chaudages – the grapes burned in one day, the bunches grilled, turning a brown-black colour in just a few hours. That day, temperatures in the vineyards were over 50°C – the 45° was in the shade!"
The real problem occurred if growers had treated their vines with powdered or micronized sulphur shortly before the sudden jump in heat. With memories of the vast mildew attacks of 2018 still fresh, it is unsurprising that people were keen to treat with the sulphur to combat mildew [and to a lesser extent, oïdium]. The trouble was that the combination of extreme heat and leftovers of the sulphur applications combined to burn the bunches on the vines – the leaves were not affected.
"In my view, it would have been better to treat at the start of the night," says RICHARD MABY, "and there were also those who were merely following their regular 10-day treatment cycle just before the 28 June – they were just unlucky."
The intense heat was also experienced in the next département to the north of the GARD, the ARDÈCHE [07]. OLIVIER LERICHE of the organic-biodynamic DOMAINE DES ACCOLES – a great source for stylish VIN DE FRANCE wines that include a CARIGNAN GRIS white - told me: "if you treated two days before, your bunches were burned. I treated our vines on 20 June, and on 21 June a rainfall of 15 mm (0.6 in) washed away a large part of the sulphur, so we were OK. However, I know that people who treated on 3-4 July, after the record heat, also ran into trouble. We renounced all treatments across a three week period – even if you treat at night, you can have burning the next day.
I found that the SYRAH was more prone to the grilling than the confirmed southern varieties such as GRENACHE, CARIGNAN and CLAIRETTE. Younger vines were also more affected than the older ones."
"This year, the handling of the vineyards is extremely important, even vital," he continued. "The root structures are so important in these arid conditions. We've had 35 mm (1.2 in) of rain in June, 37 mm (1.5 in) in May, 64 mm (2.6 in) in April, and 20 mm (0.8 in) in March. If comparing to 2017, this year has had more June rain – in 2017, there were only 2-3 mm, for instance, and a total of just 30 mm (1.2 in) for the three months June to August in 2017."
Savage heat, dry soils, the lottery of sulphur treatments – as I have written before, these are times when the parameters for viticulteurs are vastly broader than they were when I started out in the 1970s, when the growing seasons year after year roughly resembled one another – the one hundred day rule from flowering to harvesting was intact, you could harvest at any time of day, not just at dawn, and degrees ranged between 12° and 13.5°. There were many more certainties in those times.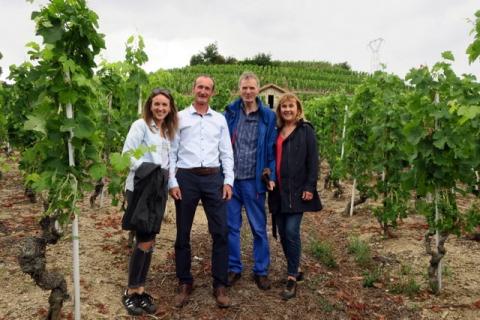 FAREWELL TO MY BELOVED
JUNE 2019
It is with the deepest regret that I must announce the passing away of my dear wife FIONA at the end of May, 2019. She had suffered from complicated health for the past two years, but seemed to be overcoming these challenges.
I am sorry to have to use this space for that announcement, but I would like to explain that service on drinkrhone will be patchy for the time being. As you know, I work on my own. I will send subscribers brief bulletins on latest tastings and visits undertaken before FIONA's end.
Thank you all for your understanding.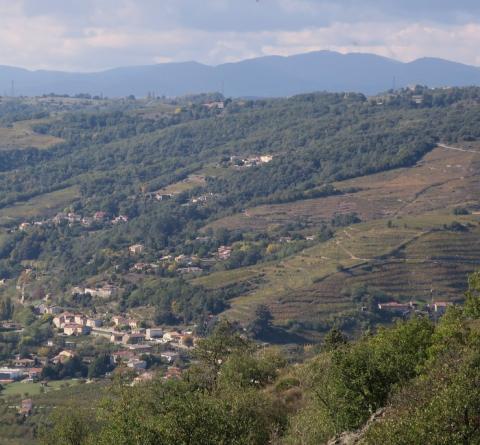 CLIMATE CHANGE MEANS 25 YEARS IS A LONG TIME
MAY 2019
The 2021 vintage is the last year when the current SAINT-JOSEPH vineyard area will be allowed to produce SAINT-JOSEPH. After that date, there will be a ban on vineyards above 300 to 320 metres, and on low level ones on the plain, whose soil is alluvial derived from the RHÔNE rather than from the higher streams that supply the RHÔNE. Too cold in one zone, too rich in the other.
When the legislation was put in place in 1996, all seemed acceptable. As PRESIDENT of the GROWERS' UNION, JOËL DURAND, describes it, "there was the risk of industrialised ST JO alongside the true hillside wine, easy to produce and therefore cheap wine that would undercut the image of the genuine granite slope wines. At height, the windy plateau was the problem, while down below, the soils were too fertile to produce elegant wine."
Wine dismissed from the very low or very high vineyards will be reduced to VIN DE PAYS. M.DURAND is aware that there will be difficulties for some, so the annual planting allowance in 2018 and 2019 for the whole appellation was increased from 20 hectares to 40 hectares – around 3% of the total. This is intended to allow growers to re-site excluded vineyards elsewhere within the main frame of the SAINT-JOSEPH appellation.
Of course, they have to own land or have access to land to allow this. In some cases, there has to be clearing of scrubland – starting from scratch, effectively, with all the costs implied. One of the most unfortunate domaines involved is DOMAINE MICHELAS-SAINT JEMMS based outside TAIN L'HERMITAGE. The MICHELAS family have been renting a vineyard on the first-class hillside of SAINTE-ÉPINE for years now. Its SYRAH is nicely mature, planted in 1985-86, while a little MARSANNE is equally old.
There are two problems. The first is that the vineyard stands at 390 metres, and the second is that the owner possesses no other land, so there is no trade-off taking that vineyard area and slotting it elsewhere into the post-2021 appellation zone. A perfectly good, even very good, wine from an acclaimed granite slope site, will disappear.
When assessing the 2017 vintage at GIGONDAS, it was clear that the vineyards at height – from 300 metres up to 500 metres – had dealt much better with the hot, drought conditions of the 2017 summer than those lower down on the garrigue plain around the village. Their later flowering date had meant larger crop [the reverse was the case in 2016], but the all-important GIGONDAS thread of freshness was present in the leading wines from estates such as DOMAINE DE LONGUE TOQUE, CHÂTEAU REDORTIER and PIERRE AMADIEU.
Today, if you were to ask a grower – would you like some high altitude hillside vines? - the answer would be a quickfire YES. It wouldn't have been the reflex back in 1996.
So as the well-meaning legislation trundles on through its irreversible 25 years span, perhaps it's time for legislators to reduce the duration of such projects, or, better still, allow re-appraisal during their tenure.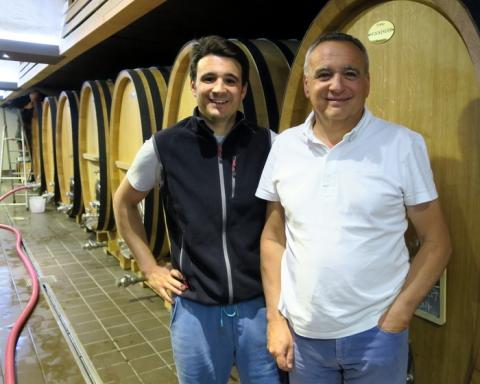 TEN YEARS ON: 2009, STILL VINTAGE OVER TERROIR
APRIL 2019
I recently conducted a tasting for the Solicitors' Wine Club in London, where NORTHERN RHÔNE 2009 was in the spotlight. There were four wines from the micro-négociant TARDIEU-LAURENT, and four from the mix of own vineyards and négociant activities of PAUL JABOULET AÎNÉ.
2009 was a vintage that presaged a decade of increasing temperatures, and dry, very hot summers in some instances. I link it to 2003, the year of what the French term la canicule – the sweltering heat – when hundreds of people, many of them elderly, died in PARIS, and the RHÔNE encountered ripeness and conditions that had all the old timers scratching their heads.
2003 was regarded at the time as being completely out of the loop. The jammy density of the wines masked terroir influences, and the early problems stemmed from tannins that were inclined to be dry, sometimes parched. However, the wines have held together better than expected, and are still pretty vibrant, even if their still thick texture stands outside the usual norms of wines at 15+ years' old.
Looking back, 2009 now bears a relationship with 2015, 2017 and 2018. All these summers were very hot, and dry, bar the odd storm here and there, random acts from the heavens. Of these vintages, I expect 2015 to be the most capable of showing terroir as it evolves, with the others stuck for some time in the vintage-influence channel. A comparison can be made with 1999 at CÔTE-RÔTIE, for instance. Until around 2015, most of those wines were still showing solar density and padding rather than the gunflint and spark of their rocky origins.
MICHEL TARDIEU remembers 2009 with mixed emotions: "it's a medium level vintage for me, one on excess and heat," he relates. "I made five casks of CORNAS VIEILLES VIGNES, and it was my favourite of the vintage: it was made in the ancient style of the old families, with a more modern oak raising attached by me – a lot of concentration, colour, wild black berry fruit above all, blackberries with graphite, the best of the NORTHERN RHÔNE. HERMITAGE was a bit austere, didn't have the degree, wasn't in the style of the CORNAS, was more calm than the CORNAS, too."
Across the 2009 CROZES-HERMITAGE, SAINT-JOSEPH, CORNAS and HERMITAGE REDS shown, the winner on the night was the 2009 CORNAS TARDIEU-LAURENT VIEILLES VIGNES – no surprise to me. This was 67% PATOU, the sunny southern lieu-dit of DUMIEN-SERRETTE, the SYRAH dating from the 1920s, 33% LES EYGATS, the cooler, higher lieu-dit where STÉPHAN CHABOUD, based in SAINT-PÉRAY, works his 1950-1960s SYRAH.
Alongside it, the profile of the JABOULET DOMAINE DE SAINT-PIERRE was markedly different. For a start, the vines are much younger, dating from 1985-86, when the JABOULET family decided they were missing out, and that there existed potential at CORNAS. They therefore initiated a planting programme on the cheaper land high up at 300-320 metres near the little chapel of SAINT-PIERRE, which stands away from the main hillsides visible from the N86 road linking CORNAS and SAINT-PÉRAY.
The raising for the TARDIEU-LAURENT was 15 months new oak, then 9 months in 1-2 year casks, total 24 months. For the JABOULET, it was 12 months in 20% new, 80% 1-2-3 year casks. The 1,520 bottles of TARDIEU-L stood alongside the 13,000 bottles of the JABOULET.
Unfortunately, there were below par bottles of the JABOULET ST PIERRE – some cooked, and lacking freshness. The best delivered a sturdy attack, thick juice – very 2009 - with punchy tannins, but the finish started to dry as it aired, and I had the feeling of a slightly fragile spine running through it.
The TARDIEU-LAURENT CORNAS was rich on both bouquet and palate, came with good ground force, real persistence. It gathered a good accumulation of juice on the close, was a sumptuous, sunny and full wine, real PATOU in style – so here vintage and terroir combined well. At the time, I wrote of 2009 at CORNAS: "2009 represents modern CORNAS above all, wines that are frequently fleshy, shapely and full of juice. In this respect, they resemble 1999, but winemaking has moved on since 1999, with the result that 2009 tannins are relatively riper than those of the previous decade." The T-L CORNAS delivered that message very truly 10 years on, and will run for at least another 20 years.
The other wines of the evening were still generally on vintage over terroir. They were
CROZES-HERMITAGE PJA DOMAINE DE THALABERT [a good ensemble, thick fruit, quiet complexity], a wine ahead of the CROZES-HERMITAGE T-L VIEILLES VIGNES [oak-caramel, polished, souped up, terroir under siege from oak]. Both were 14° on the label – up to 14.5° in reality – indicative of the heat of the year, and an unaccustomed level ten years ago.
SAINT-JOSEPH PJA LE GRAND POMPÉE [some fine grain, granite influence, but dull, advancing early, behind the SAINT-JOSEPH T-L VIEILLES VIGNES [refined, floral, elegant, oak better integrated than on their 2009 CROZES, a good example of 2009]
HERMITAGE PJA LA PETITE CHAPELLE [chunky wine, thick constituents, not much terroir, SYRAH from BORDEAUX, a bit common next to the HERMITAGE T-L [the elegant ease of the central zone, more personality, more detail and more genuine HERMITAGE than the PJA].
THE CONCLUSIONS
TARDIEU-LAURENT 3 PAUL JABOULET AÎNÉ 1
VINTAGE 2009 still in the driving seat, but local influence starting to emerge in well made wines. Any reader seeking a counterpoint year – when there is little to no weather masking – should head for 2012, 2014 or 2016, and, in older vintages, 2006.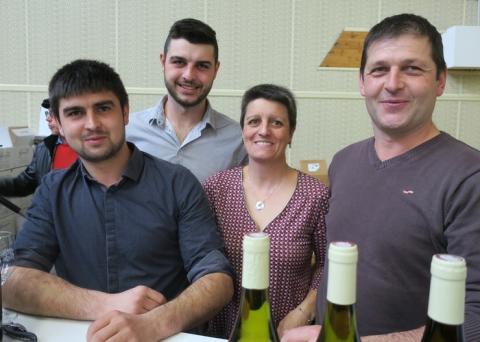 THE MYSTERIOUS CASE OF CLAIRETTE BLANCHE ON GRANITE IN THE NORTHERN RHÔNE
MARCH 2019
COLLINES RHODANIENNES VIN DE PAYS are the secret weapons of the NORTHERN RHÔNE, especially as prices for the main names continue to rise at pace. I receive numerous emails these days from readers wanting tips on travel and visits in the NORTHERN RHÔNE: for 40 years, there was complete radio silence!
The VIN NATURE movement has eschewed categories such as VIN DE PAYS – COTEAUX DE L'ARDÈCHE or COLLINES RHODANIENNES – in favour of VIN DE FRANCE, which allows greater liberty of grape variety use and mix. Their wines, and those of so-called conventional growers, ones who work organically and/or biodynamically, are closer together than once they might have been. Judging by domaines whose wines I have tasted recently – most based in the SOUTHERN ARDÈCHE - fruit quality is good, and it's an old canard to say that these wines may come at you all faults blazing. More on them will follow.
For now, I want to focus on an unusual wine that stirred my interest due to its composition. It is an IGP COLLINES RHODANIENNES from the DOMAINE DES AMPHORES, called DÉTOUR. This is a domaine that I visited a few times between 2000 and 2007 – fair quality, perhaps wines a bit pushed along - then it rather fell off my radar.
I bumped into the patron, PHILIPPE GRENIER, when out on my wanderings in 2018, and managed to see him late last year. The domaine and its wines have mightily grown up, the whites presenting a rocking good range, from VIN DE PAYS via SAINT-JOSEPH on to CONDRIEU. Son RÉMI is the winemaker at CHÂTEAU-GRILLET, while the GRENIERs' other son, SYLVAIN, works at DOMAINE MICHEL LAFARGE in VOLNAY. These are good portents.
Until 1994 it was a mixed farm, notably fruit with the raising of chickens and goats, before the switch to a vine and wine enterprise. The vineyards have been organic since 2002, and officially biodynamic since 2016 (although biodynamie has been practiced years before that). The prime soil type is granite, muscovite [mica] and biotite [white quartz, feldspar], hard, rocky granite above CHAVANAY.
The main AMPHORES vineyard is on RICHAGNIEUX, which is home to none other than the SOUTHERN RHÔNE's very own CLAIRETTE BLANCHE, vines dating from 1970 to 1972 that PHILIPPE took over in 2006. "My grandfather worked with CLAIRETTE in the day, as did many of his neighbours" says PHILIPPE.
Indeed, there used to be a tradition around CHAVANAY of growing CLAIRETTE. JEAN CHOL, the father of DIDIER CHOL, who sold his vineyard to OLIVIER DÉCELLE and his winemaker buddy PIERRE-JEAN VILLA in late 2017, used to produce two different CLAIRETTE wines, a semi-sweet and a méthode champenoise. JEAN had learnt how to make the latter in CHAMPAGNE, and started it in 1947, the domaine continuing it into recent times, satisfying a local market, particularly around Christmas time.
The DOMAINE DES AMPHORES COLLINES RHODANIENNES DÉTOUR BLANC is composed of 60% CLAIRETTE BLANCHE, topped up with 30% MARSANNE (2010) and 10% ROUSSANNE (1997). It is vat fermented at up to 20°C, vat raised, and bottled in May after the harvest, the malo completed. There are around 4,000 bottles.
"The CLAIRETTE from the granite leans towards the MARSANNE and ROUSSANNE's aromas, typically giving a floral, white flowers such as acacia, and white peach presence to the wine," comments PHILIPPE.
"The CLAIRETTE is harvested 15 to 20 days after the other two, often around mid-October. Its ripening comes along very quietly, so it brings freshness, while CLAIRETTE at 11° reins back the ROUSSANNE at 14°."
For it is true – the ROUSSANNE may in theory contribute elegance to local whites, but as summer sunshine intensity grows, so it lurches into high degree zones, jeopardising balance. It's a heaven-sent gift, therefore, to be able to temper it with nearly 50 year-old vine fruit from such an interesting, valid source that normally struts its stuff at CHÂTEAUNEUF-DU-PAPE.
The 2017 DÉTOUR expressed white flowers on the bouquet, and a touch of aniseed which I often associate with CLAIRETTE. It was well founded on the palate, held stylish, joli gras, with verve on the inside. There was then the bonus of the CLAIRETTE taking care of any typically bitter notes from the MARSANNE on the finish. "Rocking good VIN DE PAYS", I wrote. This can be yours for a meagre €8. Go long!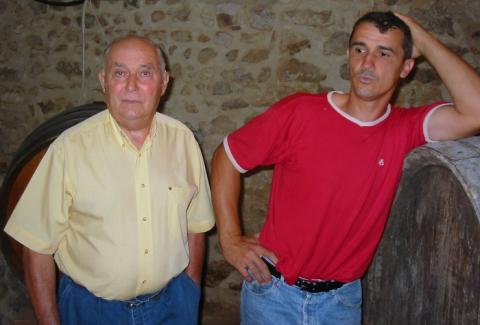 ENCORE UN VIGNERON QUI A COMPTÉ POUR CORNAS QUI NOUS QUITTE : RENÉ BALTHAZAR
FEBRUARY 2019
"One more vigneron who has counted for CORNAS leaves us" were the words of OLIVIER CLAPE to me in early February, 2019. He was referring to RENÉ BALTHAZAR, the father of FRANCK, 93 years' old, a man of the generation of AUGUSTE CLAPE and MARCEL JUGE, a decade behind the VERSET brothers NOËL and LOUIS.
In that handful of names resides much of the patrimony of CORNAS, men who stuck at it in the difficult decades, men who got up and went back for more toil each year on the steep, slippery hillsides, men who mostly worked away without being sure a child or family successor would take over the reins from them. Imagine all that effort, with no guarantee that one's work would lead somewhere.
When I first researched my book THE WINES OF THE RHÔNE in 1973 and 1974, I didn't meet RENÉ: his wine was sold to merchants, notably DELAS. I knew he cultivated 1910s SYRAH – SÉRINE – on the CHAILLOT vineyard, which his father had bought in 1930 after coming down off the plateau at ST ROMAIN-DE-LERPS to the more worldly delights of CORNAS.
The family had existed on a combination of cereal and vine. "My father was a corn thresher, and made his wine, too, with half the three hectares rented, the other half owned," RENÉ told me. "My father would sell the wine in the spring after the harvest to cafés, especially a big one at ANNONAY [home of the hot air balloon, which lies north-west further into the MASSIF CENTRAL]. I started a little bottling in the mid-1970s."
I placed RENÉ in the band of traditionalists, since he never destemmed [unlike colleagues such as GUY DE BARJAC, JEAN LIONNET, ALAIN VOGE], while raising was in demi-muids – 600-litres, all old – rather than the 12 hl foudres of CLAPE, or the 225-litre or 228-litre casks [pièces] of the VERSETs and MARCEL JUGE. Raising would run for around 18 months. He favoured the 600-litre casks since "they keep the wine's perfume better than the pièces." He would ultimately make about 3,000 bottles a year.
Over one hectare was on CHAILLOT, with 0.36 hectare near the village on MAZARDS, which held 1959 and 1961 SYRAH. This was indeed old vines' wine. In my book of 1991, I wrote: "a stiffer style of CORNAS than M. DE BARJAC's, very much the dark impulse wine of yore, is made by NOËL VERSET and RENÉ BALTHAZAR." This would always be presented to me in the stone-clad, tiny cellar near the Church, RENÉ one of the old generation of growers who let you taste in silence, proffering only an occasional observation.
By the 1990s, I knew of his fretting about whether son FRANCK would leave his engineering post in nearby VALENCE. FRANCK's arrival on the domaine in 2002 was therefore a cause of deep-seated pleasure for Dad - nothing spoken, just a glow of satisfaction would emanate from him.
The fact that FRANCK has made very good wine from an enlarged vineyard will have furnished him with much contentment, as well as the fact that FRANCK's CHAILLOT cuvée bears the classic floral airs of the CHAILLOT vineyard - a successful transfer of the baton from Père to Fils.
Quiet and retiring as he was, RENÉ made wines that I considered to hold a solid structure, with the development of an interesting complexity as they aged. He was a pillar of CORNAS through the dark days, and I salute both him and his family for their tenacity and achievement, allied to his enduring sense of modesty. ADIEU, RENÉ.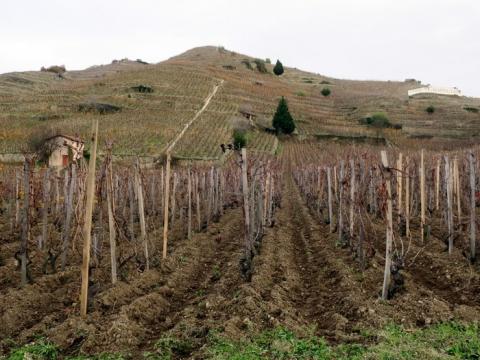 HANDLING THE HEAT
JANUARY 2019
The vineyard challenges faced by growers have multiplied during the second decade of this millennium. Back in the good old twentieth century, a grower could rely on a rule of thumb that 100 days after flowering, harvesting would take place. The crop would average around 13° if it were SYRAH in the NORTHERN RHÔNE, and around 14° if it were GRENACHE in the SOUTHERN RHÔNE.
If 2018 is a precursor of a more regular pattern of events, that rule book can be scrapped immediately. The boundaries have enlarged enormously. Now SYRAH at over 15° is occurring at HERMITAGE and CROZES-HERMITAGE, while at CHÂTEAUNEUF-DU-PAPE growers are looking for options such as COUNOISE, reverting to CINSAULT that was encouraged in the 1960s, or banking on MOURVÈDRE to tone down GRENACHE NOIR crop coming in at 16°.
However, the accepted norms in the vineyards are having to change – and fast. It is no longer an easy option to avoid soil working. PHILIPPE GRENIER has worked biodynamically at the DOMAINE DES AMPHORES for his SAINT-JOSEPH and CONDRIEU since 2002. Referring to the extraordinary "game of two halves" of 2018 - a lot of rain, then a lot of heat - he recounted: "there was rot pressure in 2018 in June because of all the rain, but we were on top of the mildew. Then, our working of the soils avoided evaporation later in the summer when the heat really rose."
Far away from the RHÔNE in distance, but not in spirit, CHRISTOPHE BARON of CAYUSE vineyards [and HORSEPOWER, BIONIC FROG and others] spotted basalt lands on the OREGON-WASHINGTON STATE border in 1996, and planted SYRAH and GRENACHE on what had been hillside orchards before. He, too, has adapted his working methods in the intervening time.
"You have to work the soils. We have no rain during the summer. It's so hot that things can't grow, but if you don't work the soils, you have a crust that leads to more evaporation. With 10-15 cm of loose soil, you create an insulating pad. I use a pulley system to work the soils that I bought in AMPUIS at CÔTE-RÔTIE. What I have changed from around 2005-06 is to keep the leaf canopy, since the bunches must be in the shade, and I also harvest a bit earlier."
Even grass between the rows can be problematic, XAVIER GÉRARD at CONDRIEU pointing out that "in 2017 we had so much rain in the form of storms that it became very tricky for growers in late summer, those with grass growing rampantly between the rows."
GAYLORD MACHON, a young and promising grower on the flat land vineyards of BEAUMONT-MONTEUX at CROZES-HERMITAGE, is questing for the right path, and gave me his take on vineyard practices: "I grow grasses one row in two. I had tried organic for half the vineyard in 2017, and wanted to be fully organic in 2018, but found that I was treating the vineyards every two to three days in the wet spring-early summer, which left a poor carbon footprint.
As a result, I am now going to be HVE – HAUTE VALEUR ENVIRONNEMENTALE, which calculates the big picture of treating the vines, along with the impact for flora and the fauna. That means that I hope to be able to use just one synthetic treatment a year, and go through the vineyards with a treatment every two to three weeks, not every two to three days."
Working organically since 2009 and biodynamically since 2015, SÉBASTIEN GIRARD of DOMAINE DE LA VILLE ROUGE at CROZES-HERMITAGE has also changed his approach to growing grass between the rows on his LES CHASSIS vineyards. "Before 2008, I grew grasses along every row, but since then I have cut back to one row in three – it was too wet to get into the vines after any significant rain, and I was finding you no longer had a smooth lawn of grass effect.
That's why I now sow different clovers that serve to nourish the plants with nitrogen through the year, while barley helps to dry the soils. As for the harvest dates, 100 days doesn't really apply now – flowering in the first week of June and harvest starting early September in 2017 and 2018 comes out at around 90 days, and nearer 115 days for 2016 when the harvest was in late September."
Other respected growers are changing their approach to harvesting dates. JEAN-LOUIS CHAVE from HERMITAGE tells me that "the best decision I took in 2018 was to harvest early on my whites. People looked at me with amazement, as I was harvesting before the CAVE DE TAIN! I had a pH of 3.6 and a degree of 13.5°; that would have changed to 3.8 pH and 15.5° in a few days. We even harvested on a Sunday, the DAY of the SEIGNEUR. We'd only done that once before, in 1994, which was in effect a reaction to the 1993 experience [torrential rains]."
THIÉRRY ALLEMAND has for long been one of the first to harvest at CORNAS [along with the CLAPE family]. He tells me: "I want to revert to wines at 13.5°, instead of 14° to 14.5° which is so usual these days – so I am harvesting earlier." THIÉRRY started his 2018 harvest on 3 September.
An observation from MAXIME GRAILLOT on the plain of LES CHASSIS at CROZES-HERMITAGE was also revealing in the longer context. "Since my Dad arrived in 1985, we had never harvested in August [the white crop] until 2009; since then we have harvested in August as well in 2011, 2015, 2017 and 2018."
The old rule book of wines averaging around 12.5° to 13.5°, with pH levels at 3.5, has been thrown out of the window recently, and the race will be won by those who are flexible in spirit, mind and practice. The juggernauts of the wine industry will be the losers, except that they will add water, adjust acidities and mess around with the "product" in the cellar, much to the detriment of drinkers who do not stick to trusted family domaines.
On which note, A HAPPY 2019 TO ALL READERS AND SUBSCRIBERS!