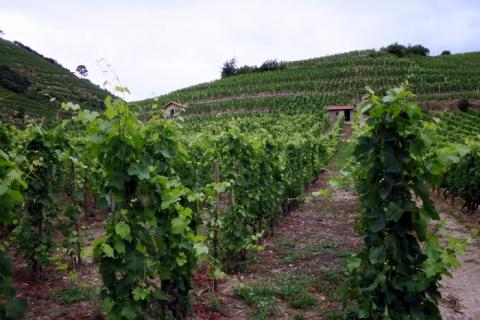 TRUE ASCENSION TAKES DECADES
DECEMBER 2018
It may not be the month of MAY, but the 80th anniversary of the appellation CORNAS that is being celebrated in late NOVEMBER/early DECEMBER 2018, prompts thoughts about just how long it takes for a wine village to ascend to the heights of having its own CRU, and to be recognised for its true worth, a pairing whose parts do not naturally run along the same timelines.
In the RHÔNE, the Daddy appellation is CHÂTEAUNEUF-DU-PAPE. It was there in 1923 that the first French regulating laws were devised for table wines led by the BARON LE ROY of CHÂTEAU FORTIA – laws aimed at safeguarding CHÂTEAUNEUF from trafficking and general abuse, the first item of which stated: "only land capable of bearing lavender and thyme was to be cultivated, these two plants preferring an equally poor soil to the vine." This charter led into the national laws of appellation, which were formally instituted across FRANCE in 1935, CHÂTEAUNEUF-DU-PAPE joining in on that in 1936.
Politics and influence played a prominent role in the development and recognition of wine villages in the first half of the twentieth century, with BARON LE ROY the hero or villain according to your standpoint. He gave the green light to TAVEL, right across the RIVER RHÔNE from CHÂTEAUNEUF, to become its own appellation in 1935 – after all, it was ROSÉ, so presented no threat to CHÂTEAUNEUF! His hero status was confirmed with the TAVEL vignerons voting him PRESIDENT of their Union.
Meanwhile, at GIGONDAS, things were different. Growers would go cap in hand to the INSTITUT NATIONAL of APPELLATIONS d'ORIGINE – co-founder one BARON LE ROY – and ask for the right to ascend to their own appellation cru, away from the bottom of the pyramid, catch-all CÔTES DU RHÔNE designation. The answer, as CHARLES DE GAULLE said more than once in his life, was a resounding "NON".
Unlike TAVEL, GIGONDAS and its red wines presented a threat to CHÂTEAUNEUF-DU-PAPE. PRESIDENT of the INAO from 1947 until his death in 1967, LE ROY held the whip hand, prompting the then MAYOR of GIGONDAS, ROGER CHAPALAIN [DOMAINE DE LONGUE TOQUE] to record, with irony: "if we could prove that some POPE drank GIGONDAS, we would have our AOC appellation, and we would no longer be a CÔTES DU RHÔNE".
LE ROY's eventual passing was actually hailed by one of the GIGONDAS Committee when he wrote: "June 22, 1967, M FRANÇOIS AY announces to the Council that since the death of BARON LE ROY (this person having done a most beautiful thing for GIGONDAS, that is to kick the bucket, without any regret for us - on the contrary), the moment seems favourable for application of the noble appellation GIGONDAS." GIGONDAS duly ascended in 1971, after 35 years of obstruction and delay, decades that were injurious to investment in the vineyard and cellars, injurious to the livelihoods of the growers, and damaging in placing GIGONDAS in the category of just another country wine.
In my lifetime, I have known CORNAS as a lowly drink at the bar country wine, while the merchants of HERMITAGE hoovered up hectolitres from domaines Cornasiens to place in their blended marvels such as the HERMITAGE LA CHAPELLE, or merchants from SAINT-PÉRAY such as EUGÈNE VÉRILHAC cherry picked excellent young wine for what was always a prized CORNAS under his colours. The presence of two barrelmakers at CORNAS attested to the shipping out of the wine in anything but bottle: such economics dictated a subsistence existence for most vignerons and vigneronnes of CORNAS, despite its status as an appellation since 1938.
I would say that it is only since 2010-12 that things have really taken off economically for CORNAS, although much of the heat around the price of its wines has centred on old ELVIS THE LEGEND bottles from deceased growers such as NOËL VERSET, or bottles from the 1980s and 1990s, whose current price is of no economic use to the growers today.
When considering the purchase of some vines at CORNAS in 2006, I researched the price vis-à-vis its most aligned appellation, namely HERMITAGE, since I felt CORNAS to be much underestimated. The price per hectare on LA GENALE, right in the best pound seats of the appellation, with a south facing granite slope planted in 1920s SÉRINE, a stream at the bottom, more rugged soils at the top, was the equivalent of a climat such as TORRAS ET LES GARENNES [alluvial, glacier soils] below the village of LARNAGE in the far east end of HERMITAGE, a spot closer in quality to CROZES-HERMITAGE than HERMITAGE in my view.
The decision to purchase at CORNAS, even setting aside the emotional ties I hold to the village and its growers, was straightforward. My children would have vines, rather than just books to remember me by, and that, surely, is the best of legacies – something running over a matter of decades – in fact just as long as it takes a wine village to achieve recognition and its true worth.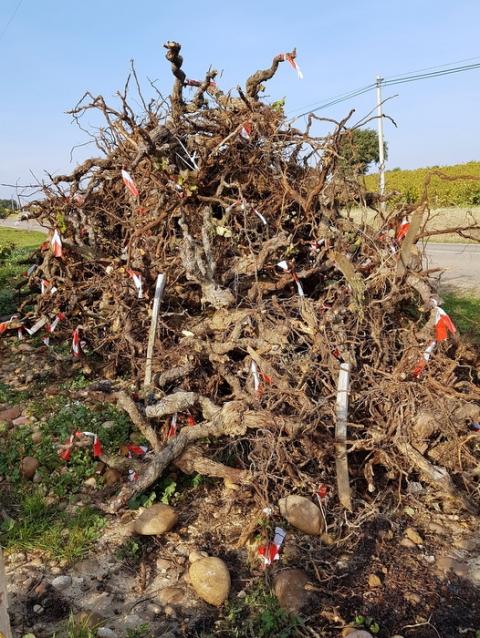 WHAT WOULD YOU PLANT?
NOVEMBER, 2018
No sooner are vinifications finished, than off growers head once more into the vineyard to extract vines earmarked for the chop – they can be too old, or suffering from ESCA [a fungus that eats away at the wood of vines] or be SYRAH that is in bad shape from what is known as dépérissement [wasting away]. In the latter case, bright red leaves in autumn are a signal, as are crevasses or indentions in the vine wood leading them to gradually die. It is thought that vine grafting in part creates this problem, which is linked to clones, with some clones more susceptible than others, and to rootstock grafting, with the RIPARIA 110 & 99 graft the most vulnerable.
Heavy rain – several inches in a few days - in the last week of OCTOBER, 2018 did at least facilitate the digging out of the dead or very old vines. The replacements will be planted in the early spring, 2019. However, the extremity of the past two vintages has served to intensify the debate over what should be planted.
"Things are hurtling along now," comments LOUIS BARRUOL of CHÂTEAU SAINT COSME at GIGONDAS. "Every year now, the approach of the grower is having to be more and more fine tuned, because of the extreme weather - drought, very high heat, seasons out of sync and so on. You can think it's best to go up the hillside for fresher conditions, but you may be on a south-facing slope, which takes away some of that advantage. The micro-climate in each vineyard will be important."
JEAN-PIERRE MEFFRE of DOMAINE SAINT GAYAN, also at GIGONDAS, has always been a keen weather watcher. He told me: "The Mediterranean at SAINTE-MAXIME, where my sister lives, is 21°C, instead of 14°-15°C – it was 28°C at the end of the summer, unheard of. With no MISTRAL wind this summer to turn the waters over, and bring the cooler water up from the depths, we are subject to these ÉPISODES CÉVENOLS – flooding in the AUDE, GARD and VAR départements, all along the Mediterranean, in fact – between the end of AUGUST and DECEMBER."
"MAY 2018 was abominable with the onslaught of mildew after the wet spring. In a normal year, there are four to five days of mildew contamination; in 2018, there were 21 days of contamination. I know of one big estate at CHÂTEAUNEUF-DU-PAPE which treated the vines 22 times – in CHAMPAGNE, 15 times is already a lot!"
Certainly, the mildew in 2018 savaged the GRENACHE NOIR. After the coulure [flowers failing to convert into fruit] in 2017, it was the second consecutive year of near disaster for the region's staple variety. By contrast, the MOURVÈDRE stood up better to the mildew in 2018, which was a saving grace for high quality organic properties such as CHÂTEAU DE BEAUCASTEL and CLOS DES PAPES. CÉSAR PERRIN of BEAUCASTEL remarked: "we had the luck of the MOURVÈDRE to bring complexity in 2017, while we now only prune the GRENACHE on biodynamic calendar fruit days, which has helped to restrict the incidence of coulure. The MOURVÈDRE has played a starring role the past two years."
"I am more and more worried by the GRENACHE," admits VINCENT AVRIL of CLOS DES PAPES. "Our spring cleaner was the MISTRAL wind, but that has been absent in the rainy springs recently. The MOURVÈDRE is now approaching 40% of our blend; I am glad we have had 20% of it since 1979, and that I increased it to 30% in 2001-2003, not just the other day."
Hence MOURVÈDRE is more likely to be the vine of choice for replanting, but it must have its roots in humid soils, and stand in a sunny position. It does not do well in sandy soils – as opposed to the GRENACHE – nor does it do well fringed by trees and woods, which is why there is no MOURVÈDRE at CHÂTEAU RAYAS.
As for JEAN-PIERRE MEFFRE, he is taking a novel slant on his replanting of the 0.75 hectare he owns on JANASSE at COURTHÉZON in CHÂTEAUNEUF-DU-PAPE. "I am going to be the only domaine making noting but white wine at CHÂTEAUNEUF-DU-PAPE! I replanted this year, with 50% CLAIRETTE ROSE and BLANCHE, 20% PICPOUL [not prone to mildew], 15% GRENACHE BLANC and 15% BOURBOULENC. It's too hot for ROUSSANNE, which gets too ripe, and the CLAIRETTE is an ideal base for the wine, well adapted to the region."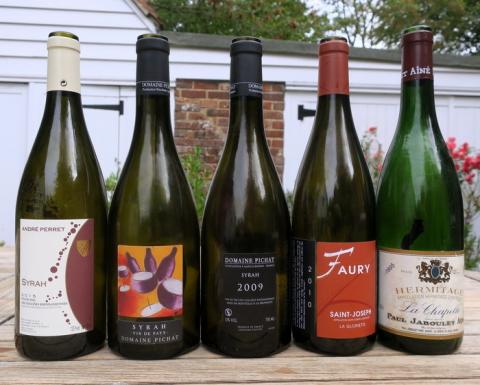 ORCHESTRATING THE WONDER OF WINE
OCTOBER 2018
When my daughter MARINA proposed the visit of some of her young friends for the weekend recently, expressing their wish "to taste and learn about some nice wine", my thoughts turned to what could be served. There were to be three meals, a Friday night dinner [salmon en papillote with shredded leaks, cheese such as Comté, Jarlsberg, Camembert], a Saturday night session [home logs barbecued chicken cuts and sausages] and a Sunday lunch [roast beef with Yorkshire pudding].
The opener was themed on WHITE RHÔNE, young and mature, from the SOUTH. This was a chance to serve wines that they would not normally encounter on wine lists in LONDON, and to show the wines' suitability for being drunk with food, à table, rather than solo in a wine bar. To illustrate the evolution of these multi-varietal wines, there were two 2017 LIRAC BLANCs, followed by two 2009 CHÂTEAUNEUF-DU-PAPE BLANCs from across the RIVER RHÔNE, a path of no more than about five or six miles if your average crow flew in a straight line, with similar galet stone soils involved in both instances, and pockets of sand, as well.
There was a vintage association as well: 2017 – dry and hot, 2009 – baked sunshine, drought also. The one shift between the two vintages was greater sophistication in the farming of the vineyard [canopy management to preserve leaf cover rather than slavish dropping of leaves to achieve ripeness, before realising that ripening was in excess], the timing of the harvest, its execution [night-time versus the day] and in the cellar with more exact temperature control, more attention to minutiae, including inert conditions for bottling. In broad terms, growers these days work for greater and more obvious freshness than they did in the 2000s.
The LIRACs were set up to show two different styles, based on the varieties involved. Hence the 2017 CHÂTEAU BOUCARUT, 75% ROUSSANNE, 25% VIOGNIER, was supple, rounded, fat, low in acidity, a joli do, while the 2017 CHÂTEAU MONT-REDON, 45% GRENACHE BLANC, 25% CLAIRETTE BLANCHE, 20% ROUSSANNE, 10% VIOGNIER, was more solid thanks to the GRENACHE and the CLAIRETTE, carrying well along the palate, capable of living longer than the BOUCARUT. Steamed fish for the former, the latter capable of going well with pork, white meats, for example.
Next came the 2009 CHÂTEAUNEUF-DU-PAPE DOMAINE SAINT-PRÉFERT, 85% CLAIRETTE ROSE & BLANCHE, 15% ROUSSANNE: bearing in mind the high heat of the summer, this was remarkably fine, held excellent length, was stylish, even resembling a mature white Burgundy, its freshness delivered with a pitter patter of detail. Grand Vin, a notch ahead of the 2009 CHÂTEAUNEUF-DU-PAPE DOMAINE DE LA RONCIÈRE, 60% GRENACHE BLANC, 25% CLAIRETTE BLANCHE, 15% ROUSSANNE.
The latter, the RONCIÈRE, was another testament to the wholesome nature of the two varieties that best sum up SOUTHERN RHÔNE whites down the years, the GRENACHE BLANC and CLAIRETTE BLANCHE. Rich, oily, more reserved on the palate than the slightly advanced bouquet, the vintage in a nutshell thanks to its close-packing, solid foundation. Touches of sherry, Amontillado were accompanied by good spine, shape. This was not a straightforward wine for the young team, but once it was alongside the cheese, the lights came on.
The Saturday evening was NORTHERN RHÔNE night. Pointing out that all these wines were made from a single variety, the SYRAH, it was time to present a glimpse of the hierarchy of soils, and evolution of wines across a span of 20 years, the chosen vintages all very high quality. First off was the 2015 VIN DE PAYS DES COLLINES RHODANIENNES of ANDRÉ PERRET, derived from 1980s SYRAH grown on sandy soil on the plain close to the SAINT-JOSEPH hillside appellation. We then ascended the hills to granite soils via two vintages of VIN DE PAYS DES COLLINES RHODANIENNES with more age, these from STÉPHANE PICHAT, the 2010 and the 2009, so a foray into 2004 SYRAH on the CHAMPON site at CÔTE-RÔTIE a little way north. Next, a step up to the 2010 SAINT-JOSEPH DOMAINE FAURY LA GLORIETTE to indicate more noble terroir and older vines [1949, with 1981], ending with the majesty of terroir and origin, the 1995 HERMITAGE LA CHAPELLE, observing that this was an extremely vintage-faithful wine, and one blended from different plots around the mighty hillside.
A little step up at a time in terms of complexity and profundity was taken, the coursing black fruit of the 2015 PERRET giving way to the more mature, cool, mineral tones of the 2010 VIN DE PAYS PICHAT, and the savoury, slightly meaty sun-filled notes of his 2009. All three were excellent examples of their genre, allowing the observation that buying the "small" wines from a good domaine affords value and rewarding drinking, as do the BOURGOGNE Village-level wines from top growers such as GHISLAINE BARTHOD or SYLVAIN CATHIARD.
The 2010 SAINT-JOSEPH was broad, long, fulfilling, with the wonderful 2010 balance and freshness streaming through it like little sparks of a shooting star, a young wine, full of running. The 1995 LA CHAPELLE is a wine I adore and respect, way better than most of the 1990s in LA CHAPELLE, outside the 1990, of course. It still carries its dry vintage imprint, with lithe content and fine fibre tannins along its sides. While the bouquet offered a free run of changing prompts, including meat stock, cinnamon, raspberry coulis, the palate carried some vintage reserve to this day, derived from the dry conditions of the year, a vintage when, if the rain had fallen three weeks before the start of September, when it finally came, "could have been exceptional" according to GÉRARD CHAVE: this was a CHAPELLE still more strict than generous, but intricate and provocative.
Sunday lunch was the chance to go straight into exceptional bottles in their category, starting with the 2010 CÔTES DU RHÔNE LIEU-DIT CLAVIN of DOMAINE DE LA VIEILLE JULIENNE, where the vineyards lie across a track from CHÂTEAUNEUF-DU-PAPE – the same principle as the selected VIN DE PAYS wines. A great vintage at a very competitive price here, a wine that is young and vibrant, with the cool, sustained tenor of organically worked vineyards.
Then the contrast and compare moment, served blind, the 1999 MARGAUX CHÂTEAU RAUZAN-SÉGLA, followed by the 1998 CHÂTEAUNEUF-DU-PAPE PIERRE USSEGLIO & FILS. The silken pathway and nobility of the BORDEAUX, so different, so svelte, so polished beside the more rugged, spice-laden box of tricks of the robust, mature CHÂTEAUNEUF-DU-PAPE: the Atlantic alongside the Mediterranean.
Droplets of enthusiasm, streams of reflection, and caches of understanding were my hopes for the young generation by the time the weekend concluded. BONNE DÉGUSTATION!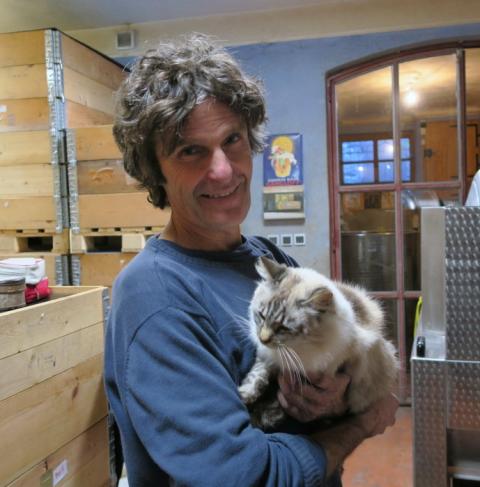 COMETH THE HOUR, COMETH THE HARVEST
SEPTEMBER 2018
NEWS FROM THE VINEYARDS
NORTHERN RHÔNE
The drought has hit areas such as CÔTE-RÔTIE and CONDRIEU, the vineyard taking a hit two years running. Hence there is an unbalanced ripening for the VIOGNIER at CONDRIEU, while the SYRAH is presenting different levels of ripening even within a single plot. However, the mildew attacks have been less deplorable than those of the SOUTHERN RHÔNE, since domaines have the equipment to spray while walking through the vines with a backpack. At CHÂTEAUNEUF-DU-PAPE, as NORTHERN growers have pointed out, they couldn't get their tractors into the soggy vineyards to treat the vines, and had no second option.
CONDRIEU, CÔTE-RÔTIE
YVES GANGLOFF: "it's been so hot here, and rain that we needed hasn't come. The last rain of consequence was 15 mm [0.6 in] in the first week of August. Only five miles down the road at CHAVANAY, for their CONDRIEU and SAINT-JOSEPH, they had the right cloud over them that day, and received 50 mm [2 in]. So that was frustrating. Degree is high on the VIOGNIER, 14° to 14.5°, but you have the case where the vine next door, a bit less in the sun, for instance, has VIOGNIER at only 10° to 11°.
The concentration in the grapes this year is through the drought rather than the ripening process, so there are dehydrated grapes in play – they may have 14°, but aren't ripe. We've had to contend with this sort of challenge off and on over the last 10 years, but 2018 follows 2017, making two very hot and dry years in succession. 2017 was helped by having the more temperate and rainy 2016 preceding it. At CÔTE-RÔTIE, the southern areas of TUPIN with shallow soil terraces and granite have resisted the drought less well than the schist vines of the northern sector. I will start the harvest gently next week, from 10 September."
CORNAS
GUILLAUME GILLES: "I start my harvest tomorrow, 4 September. The CLAPES and THIÉRRY ALLEMAND were harvesting today. I am stunned, really, since the juice in the grapes is very coloured and very aromatic. The SYRAH degree was 13° last week, with acidities not very high. The grapes aren't very big, their size irregular. There has been some drought on CHAILLOT. Mildew may have meant a loss of 5%, but the real crop loser this year was the combination of a lack of juice from the drought, the high heat, and a budding that wasn't very abundant. Over at SAINT-PÉRAY, quality and quantity both seem good for their whites."
CÔTE-RÔTIE, CONDRIEU
JEAN-MICHEL GÉRIN: "2018 continues the run of years since 2009 where we have harvested a precocious crop, around the first week of September, with few exceptions, just 2016, really. We are starting our CÔTE-RÔTIE on 6 September, with the SYRAH on LES GRANDES PLACES at 13.9°, and on VIALLIÈRE at 13.6°. The pips are very, very ripe, and the analysis shows the polyphenols - tannins – have extremely high potential. There are well developed aromatics given the ripeness of the crop. We aren't yet at the stage where the grapes lose weight, so things are stable for now. The CÔTE-RÔTIE SYNDICAT has asked for a yield of 44 hl/ha this year. At CONDRIEU, we are further behind, with VIOGNIER on LA MALADIÈRE at 12.5°, so we will be harvesting that on 10 September. The SYNDICAT at CONDRIEU has requested a yield of 46 hl/ha. If I achieve 40 hl/ha, I will be happy."

CROZES-HERMITAGE, CORNAS, SAINT-JOSEPH
MAXIME GRAILLOT: "I harvested my white CROZES crop last week, 47 hl/ha, and very happy with that because some freshness was retained. The fermentations are going along nicely now. Our SYRAH today is at 13° to 14.2°. and we are starting to harvest that on 5 September. Colour in the juice of the grapes is good, the weather is fine, and the yield is around 40 hl/ha, so it's time to go.
2018 has a similar profile to 2017 – the temperature and weather of the summer and the harvest dates – the whites 28 August in 2017 and 29 August in 2018, the reds on 6-7 September in both years. The main difference is the slightly higher rainfall of 2018, with a very helpful 23 mm [0.96 in] in July. 2018 will join 2017 as a hyper charming vintage.
Over at CORNAS, the SYRAH [1960s] on LA CÔTE for the CORNAS equis is 13° to 13.2°, and the yield a maximum of 35 hl/ha; there's been no stress there, while the SYRAH for the SAINT-JOSEPH equis from SAINT JEAN-DE-MUZOLS has suffered from drought on the slopes there, so the crop isn't very big."
SAINT-JOSEPH
JEAN GONON, DOMAINE GONON: "well, it's been hot, very hot! Mildew surged forward in the second half of June, having lain low in incubation, even with fine and dry weather. The rain on 5 August or so was super after extreme heat up to 36°C in the shade of our courtyard in the preceding days, which meant we could only work in the mornings, so hot was it. There was a little August rain after that, so we were saved in effect, since there had been the start of blockage on the ripening. As it is, acidities are low. The SYRAH is a bit more balanced than the whites, where the ROUSSANNE is at 13° to 14°, the pH already at 3.6 – so we're harvesting that soon. The SYRAH is around 13° and consistent across the vineyard, the fruit tasty, but the stems still green. We'll harvest that towards 13-14 September. The 2018 yield is higher than 2017."
SOUTHERN RHÔNE
The white grape harvest is under way across the SOUTHERN RHÔNE, with growers pointing to low acidity in their crop. The picture generally is overhung with the bleak reality of mildew having decimated certain domaines for the 2018 harvest. It's been a case of missing out on one treatment, and suddenly the mildew was galloping away into the sunset. The result for some is virtually no crop.
Otherwise, the harvest quality is good across the red grapes, as growers wait for ripening to come together. From various appellations, here is the latest news.
BEAUMES-DE-VENISE
ISABELLE DE MENTHON, CHÂTEAU REDORTIER: "well, the summer saw extremely high and uncomfortable heat, so the good rainfall of 80 mm [3.2 in] in August encouraged vegetation; the vines had been holding up well, anyway. Here up high at SUZETTE [350 metres] we don't have large bunches, and they are well aired, so we have avoided the rot that appeared low down on the plain vineyards. Mildew has been severe across the region, with some domaines producing zero GRENACHE, and magnificent SYRAH, which will change the blends. It's been a tough year for organic domaines with all the mildew. We are 10 days behind 2017, and will probably start the white harvest towards 25 September."
CAIRANNE
DENIS ALARY, DOMAINE ALARY: "we were one of the few harvesting ROUSSANNE last week, also GRENACHE BLANC. Acidity isn't very high, and their degree was 13.5° to 14°. We will be cutting the SYRAH from 10 September, the GRENACHE the week after. Mildew has reduced the harvest level; I would estimate a loss of 20% across the appellation. The 120 mm [4.8 in] of rain on 9 August came as the vineyards were starting to stress from the dry conditions; it was followed by days of MISTRAL wind, then good heat. That served to put back the harvest by a week, which was very beneficial. Even my VIN DE TABLE harvest is in good shape, with no rot. There's rain coming in a few days, so we have to be vigilant."
CHÂTEAUNEUF-DU-PAPE, RASTEAU, LIRAC
PATRICK BRUNEL, CHÂTEAU DE LA GARDINE: "we have survived the onslaught of the mildew, unlike some domaines in the COURTHÉZON [North-East] and also SORGUES [South-East] sectors. I have spoken to growers here and at RASTEAU who have virtually no crop, which is appallingly sad. If you missed out on just one treatment, you were stuffed. We had the luck to take the right decision on treating the vines. There was rain all through the month of May, with wind or MISTRAL NOIR following the rain, which impeded spraying, and was also rain bearing. The dramatic attack came at the end of May, early June, and life was very tricky for organic producers.
Our rain on 9 August was 100 mm [4 in]. The white harvest started to rot, and we had to work on the leaves. We have picked ROUSSANNE at 14°, and left rotted crop in the vineyards. The harvest is handsome, but I feel we have to act fast now. Our SYRAH is at 13°, the GRENACHE at 13° to 13.5°. Quality in our vineyard at RASTEAU is pretty good, though there are some domaines very badly hit by mildew there as well. The lest affected by mildew this year is our vineyard at LIRAC, across the river from here. We now have 10 hectares set up for irrigation there, and that was used especially in July, when the vines were really suffering. There has been some millerandage [shot berries] on the whites, but the SYRAH is good, and colours are dark on the reds."
GIGONDAS
DÉLPHINE FARAUD, DOMAINE DU CAYRON: "the harvest is small, what with the rain all through May – falls of 60 mm (2.2 in] and 40 mm [1.6 in], and not much Mistral wind, leading to mildew. There had been coulure (flowers failing to convert into fruit) before that, the rain hitting the flowers. At present, our laboratory analysis states that there is a marked imbalance between the acidity, tannin and degree, and the grapes need to concentrate. The vintage profile is similar to 2017, though we are one week later this year. We look like starting the harvest on 20 September."
VACQUEYRAS
GUY RICARD, DOMAINE LE COUROULU: "I harvested my VACQUEYRAS white last week; we were only two or three harvesting, SANG DES CAILLOUX one of them. Now I am on my VIN DE PAYS red grapes including MERLOT. I will start the VACQUEYRAS GRENACHE on 10 September. I have no complaints with my yield at 35 hl/ha, having avoided the worst damage from mildew. I did a lot of treatments against it, including two on Sundays, which I think tipped things in my favour. The GRENACHE is 13.5° to 13.8° now, and the vines look magnificent. The 100 mm of rain [4 in] on 9 August was crucial. Of course, it's no surprise that acidities are catastrophic, the ROUSSANNE and GRENACHE BLANC on 2.95 Total Acidity, although their pH is OK. I expect next week to see most domaines harvesting."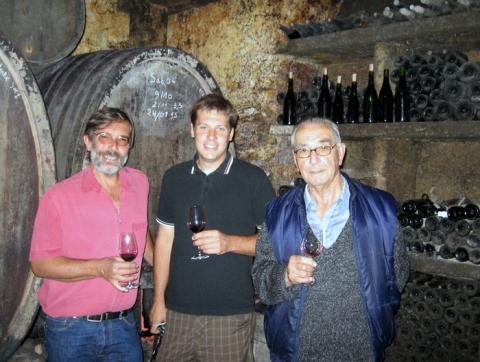 A TRUE HERO, 13 JULY 1925 TO 13 JULY 2018
AUGUST 2018
AUGUSTE CLAPE
The news I had been dreading for some time came in mid-July. "AUGUSTE nous a quitté", wrote his grandson OLIVIER CLAPE. AUGUSTE had had an operation earlier this year, and had been living in the retirement home of LES BAINS in SAINT-PÉRAY, whose cedar tree's roots used to disrupt play on the tennis court when TIM JOHNSTON [JUVENILES, PARIS] and I did battle in the early 1970s, when it was the local hotel, the HOTEL DES BAINS.
AUGUSTE had remained alert throughout his final months. Even in his nineties, he would come out to greet me and ask me my opinion of the current vintage; he lived above the timeless cellars, where he had spent so much of his rewarding and fulfilled life. Until about a year ago, he would go down in the lift and taste the wines plot by plot, his antennae always on the prowl, his mind working on what would constitute an artful blend.
My memories cluster around his wisdom, and his precious ability to see the long view, the context, be it in the handling of the vineyard, or in the vinification of the wine given the year's specific circumstances. He used to emphasize that his most important decision in any vintage was to decide upon the harvest date. "The chef can go back into the kitchen and re-do the sauce when it hasn't worked out, but I don't have the same luxury," he would tell me.
There were two other attributes that are worth commenting upon; tenacity and temperament. The tenacity was never more apparent than in the early 1970s, when the fortunes of CORNAS were as low as they could be. That was a time when ROGER CATALON spoke to me of his vineyard being abandoned after being made a Prisoner of War near TRIER. "I managed to escape, and came straight back to my boulot [my work]."
ROGER had made his first wine at 13, and spoke of the 1940s as being lost years for CORNAS – "the cafetiers of VALENCE and VIENNE would take our wine as VIN de CORNAS, but they really only wanted wine of no more than 11° to get their customers to drink more – we were selling wine passed up and down the zinc counters in those days." I first met ROGER in 1973, a man in his early 60s then, when he told me "I'm all by myself; I'd like to bottle, but cannot. What else can I do but sell my wine to merchants?" Imagine an appellation that had stayed still, or even declined, for four decades – that was CORNAS.
AUGUSTE took on the hegemony of the local Merchant Houses, believing that home bottling was the way to go. He did sell a little to the Merchants, notably some hectolitres of his 1961 to LOUIS JABOULET, "wine that went into LA CHAPELLE 1961," as he recounted with a typically wry smile. His 1971 was the first vintage that I got to know at first hand, and it was a marvellous, full-bodied creation, with what today would be praised as a commendable freshness running through it. Whole bunch fermentation was the norm then as now, the vinification taking around two weeks.
At the time AUGUSTE still grew some barley; growers needed whatever source of income they could find. In his early years of marriage, post 1949, he had been involved with the polyculture of his wife HENRIETTE ROUSSET. Beyond her five hectares of vineyards, 3.5 of them within CORNAS, there were apricot trees, cherries, cereal, cows: much to do, and a full year of toil from 1 January onwards.
The belief in CORNAS never wavered, with battles fought against land developers, allied to rustling up the morale of his fellow vignerons, the young ones in the 1970s numbering precisely two – ALAIN VOGE and ROBERT MICHEL. Running the FOIRE of the SYRAH and the ROUSSETTE – today's MARCHÉ DE CORNAS – was another community task keenly undertaken. The 1973 version ended, as I recall, at around 02.00 hours in his cellar, stretchers on hand to carry out the survivors!
As for temperament, AUGUSTE was unflappable, rock steady. A good listener, and not a man to overtalk any situation or observation. In The WINES of the NORTHERN RHÔNE, I wrote: "AUGUSTE CLAPE is the arch example of a man whose wines are always faithful to their vintage, their style in tune with what the weather and growing conditions have delivered. A refusal to intervene too much brings the benefit of letting the vine sort out its cycles over time: years of drought, of abundant vegetation, of copious flowering, and so on are guided by observation, thought, and then deft touches."
Son PIERRE-MARIE joined AUGUSTE on 1 May, 1988 [when AUGUSTE was 62]. PIERRE's first work was mainly in the vineyard, while AUGUSTE's last vinification was the 1989. The transfer of the baton was seamless, including that from PIERRE to his son OLIVIER, who recalls learning from his grandfather "as we went along, during the vinification, for example, tasting as it happened, capturing the idea of the vintage. I also tied the vines and pruned them with him at first, along with my grandmother, who used to prune the very old vines on LES MAZARDS near the village."
Among the many vintages I have experienced, I would highlight a group that defined AUGUSTE's skills, whatever the conditions. In the annals these are often regarded as Small Years, when the growing season was testing, tricky. Among these hidden gems feature 1977 [discreet depth, pleasing], 1980 [developed complexity, depth], and 1984 [sheer delight]. Grandiose vintages were 1971, 1978, 1985, 1990, 1991 and 1995, even if his rôle in the last three was reduced.
Recognition of AUGUSTE and his work has been widespread across the world, the domaine receiving numerous communications from all sorts of people, many of whom, I suspect, will not have been aware of just how tough and bleak was the back story of CORNAS. The wines are now hot property, prices are high, even sky high, and there are elements of this merry go round that would make AUGUSTE utter one of his softly voiced, pinpoint accurate asides, his eyes speaking with their habitual softness.
Yes, a stone rather than a statue for AUGUSTE CLAPE. The inscription: WISDOM, INTEGRITY, and HUMANITY. Je t'embrasse, my very dear friend.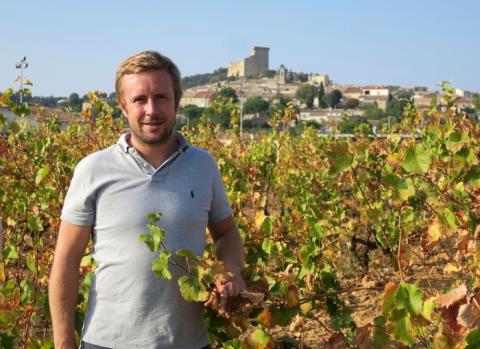 DIAL M FOR MILDEW
JULY 2018
ALFRED HITCHCOCK's 1954 classic DIAL M FOR MURDER was based on a play where the sleazy ex-tennis pro [RAY MILLAND] wants to rid himself of his coolly beautiful and very rich wife [GRACE KELLY] so he can live it up on her fortune, and mete out punishment for her affair with a writer. In 2018, it's the RHÔNE growers who would like to rid themselves of "the worst mildew in 50 years".
The last two years have thus swung between extremes – 2017 with its constant drought and high heat, leading into 2018 with rainfalls already over 80% of an annual total in places such as LIRAC. Any vigneron who was dozy, or perhaps otherwise engaged on the promotional trail abroad will have suffered, since the mildew came galloping along at a great rate, with very few opportunities to get into the vineyard under dry, stable conditions in order to treat the vines.
Hot weather from mid-June onwards has re-established some equilibrium, however. Growers I have spoken to – all run well managed domaines – were generally optimistic about the state of the vineyards, although pointing out that there is quite a lot of variation from plot to plot this year.
NORTHERN RHÔNE
From his tractor between his SAINT-JOSEPH vineyards at CHAVANAY and his CÔTE-RÔTIE base at AMPUIS, JULIEN BARGE gave this account: "it's been an All Sorts year, with a lot of bad weather, rain during flowering, people worried. However, the weather changed around 11-12 June, and we have had 18 days with sun and a North wind. We had mildew, but we have come out with around 90% of the crop intact, including vines looking in great shape. I would be heading for a 30-35 hl/ha yield. There was a storm of 25 mm (1 in) early this morning (3 July) at CÔTE-RÔTIE, but only 5 mm (0.2 in) at CHAVANAY. The SYRAH didn't suffer from coulure [flowers not converting into fruit] this year, and the crop for SAINT-JOSEPH, including the whites, is excellent. The VIOGNIER for our CONDRIEU is abundant, high quality, and suffered no mildew. Since the end of June, we have been at temperatures of 30°-35°C."
Further South at CORNAS, PIERRE CLAPE spoke about his family vineyard. "the year started late, then quickly moved into being in advance due to heat in early May," he told me. "We had a lot of rain then, with mildew hitting the bunches of the MARSANNE at SAINT-PÉRAY [bunches are obviously the worst scenario], and the leaves of the SYRAH at CORNAS. It stemmed from a constant set of rainfalls of 10-15-20 mm (0.4-0.8 in) every two days with hot weather – 26°-27°C - at the same time in May: absolutely perfect for mildew.
Total rainfall for the month of May was around 100 mm (4 in). Fresh nights and a North wind helped to stop the mildew, and now the vines have energy, punch, and are flourishing. I have seen some oïdium on a neighbour's vineyard. Yields are correct as I speak, 35-40 hl/ha. The South wind of the past days and high 34°-35°C levels is not ideal – a risk of storms - but you can't have everything. A neat rainfall of 15 mm (0.6 in) towards the end of July would be good."
SOUTHERN RHÔNE
JULIEN BARROT of DOMAINE LA BARROCHE at CHÂTEAUNEUF-DU-PAPE was ebullient as usual when I spoke to him: "well, it was tropical with the rain at times, and it's been a difficult year. There has been some coulure [flowers not converting into fruit] on the GRENACHE. I'm at a healthy yield of 35 hl/ha now, many of my plots are in good shape, and I am happy with things. I have seen some domaines losing 50% to 70% due to the mildew that struck from May onwards, and came along very early. If you missed one treatment at the very start, you were in trouble this year – you had to protect yourself. I feel that some people were lulled by the recent run of very good vintages, and so were slow to react.
It's been dry for three weeks now, which is ideal, while reserves of water are good thanks to the roughly 270 mm (10.8 in) of rain across April, May and June. The worst hit areas of the appellation are the South – I have seen vines stripped right back of vegetation in the extreme South – and the East, the best being the West and the Centre. We need a dry July."
At later ripening GIGONDAS away to the East, MATHIEU BOUTIÈRE of DOMAINE DU PESQUIER reported his situation: "the 250 mm (10 in) of rain in three to four weeks of May and early June brought the mildew, and the problem was that there were only very brief openings when you could get into the vineyard to treat the vines. The first treatment was super important this year – it had to be prompt and efficient. Budding and vegetation were both handsome, though flowering took place rather under rainy conditions, not disastrous, though.
GIGONDAS has been more spared from mildew than neighbouring appellations – I know of a CÔTES DU RHÔNE domaine at VIOLÈS on the plain that lost 80% - and we are aided by being on slightly higher terraces and heights up to the DENTELLES behind the village. The mildew here is also very much on the leaves rather than the bunches. VACQUEYRAS has suffered more mildew, for example – their marl and lime soils have played a role, also their lower landscape.
After two weeks of very fine weather, there is no drought stress, and the bunches are clear and belles. We cannot stop treating the vines for mildew until the veraison [grapes change colour], which should be around 20-25 July. 2018 has a resemblance with 2008 and its rainy spring and mildew incidence, but I am told by the old timers that they have never seen such mildew in 50 years. What would be great now would be a small storm without hail before the end of July."
Across the RHÔNE in the GARD département, RODOLPHE DE PINS of CHÂTEAU DE MONTFAUCON, with its striking position overlooking the River, summarized matters for him at LIRAC: "well, after the enormous drought of 2017 and a dry winter 2017-18, we were happy with the rain at first, then it turned to rain nearly every day, so that feeling quickly turned to worry. The accumulated rainfall now from 1 January to 1 July 2018 has been 600 mm (24 in) against an annual average of 700 mm (28 in), which shows the extent of it, especially during May and early June.
Both the GRENACHE and the MARSANNE suffer from mildew, more so than the SYRAH and the CLAIRETTE BLANCHE. I have been using copper solution to combat the mildew, which I can only describe as very virulent – I've never seen anything like it, obviously on the leaves but also on some bunches. Those who were on top of the mildew right at the start were OK – there was no catching up possible this year, especially if you work organically. Budding was very joli and prolific, while the mildew has served to perform a form of natural green harvesting for us. Since the rain stopped, we've had lots of Mistral wind, and the vegetation isn't lacking water – neither vines nor trees.
Harvest date at present is looking like early September for the reds, late August for the whites. It's 34° -35°C now, the evenings are fresh, and a spell of continued dry weather will serve us well."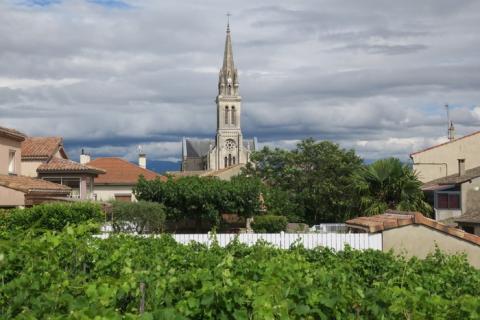 IN PRAISE OF . . . THE ARDÈCHE
JUNE 2018
It's a well known fact that CORNAS is the capital of the NORTHERN RHÔNE, but it's also the capital of the ARDÈCHE winemaking region. The département number 07 runs along the right bank of the RHÔNE, with hilly outcrops creating a series of valleys and gulches that feed the mighty river with much of its supply south of LYON, with the notable exception of the RIVER ISÈRE at CROZES-HERMITAGE; then it is the west bank that prevails once more until the reaches of the VAUCLUSE [département number 84] flow into it via the likes of the RIVER OUVÈZE.
The northern area of the ARDÈCHE is marked by influences of MASSIF CENTRAL granite, the local culmination being MONT PILAT, in view from CÔTE-RÔTIE and CONDRIEU; as that seam recedes, it is taken over by more southerly influences, a greater limestone and clay presence, with multiple jagged gorges and rivulets whose twisty turns are prized by canoeists when the RIVER ARDÈCHE is high.
There's an interesting criss-cross near MONTÉLIMAR, by the way, since the LOIRE rises West of the nougat capital of France, while the ARDÈCHE river runs into the RHÔNE at PONT ST ESPRIT, some way South of MONTÉLIMAR. Mighty rivers, opposite flows, vastly differing destinations and riverside dwellings ranging from the functional along the RHÔNE to the splendiferous along the LOIRE.
With true legends such as the CHAVE family resident in the ARDÈCHE since 1481, and newcomers such as CHAPOUTIER also ARDECHOIS, the region is populated by high profile winemaking dynasties. AUGUSTE CLAPE came up from the AUDE département (number 11, capital CARCASSONNE) in his youth, but his heirs PIERRE and his son OLIVIER [and his son RUBEN] all qualify for true ARDECHOIS status, as do the GRIPA and GONON families who live at MAUVES. I can also lob in ALLEMAND and BALTHAZAR as other pedigree Ardechois. All are hard working, practical people whose outlook tallies with the surroundings of their upbringing.
Two leaders of the organic movement in the NORTHERN RHÔNE also come from the ARDÈCHE – JEAN DELOBRE [LA FERME DES SEPT LUNES] and JEAN-PIERRE MONIER [DOMAINE MONIER-PERRÉOL], who both quit the factory-like conditions of the CAVE DE SAINT-DÉSIRAT to go their own way; JEAN started organically in 1997, and went solo in 2001. JEAN-PIERRE's great grandfather raised goats, sheep and cows and fed them homegrown beetroots and hay, his vineyards laid out in alternate rows of vines and peaches. JEAN-PIERRE dropped their last fruit trees and became a vineyard-only grower by the 1990s, and also left the CAVE in 2001, with biodynamic practices in place by then.
There's a pause in the vineyards of the right bank after the limestone cliff of CRUSSOL, opposite VALENCE, before one enters the SOUTHERN ARDÈCHE, the region that for years has been the destination of the Beau Monde of the Paris Left Bank [more than the bourgeois-centric areas of the 8th and 16th arrondissements - more likely to have villas on the CÔTE D'AZUR].
The dried stone houses are rugged to the eye, and often rugged to inhabit, but people become extremely closely attached to their dwellings in this land of savage, wild beauty. There is quite a movement in organic, biodynamic and Nature wines in the lower ARDÈCHE, too. Free spirits that range from the sensibly fundamental to the outrageous, cork poppingly off the wall. ALICE FEIRING [author, NAKED WINE and LOVE, or HOW I SAVED THE WORLD FROM PARKERIZATION] is spotted in these climes from time to time, and the discourse is a lively one.
SAINT MARCEL D'ARDÈCHE is an established epicentre for the SOUTHERN ARDÈCHE and its organic wines, via LE MAS DE LIBIAN [biodynamic also] and the DOMAINE SALADIN, both run by strong-willed, enterprising women. A neighbour – on the next hillside to the north of the galet stone soils of MAS DE LIBIAN – is a relative newcomer, the biodynamic and organic DOMAINE DES ACCOLES, whose story brings together several threads of the narrative so far.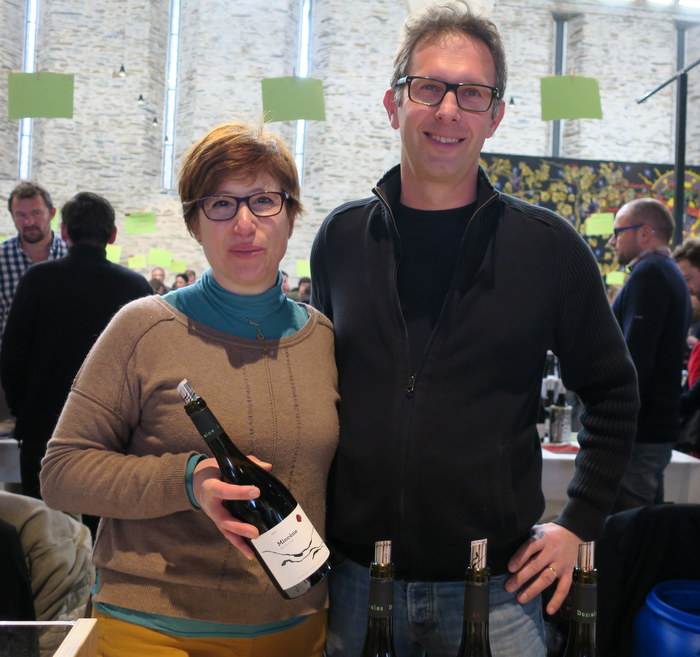 FLORENCE and OLIVIER LERICHE worked at the NUITS-SAINT-GEORGES DOMAINE DE L'ARLOT in BURGUNDY from 1998 to 2011, en route converting it to biodynamic practices, but would retreat to the ARDÈCHE for relaxation, having bought a tumbledown cottage near PRIVAS there in 2005. Their roots are RHÔNE-ish, and when an 18.5 hectare vineyard came up for sale in 2010 at SAINT MARCEL, a vineyard where the old owner, a Co-operateur, had stopped using weedkillers, they jumped at the chance to launch their organic and biodynamic project under their own flag.
The DOMAINE DES ACCOLES range has been IGP ARDÈCHE, but is almost wholly VIN DE FRANCE now. I was very impressed with their work on the mature CARIGNAN – 1950s and 1960s – since with a wine such as the GRYPHE they have succeeded in coaxing out a perfumed elegance from it, far removed from the old South-West France acerbic, sometimes harsh wines of yore.
"We adore the CARIGNAN," states OLIVIER. "it's so often seen by many RHÔNE producers as too susceptible to oïdium, as producing too heavily, giving dilute wines. The combination of our clay-limestone soils, with early harvesting, gives low degree and very fresh wines, so there's a balance of power and lightness of touch, often with a very delicate tannic grain and aromatic notes that are quite wild. As opposed to the PINOT NOIR, it likes oxygen, all the more so when it is harvested early." The ACCOLES set of wines is uniformly elegant, with a bonny surprise in the form of the white CARIGNAN GRIS called L'INATTENDU.
Another organic ARDECHOIS domaine to have impressed me is the 25 hectare MAS D'INTRAS at VALVIGNÈRES, North-West of SAINT MARCEL. Their range is wholly IGP COTEAUX DE L'ARDÈCHE, run by cousins DENIS ROBERT [commerce] and SEBASTIEN PRADAL [vinifcation]. DENIS explains: "I had a grave allergic reaction to a chemical product in 1998, which prompted my progressive move towards a natural and organic approach over the past twenty years."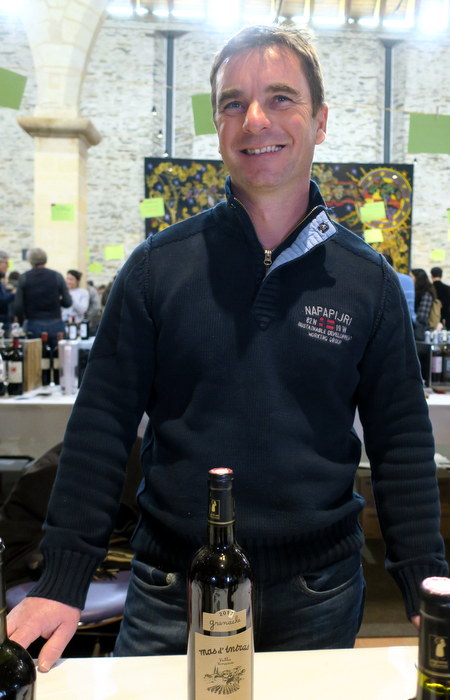 Compost with the marc of grapes, plant-based products instead of copper, some of the wines with no added SO2, solar panels on the cellar, the use of 400g bottles, lighter than the standard 550-600g – "that alone saves more than 20 tons of glass in one year!", and, until recently, dispatch of wine for PARIS or BRUSSELS via the river system from MONTÉLIMAR on a small river boat [40 times less environmental impact than road transport, especially due to the absence of acceleration and braking] that sadly stopped working in the spring of 2018 due to lack of demand: there's a long and interesting variety of approaches in a coherent pro-environment policy here.
Vines at 250 metres on clay-limestone soils and careful vineyard and cellar handling by the vignerons result in clear and pure wines. I favour the oak-free cuvées, for example the natural, authentic CUVÉE DES HELVIENS [70% GRENACHE, 30% SYRAH], while there's another very good CARIGNAN here, one with typical CARIGNAN fibre, but also finesse.
The growers of the SOUTHERN ARDÈCHE are more demonstrative than their NORTHERN neighbours, reflecting their warmer context, but the ability to think along individual, determined lines remains a communal trait for the residents of these hilly lands all across the ARDÈCHE.
Last of all, the grub: if touring in the region, a restaurant to note in the SOUTHERN ARDÈCHE is LA BÒRIA, 3 COURS DU PALAIS, 07000 PRIVAS, +33475 64 48 48, http://www.la-boria.com. In the NORTHERN ARDÈCHE, try [booking essential] DU JARDIN À L'ASSIETTE in MAUVES, an intimate venue with good, fresh produce. It's just down from the CHAVES, on the way to the GONONS. 12 avenue Saint Joseph 07300 MAUVES, +33475 07 25 56, http://wwwdujardinalassiette.fr Bon Voyage, bon appétit, bonne degustation, donc.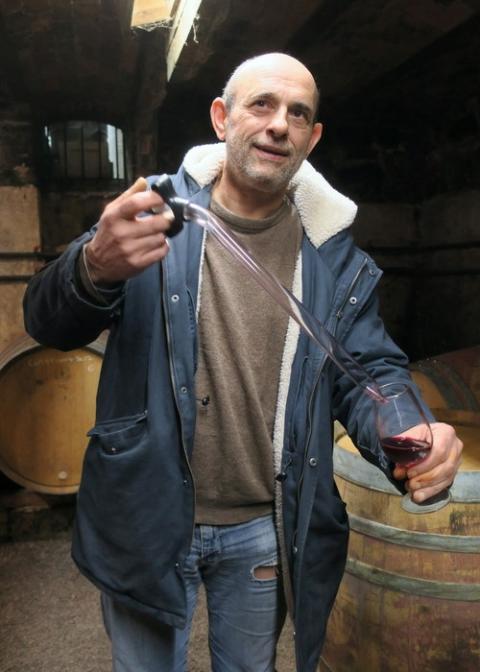 THE PIMPERNEL OF THE ROASTED SLOPE
MAY 2018
PIERRE BENETIÈRE is a man who is happy with quietude. Over the thirty years I have known him, there have been moments when he has, quite literally, disappeared off the face of, if not quite the world, then the face of CONDRIEU, where he lives.
When we first met, he lived in a most unusual setting in a nondescript corridor of a place on the left bank ISÈRE département [38], ROUSSILLON by name. It's just about opposite MALLEVAL on the other side of the RHÔNE. PIERRE resided amidst a jumble of casks, wooden stakes and cellar tools, house and garage in the mix of producing CONDRIEU and CÔTE-RÔTIE.
His devilish wit meant that he took great delight in stymying his suburban neighbours – a car would pass once every three hours until the moment during harvest when the hired truck and the crop were halted outside his [also] suburban dwelling, when "lo and behold, a car would come along inside a minute!" The kerfuffle and faffing about that "local outrage" can be easily imagined.
ROUSSILLON, it turned out from PIERRE, had a noble back story in that it was where CHARLES IX, CATHERINE DE MEDICI's son, proclaimed the start of the JULIAN calendar in 1564, moving us to a 1 January New Year, rather than Eastertime, so write it off at your peril.
With his parents wine merchants in CONDRIEU, PIERRE moved back to those premises in 2003. But his route to making wine had started a lot earlier, in 1986, to be precise. He had studied oenology in LYON, PARIS, DIJON and MÂCON, but had no land. "My friends all said it was an impossible task, to get land cleared and planted for vines, then to make the wine," he recalls; "well, that got me going, for a start."
His first vineyard was on LE TINAL above CHÂTEAU-GRILLET – stone wall terraces and VIOGNIER. This was his main wine presented to the world in those days, but he also planted SYRAH in 1990-91 on CORPS DE LOUP on the sanded granite, locally termed ARZELLE soils of the southern sector of CÔTE-RÔTIE.
Gradually he became rather fed up with CONDRIEU – "they didn't all please me, and I sold some as wine, some in bulk to merchants" - and preferred to concentrate on CÔTE-RÔTIE, which also had better commercial prospects. In these days, the late 2000s and early 2010s, he was a like a mole – invisible for most of the time. The landline telephone was cut off – "it was a nuisance" – and not readily replaced by a mobile contact. Shouting in his small courtyard also proved fruitless at budging him from his lair.
His renown was growing, though, perhaps aided by this cloak of mystery. The US hipster market had latched on to his use of whole bunches in his fermentation, and the quest for anything NORTHERN RHÔNE that was poorly known created another spur to people seeking him, contacting me to find out news, and wondering where he was, when he was, and almost, why he was.
As a lover of rugby, and a person who can trip off the names of the legendary Welsh players such as GARETH EDWARDS and JPR WILLIAMS, he is also broad in his interests, and his humour remains quirky. QUESTION: "what do you get when you drop a grand piano down a mine shaft? ANSWER: "A flat miner."
He has now reduced his CONDRIEU vineyard to 0.2 hectare, while the CÔTE-RÔTIE has grown towards 2 hectares, of which a precious 0.08 hectare, a smudge really, is on the mighty CÔTE BRUNE, and provides his LE DOLIUM cuvée of 300 to 400 bottles. The 2017 has the iron and nerve of its place, being a ****(*) STGT wine. "It is extremely rustic, what I used to taste chez PÈRE JASMIN and GENTAZ-DERVIEUX when I was young," he says.
PIERRE avers that the inclusion of the stems allows the wines to live well, and that the use of 350-litre or 400-litre casks permits a gentle exchange between the oak and the wine, not too heavy on the oaking. SO2 use is limited – a couple of 10 mg/litre applications when racking, and 20 mg/litre at bottling. When discussing the ***** 2015 CÔTE-RÔTIE CORDELOUX, he states "it made itself on its own. It was good immediately; I have no merit on this wine."
PIERRE is troubled with back issues now he is in his fifties, but will be a touring success when he hits the USA later this year, invited by one of his importers. It's a journey that has him buzzing with anticipation. His English and his wry sense of humour, with a gravelly-voiced delivery, will appeal.
As I leave, the first sighting of him for a few years, he says: "wait, I have a present for you." I wonder what on earth will appear – dead or alive. He emerges from his house with a fridge magnet of a tiny bottle – his LE DOLIUM – with the addition of a corkscrew attached, the vintage 2007 also written as MMVII: quite correct, MAÎTRE BENETIÈRE. I disappear into the cold spring night after an embrace.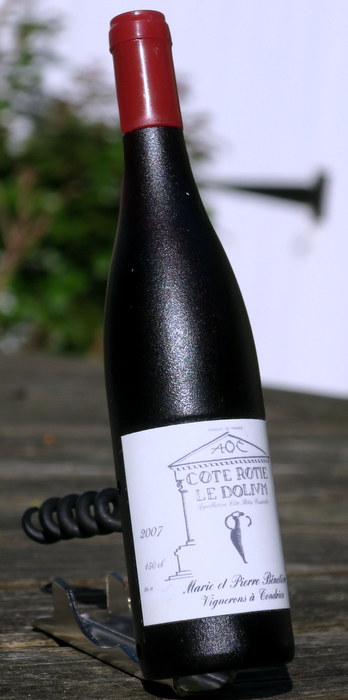 SAD NEWS FROM CANADA

My dear and much respected friend JOHN SWITZER lost his fight against brain cancer recently. He had been a regular on the RHÔNE tasting panel at the DECANTER WORLD WINE AWARDS, a wine educator and man of great culture who contributed greatly to that ever more corporate event. His interests and education were broad, up to speed on matters of education and teaching, finance, art and literature. His felt hat, a Sombrero du Nord, was also a sunny feature of his presence.
His regular newsletter was called WINESIGHTS VINTAGES NEWSLETTER, and covered wines that were good buys from the State monopoly, with thoroughly researched back stories on the wines. He also had some agency wines for ONTARIO, favouring the small, authentic domaines such as BURLE at VACQUEYRAS.
To receive a flavour of JOHN's style I reproduce some lines from his newsletter of 31 March 2007, shortly after we had got to know each other better via the medium of the DÉCOUVERTES EN VALLÉE DU RHÔNE bi-annual event.
QUOTE
3. WINE IS IMPORTANT BUT THE PEOPLE ARE MORE IMPORTANT
I have always liked meeting people who spent all their waking hours working to make the best wines their land will let them make. These people work very hard and take enormous risks when they invest their capital in a vineyard and winemaking operation.
This trip we spent time with several of our producers, eating at their homes, meeting their families and learning more about them as people. Despite the great wines we tasted this was the most memorable aspect of our trip.
The real message for you, dear reader, is no matter how much you might enjoy the wine in your glass, it won't really speak to you until you know the story of the wine: where was it made, who made it, what was the producer trying to accomplish when the wine was made, how has the wine evolved since it was made and since prior vintages. The only way to get the inside scoop on these questions, is to travel and get first-hand insight on these and countless other questions, directly from the producer.
END OF QUOTE
I send my most heartfelt condolences to his bright, vivacious and tenacious widow BARBARA, who accompanied JOHN on many of his vinous expeditions. They were having a long-term project of a new house built when the dread disease struck, and the past months will have been beyond belief tricky. I miss him greatly, BARBARA.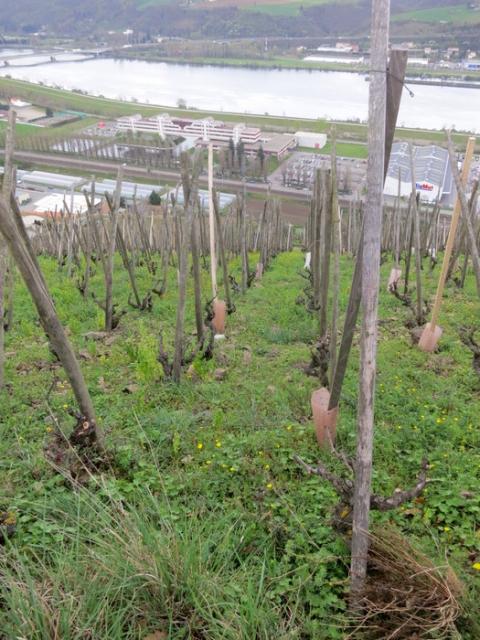 APRIL IS A REVEALING MONTH
APRIL 2018
If you choose to explore the vineyards as I do, being one of a dying breed of journalists who regularly visits them rather than rushing straight to a tasting room, April is a revealing month to observe what is really going on.
It's before the leaf canopy has developed, and the vines stand naked and brown, their curious shapes in direct proportion to their age. The quality and health of the wood, the sheen or lack of it, can be seen. So can the ground on which they grow, and that can be one of the most dispiriting aspects of any viticultural inspection.
Lunar landscapes are frequent – not a trace of grass or flower or weed, just a pale brown, deathly setting. The use of Roundup is most depressing. Not only is its key ingredient, glyphosate, a potential menace to human life, it also clears out all life in its path. Gone are the insects, the labyrinth of diversity.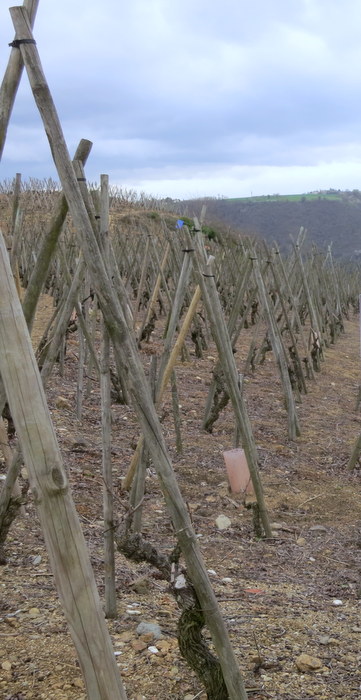 CÔTE BLONDE VINEYARD AT CÔTE-RÔTIE, PHOTO TAKEN THE SAME APRIL DAY AS LES GRANDES PLACES OF CLUSEL-ROCH
Many growers on hillsides claim this is the only way they can work. The slopes and terraces cannot be worked mechanically - or easily – they say, so this is the only method of keeping things under control. The counterpoint to the weedkillers is the application of compost. So you kill the living daylights out of a place, then "compensate" with rotted matter.
Agitation has been rife about the use of Roundup, with a petition in late 2017 signed by 1.3 million people to urge its banning. In the event, the EU voted to extend its use for five years, until 2022. Since then, there has been a vote in the Netherlands to ban glyphosate use, while PRESIDENT MACRON wants its banning to be brought forward in France to nearer 2020-21. Glyphosate is a core ingredient of Round up. At present, it is hard, if not impossible, to buy Roundup as a private individual in FRANCE.
In the NORTHERN RHÔNE, with its hillside vineyards, we can take the example of CÔTE-RÔTIE and CONDRIEU. Out of over 100 domaines, there are very few officially certified organic. M CHAPOUTIER work their vineyards with a pickaxe, manually, while PAUL JABOULET AÎNÉ have also converted to organic, and spend a lot of time and money on their vineyards.
Another which is organic is DOMAINE GEORGES VERNAY. Then there's CLUSEL-ROCH, who along with JEAN-MICHEL STÉPHAN, have been two of the pillars of the organic community and philosophy for decades now at CÔTE-RÔTIE. At CONDRIEU, a recent organic domaine is the DOMAINE CLOS DE LA BONNETTE, whose ISABELLE GUILLER has been organic for many years – on five hectares of fruits and vegetables - before turning to wine in 2009. However, absent are names that appear to have an environment-friendly image, but whose vineyards are spartan to the eye.
With pressure mounting against the use of toxic herbicides and weedkillers, growers are in a bit of a tizzy. There is a less aggressive product called Beloukha, manufactured by a Belgian company, Belchim Crop Protection. This is made up of 70% pelargonic acid, and destroys weeds except for the roots. It is said to absorb into the soil easily, but has not yet been accepted by official bodies inside France. By contrast, Italy has been more active in going down this trail. Roundup contains only a tiny percentage of Pelargonic acid.
Obviously, organic costs money. It implies increased labour, perhaps the requirement of local people on part time contracts, rather than just occasional labour which can be used for simple but time consuming tasks such as tying the vines as their shoots grow.
Organic complicates life. Indeed, the 1970s marked the call by the chemical companies in their literature that growers could put their feet up, take holidays, switch off thanks to the wonder properties of Agent XYZ. "You don't have to be chained to your vines" was the message of those days, supported by endorsements from the Ministry of Agriculture.
I know from my humble abode in Sussex that organic multiplies life in the soils and in the air. That has been my method in the twenty years I have lived here. The soil life is tremendous – I couldn't begin to name the names of all the insects, beetles and worms I find. I hand weed the gravel on the drive, much to the amazement of neighbours.
In those twenty years we have witnessed the arrival of thrushes and mistle thrushes, previously endangered, of two varieties of woodpecker [green and greater spotted], of songbirds such as nuthatches, returning blackcaps and firecrests. To say nothing of the butterflies. Their presence is a reward in itself.
One could argue that, given the lazy use of Roundup on hillside vineyards, the price of the wine is high. If you're not in the vineyards very often, perhaps the wine should cost less. OK, additional costs of damage to walls has to be taken into account, and the nay sayers will always argue that if you work the soil, erosion will follow after any heavy rain: another extra cost from that.
However, the Day of Reckoning is drawing near. MACRON has offered an out in saying that perhaps 10% of cultivators will be exempt from the glyphosate ban, especially those on hillsides, but perception [and the dread hand of social media] will play its role in all of this. Worst hit will be domaines that have expanded to include vineyards across several appellations. Juggling commitments will be difficult. A two generation domaine working not more than eight hectares will be OK, as will "rich" estates or businesses.
The coming five years are going to see potentially far-reaching changes in the production of hillside wines. As consumers, greater awareness of what goes on behind the scenes will play a role in setting some basic ground rules.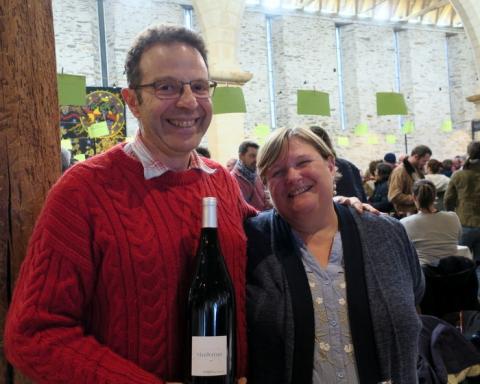 FAREWELL TO THE WINES OF A REMARKABLE GENTLE MAN
MARCH 2018
The decision of JEAN MAROT to end his career as a vigneron at the age of 65 is understandable, but sad. Having lost 80% of his 2017 crop to frost, he sold the remaining 20% of the 2017 off as bulk wine, so that the last vintages of his VENTOUX VINDEMIO now on sale are the 2015 and 2016. I recommend readers to seek them out.
His route into wine, and then along its path has been one of small steps of discovery, prompted by the ebb and flow of life and its challenges. JEAN was brought up near PARIS, his father a doctor at MEUDON, a suburb south-west of the capital.
JEAN dutifully followed his father's path into medicine, becoming a pharmacist at MEUDON, before moving to the TARN region in South-West France, then to NÎMES in the GARD département. In 1984 he moved across the RHÔNE to be the pharmacist at ROBION, near CAVAILLON [excellent melons] in the VENTOUX.
"It was during my eleven years at ROBION that I started to move to homeopathy," he relates, his voice as deep and measured as his wines. "My daughter had a series of health problems, including bronchitis, and my wife FLORENCE and I had to look after her. What cured her was homeopathy. I had been brought up on the classic chemical route, which was how my father worked, so this was a big revelation."
Meanwhile, JEAN had been slowly discovering wine. "I had a good friend near MONTPELLIER with a wonderful cellar, including ROMANÉE CONTI; it wasn't until I was 25 that I started to drink wine with him, and that certainly showed me something! I had always liked to work the soils since I was a small boy, so things started to move in one direction," he recalls.
In 1995 he set up LE MURMURIUM, working vineyards at MORMOIRON and VILLES SUR-AUZON, two neighbouring villages on the south side of MONT VENTOUX. The vineyards were worked conventionally with chemicals, however; "by 1997, I realised I had been struggling against chemical practices for so long that I had to convert it to organic," JEAN says, even though the vineyards were rented.
The MUMURIUM arrangement lasted until 2006, when JEAN went on his own sole path, creating VINDEMIO. "It hadn't been easy in the 1990s – I was self-taught in organic since there weren't people around me in the VENTOUX to encourage that," he says. Gradually he enlarged his circle of like-minded contacts, pointing to JEAN-LUC ISNARD, another biodynamic practitioner at DOMAINE TERRES DE SOLENCE at MAZAN, near CARPENTRAS. "He advised me, and helped me to take the next step forward, so I was biodynamic from 2008 onwards," he says.
"Working biodynamically and looking back at my career in wine, I have learnt to have a lot of humility, from the effect of working with nature", he reflects. "We are connected in the universe. Homeopathy is in tune with biodynamic working, and I have no regrets about the path I have taken. Both the vine and wine are living things, and all I have wanted to do in the later years is move more and more towards finesse."
His trio of red wines starts with imagine – "it's what happens when you taste wine, and also the song of John Lennon." There's regain – "the title of a Jean Giono novel [second harvest in English], a book about the renaissance of a village, and also referring to the lands after a summer rainfall." And lastly, amadeus – "I like opera, Mozart, and wine is like music." These all brim with character, as does the offbeat regain white.
For the future, "the next stage, my third career", JEAN wants to give advice, to help young people to learn about biodynamie. "To help those who want to work simply, to give them practical, not complicated advice. There's too much complication in what they are taught these days," he states.
For VENTOUX, JEAN's withdrawal is a loss, but there are domaines still working away well in the spirit of organic and biodynamic practices. These include CHÂTEAU PESQUIÉ, CHÂTEAU UNANG, CLOS DES PATRIS, LA FERME SAINT-PIERRE, DOMAINE DE FONDRÈCHE, DOMAINE DU GRAND JACQUET, MARTINELLE, OLIVIER B, SAINT JEAN DU BARROUX of PHILIPPE GIMEL, and the already mentioned TERRES DE SOLENCE.
So it's not adiós, JUAN, it's hasta luego, and bonne route in your advisory travels!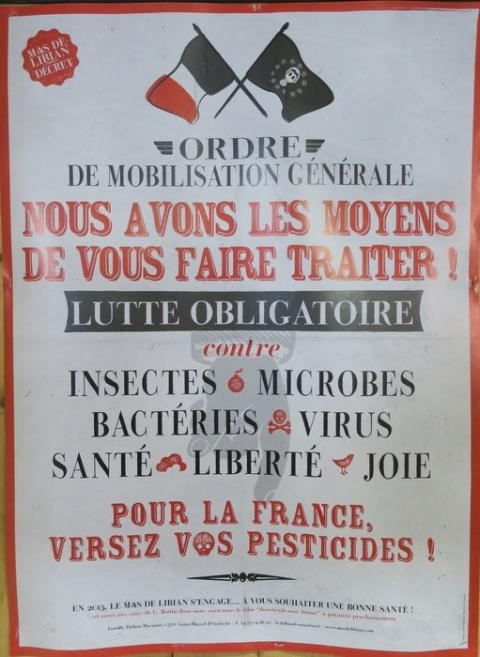 ORGANIC PIONEERS OF THE RHÔNE REMEMBERED
FEBRUARY 2018
Organic practices, as signalled by the little green flag on the back label, have been adopted by many domaines in the RHÔNE in the past 10 years. I think of ALSACE as perhaps being ahead, the LOIRE also prominent in this movement, but the RHÔNE can be thankful that there have been some genuine pioneers in this respect.
I would expect precisely zero of my readers to recall dear old ALBERT BÉGOT, who lived at SERVES-SUR-RHÔNE, the plain, bare village backed on to by its granite hill in the north of the appellation of CROZES-HERMITAGE. But ALBERT was THE MAN, working five hectares on the slopes around the village, a heck of a lot for what the French call a CAVALIER SEUL, a lone operator. Some of his wines were literally explosive, but there were moments when ALBERT hit the target, his wines offering beautiful, clear-cut SYRAH fruit. You had to walk through his house in a row in the village, into a lean-to out the back, where all sorts of mystery accompanied the raising of his wines.
ALBERT started in the early 1970s, and sadly, died in the late 1980s, his widow MARCELLE taking over for a while, before she passed the vineyards on to MAURICE and his son LAURENT COMBIER, a domaine that is now extremely well established as the source of well-fruited, stylish CROZES reds.
In addition to ALBERT, other early hard core organic practitioners were the ruggedly low-key duo of RENÉ-JEAN DARD and FRANÇOIS RIBO, also at CROZES-HERMITAGE, whose prize possession [to my eyes] was the INSPECTOR MAIGRET style black CITROËN 15 voiture, running boards and all, next to their garage cellar in TAIN. This site is now being renovated for flash new cellars, by the way, by one of the merchant houses, NICOLAS PERRIN. The two lads both remain as sceptical of the wine press as they did at the outset.
In the SOUTHERN RHÔNE, front runners were PHILIPPE LAURENT and MICHÈLE AUBÉRY, who bought 12 hectares in isolated land in the MONTBRISON, RIVER LEZ VALLEY in the lower DRÔME in December, 1978. They called their creation GRAMENON. These were wines full of interest and character, not always safely balanced, but made with a firm commitment to their surroundings, and the ecological balance around them.
PHILIPPE tragically perished in an accident while out walking in late 1999, but his widow MICHÈLE has shown tremendous resolve in battling to continue their dream, to bring up the three young children, and to make stylish wines under the GRAMENON name, which is rightly revered in organic circles. Her son, MAXIME-FRANÇOIS, has been present on the domaine since 2006, and makes wines under his own name.
Across the RHÔNE, these inspirations have encouraged others to follow in their footsteps, and many of these domaines are great friends together. I can think of HÉLÈNE THIBON at the MAS DE LIBIAN in the ARDÈCHE, DAVID REYNAUD of LES BRUYÈRES at CROZES-HERMITAGE, MATTHIEU BARRET at the DOMAINE DU COULET at CORNAS, the DOMAINE MONIER-PERRÉOL at SAINT-JOSEPH, HELEN DURAND of DOMAINE DU TRAPADIS at RASTEAU, my old chum JEAN DAVID at SÉGURET, my also old chum MARINE ROUSSEL of DOMAINE DU JONCIER at LIRAC, and the wonderfully low profile, much respected, true JACQUELINE ANDRÉ of DOMAINE PIERRE ANDRÉ at CHÂTEAUNEUF-DU-PAPE.
Next to each domaine's entry on drinkrhone there is a large green O, by the way, indicating domaines that are either Organic and/or Biodynamic. These are all names that should be closely followed, keeping the spirit of ALBERT BÉGOT and PHLIPPE LAURENT flying.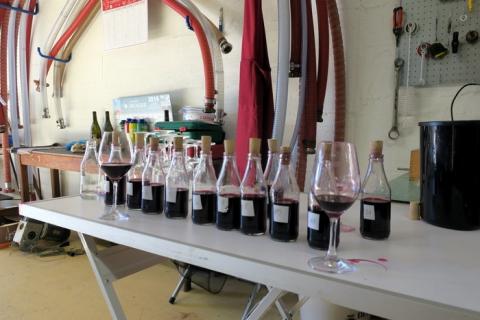 THE BELL OF PURITY OR THE CLOAK OF DENSITY?
JANUARY 2018
Recent research on British wine drinkers shows a sharply increased awareness – and prejudice – about high degree wines, the small print % figure playing a prominent role in buying decisions. The fine wine market, however, is still heavily geared to big vintages. I wonder if this is because the wines are obvious and impressive, or obviously impressive, or also because they are expected to live a long time.
Looking at the NORTHERN RHÔNE, there has been a recent cycle of vintages that have alternated between what I term PURITY and DENSITY. 2012, 2014 and 2016 are PURITY vintages; 2013, 2015 and 2017 are DENSITY years.
PURITY vintages are those where some hiccough occurred during the ripening season, probably rain, with cool weather another prompt. The bunches are attractive, swollen, the skins not very thick. They are lower degree years than the DENSITY vintages, and afford the drinker access to terroir, an STGT [Soil To Glass Transfer] presence in the glass, from the early days. In their best examples, they are well-balanced and extremely charming.
DENSITY vintages come along with the imprint of climate on them. The summer will have been very hot, probably largely dry, or perhaps happily "irrigated" with timely rainfalls, often around mid-July and mid-August. The grape skins are thick at harvest time. From the start, these wines hold a brooding intensity, and stamp dark colours and dark tannins as assets. Their juice is thick. Weather trumps terroir until they are mature. At their best, they are monumental wines with a 3-D presence, wines that will live for many decades.
Casting my memory back a couple of decades or so to two such vintages, it strikes me that time has shown a narrower gap between the much acclaimed vintage of 1990 – a DENSITY year - and its neighbour 1991 – a PURTIY year - than appeared at the time. The CORNAS CLAPE 1991, a floral, mineral beauty, has recently sidled up to the imposing 1990, a wine that PIERRE CLAPE termed "more HERMITAGE than CORNAS when tasting it in 2016; both are now ***** wines, their quality marvellous, their deft nuances established from differing sources.
It's all a question of taste, even if their prices are closer than once was the case – a quote of £499 ex taxes from FINE & RARE for the 1990, and £426 ex taxes, also from FINE & RARE, for the 1991. My tasting notes of May, 2016 showed a longevity towards 2034-37 for the 1990 and towards 2032-35 for the 1991: not a large gulf, and an illustration of the eternal importance of balance in any wine deemed to be "fine".
In November 1991, AUGUSTE CLAPE told me that 1991 was "good, even if it was too much to say that it was very good; it's not 1990, but better than 1989, which was very Cornas, rustic. There's a good level of alcohol at 12.8° [high for the era]," he continued, "lots of colour, a slight lack of acidity, and good tannins."
Another example of PURITY AND DENSITY in these two neighbouring vintages comes with the ERMITAGE LE PAVILLON RED from CHAPOUTIER. The 1990 I rated a ***** wine, the 1991 a ****** wine in their youth. I note a wide price differential here, however. The 1990 is on for £443 (ex tax) with FINE & RARE, the 1991 £292 (ex tax). Here is a glaring example of DENSITY trumping PURITY on the price scale.
At Hermitage, the 1991 harvest was later than 1990, the CHAVEs starting on 2 October after GÉRARD waited following late September rain. Importantly, the rain was followed by a cold North wind, so there was little or no rot.
In the early 1990s fine wine markets were still inefficient. The rainswept BORDEAUX 1991 vintage cast a shadow over prices and perception for the rest of FRANCE, which doesn't apply to the same extent today. The RHÔNE has gained more credibility and authority on its own terms, I am glad to write.
2015 and 2016 relate to 1990 and 1991. 2016 at HERMITAGE was hit by hail, while there has been a leap forward in winemaking standards at CORNAS since 1991; hence the most fair, broad comparison falls on CÔTE-RÔTIE, whose 2016s are cool and beguiling. 1991 is now established as an extremely good vintage there, so let's bear in mind the words of MARCEL GUIGAL when he discussed 1991 with me at the time: "our hopes were high on 15 September," he stated, but then the rain arrived, so he started his harvest on 25 September as a result, bringing it forward. Tellingly he told me, "good colour, good balance, acidities – these are wines that can age." Let's hope 2016's profile runs with similarly long-lived PURITY.