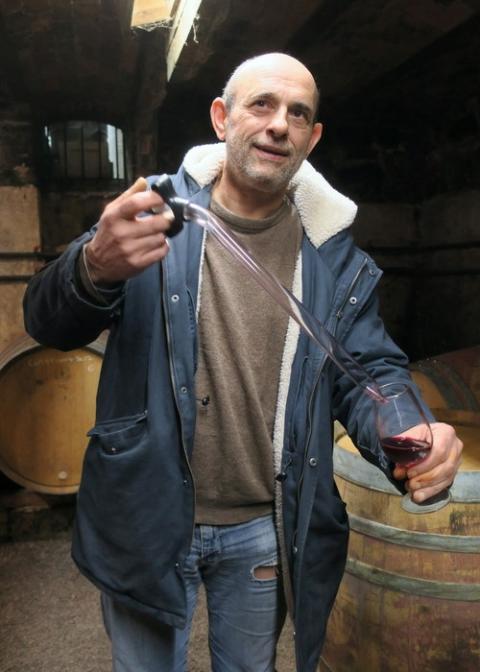 THE PIMPERNEL OF THE ROASTED SLOPE
MAY 2018
PIERRE BENETIÈRE is a man who is happy with quietude. Over the thirty years I have known him, there have been moments when he has, quite literally, disappeared off the face of, if not quite the world, then the face of CONDRIEU, where he lives.
When we first met, he lived in a most unusual setting in a nondescript corridor of a place on the left bank ISÈRE département [38], ROUSSILLON by name. It's just about opposite MALLEVAL on the other side of the RHÔNE. PIERRE resided amidst a jumble of casks, wooden stakes and cellar tools, house and garage in the mix of producing CONDRIEU and CÔTE-RÔTIE.
His devilish wit meant that he took great delight in stymying his suburban neighbours – a car would pass once every three hours until the moment during harvest when the hired truck and the crop were halted outside his [also] suburban dwelling, when "lo and behold, a car would come along inside a minute!" The kerfuffle and faffing about that "local outrage" can be easily imagined.
ROUSSILLON, it turned out from PIERRE, had a noble back story in that it was where CHARLES IX, CATHERINE DE MEDICI's son, proclaimed the start of the JULIAN calendar in 1564, moving us to a 1 January New Year, rather than Eastertime, so write it off at your peril.
With his parents wine merchants in CONDRIEU, PIERRE moved back to those premises in 2003. But his route to making wine had started a lot earlier, in 1986, to be precise. He had studied oenology in LYON, PARIS, DIJON and MÂCON, but had no land. "My friends all said it was an impossible task, to get land cleared and planted for vines, then to make the wine," he recalls; "well, that got me going, for a start."
His first vineyard was on LE TINAL above CHÂTEAU-GRILLET – stone wall terraces and VIOGNIER. This was his main wine presented to the world in those days, but he also planted SYRAH in 1990-91 on CORPS DE LOUP on the sanded granite, locally termed ARZELLE soils of the southern sector of CÔTE-RÔTIE.
Gradually he became rather fed up with CONDRIEU – "they didn't all please me, and I sold some as wine, some in bulk to merchants" - and preferred to concentrate on CÔTE-RÔTIE, which also had better commercial prospects. In these days, the late 2000s and early 2010s, he was a like a mole – invisible for most of the time. The landline telephone was cut off – "it was a nuisance" – and not readily replaced by a mobile contact. Shouting in his small courtyard also proved fruitless at budging him from his lair.
His renown was growing, though, perhaps aided by this cloak of mystery. The US hipster market had latched on to his use of whole bunches in his fermentation, and the quest for anything NORTHERN RHÔNE that was poorly known created another spur to people seeking him, contacting me to find out news, and wondering where he was, when he was, and almost, why he was.
As a lover of rugby, and a person who can trip off the names of the legendary Welsh players such as GARETH EDWARDS and JPR WILLIAMS, he is also broad in his interests, and his humour remains quirky. QUESTION: "what do you get when you drop a grand piano down a mine shaft? ANSWER: "A flat miner."
He has now reduced his CONDRIEU vineyard to 0.2 hectare, while the CÔTE-RÔTIE has grown towards 2 hectares, of which a precious 0.08 hectare, a smudge really, is on the mighty CÔTE BRUNE, and provides his LE DOLIUM cuvée of 300 to 400 bottles. The 2017 has the iron and nerve of its place, being a ****(*) STGT wine. "It is extremely rustic, what I used to taste chez PÈRE JASMIN and GENTAZ-DERVIEUX when I was young," he says.
PIERRE avers that the inclusion of the stems allows the wines to live well, and that the use of 350-litre or 400-litre casks permits a gentle exchange between the oak and the wine, not too heavy on the oaking. SO2 use is limited – a couple of 10 mg/litre applications when racking, and 20 mg/litre at bottling. When discussing the ***** 2015 CÔTE-RÔTIE CORDELOUX, he states "it made itself on its own. It was good immediately; I have no merit on this wine."
PIERRE is troubled with back issues now he is in his fifties, but will be a touring success when he hits the USA later this year, invited by one of his importers. It's a journey that has him buzzing with anticipation. His English and his wry sense of humour, with a gravelly-voiced delivery, will appeal.
As I leave, the first sighting of him for a few years, he says: "wait, I have a present for you." I wonder what on earth will appear – dead or alive. He emerges from his house with a fridge magnet of a tiny bottle – his LE DOLIUM – with the addition of a corkscrew attached, the vintage 2007 also written as MMVII: quite correct, MAÎTRE BENETIÈRE. I disappear into the cold spring night after an embrace.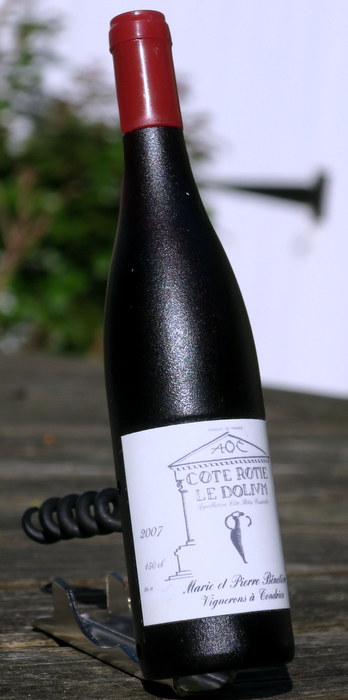 SAD NEWS FROM CANADA

My dear and much respected friend JOHN SWITZER lost his fight against brain cancer recently. He had been a regular on the RHÔNE tasting panel at the DECANTER WORLD WINE AWARDS, a wine educator and man of great culture who contributed greatly to that ever more corporate event. His interests and education were broad, up to speed on matters of education and teaching, finance, art and literature. His felt hat, a Sombrero du Nord, was also a sunny feature of his presence.
His regular newsletter was called WINESIGHTS VINTAGES NEWSLETTER, and covered wines that were good buys from the State monopoly, with thoroughly researched back stories on the wines. He also had some agency wines for ONTARIO, favouring the small, authentic domaines such as BURLE at VACQUEYRAS.
To receive a flavour of JOHN's style I reproduce some lines from his newsletter of 31 March 2007, shortly after we had got to know each other better via the medium of the DÉCOUVERTES EN VALLÉE DU RHÔNE bi-annual event.
QUOTE
3. WINE IS IMPORTANT BUT THE PEOPLE ARE MORE IMPORTANT
I have always liked meeting people who spent all their waking hours working to make the best wines their land will let them make. These people work very hard and take enormous risks when they invest their capital in a vineyard and winemaking operation.
This trip we spent time with several of our producers, eating at their homes, meeting their families and learning more about them as people. Despite the great wines we tasted this was the most memorable aspect of our trip.
The real message for you, dear reader, is no matter how much you might enjoy the wine in your glass, it won't really speak to you until you know the story of the wine: where was it made, who made it, what was the producer trying to accomplish when the wine was made, how has the wine evolved since it was made and since prior vintages. The only way to get the inside scoop on these questions, is to travel and get first-hand insight on these and countless other questions, directly from the producer.
END OF QUOTE
I send my most heartfelt condolences to his bright, vivacious and tenacious widow BARBARA, who accompanied JOHN on many of his vinous expeditions. They were having a long-term project of a new house built when the dread disease struck, and the past months will have been beyond belief tricky. I miss him greatly, BARBARA.