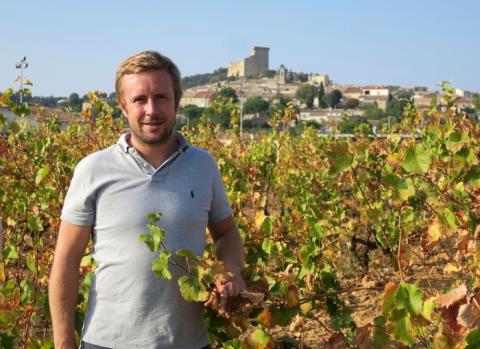 DIAL M FOR MILDEW
JULY 2018
ALFRED HITCHCOCK's 1954 classic DIAL M FOR MURDER was based on a play where the sleazy ex-tennis pro [RAY MILLAND] wants to rid himself of his coolly beautiful and very rich wife [GRACE KELLY] so he can live it up on her fortune, and mete out punishment for her affair with a writer. In 2018, it's the RHÔNE growers who would like to rid themselves of "the worst mildew in 50 years".
The last two years have thus swung between extremes – 2017 with its constant drought and high heat, leading into 2018 with rainfalls already over 80% of an annual total in places such as LIRAC. Any vigneron who was dozy, or perhaps otherwise engaged on the promotional trail abroad will have suffered, since the mildew came galloping along at a great rate, with very few opportunities to get into the vineyard under dry, stable conditions in order to treat the vines.
Hot weather from mid-June onwards has re-established some equilibrium, however. Growers I have spoken to – all run well managed domaines – were generally optimistic about the state of the vineyards, although pointing out that there is quite a lot of variation from plot to plot this year.
NORTHERN RHÔNE
From his tractor between his SAINT-JOSEPH vineyards at CHAVANAY and his CÔTE-RÔTIE base at AMPUIS, JULIEN BARGE gave this account: "it's been an All Sorts year, with a lot of bad weather, rain during flowering, people worried. However, the weather changed around 11-12 June, and we have had 18 days with sun and a North wind. We had mildew, but we have come out with around 90% of the crop intact, including vines looking in great shape. I would be heading for a 30-35 hl/ha yield. There was a storm of 25 mm (1 in) early this morning (3 July) at CÔTE-RÔTIE, but only 5 mm (0.2 in) at CHAVANAY. The SYRAH didn't suffer from coulure [flowers not converting into fruit] this year, and the crop for SAINT-JOSEPH, including the whites, is excellent. The VIOGNIER for our CONDRIEU is abundant, high quality, and suffered no mildew. Since the end of June, we have been at temperatures of 30°-35°C."
Further South at CORNAS, PIERRE CLAPE spoke about his family vineyard. "the year started late, then quickly moved into being in advance due to heat in early May," he told me. "We had a lot of rain then, with mildew hitting the bunches of the MARSANNE at SAINT-PÉRAY [bunches are obviously the worst scenario], and the leaves of the SYRAH at CORNAS. It stemmed from a constant set of rainfalls of 10-15-20 mm (0.4-0.8 in) every two days with hot weather – 26°-27°C - at the same time in May: absolutely perfect for mildew.
Total rainfall for the month of May was around 100 mm (4 in). Fresh nights and a North wind helped to stop the mildew, and now the vines have energy, punch, and are flourishing. I have seen some oïdium on a neighbour's vineyard. Yields are correct as I speak, 35-40 hl/ha. The South wind of the past days and high 34°-35°C levels is not ideal – a risk of storms - but you can't have everything. A neat rainfall of 15 mm (0.6 in) towards the end of July would be good."
SOUTHERN RHÔNE
JULIEN BARROT of DOMAINE LA BARROCHE at CHÂTEAUNEUF-DU-PAPE was ebullient as usual when I spoke to him: "well, it was tropical with the rain at times, and it's been a difficult year. There has been some coulure [flowers not converting into fruit] on the GRENACHE. I'm at a healthy yield of 35 hl/ha now, many of my plots are in good shape, and I am happy with things. I have seen some domaines losing 50% to 70% due to the mildew that struck from May onwards, and came along very early. If you missed one treatment at the very start, you were in trouble this year – you had to protect yourself. I feel that some people were lulled by the recent run of very good vintages, and so were slow to react.
It's been dry for three weeks now, which is ideal, while reserves of water are good thanks to the roughly 270 mm (10.8 in) of rain across April, May and June. The worst hit areas of the appellation are the South – I have seen vines stripped right back of vegetation in the extreme South – and the East, the best being the West and the Centre. We need a dry July."
At later ripening GIGONDAS away to the East, MATHIEU BOUTIÈRE of DOMAINE DU PESQUIER reported his situation: "the 250 mm (10 in) of rain in three to four weeks of May and early June brought the mildew, and the problem was that there were only very brief openings when you could get into the vineyard to treat the vines. The first treatment was super important this year – it had to be prompt and efficient. Budding and vegetation were both handsome, though flowering took place rather under rainy conditions, not disastrous, though.
GIGONDAS has been more spared from mildew than neighbouring appellations – I know of a CÔTES DU RHÔNE domaine at VIOLÈS on the plain that lost 80% - and we are aided by being on slightly higher terraces and heights up to the DENTELLES behind the village. The mildew here is also very much on the leaves rather than the bunches. VACQUEYRAS has suffered more mildew, for example – their marl and lime soils have played a role, also their lower landscape.
After two weeks of very fine weather, there is no drought stress, and the bunches are clear and belles. We cannot stop treating the vines for mildew until the veraison [grapes change colour], which should be around 20-25 July. 2018 has a resemblance with 2008 and its rainy spring and mildew incidence, but I am told by the old timers that they have never seen such mildew in 50 years. What would be great now would be a small storm without hail before the end of July."
Across the RHÔNE in the GARD département, RODOLPHE DE PINS of CHÂTEAU DE MONTFAUCON, with its striking position overlooking the River, summarized matters for him at LIRAC: "well, after the enormous drought of 2017 and a dry winter 2017-18, we were happy with the rain at first, then it turned to rain nearly every day, so that feeling quickly turned to worry. The accumulated rainfall now from 1 January to 1 July 2018 has been 600 mm (24 in) against an annual average of 700 mm (28 in), which shows the extent of it, especially during May and early June.
Both the GRENACHE and the MARSANNE suffer from mildew, more so than the SYRAH and the CLAIRETTE BLANCHE. I have been using copper solution to combat the mildew, which I can only describe as very virulent – I've never seen anything like it, obviously on the leaves but also on some bunches. Those who were on top of the mildew right at the start were OK – there was no catching up possible this year, especially if you work organically. Budding was very joli and prolific, while the mildew has served to perform a form of natural green harvesting for us. Since the rain stopped, we've had lots of Mistral wind, and the vegetation isn't lacking water – neither vines nor trees.
Harvest date at present is looking like early September for the reds, late August for the whites. It's 34° -35°C now, the evenings are fresh, and a spell of continued dry weather will serve us well."