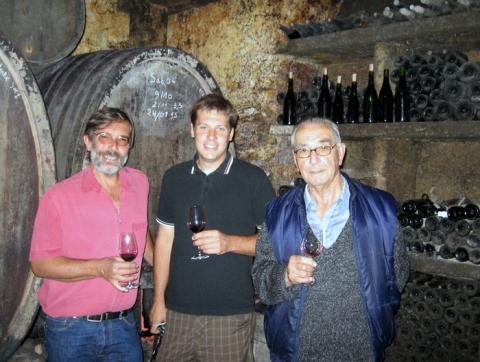 A TRUE HERO, 13 JULY 1925 TO 13 JULY 2018
AUGUST 2018
AUGUSTE CLAPE
The news I had been dreading for some time came in mid-July. "AUGUSTE nous a quitté", wrote his grandson OLIVIER CLAPE. AUGUSTE had had an operation earlier this year, and had been living in the retirement home of LES BAINS in SAINT-PÉRAY, whose cedar tree's roots used to disrupt play on the tennis court when TIM JOHNSTON [JUVENILES, PARIS] and I did battle in the early 1970s, when it was the local hotel, the HOTEL DES BAINS.
AUGUSTE had remained alert throughout his final months. Even in his nineties, he would come out to greet me and ask me my opinion of the current vintage; he lived above the timeless cellars, where he had spent so much of his rewarding and fulfilled life. Until about a year ago, he would go down in the lift and taste the wines plot by plot, his antennae always on the prowl, his mind working on what would constitute an artful blend.
My memories cluster around his wisdom, and his precious ability to see the long view, the context, be it in the handling of the vineyard, or in the vinification of the wine given the year's specific circumstances. He used to emphasize that his most important decision in any vintage was to decide upon the harvest date. "The chef can go back into the kitchen and re-do the sauce when it hasn't worked out, but I don't have the same luxury," he would tell me.
There were two other attributes that are worth commenting upon; tenacity and temperament. The tenacity was never more apparent than in the early 1970s, when the fortunes of CORNAS were as low as they could be. That was a time when ROGER CATALON spoke to me of his vineyard being abandoned after being made a Prisoner of War near TRIER. "I managed to escape, and came straight back to my boulot [my work]."
ROGER had made his first wine at 13, and spoke of the 1940s as being lost years for CORNAS – "the cafetiers of VALENCE and VIENNE would take our wine as VIN de CORNAS, but they really only wanted wine of no more than 11° to get their customers to drink more – we were selling wine passed up and down the zinc counters in those days." I first met ROGER in 1973, a man in his early 60s then, when he told me "I'm all by myself; I'd like to bottle, but cannot. What else can I do but sell my wine to merchants?" Imagine an appellation that had stayed still, or even declined, for four decades – that was CORNAS.
AUGUSTE took on the hegemony of the local Merchant Houses, believing that home bottling was the way to go. He did sell a little to the Merchants, notably some hectolitres of his 1961 to LOUIS JABOULET, "wine that went into LA CHAPELLE 1961," as he recounted with a typically wry smile. His 1971 was the first vintage that I got to know at first hand, and it was a marvellous, full-bodied creation, with what today would be praised as a commendable freshness running through it. Whole bunch fermentation was the norm then as now, the vinification taking around two weeks.
At the time AUGUSTE still grew some barley; growers needed whatever source of income they could find. In his early years of marriage, post 1949, he had been involved with the polyculture of his wife HENRIETTE ROUSSET. Beyond her five hectares of vineyards, 3.5 of them within CORNAS, there were apricot trees, cherries, cereal, cows: much to do, and a full year of toil from 1 January onwards.
The belief in CORNAS never wavered, with battles fought against land developers, allied to rustling up the morale of his fellow vignerons, the young ones in the 1970s numbering precisely two – ALAIN VOGE and ROBERT MICHEL. Running the FOIRE of the SYRAH and the ROUSSETTE – today's MARCHÉ DE CORNAS – was another community task keenly undertaken. The 1973 version ended, as I recall, at around 02.00 hours in his cellar, stretchers on hand to carry out the survivors!
As for temperament, AUGUSTE was unflappable, rock steady. A good listener, and not a man to overtalk any situation or observation. In The WINES of the NORTHERN RHÔNE, I wrote: "AUGUSTE CLAPE is the arch example of a man whose wines are always faithful to their vintage, their style in tune with what the weather and growing conditions have delivered. A refusal to intervene too much brings the benefit of letting the vine sort out its cycles over time: years of drought, of abundant vegetation, of copious flowering, and so on are guided by observation, thought, and then deft touches."
Son PIERRE-MARIE joined AUGUSTE on 1 May, 1988 [when AUGUSTE was 62]. PIERRE's first work was mainly in the vineyard, while AUGUSTE's last vinification was the 1989. The transfer of the baton was seamless, including that from PIERRE to his son OLIVIER, who recalls learning from his grandfather "as we went along, during the vinification, for example, tasting as it happened, capturing the idea of the vintage. I also tied the vines and pruned them with him at first, along with my grandmother, who used to prune the very old vines on LES MAZARDS near the village."
Among the many vintages I have experienced, I would highlight a group that defined AUGUSTE's skills, whatever the conditions. In the annals these are often regarded as Small Years, when the growing season was testing, tricky. Among these hidden gems feature 1977 [discreet depth, pleasing], 1980 [developed complexity, depth], and 1984 [sheer delight]. Grandiose vintages were 1971, 1978, 1985, 1990, 1991 and 1995, even if his rôle in the last three was reduced.
Recognition of AUGUSTE and his work has been widespread across the world, the domaine receiving numerous communications from all sorts of people, many of whom, I suspect, will not have been aware of just how tough and bleak was the back story of CORNAS. The wines are now hot property, prices are high, even sky high, and there are elements of this merry go round that would make AUGUSTE utter one of his softly voiced, pinpoint accurate asides, his eyes speaking with their habitual softness.
Yes, a stone rather than a statue for AUGUSTE CLAPE. The inscription: WISDOM, INTEGRITY, and HUMANITY. Je t'embrasse, my very dear friend.