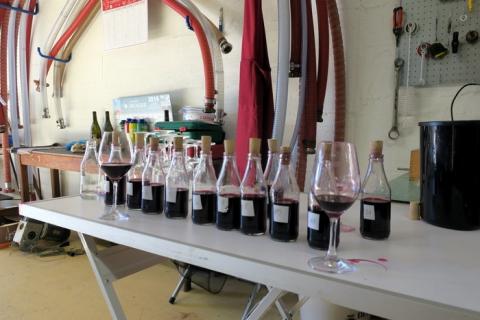 THE BELL OF PURITY OR THE CLOAK OF DENSITY?
JANUARY 2018
Recent research on British wine drinkers shows a sharply increased awareness – and prejudice – about high degree wines, the small print % figure playing a prominent role in buying decisions. The fine wine market, however, is still heavily geared to big vintages. I wonder if this is because the wines are obvious and impressive, or obviously impressive, or also because they are expected to live a long time.
Looking at the NORTHERN RHÔNE, there has been a recent cycle of vintages that have alternated between what I term PURITY and DENSITY. 2012, 2014 and 2016 are PURITY vintages; 2013, 2015 and 2017 are DENSITY years.
PURITY vintages are those where some hiccough occurred during the ripening season, probably rain, with cool weather another prompt. The bunches are attractive, swollen, the skins not very thick. They are lower degree years than the DENSITY vintages, and afford the drinker access to terroir, an STGT [Soil To Glass Transfer] presence in the glass, from the early days. In their best examples, they are well-balanced and extremely charming.
DENSITY vintages come along with the imprint of climate on them. The summer will have been very hot, probably largely dry, or perhaps happily "irrigated" with timely rainfalls, often around mid-July and mid-August. The grape skins are thick at harvest time. From the start, these wines hold a brooding intensity, and stamp dark colours and dark tannins as assets. Their juice is thick. Weather trumps terroir until they are mature. At their best, they are monumental wines with a 3-D presence, wines that will live for many decades.
Casting my memory back a couple of decades or so to two such vintages, it strikes me that time has shown a narrower gap between the much acclaimed vintage of 1990 – a DENSITY year - and its neighbour 1991 – a PURTIY year - than appeared at the time. The CORNAS CLAPE 1991, a floral, mineral beauty, has recently sidled up to the imposing 1990, a wine that PIERRE CLAPE termed "more HERMITAGE than CORNAS when tasting it in 2016; both are now ***** wines, their quality marvellous, their deft nuances established from differing sources.
It's all a question of taste, even if their prices are closer than once was the case – a quote of £499 ex taxes from FINE & RARE for the 1990, and £426 ex taxes, also from FINE & RARE, for the 1991. My tasting notes of May, 2016 showed a longevity towards 2034-37 for the 1990 and towards 2032-35 for the 1991: not a large gulf, and an illustration of the eternal importance of balance in any wine deemed to be "fine".
In November 1991, AUGUSTE CLAPE told me that 1991 was "good, even if it was too much to say that it was very good; it's not 1990, but better than 1989, which was very Cornas, rustic. There's a good level of alcohol at 12.8° [high for the era]," he continued, "lots of colour, a slight lack of acidity, and good tannins."
Another example of PURITY AND DENSITY in these two neighbouring vintages comes with the ERMITAGE LE PAVILLON RED from CHAPOUTIER. The 1990 I rated a ***** wine, the 1991 a ****** wine in their youth. I note a wide price differential here, however. The 1990 is on for £443 (ex tax) with FINE & RARE, the 1991 £292 (ex tax). Here is a glaring example of DENSITY trumping PURITY on the price scale.
At Hermitage, the 1991 harvest was later than 1990, the CHAVEs starting on 2 October after GÉRARD waited following late September rain. Importantly, the rain was followed by a cold North wind, so there was little or no rot.
In the early 1990s fine wine markets were still inefficient. The rainswept BORDEAUX 1991 vintage cast a shadow over prices and perception for the rest of FRANCE, which doesn't apply to the same extent today. The RHÔNE has gained more credibility and authority on its own terms, I am glad to write.
2015 and 2016 relate to 1990 and 1991. 2016 at HERMITAGE was hit by hail, while there has been a leap forward in winemaking standards at CORNAS since 1991; hence the most fair, broad comparison falls on CÔTE-RÔTIE, whose 2016s are cool and beguiling. 1991 is now established as an extremely good vintage there, so let's bear in mind the words of MARCEL GUIGAL when he discussed 1991 with me at the time: "our hopes were high on 15 September," he stated, but then the rain arrived, so he started his harvest on 25 September as a result, bringing it forward. Tellingly he told me, "good colour, good balance, acidities – these are wines that can age." Let's hope 2016's profile runs with similarly long-lived PURITY.