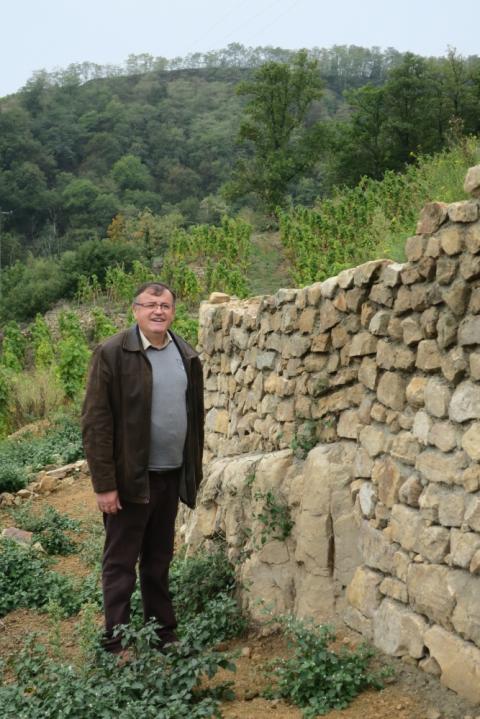 THE 2016 HARVEST IS IN, NOW STRAIGHT BACK TO THE VINEYARDS
NOVEMBER 2016
After the rigours of bringing in a crop that will be among the best in France in 2016, both from a quality and a quantity perspective, Rhône growers return immediately to the vineyard tasks that need attention as the vines themselves take a pause.
In the northern Rhône, the time to attend to walls is now – either their upkeep, repair or construction. ANDRÉ PERRET (pictured) recently told me that he received a quote from a company said to specialise in wall construction for building a 35-metre retaining wall on his prime CONDRIEU site of CHANSON at CHAVANAY: "it was €25,000, so I did it myself."
The wall has to be built before the vines can be planted on their ledges, and is fundamental to the garden aspect of hillside vines, which are likely to be pick-axed or worked by pulley when it comes to looking after the soils later on.
ANDRÉ is gradually increasing his vineyard on CHANSON from 1.9 hectares to 2.5 hectares. The effort involved for this 0.6 hectare is immense. A neighbouring mature vineyard is for sale, with the owner hoping to get €2 million per hectare, but more likely to receive half of that. It's highly likely to be sold to a prominent regional merchant or an investor from outside the Rhône. At these levels, young local people simply cannot get a look-in.
Inside his cellar, ANDRÉ is very happy with his 2016 CONDRIEU, which he terms "better balanced than 2015."