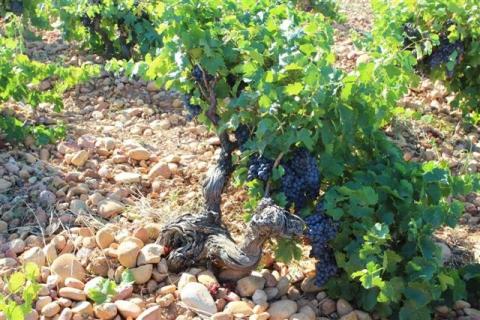 THE HOME STRAIGHT BECKONS: THE GOING DRY, THE GRAPES DENSE
SEPTEMBER 2016
The 2016 picture across the Rhône is indeed satisfactory, with the weather since early July playing an important role in lifting quality, both north and south.
From the SOUTHERN RHÔNE, reports congregate around the high quality of the crop after a hot and dry high summer. At CHÂTEAUNEUF-DU-PAPE, LAURENT CHARVIN of DOMAINE CHARVIN, in the north of the appellation, used the very same word as LAETITIA BARROT of DOMAINE LA BARROCHE. "MAG-NI-FIQUE . . you know this word?", he asked me. "It's the best crop since I started in 1990. There is great potential, unbelievable health in the vineyards. Working organically has posed no problems this year, neither from mildew nor oïdium, for example. My vines aren't suffering from drought. The grapes are concentrated.
Working the soils paid off in acting against the stress that some areas have known. We had only 2-3 mm of rain during August, and the forecast is for weather that is warm, around 28°C, and dry until the second weekend in September. I will start on my white grapes on 7 September, the SYRAH at the end of the week, and the GRENACHE the week commencing 12 September."
Away to the east at GIGONDAS, MATTHIEU BOUTIÈRE of DOMAINE DU PESQUIER on the lower levels, the more garrigue zones, gave me this report: " the spring was very cold and also very dry. The weather wasn't great at first, and there was some mildew. Then the summer was very hot and dry, and things improved then. We have drought pressure, with only small pockets of rain, around 5 mm only during August. The rain that we like in mid-August every year never came.
As a result, the grapes are very small. There is some drought stress here and there, especially after the high heat of last week – 30°C to 35°C. The grapes are concentrated, very healthy, with very dense juice: that will mean gentle extractions when vinifying. Judging by the weight of the bunches, we are 25% to 30% down in yield compared to 2015. There's been no blockage in the ripening – so far. I will harvest my first SYRAH on 15-16 September. I know there has been coulure (flowers failing to convert into fruit) in the high areas of the DENTELLES DE MONTMIRAIL, with the drought stress less pronounced there as a result."
Across the RHÔNE on the west bank of the GARD département, RICHARD MABY of DOMAINE MABY at TAVEL gave me this take on events: "things are OK," he told me; "it's been an unusual year, since it's been very dry. The positive is that there have been no blights. The negative is the suffering of the young vines; almost all our vines have kept their leaf cover, but SYRAH planted in 2008, for instance, may not ripen this year.
The grapes are concentrating now, and losing part of their juice, while the degree is rising. We were seven days behind, but with such heat as we have had in the last two to three weeks, we have caught up most of that time. Some growers say they want to wait to harvest until the weekend of 10-11 September, when there may be rain, so the grapes can expand. But I feel that if you take that route, you have to wait a further week for the full effect to take place. So I will start my TAVEL harvest on 7 September – I slightly feel I could have started on the 5 September, but there you go. The SYRAH at LIRAC won't be ready until the week of 19 September. In a year such as this, the GRENACHE is favoured over the SYRAH, as is the MOURVÈDRE. There are comparisons with 2005 – tannin, colour, structure, and not a lot of volume," he concluded.
From the NORTHERN RHÔNE, RENÉ ROSTAING at CÔTE-RÔTIE considered that matters were going well: "things are fine, " he reported; "June has been pretty catastrophic with rain and cold, and the sap being held back. But July and August have been formidable, and that has continued into September. We have had no rain for 30 days, and temperatures of 30°C to 35°C. Having been two weeks behind at the end of June, we have caught up, and are only a week behind now. The coming week is set to give good, hot weather. The SYRAH is 10.5° to 11°, and I would hope we can gain 1° per week now. Yield is good. We may start on 17-19 September. My VIOGNIER at CONDRIEU is also in good shape, and there is no rot on it, which had been a concern early in the ripening season."
Further south, covering SAINT-JOSEPH from ARRAS, PASCAL JAMET gave this appraisal: "things have been tricky from hail this year. Our vin de pays near PORTES LÈS VALENCE was hit in June, and our SAINT-JOSEPH around 10 August, which blocked the veraison (grapes changing colour), and set ripening back. At least there was a decent amount of rain at the same time, so there hasn't been drought on the hillside vines.
Because we have very few clone vines, our yield is down – even without the hail, with coulure another factor hitting the crop this year. We are now looking like harvesting around 20-25 September, with an average of 11.5° as we speak. There has been no real rain for four to six weeks, so there is some drought stress. The whites look good, including my young ROUSSANNE at SAINT-PÉRAY, with no drought influence there. This year is going to be around two weeks behind recent vintages such as 2015."