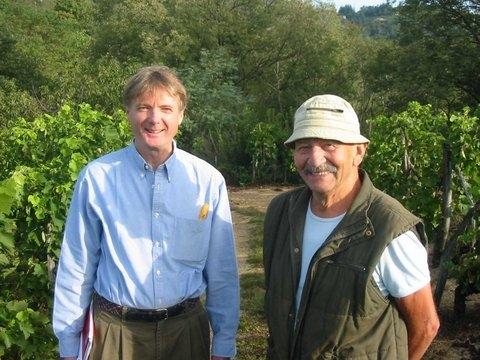 UNPRECEDENTED INTEREST IN THE NORTHERN RHÔNE, PAST AND PRESENT
JANUARY 2017
I have been fielding questions and enquiries about the history of the northern Rhône recently, and it appears that there is a welling up of interest in the region, with the USA and Britain two of the driving forces behind this. People what to know if there was a 1961 CHAVE HERMITAGE ROUGE bottled – answer very little – or what my impressions were of retired or deceased growers such as – in probable order of interest – NOËL VERSET at CORNAS, MARIUS GENTAZ-DERVIEUX at CÔTE-RÔTIE, RAYMOND TROLLAT at SAINT-JOSEPH and JEAN-LOUIS GRIPPAT at SAINT-JOSEPH and HERMITAGE.
Prices of wines from these producers have taken off - £300 is certainly involved in a VERSET wine, for example. Meanwhile, there is price pressure on the current wines due to the much heralded 2015 vintage. Such a thrust forward for the northern Rhône reminds me of the impact of the mighty 1978 vintage, which was the first one in modern times that allowed discovery of the true worth of these noble SYRAH wines. The export figures for Rhône wines make interesting reading if one compares 1976 to 1981.
By far the leading market in those days was SWITZERLAND, with some of the wines shipped there in cask or bulk for bottling on the spot. The vineyards of the Rhône were downstream from Lake Geneva, and there was a connection that crossed both cuisine – sauced dishes, robust flavours – and wine. In 1976 Switzerland imported 137,974 hectolitres of Rhône wines; in 1981 177,303 hl, a rise of 28%.
Runners-up were BELGIUM and LUXEMBOURG – 1976 49,685 hl v 104,351 hl in 1981 (+110%), then BRITAIN (24,213 v 55,043 hl, +127%, the NETHERLANDS (26,409 v 61,327 hl, +132%), and WEST GERMANY (31,365 v 68,235 hl, +118%). A curiosity, if one takes its current high profile, is that the USA imports actually fell – 24,049 v 24,005 hl. Those were the days before the imposing influences of wine journalists with 100 point scoring indices. Nowadays the USA accounts for the highest value per bottle of Rhône imports, by the way.
Another spur to export sales I should mention was actually the publication of my first book The Wines of the Rhône (Faber & Faber). I delivered the manuscript to Fabers in March 1975, but the oil shortage crisis and a three day working week meant that it didn't appear until early 1978. As the only work on the region, it was taken to the Rhône by wine importers looking for names and domaines.
One of the first cases was The Wine Society in Britain, who visited DOMAINE JAUME at VINSOBRES on the basis of my writing "One of the best private domaines belongs to M.Claude Jaume. M.Jaume's wine is rich and strongly coloured, and compares very favourably with the Vinsobres of either Co-operative [there were two Co-ops and only four or five domaines bottling their wine in those days]. A wine of good balance and long finish, it can live for up to eight years, but should be carefully drunk: its alcohol degree can rise as high as 14°, this resulting largely from the abnormally temperate climate of the whole Eygues Valley, which for wine purposes extends from Saint-Maurice as far as Nyons."
A very happy footnote to this is that The Wine Society still works with DOMAINE JAUME today, something that we toast when I visit the Jaumes.
The biggest volume of Rhone wines these days go to GB (21% of bottled wines), followed by BELGIUM and LUXEMBOURG (16%), USA (15%), CANADA (10%), GERMANY (8%), SCANDINAVIA (8%) and SWITZERLAND (6%). I expect export figures over the next two years to be robust and on the rise given the very high quality of 2015, and the at least good to very good 2016 vintage.
A FEW SOUTHERN RHÔNE THOUGHTS
While the NORTHERN RHÔNE is a hot spot for wine enthusiasts, I detect a certain drift in the SOUTHERN RHÔNE. Talking to importers in BRITAIN, it I clear that appetite for CHÂTEAUNEUF-DU-PAPE is weak compared to what it used to be. The wines are considered expensive, never more so than if featuring on a wine list in LONDON, and there are image problems, as well: high degree, overblown wines, with the special Prestige cuvées targeted at an American clientele more than suiting the evolving tastes of a European set of drinkers.
When tasting the 2015s in September 2016, there was an immediate step change in degree when I moved from the TRADITION wines to the PRESTIGE wines – 13° to 14.5° became 14° to 15.5°, or higher here and there. I continue to bang my tinny drum in insisting that the unique CHÂTEAUNEUF terroir and climate are made for wines of finesse, and not power. As a good deal, therefore, the grossly overlooked 2014 vintage lines up some real good buys, one of the favourites being the totally pleasurable 2014 CLOS DES PAPES, a wine of ace finesse, described by VINCENT AVRIL as "very Burgundian." Or take the 2014 TARDIEU-LAURENT CUVÉE SPÉCIALE, a wine of harmony, class and grand elegance.
Elsewhere in the SOUTHERN RHÔNE, GIGONDAS continues to give good wines, although prices are edging upwards. The longevity of GIGONDAS is frequently underestimated, by the way, including in lesser vintages which would include 2008 or 2014. Then there is CAIRANNE, home to 25 domaines full of confidence and generally accomplished winemaking, that will soon slot in as the third most important appellation of the SOUTHERN RHÔNE.
For sparks of interest, much of the rest of the SOUTHERN RHÔNE comes down to following domaines rather than appellations. However, there is a well-entrenched commitment to organic practices in VILLAGES such as VISAN and VALRÉAS; the vintages of 2015 and 2016, with high quality crop, have aided those working organically after 2014 pushed the limits due to attacks of acid rot.
As a final New Year observation, WHITE RHÔNE continues to gain in popularity, even if there is also a tendency towards lighter wines, which I term New Wave, and also an annoying over-use of carbonic gas, which I regard as a big distraction when tasting and drinking the wines. However, there are plenty that are rightly well suited to la table, and you can do no worse than buy some SOUTHERN RHÔNE white 2014s and 2015s and tuck them away until they are five years' old, when they will be complex and stimulating.