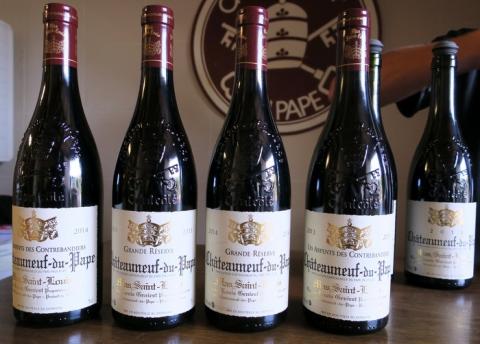 FORTY YEARS BETWEEN DRINKS
FEBRUARY 2017
MAS SAINT-LOUIS: 30 HECTARES OF A SINGLE VINEYARD AT CHÂTEAUNEUF-DU-PAPE
I first met LOUIS GENIEST (1909-1990) in the mid-1970s. I recall a visit, perhaps with STEVEN SPURRIER, to this domaine with high iron gates down at the bottom of the road running from the fountain, on the way to the route de BÉDARRIDES.
Then the domaine disappeared off my radar, with much of the wine sold in bulk. I must have walked past it hundreds of times, but signs of life were rare. LOUIS' son JEAN was a lawyer until his death in December 2008, and the domaine is now run with increased passion and commitment by his widow MONIQUE, a lady in her eighties, with a cellar chief called MATTHIEU FAURIE-GRÉPAN present since 2011.
The remarkable thing about this estate is that their 30 hectares, average age 40 years, are all in one extended plot in the south-east of the appellation, on the adjacent sites called CROUSROUTE and LA LIONNE, the latter close to an offshoot branch of the main RHÔNE RIVER. That is a very large single vineyard, more usually found with the big Château properties. There are three red wines, and, since 2013, one white. About 30% is sold in bulk, down from 50% in 2011.
The style from these sandy, galet stone covered soils is for perfumed wines, with a gentle take that is found in the southern sector. They unfurl gradually, and, after eight years or more, the bouquets become varied and interesting. There are still old vintages available, going back to the **** 2004 MAS SAINT-LOUIS. There are two smaller production wines, both very sound ***(*) to **** wines in 2013 and 2014. The ARPENTS DE CONTREBANDIERS RED was a most harmonious **** wine, like a feather in the wind, in 2014. This is a style that will slowly regain favour as the promoters of BIG wines at Châteauneuf lose influence. Raise your glass to that, dear reader.