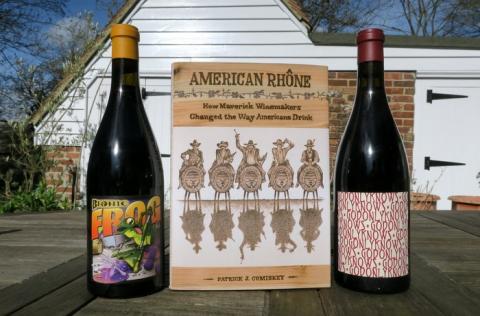 THE RHÔNE MOVEMENT IN THE USA
APRIL 2017
As opposed to the plastic surgeon, muy rico plunge of investment in the NAPA in the 1970s that heralded a slavish planting of the varieties that the surgeons and the ricos knew best – CABERNET [BORDEAUX] and CHARDONNAY [BURGUNDY], the development of RHÔNE influences in the USA was much more of a counter culture event.
Fuelling it often was the element of surprise. Given that RHÔNE wines were poorly known across Europe in the 1970s, in America, they were beyond sub fusc. But wait – who is this I see galloping towards me with a guitar on his back and home grown cigarette in his mouth – why, it's my very old friend KERMIT LYNCH.
KERMIT, a hippy musician at the time, travelled to Europe in 1971 and opened his store in BERKELEY the following year. RUTH REICHL wrote in her memoir "Tender at the Bone: "in the back of the store a slight man with curly brown hair and a scruffy beard stood by a make-shift desk, watching me. I could feel his eyes on my back as I went up and down the aisles looking at the wine in the cartons and repeating the names to myself. The words were beautiful. I reached for a bottle, picked it up, and stroked the label. "It's not fruit," said the man. "You can't tell anything by squeezing it."
And away he went, with his good chum ALICE WATERS just down the road framing the new American cuisine at CHEZ PANISSE, around a commitment to cooking with local produce in season, and honouring all contracts to buy fruit or vegetables even when crops were poor or damaged. For ALICE, like KERMIT, the reference point, the start point, was FRANCE.
Importing the likes of CHAVE HERMITAGE, TROLLAT SAINT-JOSEPH, CLAPE CORNAS and SAINT-JOSEPH JEAN-LOUIS GRIPPAT, KERMIT spread the word about the RHÔNE through these magic, unknown bottles and through a fervent advocacy of their virtues. Always an accomplished story teller and a shrewd marketeer, he lit many a fuse for future American experimenters and individualists.
I can recall JOSH JENSEN [of CALERA] talking about his discovery of VIOGNIER when drinking a bottle at the HOTEL BEAU RIVAGE in CONDRIEU in 1969, which led him to return the next year to harvest the grapes at CHÂTEAU-GRILLET, his payment for which was three bottles of that noble wine [with the 1969, he was in very good shape indeed]. From there he went on to be one of the first to plant VIOGNIER. I took a bottle of early 1970s VERNAY CONDRIEU to drink with him in SAN FRANCISCO in the early 1990s – the oldest bottle he had ever tasted, since the custom was to drink it up pretty rapidly.
It is said that my publisher, the UNIVERSITY OF CALIFORNIA PRESS, BERKELEY, is quitting publishing wine books, which isn't a great surprise given how poor the state's finances are. If that is indeed the case, they have signed out with a real winner in the form of AMERICAN RHÔNE by PATRICK J COMISKEY. PATRICK has done a superb job at capturing the straggling RHÔNE movement with a picture of vibrant anecdotes, humour and detail across nearly 50 years of development, setbacks, dawns and false dawns.
The subtitle is "How Maverick Winemakers changed the way Americans drink", and I can thoroughly recommend the book with its cast of characters, several of whom I know well. RANDALL GRAHM still owes me a royalty for CIGARE VOLANT, and I still haven't made my road trip with STEVE EDMUNDS, but I suggest you get to know these racy pioneers via the pages of this delightful, well researched and well written book. Its ISBN [for the book] is 978-0-520-25666-8, and for the e-book it is 978-0-520-96514-0.