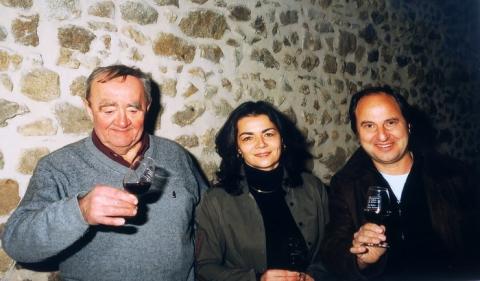 FAREWELL TO MY FRIEND AND TUTOR, LE GRAND PATRON
JUNE 2017
GEORGES VERNAY
There have been three men who shaped my understanding of viticulture, wine and the broader scape of life and its challenges, all resident in the northern Rhône. One of them, GEORGES VERNAY, has recently died aged 92. The other two are AUGUSTE CLAPE at CORNAS and GÉRARD CHAVE at HERMITAGE.
When starting my book researches in the summer of 1973, the only name mentioned to me to go and see at CONDRIEU was GEORGES VERNAY, who was then 48 years' old, and the single person keeping the depressed appellation on its feet. At the time I wrote: "above the river the scene is more melancholy. The gently inclined slopes are now largely uncultivated, and their abandonment has left them in a pitifully disordered state. 20 acres (8 hectares) – that is all there is of Condrieu, and the contrast with the neatly delineated and well-covered hillsides of Côte-Rôtie is immediately striking."
In those days, the average yield was also pitiful – between 1962 and 1971 it was 16 hectolitres a hectare, with the whole 1969 vintage reduced to a derisory 19 hectolitres after a disastrous July hailstorm. The wine was therefore just part of a polyculture existence, which meant that it paid growers to sell it as quickly as possible, with FERNAND POINT of the fabled three Michelin star Restaurant LA PYRAMIDE in VIENNE one of the regular takers, wine whose fermentation was stopped by all sorts of means in time for the Christmas trade, the result a demi-sec.
GEORGES entered his father's domaine in 1944, having started to work the family vineyards when he was 16 years' old. By the time I first met him, his role went far beyond just making the best wine in the appellation; he was the Papa of the appellation, the President of the SYNDICAT DU VIN, the man charged with defending the land against housing development, but also the man who lent equipment, such as the use of his new Vaslin press, and gave advice to his neighbours, who vinified the wine for the CHÂTEAU DU ROZAY, the man who ran the whole show almost single handedly.
As he told me at the time, "it's impossible to use machinery in the vineyards, which really makes it a young man's profession. What I would like to see created is something like a Protected Wine Zone, given over to viticulture and nothing else. In this way, the Wine Syndicate would rent vineyards from older growers, and pay them extra according to the size of the crop, the state of the market, and so on. I honestly think that if nothing is done France will gradually lose some of her best white wine slopes."
While fully aware of the need to respect the past, notably in the vineyard, GEORGES was also ready to embrace the future, as was shown in his winemaking, with investment in the latest vats, presses or casks, and an awareness that CONDRIEU needed to be a fresh rather than a heavy style of white wine. This baton was truly picked up by his daughter CHRISTINE.
Thus the VERNAY story goes far beyond praising a man for the work that he conducted for his own estate and family, and for the pleasure his wines gave to so many enthusiasts around the world, as well as for the inspiration he provided for winemakers outside France. To some extent, I feel that he never actually received the full recognition he deserved, in part because his legacy in bottles was more ephemeral than those of a maker of long-lived red wine, but also because he was so self-effacing about his own role.
Big hands, with an even bigger heart, GEORGES would always patiently answer all my questions, with a sprinkling of superb, pinpoint detail anecdotes such as that of HENRI LE FUNAMBULE – HENRI THE HIGH WIRE CYCLIST, based in SAINT-ETIENNE and known across France, who came to CONDRIEU one day in 1934 to cross and re-cross the 600 metre gulch between the two slopes of the celebrated COTEAU DE VERNON. His description included naming the oak tree [LA GABERTE] to which the wire was attached on the south side of VERNON, where YVES GANGLOFF now works some of his vines.
The mainstay of the family vineyard was always the 2.5 hectares of VERNON, with its topsoil of arzelle – decomposed, fine granite with mica and occasional schist. Its production of 5,000 bottles was always eagerly snapped up. I am lucky enough to still have old bottles in my cellar, and the day before GEORGES died, I drank a still flourishing 1983 COTEAU DE VERNON, a wine that WILLI'S WINE BAR in PARIS held as its wine of the year – for two years.
For some time in the late 1980s and early 1990s, there was uncertainty over the domaine. Son LUC attended the BEAUNE WINE SCHOOL, but his heart was not really in it, and he subsequently left to set up his own flying school, while his brother DANIEL was a horseman who went to live in the United States, raising and breaking in horses in Colorado.
It was in 1996 that daughter CHRISTINE returned south from a full and artistic life in PARIS with her bubbly husband PAUL AMSELLEM, her first vintage being the 1997. When I see CHRISTINE at work in the cellars on the slope of SAINTE AGATHE high above the Rhône, I see GEORGES smiling with contentment at his daughter's assured, accomplished presence, her keen eye for detail, and her commitment to any task in hand, with no distractions. She has also fought off ill health, and when her father died, the domaine's standing had never been higher.
I therefore salute the man I called LE GRAND PATRON, whose vision and labour enlightened the RHÔNE and well beyond, and send my deepest condolences to his loving family.
JOËL CHAMPET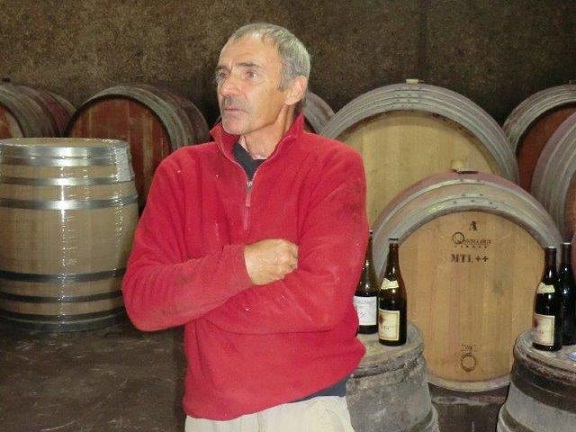 The first vigneron that ROBIN YAPP encountered in the RHÔNE was the late ÉMILE CHAMPET. ROBIN had tasted the CHAMPET wine at the Paris Wine Fair in the late 1960s, and, fired by enthusiasm, he drove south to CÔTE-RÔTIE to essay (a very Yappian word) a purchase of his wine for the British market. There were gestures of drinking elbows and thumbs up to illustrate the fact that ROBIN had much enjoyed ÉMILE's wine, and the deal was done.
YAPP still import the CHAMPET CÔTE-RÔTIE, and it was sad to hear that ÉMILE's son JOËL had died in May 2017, after a protracted fight against cancer that he valiantly fought off for many years longer than was expected.
The style has remained consistent throughout, with what I would call a good countryman's take on CÔTE-RÔTIE, a wine with a brambly fruit content and noticeable, sometimes puckish tannins in attendance. But always the classic violets and floral tones of a true RÔTIE, delivered at very reasonable prices.
JOËL was what the French call a Bricoleur – a handy DIY man – who liked to repair machines and do much of his own house building. He lived beyond the confines of life as a vigneron, so it is good news that his son ROMAIN has been active for some years now, with the wine in good form. JOËL's legacy is therefore secure.
My condolences go to the CHAMPET family, who can be proud of what JOËL achieved under the greatest of duress.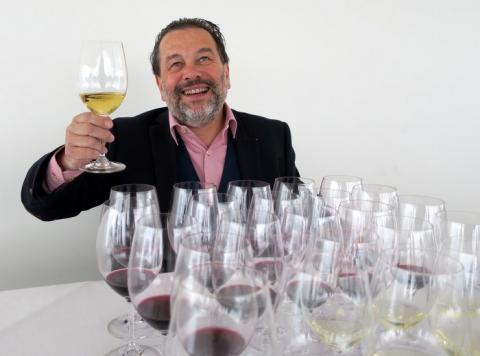 HIGH HO SILVER BRINGS 2016 NORTHERN RHÔNES TO LONDON
MAY 2017
In the panoramic lee of SAINT PAUL'S CATHEDRAL, MICHEL CHAPOUTIER made his annual pilgrimage on the iron horse known as Eurostar to display his 2016s in the last week of April 2017. The event was held at the TATE MODERN. As ever with MICHEL, he sailed in, spoke largely on message, had some lunch, then whizzed back to Gallic shores. He is much in demand these days for all sorts of committees and bodies that oversee the world of wine in France.
He is happy with the vintage, although his company was badly hit by the April 2016 hail on the hill of HERMITAGE, which reduced yields on the prized L'HERMITE and LES BESSARDS to a miniscule 10 hl/ha. The effect has been to concentrate those wines beyond the more cool features naturally found in this vintage, which stands in contrast to the copious, rich depth and size of the 2015s.
Prices have risen substantially between 2015 and 2016; 14%, even with the lowering in the GB£-€ rate, is going it somewhat, and it remains to be seen whether the recent momentum in popularity of the NORTHERN RHÔNE will be left behind, as buyers re-discover the classical joys of BORDEAUX in a good vintage there.
Full tasting notes on the upper end of MICHEL's range have been entered under M CHAPOUTIER; please log in to see those, including his two very good 2016 CHÂTEAUNEUF-DU-PAPE reds, CROIX DE BOIS and BARBE RAC.