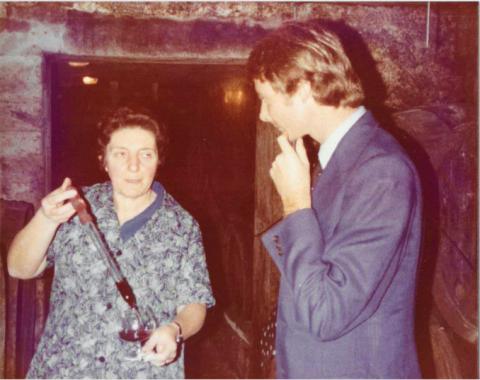 FAREWELL TO TWO CORNERSTONES WHO HELPED TO BUILD THE RHÔNE FROM THE ROOTS UP
MARCH 2017
This year we have said goodbye to two people whom I have known since the early 1970s, both of whom in their separate ways helped to lay the foundations for the flourishing, successful region that exists today. I feel it is important to recognise these often unsung heroes in a world hellbent on knowing the NEXT GREATEST THING, rather than taking time to pause, look back, ponder, and appreciate.
In the northern Rhône, HENRIETTE CLAPE, wife of AUGUSTE, died recently. Born in CORNAS in September 1924, she was nine months older than AUGUSTE. Her nom de jeune fille was ROUSSET, a family with extended local roots in those days, but, after losses in the Second World War, there are no close relations left there today.
HENRIETTE's family owned four and a bit hectares of land, which included about three hectares of vineyards. The plots were those that are the spine of the DOMAINE CLAPE, notably LA CÔTE and PETITE CÔTE, but also PIED LA VIGNE, where there are 1890s SYRAH, and LES MAZARDS. Their vineyard on COMBE gave a CÔTES DU RHÔNE red.
Land near the N86 road to SAINT-PÉRAY was used for growing cereals and apricot trees, while HENRIETTE was dedicated to her cows, milking them morning and evening, and making fresh cheese for her young family of one boy, PIERRE-MARIE, and two girls, MARIE-LAURE and BERNADETTE, into the mid-1970s.
"I especially remember her work with the cows – you had to be assiduous, twice a day, every day," relates PIERRE-MARIE. "We would eat fresh cheese nearly every day, while the milk she would deliver every day to the Épicerie in SAINT-PÉRAY. The hay was stored in the attic next to the house, along with the horse who was used to work the vineyards."
After her marriage to AUGUSTE in December 1949, HENRIETTE set about raising her three children, but she also continued to do what she knew - work the vines. "LES MAZARDS was virtually her own little vineyard," recalls PIERRE. "She pruned it all, she took out excess buds, she tied the young vines, she harvested it," he says. "As well as preparing all the sales paperwork and the accounts." [And receiving visitors such as me].
That is a full life lived fully, and, while HENRIETTE wasn't known to many of those who clambered through the small grey metal door on the N86, before going downstairs to taste, she was the veritable engine room behind AUGUSTE, and her contribution, never showy, was immense. I recall her as a true Ardechoise, capable of gruff humour, and not given to talking out of turn. Her friendships were firm and true, and I salute her and send my condolences to the family, content to know that she had met her great-grandson RUBEN before her passing.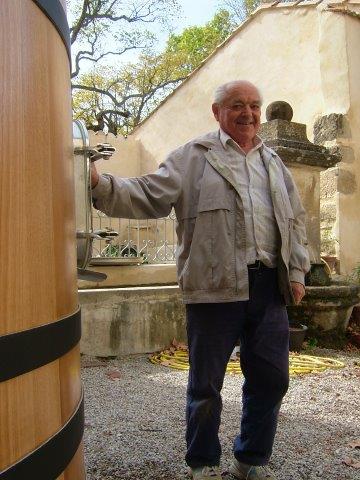 In the southern Rhône, HENRI BARRUOL, as true a child of Provençal lands as you could find, also died recently. In my first book on the Rhône, researched in 1973-74, I wrote "one of the most interesting of the small and old domaines is DOMAINE SAINT COSME. Its present owner, M.HENRI BARRUOL, is a small, energetic and entertaining character who stumbled into being a vigneron through marriage – and has no regrets at all in either department: "I used to be a full-time wood carver," he explained, "and after marrying and moving to Gigondas, I learnt a lot about wine from an old school friend who is a local oenologist. That was ten years ago, and now with the benefit of hindsight I'm really glad I kept up wine-making at Saint Cosme."
The reality was that HENRI had already lived a full life for such a young man when he arrived at Gigondas. Born in APT, his schooling at the Catholic College of AIX-EN-PROVENCE had stopped at 15 years due to the Second World War, and by August 1944 he was living on his own, away from his parents, in AVIGNON, learning his trade as a cabinet maker, with bombs falling as the liberation of France took place.
HENRI set himself up as a cabinet maker and restorer in MAZAN, a VENTOUX village, in 1950, with the help of his best friend's family - the oenologist JEAN-PAUL LAVAL, whose cousin CLAUDE ROLLAND had previously caught HENRI's eye. CLAUDE's family owned seven hectares at GIGONDAS, and the couple were married in 1957. Thereafter HENRI threw himself into planting vines wherever he could, also putting in a garden at SAINT COSME, taking out cherry trees, investing his project to revitalise a tired vineyard with his customary whirlwind zeal. Having worked on the land on a family property in the TARN as a young man, HENRI held some preparation for these tasks.
Not so the winemaking. By the early 1960s, his great friend JEAN-PAUL LAVAL was a complete rarity - a man who took a scientific approach to winemaking. He had a cabinet of oenology - a word little employed in those days - at CARPENTRAS, and "that's where my Papa learnt about all the mistakes and howlers that people were making when vinifying their crop," recalls LOUIS BARRUOL. "But Papa also emphasized to me that wine starts with discipline and hard work, but that one should never lose sight of the aesthetic side that the maker should want to present. As a man intensely interested in music, opera, archaeology, history, sculpture, cinema – all those influences helped to make and craft his wine," says LOUIS.
Henri continued with projects of restoration on the Chapel of SAINT COSME, including sculpting its altar, while restoring the estate cellars and guiding the vineyard from seven hectares up to 15 hectares in 1992, when son LOUIS started full-time. From the mid-1960s, he spent twenty years involved with the Syndicat of Growers, their Union, bearing a strong sense of collective responsibility. Throughout, HENRI encouraged those around him to appreciate the beauties of life, which could range from a piece of choral music to a rare bird. His mind would whizz along, right up to his end. "He didn't see himself as an owner, but as a guardian whose mission was to embellish and pass on what he received," concludes LOUIS. My thoughts and condolences go to all the extended members of the BARRUOL family.