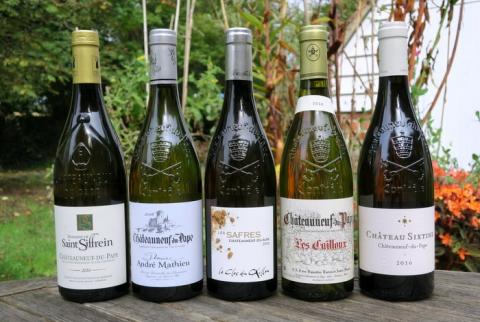 A PERFECT STORM FOR PRICES?
OCTOBER 2017
With news of half a harvest brought in across the SOUTHERN RHÔNE for 2017, and a deficit also in the NORTHERN RHÔNE due to coulure [flowers failing to convert into fruit] on the SYRAH, we could be looking at an unwelcome spike in RHÔNE prices. There will be pressure on RHÔNE growers due to the levels of interest in the 2016 vintage, hard on the heels of the much acclaimed 2015.
En primeur sales for the RHÔNE are growing year by year, and the date for this creeps ever forward. I maintain my position that en primeur is a fandango operation designed less for the consumer and more for the intermediary – the wine merchant – than even the domaine. The BORDEAUX system of offering the wines as early as April following the harvest has been creaking at the seams for some years now, and the RHÔNE is starting to be ramped up to follow that.
And yet, here we are with – in the SOUTHERN RHÔNE – multi variety wines, whose final blending has not been performed under a year after the harvest. Nor are they all raised in just a 225-litre BORDELAIS cask. The wines can be raised in large 40 hl barrels, the ever more popular demi-muids of 600-litres, the 228-litre of BURGUNDY, 400-litres also, steel vat, concrete vat, tronconic oak vats and so on. What is offered for the en primeur tastings is an approximation, a car with three wheels and no spare tyre.
The get out of jail card in 2016 is that the reds are stacked with pure and often ebullient fruit which is easy to appreciate and enjoy. Balance is good, tannins are ripe, and the wines are showing well young. I would expect there to be strong sales for the likes of CHÂTEAUNEUF-DU-PAPE and GIGONDAS, although the relative drop in popularity of the former over recent years due to the perception of high degree wines, marked up to very high prices in restaurants, may offset that to some extent. GIGONDAS prices have also been rising recently, by the way.
It's a delicate situation, therefore. I have seen RHÔNE stampedes before. Take the early 1970s, when speculation in wine futures was pretty rampant. On that occasion, BORDEAUX and BURGUNDY were bid up, with the RHÔNE following. Then the train hit the buffers. On 31 August, 1972, stocks of wine held at the properties of CHÂTEAUNEUF-DU-PAPE amounted to 58,910 hl. On 31 August, 1974, stocks were 112,505 hl. For GIGONDAS, stocks of 17,440 hl on 31 August 1972 became stocks of 33,903 hl on 31 August, 1974. Prices subsequently plummeted due to the supply and demand inequality.
Today there is such a wider choice for consumers than 45 years ago. The wine world is several times larger, literally. If perception, which more and more rules over reality, rules that a wine isn't worth it, or is uncool, that wine can fall away from favour in the blinking of an eye.
Hence there is pressure on growers to conduct their businesses with a calm, measured hand. Consumers take a hard line on someone pleading loss of crop = higher prices. They can just shift to the next door shelf in the shop.