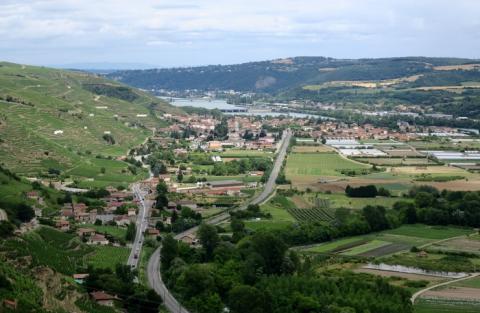 A RARE VINTAGE THAT WILL TIRE THE VINES FOR 2018
SEPTEMBER 2017
With the RHÔNE the subject of very little rain once more during August, the last three months have seen vineyards obliged to seek deep into their root systems for nourishment. The fact that growers are surprised that the foliage is not yellow by and large tells me that 2017 is going to be a high wear and tear year for the vines, especially plants under 20 years' old.
Any grower lacking in commitment of time and effort in the vineyard will be punished this year – and next. Working the soils has been essential. I find it hard to recollect a vintage in the past 45 years that has been so consistently dry, although 2003 gave higher, more intense heat. 2003 was also helped by some rain in early July, with the top spike in temperature late – the week of 10-17 August 42°C at HERMITAGE, for instance. I expect 2017 to hold better balance than 2003, even if it is a rare year.
2017 SOUTHERN RHÔNE
The central story in the SOUTHERN RHÔNE remains the lack of GRENACHE NOIR, and GRENACHE BLANC for the whites, savagely hit by the coulure at flowering. At TAVEL, RICHARD MABY, whose vineyards cover TAVEL, LIRAC and CÔTES DU RHÔNE, spoke of the economic effect of such a small crop: "it's worse than in 2013, and is 30% down on 2016 – some bunches have just one grape on them on LES VESTIDES. People are worried by the impact for their income."
VINCENT DE BEZ of the celebrated CHÂTEAU D'AQUÉRIA [TAVEL, LIRAC, CÔTES DU RHÔNE] agreed, telling me: "it's not very funny this year. There are very, very few grapes, right across the region, while the drought has meant that there is very little juice in the grapes. The result is -50%, which I have never seen in my career. The CAVE D'ESTÉZARGUES finished their harvest on 31 August – they had nothing more to pick. For small domaines that don't have a good foothold in the French or overseas markets, it's a worrying time."
CHÂTEAUNEUF-DU-PAPE has not been spared, with some estimates of crop around 20-25 hl/ha. The last week of August saw harvesting on whites, but in the first full week in September growers have stepped back, waiting for their GRENACHE NOIR to ripen properly. "I harvested my SYRAH on 30 August, and my whites on 1-2 September, but am now waiting until 11 September for my GRENACHE," related LUC CHARVIN of the top grade DOMAINE CHARVIN from the northern sector towards ORANGE. "Quality is very, very joli, and it's healthy, but it's only half a crop. We haven't been hit by the drought, unlike parts of the southern sector."
From the southern sector towards SORGUES, FRÉDÉRIC NICOLET of the very good, traditional styled DOMAINE CHANTE PERDRIX confirmed this: "the northern area has had a bit more rain than us, it's true," he stated. On 31 August we had just 4 mm and that was followed by a strong MISTRAL wind. I have harvested my whites – the GRENACHE BLANC, a low crop and 14°, the CLAIRETTE, very joli and 13.8°. The SYRAH is strong on colour and looks magnificent, but the GRENACHE NOIR loss is 30% to 40%. Its skins are very thick, as you would expect, and that is why I am waiting to harvest it. There's not much harvest activity this week after the early push last week."
Further north at VISAN, one of the leading CÔTES DU RHÔNE VILLAGES, owner of the excellent biodynamic DOMAINE ROCHE-AUDRAN, VINCENT ROCHETTE, gave this report: "I started at the end of August, and 2017 is a high quality vintage. We are down 50% on our usual crop – the spring frost, hail, coulure and drought forming four reasons for that."
2017 NORTHERN RHÔNE
Meanwhile in the NORTHERN RHÔNE, activity is starting here and there. OLIVIER CLAPE at CORNAS told me: "the 11 mm (0.5 in) of rain on 31 August wasn't enough to supply a little more juice in the grapes. We harvested our whites on 29 August, and with cooler temperatures we are on our CORNAS harvest from 4 September on."
CORNAS is usually some time ahead of CÔTE-RÔTIE, a fact confirmed by PATRICK JASMIN from the latter at his home in AMPUIS: "the vineyard looks in good shape, and we have a good week's weather to come. We received 10 mm of rain on 31 August. The degrees are coming along, and the acidity is correct. M.ROSTAING is harvesting on FONGEANT, but there is not much other activity, with, for me, a lack of ripeness still in the pips and stems. My SYRAH is now 13° to 13.5°, but the phenolic ripening hasn't happened yet. I expect to get going on 11 September."
Working well across vineyards at CÔTE-RÔTIE, CONDRIEU and SAINT-JOSEPH from his base above CHAVANAY, LIONEL FAURY reported that he was due to start his CONDRIEU VIOGNIER on 7 September. "Ripeness levels are quite high, we are at 14° to 14.5°, but the grapes have lacked flavour, and I can't harvest them until they have flavour. The vineyard isn't yellow, so isn't visibly suffering. I have colleagues bringing in only around 20 hl/ha. Normally I would expect to use 135 kg of grapes to make 100 litres [1 hl], but this year it's 160-170 kg.
For my SYRAH, the year is in advance; I will harvest the first plots on 11 September. Ripening has been gradual, and quality is quite normal, fine and beau. As usual, there has been more rain at CÔTE-RÔTIE than SAINT-JOSEPH, and I had some hail on 20 June on LE PLOMB in the northern part of CÔTE-RÔTIE."