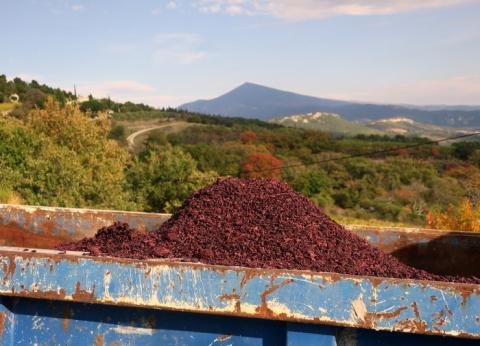 THE SOUTHERN RHÔNE VINEYARDS: HANDFULS OF DUST
NOVEMBER 2017
2017's harvest has been duly vinified across the SOUTHERN RHÔNE, although CHÂTEAU RAYAS at CHÂTEAUNEUF-DU-PAPE have been by some distance the last to pick. As EMMANUEL REYNAUD told me: "the big challenge is to find the balance of the fruit: you have to wait for that, the length of the fruit; you shouldn't be swayed by the sugars."
2017 yields are down often by 50%. With the crop so small, and the weather so dry, it has been no surprise that the grapes have had very thick skins, with only a little, concentrated juice inside them. At this juncture, I have a flashback to 1983, when just such a situation arose, and within living memory, 1957 as well.
Those were vintages with pushy tannins, and I spent years into the 1990s wondering if wines such as the 1983 HERMITAGE LA CHAPELLE would ever climb down off their tannic perch, and become presentable in polite company. The answer, for the most part, was NO.
However, I have been pleased by the style and flair of the 2017 fruit, but most happy of all to find tannins that are well embedded. As ROBERT CHARAVIN of the very good, biodynamic DOMAINE DES COTEAUX DES TRAVERS at RASTEAU remarked: "when you ate the grapes this year, you feared the worst with the tannins, because the taste was unbalanced, but after vinification, the tannins seem to fit in well."
However, outside, in the vineyards, the situation is grave across the SOUTHERN RHÔNE. At CHÂTEAUNEUF-DU-PAPE, there has been just 40 mm of rain (1.6 ins) since May, including a hailstorm of 28 mm (1 in) on 28-29 June, 2017, and annual rainfall of 236 mm (10.5 ins) between January and the end of October. Average annual rainfall there is 650 mm. Just a trickle of rain in JULY, AUGUST, SEPTEMBER and OCTOBER, thus. MISTRAL wind, as is blowing in early NOVEMBER, adds to the drought, and intensifies the absence of water reserves.
JEAN-PIERRE BERTRAND of the excellent, full-blooded DOMAINE GRAND NICOLET at RASTEAU, voiced this concern to me: "I consider the vineyard to be very tired, and I trace that back to 2003 [the year of extreme heat, hundreds dying in PARIS]."
JÉRÔME MATHIEU of SAJE, his own CHÂTEAUNEUF-DU-PAPE domaine created in 2015, talked about the new challenges in the vineyards this year: "it's now that we drill the holes to plant the new vines. It's extremely hard to make those holes now, and our work would then be destroyed if we then experienced three months of rain. There is only 5-10% humidity in the dry zones – there's dust everywhere. Each time you pass through the vineyard, you dry it by around 10 cm, so growers who have done 10 to 15 vineyard passages are in trouble. I have adapted already, and am going through the vineyard less as a result of the drought."
Vineyards whose soils weren't worked during the growing season had lost their leaves by the first half of October, 2017. Oak truffle trees and plane trees are also showing signs of stress. There is no local trade in CÈPES, which are being shipped south from the ARDENNES for the stylish L'OUSTALET Restaurant at GIGONDAS. The outlook for the TRUFFLE season is dodgy, as well.
Lastly, a poignant note about the predicament for nature. I was returning to my bed and breakfast one night after dinner, and heard a rustling in the dark. Normally one would think of a rat, but no, there was a toad, a crapeau. He or she was moving in a pile of leaves behind a small terracotta flower bowl. The leaves are now so dry that any movement in them gives away your existence to a potential predator. I returned to my car to retrieve some water to pour on the leaves around the toad, but the plight of the birds and more aquatic species must be immense at present.