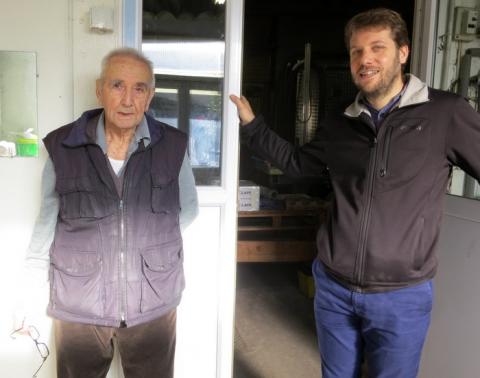 VERY HOT, VERY DRY, REDUCED CROP
AUGUST 2017
As the RHÔNE swelters under temperatures touching 40°C, the vineyards are heading for a blockage in their ripening season. Crop has already been reduced by coulure (flowers failing to convert into fruit) in both the NORTHERN and SOUTHERN RHÔNE. At CORNAS, OLIVIER CLAPE estimates a loss of around 30%, for example. "Flowering coincided with an enormous burst of vegetation growth, prompted at source by the heat in April, and the vines couldn't place their energy everywhere at once," he says. "We look like harvesting our SAINT-PÉRAY around the end of August, the SYRAH for CORNAS a week or so later.
"The second week of August may have some rain, and fresher conditions," he concluded, perhaps somewhat hopefully.
In the SOUTHERN RHÔNE, high speed Mistral winds in the third week of July also concentrated what are small grapes already. There are growing signs of drought, as reported by DOMINIQUE AY of the excellent DOMAINE RASPAIL-AY at GIGONDAS: "it was 28° to 35°C during July, and is near 38°C now. Depending on the soils, there is drought – though the signs of yellowing leaves haven't come through. Old vines with their deep roots are OK, but vines under 10 years' old are more drought affected. Some plots have zero crop, others are better."
The main impact of this news of shortfall will be pressure on prices, with the much acclaimed 2015 and 2016 vintages carrying a strong following among drinkers and investors alike. At least the crop is healthy for now, but the prospect of a drought-style vintage situated somewhere between 1983, 1989 and 2003 lies ahead.