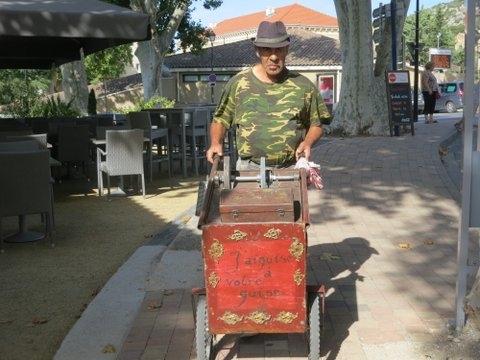 2013 VINTAGE REPORT
EARLY OCTOBER 2013
2013 VINTAGE REPORT: the vineyards continue to advance at the most sluggish rate. However, hands are being forced by the rain that fell all over the Valley on Sunday 29 September, 2013. Until then one important blessing had been the stable, dry weather of September. It is a question of getting in the crop in the early vineyards, as the spectre of rot grows, temperatures between 24° and 28° being unseasonably high and provocative for the season. This may last until 4 October.
In the SOUTHERN RHÔNE, CHÂTEAUNEUF-DU-PAPE, one of the most precocious vineyards, have harvested much of their SYRAH, but the GRENACHE NOIR is still only just being picked here and there. Some domaines there have not harvested a grape yet. The village received 20 mm (0.8 in), Courthezon in the north-east 22 mm and just south of there, Bedarrides 30 mm (1.2 mm). Many growers will attack their harvest properly from 1 October, having let the vineyards dry for a day. Matters are indeed on something of a knife edge.
At RASTEAU, ROBERT CHARAVIN of DOMAINE COTEAUX DES TRAVERS told me: "we had 45 mm (1.8 in). We hope the weather holds now. We are starting now on Syrah from garrigue [warm] soils." From GIGONDAS, LOUIS BARRUOL of CHÂTEAU SAINT COSME reported rainfall of 50 mm (2 in); "we will see," he said, since our Grenache still isn't ripe."
The NORTHERN RHÔNE, more accustomed to late harvesting, is also slowly upping the ripeness levels, but expectations are for a reserved, unshowy vintage. I have confidence that the best domaines, those that know and run their vineyards with intimate care, and who sort crop precisely, will emerge with sound wines. It is in some ways easier to be precise with a patchwork of small, half hectare plots visisted constantly on foot, than it is with rolling lands of ten hectare plots visited by tractor or 4 by 4, as can be found in the South.
From CORNAS, OLIVIER CLAPE gave this rundown: "we had 50 mm (2 in). We started on our white grapes on 25 September, then the Syrah the next day. We are very pleased we did start then, with harvesting on the low slopes now, since rot is arriving at the gallop. There is still a lot of harvesting to be done across CORNAS as a whole."
A final word from PAUL ANSELLEM of DOMAINE GEORGES VERNAY at CONDRIEU: "our rainfall here was 37 mm (1.5 in). We are starting on 1 October with the Coteau de Vernon."
NEW FEATURE for www.drinkrhone.com : I am also launching an occasional, simple Subscriber email which will nominate a high Value, STGT or w.o.w. wine, an estate to note and perhaps a restaurant as well. For the first one, the wine is LA CELESTIÈRE, a VIN DE PAYS DE VAUCLUSE red, DOMAINE L'ECHEVIN at SAINT-MAURICE, and RESTAURANT LA FLEUR BLEUE at CRESTET.