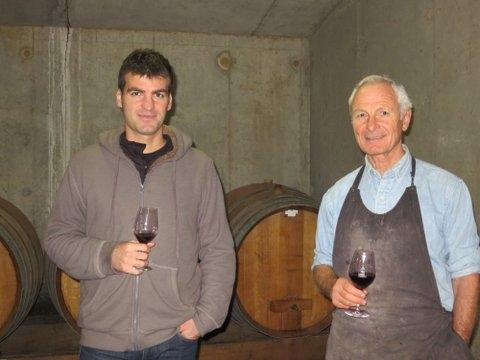 2012: COOL FRUIT FOR COOL CATS
NOVEMBER 2013: a clearer picture of 2012 is emerging in the Northern Rhône, after tastings of over 500 wines. The cool fruit will please, and the structure of the wines, their shape, is more delineated and promising than that of the 2011s. Notes are being posted on CÔTE-RÔTIE for now. In the South, similar comments apply to 2012: the reds have better balance than the 2011s, and will be more interesting over time, as well.
2013 vinifications throughout the Valley have proceeded smoothly, with everyone is in need of a good rest after what has been a tiring, worrisome vintage – late, late, late; complicated at all levels regarding quantity and health of the crop, hiring people to harvest when the usual pickers were back in another country after the month's delay and so on. Tiredness, illness and drunkenness have all been observed! However, the colours on the Syrah reds are dark, the juice concentrated.
ALLEZ, CORNAS and AMIS! CORNAS (CHEVAL MASCOT) revealed a breathing problem in his latest race at Chepstow, when he finished fourth. He is now an 11-year old, and is described as a VETERAN. I know how he feels.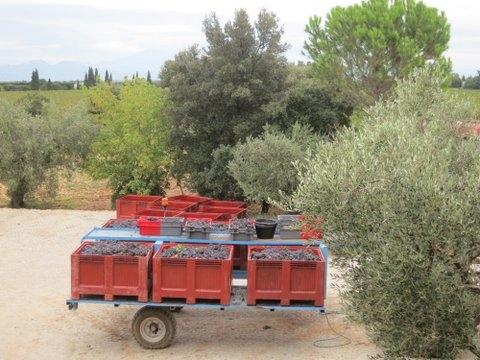 Rhône vinifications going well
NOVEMBER 2013
Growers across the Rhône, North and South, report their 2013 vinifications going well. At CÔTE-RÔTIE, yields of 30 to 35 hl/ha are encouraging. PATRICK JASMIN reported: "you had to harvest before the early October rain; I advanced my picking from 5 October to 27 September because of the weather and the forecast, and was glad I did; we had 30 mm (1.2 in) on Sunday 7 October, which brought botrytis, rot. My degree on the SYRAH ranges from 11.8° to 13.4°, and the wines have colour and structure." Yields at CONDRIEU, however, are low this year.
In the South, the late season has been fine, with pockets of rain among the generally mild days. Seasoning the GRENACHE so that its skins and tannins are ripe has been the final challenge. One can expect good surprises as always, but the 2013 Grenache expression may be subdued. Meanwhile, SYRAH and MOURVÈDRE have ripened well, and their degrees of 13.5° or a little more will help to stabilise the wines. Following on the footsteps of the clear flavours of 2012, 2013 looks like being a similar vintage, far removed from the baked ripeness of 2007 and 2009, and certainly in a vein similar to vintages of the early to mid-1990s or even the 1980s. The great difference with those earlier times, of course, is that both vineyard and cellar management are much improved.
RECENTLY ENTERED: a visit to CHÂTEAU DE BEAUCASTEL which involved tasting of the 2010, 2011 and 2012 BEAUCASTEL and HOMMAGE À JACQUES PERRIN reds, along with the latest BEAUCASTEL whites and COUDOULET wines. The FAMILLE PERRIN 2012s and some 2011s were also tasted. Some leading 2012 CHÂTEAUNEUF-DU-PAPE whites have also been entered. I suggest starting at 3 stars and above to reference those on the Search engine. I have been impressed by the whites and rosés of 2012, and the best 2012 CÔTES DU RHÔNE reds and 2012 VILLAGE reds also present themselves well. 2012 quality is more up and down than 2011, but the best wines are superior to the 2011s in terms of structure and balance.