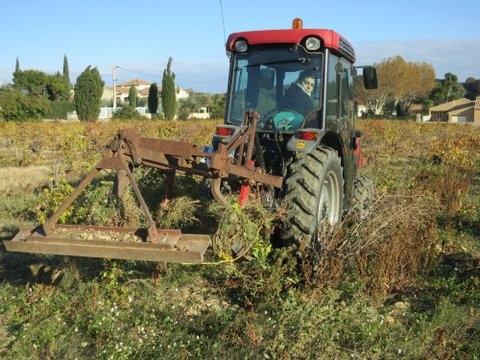 BACK TO WORK IN THE VINEYARDS
DECEMBER 2013: how swiftly the seasons roll on. Just as the malolactic fermentations have been occurring in the cellars, with 2013 harvest vinifications reported as presenting no challenges from north to south of the Valley, it is time to get straight into the vineyard for a series of winter tasks.
Some growers are preparing their holes for planting in the spring. The mortality rate of the February 2012 frost rose in 2013 in reality, since many old Grenache vines were not dead to the eye, but simply failed to produce crop. VINCENT AVRIL of CLOS DES PAPES at CHÂTEAUNEUF-DU-PAPE told me: "it has hit Grenache of over 40 years' old, and has been more catastrophic than was first imagined. A lot of vines revealed themselves as dead the next year, but then there was this series of vines standing there but not giving any crop – well, perhaps 3 to 5 hl/ha. The experts, the nurserymen, say we should wait, since it is only a lack of nourishment. That's hard to do, with the harvest so small. Just recently, with blight from the esca included, we have lost 3,300 plants per annum. The net result for me over the past six vintages is the loss of two whole harvests if you take the 2007 crop of 25 hl/ha as the standard average. 2013 has been just 13 hl/ha."
Holes of 60 cm (22 inches) are drilled at the rate of 250 or so a day, a rate slowed by the fact that plants here and there are dead, not those in just a straight line all the time. Growers such as LOUIS BARRUOL of CHÂTEAU SAINT COSME at GIGONDAS plant before the end of the year to benefit from the rains of the season - one year old plants that are protected against frosts. Others, such as MATHIEU BOUTIÈRE of DOMAINE DU PESQUIER, also at GIGONDAS, drill the holes in December, and plant in the spring, aware that they have to keep the holes watered and fed before planting.
Meanwhile, the basic task of tilling and turning the soils occurs, with pruning just starting now, later than usual, due to the vines keeping much of their foliage well into December this year. The three week delay in the 2013 ripening cycle will be absorbed over the winter months, however, and the 2014 season will re-start at square one as usual.