2013 VINTAGE REPORT
THIRD WEEK OF SEPTEMBER 2013
2013 VINTAGE REPORT: harvest 2013 gradually draws closer, but progress has been slow. The hope is that the seven to 10 days from 18 September onwards will be stable, marked by high pressure, Mistral wind in the south, and a lack of rain. In such conditions the already limited crop could concentrate, lose acidity, and gain in degree. Always remember the rule of thumb of a gain of 1° per week in the late stages of ripening – provided conditions are sound. Here and there in the more precocious parts of the South, varieties such as the VIOGNIER and the SYRAH are starting to be harvested.
NORTHERN RHÔNE: from GERVANS in the northern, hilly sector of CROZES-HERMITAGE, LAURENT FAYOLLE of FAYOLLE FILS & FILLE commented: "we have had good weather in early September, but in the third week progress has slowed because it's been cooler. The Syrah skins are very firm, but the balance in the grapes is improving. Our Syrah is at 10° to 11° now. We had 20 mm (0.8 in) of rain in the first week of September, and now need stable conditions. It's been cloudy with dribbles of rain here and there, but high pressure and good weather are forecast running towards the 26 September. Quantity will actually be OK, helped by two storms of 40 mm (1.6 in) each in the first half of August, rain at the same time as the veraison that served to expand the grapes. It's certainly my latest vintage since I started in 2002."
From CORNAS, VINCENT PARIS gave me this bulletin: "it's very late, but is presenting itself well. Our best Cornas Syrah is around 13°, the acidity is good, and the grapes are healthy. The later plots such as those at altitude will only get to 12° to 12.5° at most. We had 20 mm (0.8 in) of rain in the first week of September – it was interesting rain, since it fed the bunches after a long spell of dry weather. Since I started I haven't had such a late year, nor had such high acidity on my later zones, which is a challenge. I will start to harvest my Cornas on 25-26 September. This year SAINT-JOSEPH for me is closer in date to Cornas than usual, but is only at 10° to 11° at present [the vineyards are at 300 metres at ARDOIX, a late ripening zone]. The weather is fine now, at 20°C, rising to 23-24°C for the third weekend of September. For the time of year, nights have been fresh, around 10°C. I have to admit that it is years like this when I am very happy to have a south-facing vineyard like La Genale."
Up at CÔTE-RÔTIE, JEAN-PAUL JAMET had the following thoughts: "with rains returning every four to five days, it's not yet a problem – the grapes are sufficiently hardy still to resist that. I should think we will harvest around the first week of October, or later if the weather dictates [J-P Jamet is usually one of the last to harvest]. The vineyard is very healthy – we have stripped leaves off, tidied things up, so I am confident about the potential. Now we need to finalise things, so we have the potential for concentration and complexity. Quantity will be OK, without abundance, similar to the 1980s. If I had to select a couple of vintages like this, perhaps they would be 1996 and 1998 – the more direct, cooler years. Our Syrah is now around 10°. The early September rain around 7 September of 35 mm (1.4 in) helped us to avoid stress from dry soils. I expect the acidity, which is higher than ideal now, will show more this year. Nights have been fresh, down to 15°C, and today it is around 23-24°C."
SOUTHERN RHÔNE: VÉRONIQUE MARET, DOMAINE DE LA CHARBONNIÈRE, one of the top estates at CHÂTEAUNEUF-DU-PAPE: "all is fine; we will harvest our ROUSSANNE on Monday 23 September – it is at 14° now, and our CÔTES DU RHÔNE SYRAH is now at a healthy 13.8° to 14°. Across CHÂTEAUNEUF-DU-PAPE different sectors are giving different results; our ripest zone is on MOURRE DES PERDRIX and VALORI, on the sand near COURTHÉZON [north-east of appellation], where we are at 14°.
The GRENACHE is very much delayed this year," she continued, "so we still have crop around the cellars here at 12° - they are usually later, but are some way behind. Some vineyards are 50% down on crop, and my father says that the coulure on the Grenache reminds him of 1984; he is saying we have a 1970s to 1980s style vintage on our hands. Our yields will be 20-24 hl/ha. The last big rain a couple of week ago was 30 mm (1.2 in), which fell as the very first signs of hydric stress were starting in places. It is now cooler than usual, with mornings at 12°C, rising to 24-25°C, with fine weather and Mistral of 50 to 80 km (up to 50 mph) announced running towards 27-28 September.
The white crop such as GRENACHE BLANC and CLAIRETTE is also taking its time: the Clairette is at 10-11° now, the Grenache blanc one degree higher. We'll pick them at the same time. At VACQUEYRAS, our GRENACHE NOIR is around 14°, the SYRAH 13.8°."
Further north in the CÔTES DU RHÔNE VILLAGE of MASSIF D'UCHAUX, MARIE-PIERRE PLUMET of the good LA CABOTTE was calm and purposeful: "our VIOGNIER has advanced well since mid-September, and is now at 13.7°, so we are harvesting that on 20 September; the GRENACHE BLANC is at 13.3° now. The whites have good acidity, and their wines will be fine.
Yields on our GRENACHE NOIR will be around 20-25 hl/ha only, but the SYRAH, the MOURVÈDRE and the old CARIGNAN are all looking good. We will harvest the SYRAH around 25 September, and the main drive will come in the first week of October. Our last rain on around 7 September was 35 mm (1.4 in), and that helped to unblock the GRENACHE, so more rain now would not be welcome. The SYRAH skins are quite thick, firm, but are starting to fine down, and the current good weather is a great help. Our mornings are at 10°C and the days rise to 26-27°C. In our 32 years here we have never harvested as late as this year."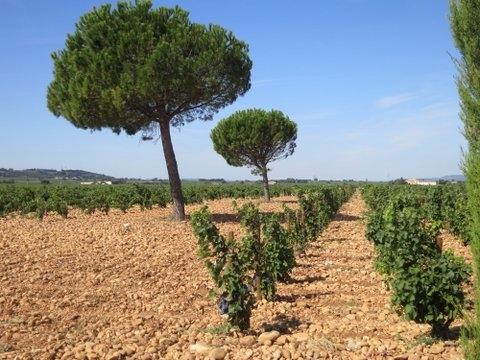 2013 VINTAGE REPORT
SEPTEMBER 2013
2013 VINTAGE REPORT: August and early September 2013 weather has been stable and warm in the Northern and Southern Rhône, as a ridge of high pressure has settled comfortably over the Valley. However, 2013 is shaping up as a vintage that will need considerable hard work, and even ingenuity, if growers are to produce good wines. Luck, in the form of the weather, will also be needed.
Putting aside the low level of crop, the problems are several. There is too much vegetation; vines are draped in Hotel Ritz blankets of green, deep green this year thanks to abundant water reserves, something not seen for a few years. The plants' energy is not all heading towards the fruit, thus. Conscientious growers are back in the vineyard cutting back leaves and excess shoots or spurs and exposing bunches as they realise what is (or isn't) happening. The complacent are still on holiday.
2013 CANOPY MANAGEMENT AT CHÂTEAU DE BEAUCASTEL, CHÂTEAUNEUF-DU-PAPE: THE PERRINS ARE MOST DEFINITELY NOT STILL ON HOLIDAY
The weather looks and feels great, with maximum temperatures of 26-28°C in the Southern Rhône. However, nights are cool - the temperature drops sharply from around 10 pm, and the day starts at 15°C or so, not really heating up until around 10.30 am. The heat then falls again from 15.30-16.00 hours. Hence the plants shut down and have to restart each day for only a little over five hours of proper, productive warmth.
Tests show degrees are struggling to rise. Tasting the grapes gives a little juice and a lot of residue skin, thick thanks to the long ripening cycle. On 29 August, 2013 GRENACHE grapes at CHÂTEAUNEUF-DU-PAPE, the precocious appellation as opposed to GIGONDAS, VINSOBRES and VALRÉAS, for instance, showed an average probable degree of 11.4° (27 Aug 2012: 13.8°), a total acidity of 5.4 (2012: 3.4), malic acidity of 3.89 (2012: 1.33) and a colour index of 424 (2012: 452). The 2013 SYRAH was 11.0° (2102: 14.1°), total acidity 6.40 (2012: 3.51), malic of 5.66 against 1.77 and colour index of 800 against 904. The 2013 MOURVÈDRE is similar.
The rule of thumb calculation is a gain of 1° a week, so we are stretching towards late September and October, and also assuming that the weather deals a fair hand; the Equinox has yet to occur, and the Episodes Cévennales – serious lashings of rains and floods that are built up by the warm water of the Mediterranean clashing with cooler Atlantic fronts – are predicted as possible this year. They stem in the Cévennes hills made famous by RL Stevenson and his donkey and travel north-east from there. The destruction in Vaison-la-Romaine in 1992 was an example.
The vintage trundles forwards, therefore, but I would not blame any grower for feeling uneasy about the outlook.