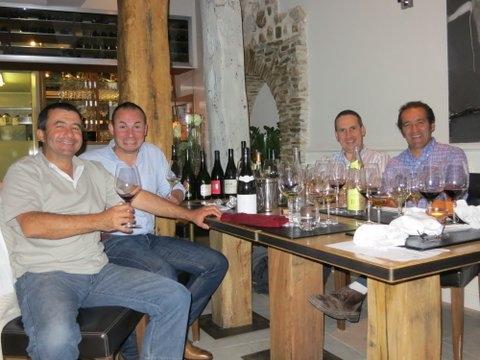 OUR BOOK TRIUMPH
MID-MARCH 2013
So the GIGONDAS, Its Wines, Its Land, Its People book, in French known as GIGONDAS, ses vins, sa terre, ses hommes has been given First Prize at the Annual Gourmand World Cookery and Wine Book Awards ceremony, held at the Louvre in Paris on Oscars weekend, late February 2013. Our very own Oscar, donc. The book's title was actually composed by yours truly sitting under the plane trees of La Place de Gigondas with a glass in my hand. So that saved a few thousand €€€/US$$$/£££ for starters, and the wine was really rather good, as well.
Then we had the task of translating it, with my part in English already, the rest in French already. The prize seems to have been awarded for the English version, so my English section was deemed up to scratch, it would appear.
The book will be entered in the Roederer Book Awards this year as well, and some other Awards further afield. For a collective effort, this is most pleasing, and brings the co-operative sense of the project to a most satisfactory level.
The score was Rhône 2 Bordeaux 0, since our book beat, among the other 4 short-listed titles, the Gault & Millau Bordeaux Guide for Hong Kong (presumably in Cantonese) and a French book on Saint-Emilion. Olympique de Marseille (OM) are above Bordeaux, les Girondins, in the French Football League, as well.
CAVES MERGER
On to matters plus sérieux: the economic squeeze is troubling for any wine producer whose image, pricing or brand loyalty is wobbly. The Beaujolais region is facing severe despondency, culling of domaines, bankruptcies, the culmination of a structure that has been uneconomic for many decades. In the early 2000s, the average size of a domaine there was a little under 5 hectares, and there was next to no co-operation between domaines, so each one had a wine press, tractor etc etc.
The Rhône has been spared the worst of the hardships, with the alliance between Co-operatives such as Laudun and Chusclan an actually healthy symptom of the crunch, or the presence of the vast, factory-like Cellier des Dauphins as a shareholder or main owner of Co-operatives a slightly less beneficial turn of events if one wants high quality, even though it keeps viticulteurs in business.
Now news comes of an integration between two of the largest, most high profile Co-operatives of the Rhône Valley– the BALMA VÉNITIA at BEAUMES-DE-VENISE, and the VIGNERONS DE CARACTÈRE at VACQUEYRAS. I have always preferred the wines of the former, to which I have a small emotional attachment. The latter Cave has lost growers such as JEAN-LUC FARAUD, now running a very good small domaine called MAS DES RESTANQUES at GIGONDAS, while the BURLE brothers of DOMAINE FONT SARADE have also quit the VACQUEYRAS CAVE, now sending part of their crop to LE VIEUX CLOCHER. Stories of harvest such as Syrah being picked at over 16° add to an unsatisfactory picture.
When living in Aix-en-Provence as a penniless student/writer in 1973-1975, my regular wine was the CAVE DE BEAUMES-DE-VENISE CÔTES DU VENTOUX, then VDQS or VIN DE QUALITÉ SUPERIEURE, red and rosé. It came in white Litre bottles with stars around the neck and a thin plastic capsule. Cost a Franc or so, bottles refundable when returned to the Cave, delivered in battered red plastic crates, the drinking often aided quite speedily by my old friend TIM JOHNSTON, now Proprietor of JUVENILES WINE BAR, 47 Rue de Richelieu, Paris, near the Palais Royale.
The Cave de Vacqueyras has over-emphasized marketing in my view, and also offered too many different wines, no doubt to satisfy the results of market surveys or focus group studies. Their Chief is ex-IBM and beholden to that world rather more than the world of Agriculteurs or Viticulteurs, in my view. The two Co-operatives will reduce costs in the future, and are working to come up with yet another glitzy joint name or sobriquet. At least Balma Vénitia is a title based on the place, the Latin of it. However, Question: where do you go after the height of generic blandness, Vignerons de Caractère? Answer: no idea.
From around 2,300 hectares, the joint enterprise will turn out about 8 million bottles.
RECENTLY ENTERED: a full Report on CHÂTEAUNEUF-DU-PAPE 2011 REDS. See THE LEADING WINES BY VINTAGE tab, then its side tab 2011 SOUTHERN RHÔNE. Some Domaine visits, also at CHÂTEAUNEUF-DU-PAPE: the promising DOMAINE DE LA BISCARELLE, the seasoned DOMAINE DE LA VIEILLE JULIENNE, where interesting, more terroir-focused changes have occurred since the 2010 vintage, and the peerless, Ne Plus Ultra CHÂTEAU RAYAS, whose 2011s are astounding. Also, the rock steady CLOS DES PAPES, always much sought after, the authentic DOMAINE LUCIEN BARROT & FILS of RÉGIS BARROT, who now he is past 60, spends half the year living on the beach with his new wife in the Philippines, and is set to hand on to his niece CHRISTELLE.
MID-FEBRUARY 2013: Can one have just too much of a good thing? A new James Bond film every month, a football World Cup every year, Glyndebourne Operas every day, champagne and caviar likewise? Well, unease is creeping into some areas of organic winemaking. The main reason I suspect is over supply.
Going organic – "bio" as the French term it – is certainly a passport to respectability, actually a rather devalued currency as there has been a landslide of arrivistes wanting to climb aboard the chic, save the planet wagon. This is no doubt much to the disdain or even disgust of the true pioneers, domaines such as MARCEL LAPIERRE in Morgon, and in the Rhône, GRAMENON near Valréas and DARD & RIBO at Crozes-Hermitage, to say nothing of the CHÂTEAU DE BEAUCASTEL and DOMAINE PIERRE ANDRÉ at Châteauneuf-du-Pape, who have been organic for longer than I have been covering the Rhône, but make very little fanfare about it.
The conversion of domaines attached to Co-operatives and those which do not have a tight-knit, assured sales network brings to the fore the trend supplied by the following figures: according to Inter Rhône, the open market price of 100 litres (1 hectolitre) of organic Côtes du Rhône red fell from €239 to €179 during 2012, which is still 55% higher than the conventional Côtes du Rhône price. This has been mirrored in Bordeaux, where the price of a 900 litre barrel has headed towards €1,300 against a level of €1,800 to €2,000 at the start of the current vintage campaign.
Part of the problem comes from the sheer amount of organic wine newly coming on the market. Between 2010 and 2011 the Rhône-Alps region production area rose by 15% to 4,691 hectares. Interestingly, a high profile organic area, Alsace, still lags some way behind the Rhône with production of 2,062 hectares, a rise of 19% over 2010. Languedoc-Roussillon, on the other hand, had 19,907 hectares under organic farming in 2011, a rise of a whopping 21% over 2010. Can I hear pips squeaking?
GILLES FERLANDA, the President of the CAVE DE VISAN, commented: "In 2012, a lot of domaines officially achieved organic status; the result has been that the volume available on sale has increased, without having the outlets for it. Overall, demand for organic wine doesn't exceed 1-2% if you take all sales channels into account."
The warning being issued to growers is thus this: make sure you calculate your cost price to avoid having to sell at a loss, and get your wines on the market as soon as you can in any given vintage.
For the Rhône, more recent, high quality names such as DOMAINE ROUGE-BLEU, with its tapping in to the USA market and blog-newsletters in English, will be fine, but one wonders about some of the less savvy, reticent growers who will certainly have to pound some pavements to make it pay in the future.