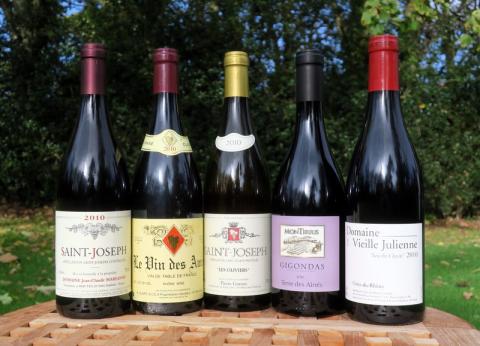 A LOOK BACK OVER THE FIRST TWO DECADES OF THE MILLENNIUM
NOVEMBER/DECEMBER 2020
THE NORTH, THE SOUTH AND THEIR WHITES
With a mostly healthy and abundant harvest safely gathered in for 2020, the third decade of the millennium is up and running. It's a good time to cast a look back over the first two decades, to gauge quality in runs of 10 years. Which was the better decade? Here are some selected years – subscribers can find the full review of the 20 vintages under the VINTAGE REPORTS tab.
2000 A mild vintage, soft tannins, approachable wines, aromatic in the NORTH; correct in the SOUTH, but a large crop diluted some of the REDs. There is less style in the fruit than 1999. It's a vintage short on real stars, a slippers beside the fireplace year.
N RHÔNE 6 S RHÔNE 6 WHITES 7
2005 Chunky, tannin-laden year, on the wild side, dark colours, energy, boom. Wines of character, demanding cellar time, can be stubborn. Not for the boulevardier consumer, more for the philosopher, probably a Nordic such as KIERKEGAARD. Still making their way. Decanting essential. High intervention winemaking - in pursuit of 100 points - in the SOUTH means the NORTH shades it. Firm WHITEs, capable of longevity.
NR 9 SR 8 WHITES 7
2014 Pests and flies, and rot, but you know what – there are some very pretty wines, so while most amateurs of body building felt cheated, I felt happy. Beautiful fruit in the best REDs, a serenade from CHÂTEAUNEUF-DU-PAPE CLOS DES PAPES, for example, and great, shapely WHITEs. A classic vintage – still – for la table, relaxed moments, Glou Glou on the go.
NR 6 SR 6 WHITES 8
2015 A mighty year in the NORTH, with large scale, abundant REDs, dazzling depth, heft in the tannins. The SYRAHs have tightened up recently, and must be left alone for another five years. It's a quieter vintage in the SOUTH, where late rain, followed by MISTRAL wind, came in early September to nourish the vines. Slow ripening, high degree GRENACHE, excellent MOURVÈDRE. Extraction in the cellar was a punishable offence. There is freshness, with tannins a little dry here and there, robust packing in the REDs.
NR 9 SR 7 WHITES 8
The challenge for the wines of the 2020s centres on two essential words and one desirable word:
BALANCE, FRESHNESS, PERSONALITY.
BONNE DÉGUSTATION TO ALL