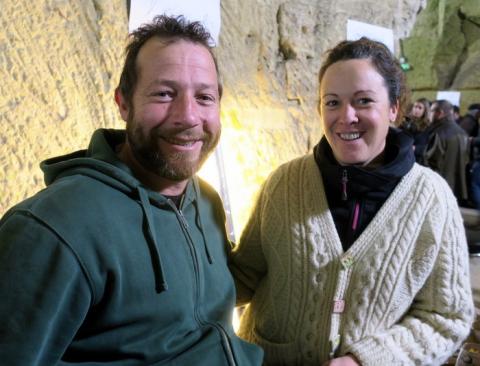 THE AGE OF SIMPLICITY
MAY/JUNE 2020
A RETURN TO THE ESSENCE OF A PAYSAN EXISTENCE
The Coronavirus has been hurting different segments of the wine trade, while a few have gained. If the sales model of an importer is based on the Hotel-Restaurant trade, there has been a scramble to change tack, to try to shift the model towards retail clients. But I know of companies now trading at 35% of their usual volume. Restaurants in CALIFORNIA have offered prized wines for sale in order to raise cash. Top class Sommelières and Sommeliers are on furlough.
On the flip side, well established retailers with good website and mail order systems report levels of business that resemble Christmas time at the very least, even if spend per bottle is a little down on that particular time of year. CHAMPAGNE is absent from many people's buying list, ROSÉ is soaring.
On the growers' side, the immediate task in the vineyards is to ensure that excess buds are taken off and that young shoots are attached before any wind damage. Soils, where they can be, are often worked at this time of year. Temporary labour is required for some of these tasks: that can be a challenge at present. Small domaines are also telling me that it's hard to impossible to ship orders at present. Sales of wines such as CORNAS from solid names have ground to a halt.
The virus pandemic has also steered people towards decisions that may have otherwise been postponed for some time during easier days. This situation has encouraged some to re-appraise how they wish to work in future, to take work-lifestyle decisions with the bigger picture in view. One such couple is PAUL and CHRYSTELLE ESTÈVE of the DOMAINE DES MIQUETTES up on the plateau at CHEMINAS, in the middle section of SAINT-JOSEPH.
PAUL was a CO-OPERATEUR with the CAVE DE TAIN, and has worked six hectares as the DOMAINE DES MIQUETTES since the mid-2000s, half SAINT-JOSEPH, the other half IGP. He has always eschewed the high profile route, hunkered down in his farm away from the limelight, and going for organic practices, as well as biodynamic ones latterly.
His wines are all made on zero-added SO2, with the leaning towards out and out VIN NATURE more pronounced recently. He also abandoned oak use from 2013, and most of his wine is now raised in buried amphorae, an inspiration taken from a visit to GEORGIA, south of RUSSIA.
With so much emphasis on bars and restaurants in big cities, the VIN NATURE movement is certainly feeling the pinch. The ESTÈVEs are part of that world – they sell most of their wine to what is termed the CHR [CAFÉ/HOTEL/RESTAURANT] trade in FRANCE - and this has collapsed.
When speaking to CHRYSTELLE recently, she explained: "with all the restaurant trade sales, commerce has been difficult; we will now be developing sales to local customers, but we also have decided to go back to being what we really are – we like to be paysans [literally peasants/country dwellers], and we want to be doing all the work ourselves, with no dependence on anyone else. That is why we are going to share the exploitation – the six hectares – and work with three hectares ourselves, which would allow us to be true paysans."
The idea is to rent out the remaining vineyards to friends or local vignerons/vigneronnes, with potential sharing of equipment. This has brought in a recent starter, ERWAN MASSE, a young man born in POITIERS in the West of FRANCE 33 years ago. He did his wine studies at BELLEVILLE in the BEAUJOLAIS, then moved around FRANCE working and seeing what he liked, taking in SAINT-ÉMILION, SAINT CHINIAN, the MÂCONNAIS, and finally, in 2013, the NORTHERN RHÔNE, which is where he decided to put down roots.
ERWAN is based in ARRAS, part of the middle sector of SAINT-JOSEPH; he originally bought a four hectare plot, of which under one hectare was taken with vines [for SAINT-JOSEPH] and apricot trees, the rest wooded and overgrown. However, the vines are at an altitude above the limit allowed to produce SAINT-JOSEPH after the 2021 vintage, so he next went in search of another location for a further smidgin of ST JO.
This he found on a site called LUBAC in the excellent commune of SAINT-JEAN-DE-MUZOLS. Having cleared its 0.7 hectare and unearthed walls and terraces which he wanted to keep and restore – "they were here long before me, for good reason" – ERWAN crowd funded via a website called MIIMOSA www.miimosa.com/fr/projets the final costs which involved the young SYRAH vines and their individual wooden stakes [échalas]. Their cost was €13,000, of which ERWAN needed €8,000 to complete their purchase.
In the event, more than €9,000 was raised; contributions started at €15, with the package for those giving €550 a domaine visit for two, a tasting, the aperitif with nibbles, your name on a cask, two nights at a bed and breakfast, six bottles and one magnum of wine. Now there is a tiny plot of 2018 SYRAH waiting to come on stream from one of the top three communes of SAINT-JOSEPH, the result of hard labour, graft and determination.
Added to that, the instant access to 0.8 hectare of SAINT-JOSEPH from an established, organic vineyard at SÉCHERAS previously handled by the ESTÈVES gives ERWAN an immediate propulsion as he sets out to establish himself. His story of a morsel here, a morsel there is very much one of the NORTHERN RHÔNE de nos jours. The idea of one door opening as another one closes comes to mind in an arrangement that is satisfactory for both parties, an arrangement prompted by the dreadful virus. No doubt more such stories will emerge in the months to come.