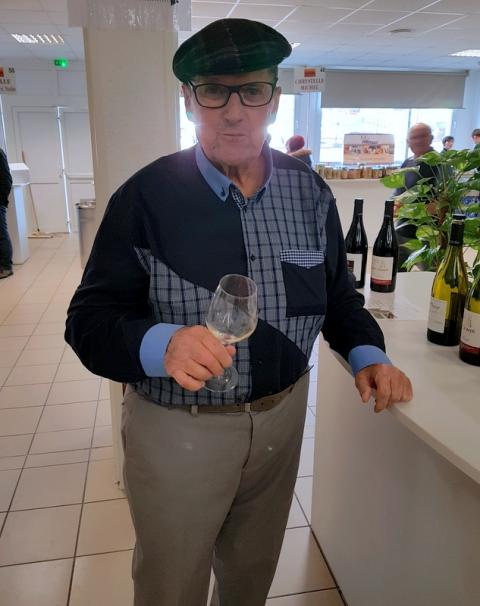 ALAIN VOGE 1939-2020: AN APPRECIATION
SEPTEMBER/OCTOBER 2020
TENACITY AND A HUNGER FOR WORK
ALAIN VOGE was a man without direct contemporaries at CORNAS, which set him apart from his milieu, the more so since he was suddenly obliged to take over the running of the family's then four hectares of vines in 1965 after the premature death of his father LOUIS.
By then, ALAIN had already experienced the horrors of the war in ALGERIA, events that stayed with him for the rest of his life; older than him, LOUIS SOZET was another CORNASIEN who had done time in that bloody event. "I learned to live there," he once told me, somewhat ominously.
His mother was a forceful, dominant, resolute personality, and when I first met ALAIN in 1973, he was wired and energetic, even a little chaotic, always in a hurry, as if he had to keep up with her firmly expressed wishes; his work ethic certainly tallied with hers. He had a lot on his plate: the vineyards and the winemaking, the commerce of the family domaine, but also activities of the VOGE family set up by previous generations.
There was the threshing machine service for wheat; there were fruit trees - apricots, pears, cherries; a nursery for vines, and most photogenic of all, the mobile alambic still that trundled into place on the side of the square at the end of each harvest, a fiendish assemblage of pots, pipes, spokes and boilers. It was a regular sight every autumn until 1980, used by many of the local domaines; to fit in everything in one working day while it was on the go, ALAIN would rise at 4.30 in the morning. In typical, gritty ARDECHOIS fashion, its spirit wasn't used for anything fancy like a Marc or Fine, but for surgical spirit, so everyone received a few Francs from the State.
As an ex rugby man for the then extremely successful First Division team VALENCE SPORTIF, their Number 8 at the back of the scrum, ALAIN was used to physical challenges. His drive led him to expand his vineyard, and to run with two appellations, CORNAS and SAINT-PÉRAY at the same time. Indeed his commitment to SAINT-PÉRAY was extremely strong, going as far as setting up a mini-Co-operative under the then good HOTEL DES BAINS, where I was a habitué during the 1970s – half bottles of old HERMITAGE LA CHAPELLE at no price at all, and a functioning of sorts tennis court beside a wonderful cedar tree.
The cellar master had worked at the SAINT-PÉRAY négociant of AMÉDÉE DUBOURG, and because sparkling SAINT-PÉRAY could not be made outside the village, ALAIN took the practical solution of hiring the space and the man for a group of about ten people, who included AUGUSTE CLAPE and a FRANCE TELECOM worker. It died a natural death once people started to sell their small vineyards for housing and the cellarman retired, with vinification subsequently allowed to occur beyond SAINT-PÉRAY – all the way in CORNAS!
In 1986, at a time when CORNAS was still on an unsure economic footing, ALAIN started to plant on what he called LA CÔTE, below TEZIER. ROBERT MICHEL, around six years younger and his nearest young contemporary, and AUGUSTE CLAPE also planted at that time, allowing a little momentum and statement of confidence in the future to develop.
His vineyard methods were traditional, with insecticides and pesticides employed, not especially detailed, allowing one old-timer to describe him as "a very good vinifier given the state of some of his harvest." But his association with ALBÉRIC MAZOYER who joined as the manager and part shareholder from CHAPOUTIER in 2004, led him, at times somewhat unwillingly, towards organic and then biodynamic practices, which he ultimately embraced.
By then his liking for new cuvées had enlarged his range of CORNAS to include a VIEILLES VIGNES – his top wine, and regularly in the four star and above bracket - and a wine called LES VIEILLES FONTAINES, while his SAINT-PÉRAY, from owned but also rented lands, had expanded to three cuvées, with an emphasis on new oak fermentation, started in the mid-1980s, with American as well as French oak used. The oak was most obvious on the - wait for it – CUVÉE BOISÉE, better integrated and emphatic on his more stylish FLEUR DE CRUSSOL, which received 18 months' raising when first launched.
Recalling ALAIN, PIERRE CLAPE told me: "ALAIN did a lot for the appellations of CORNAS and SAINT-PÉRAY; he was notable at spreading their reputation in the Restaurant trade, in LYON and VALENCE, but also widely across FRANCE. He was a very good communicator, and always liked to look forward, to have projects. His very latest was to enlarge the cellars under his house, but his wife ELIANE, was not much in favour of that." A woman of few, but pinpointed words, ELIANE is known at CORNAS as "The Sniper"!
The other aspect of ALAIN's later life that deserves maximum respect is how he kept going in the face of serious illnesses. He underwent a liver transplant in 1998, and for around the last ten years of his life he received kidney dialysis treatment three times a week.
The current manager of the domaine, LIONEL FRAISSE, took up the reins in 2018 after a few years alongside ALBÉRIC MAZOYER, so continuity has been assured - the 2018 VIEILLES VIGNES was a stylish, generous and convincing ****(*) wine, for example. If I were to toast ALAIN with one of his wines, I would select the 2010 or 2013 VIEILLES VIGNES, both years with STGT or Soil to Glass Transfer credentials, from recent vintages, or the 1999 from an older year.
The casquette at a jaunty angle, his staccato delivery intact and a smile for old friends, ALAIN was a true old soldier, a credit to the village and life of CORNAS, his rugged resolve well in keeping with his rocky surroundings. His was a life extremely fully lived.
RIP, ALAIN. May you be tinkering with new cuvées up in Heaven.