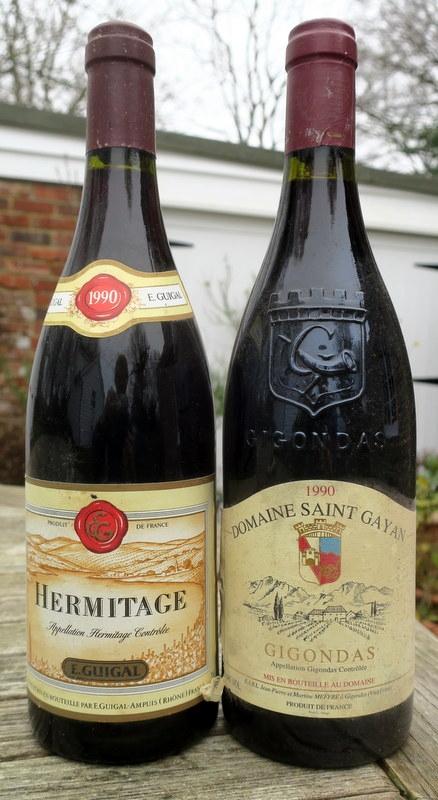 STILL CRAZY AFTER ALL THESE YEARS
JANUARY/FEBRUARY 2020
FRESH, WELL AND ENTERTAINING AT 30
Since I made my first RHÔNE visits in June, 1973, there have been three universally great vintages across the RHÔNE, both NORTH and SOUTH. They are 1978, 1990 and 2010.
With my future son-in-law BRENDAN chalking up his 30 years in JANUARY, 2020, it was an occasion to show him the wonders of such great vinous years. The two bottles selected were the 1990 HERMITAGE E.GUIGAL RED, and the 1990 GIGONDAS DOMAINE SAINT GAYAN RED.
1990 was a vintage of high sunshine, and completed what seemed like a trio of very good vintages. 1988 had been a dry year, with small, thick-skinned grapes and therefore firm tannins, but it was so far clear of the dodgy 1987 that it garnered attention for that fact alone. 1989 was a robust, full-blooded year, more sunny than 1988 and more generous of content.
1990 was impressive from the outset, a year with more sun and better balance than the previous two vintages. Its impact was immediate when tasted pre-bottling. At HERMITAGE, the harvest started around 22 September for vignerons such as BERNARD FAURIE, who, for the first time, spoke of cuvées coming in at 14°, his average around 13.5°. That was high for those days.
The difference with 1989 and 1988 was some August rain in 1990, a late in the month storm at GIGONDAS included, and that was the touch paper for its splendour. As JEAN-LOUIS CHAVE remarked, "nature was very generous."
My Tasting Note of what is now regarded as a legendary 1990 HERMITAGE LA CHAPELLE from PAUL JABOULET AÎNÉ, which I tasted from cask on 11 February, 1992, included "very ripened fruit aromas, a touch of surmaturité; perfect harmony of really big elements, very prolonged aftertaste, carries the great success of the tannins being completely enveloped by the fruit and the flesh. Challenging, Grand Vin, 30 years minimum."
The GUIGAL 1990 HERMITAGE [made before the purchase of JEAN-LOUIS GRIPPAT's 1.5 hectares in 2001, and the 2 hectares of de VALLOUIT, therefore pre-EX-VOTO] was raised for two years-plus, with no new oak – the new oak on it started in 1994. It was based on BEAUME and MÉAL, and was a wine that always lay in the shadow of the CÔTE-RÔTIES de la maison.
I bought a case of it on release, and have nibbled at a bottle here and there over the years. It has always shown well, with some reserve. The absence of new oak has always permitted it to be pleasingly more naked than many wines from GUIGAL. This bottle, with a very good level and a perfect cork, showed exemplary freshness, and bore the balance owned by only the very best vintages. It actually blossomed and improved from Day One to Day Two.
Its note: ****(*) good lustre in the red, pale topped robe. Smoky red fruits, lots of brightness at 30 years, notes of white pepper. The palate is also fresh, even linear, good bustle in its red fruits with cedar-smoke notes and tannins that sparkle. The main impression is how young, and Nordic, it is, with further gras and flesh to come around its spine. Has great style, true pedigree, the aftertaste salted. 13°. Day 2: violets, floral tunes on the nose, ground black pepper, mixed in with rocks – a bouquet of much elegance. The palate is getting into its stride, smoothing out, has brilliant length and a softer texture than yesterday. Up to *****, another 20 years.
Moving to the SOUTH, but not entirely, given the innate stamp of its fresh terroir, we come to GIGONDAS, and one of my favourite petits chous over three decades, the 1990 DOMAINE SAINT GAYAN, of which I bought numerous cases. Its composition in those days was 70% GRENACHE, 20% SYRAH, 5% MOURVÈDRE, 5% CLAIRETTE BLANCHE, CINSAULT from 14 hectares largely on the northern part of the GIGONDAS vineyard towards SABLET, clay-limestone with chipped stones, a little sand. Raising was two years in concrete vat, then one year in old barrels of 18 hl to 30 hl.
At the time, JEAN-PIERRE MEFFRE rated 1990 highly, ahead of a "sometimes very good 1986, a good-ish 1988 and a 1989 with its very big drought, and rather hard tannins that may soften with time."
My Tasting Note from concrete vat on 15 October, 1992, was ***** good dark purple robe. The bouquet is an earthy affair, lots of dark fruit and meaty, bosky aromas. The palate leads on striking fruit, really exemplary; it runs very well, the length is primo. There is good all-round substance here, very nice depth without being plush. This has great scope for the future.
I have drunk this wine at regular intervals, bar a stretch of two to three years around 2010 when it curled up, became grainy and dry, and led me to believe that its finest days might have been over. Now, at 30 years, it boomed out of the glass, the level and the cork also perfect: ***** good, clear ruby red; shapely, sensaround bouquet of appealing sunny depth, sweet plums, toffee apple, has a buttery association. The palate produces typical Gigondas freshness, a spine of menthol-cut, comes with real good forward movement, carries spiced, Christmas box flavours. The aftertaste has a discreet thickness, which is the main clue as to the high sunshine hours of the vintage. It's well orchestrated, well balanced, is a wine of detail, with lovely lift on the aftertaste. 14°. Day 2: nose is still vigorous, up front, more spiced than yesterday. Menthol and licorice prominent on the finish. This can certainly continue for another 15 years.
Both wines were remarkable due to their balance, which meant that the vintage imprint was barely noticeable – almost no suntrapping on the HERMITAGE, and just the thickness of the late texture on the GIGONDAS. Both these 1990s carry great detail and definition – study of them is well rewarded.
I am left wondering how the recent super-dooper vintages – 2015 NORTHERN RHÔNE, 2016 SOUTHERN RHÔNE, 2019 NORTHERN RHÔNE will show in 30 years – built as they are from dry summers, but increased heat levels compared to 1990. Will they show the same deft balance and detail? Bonne question, SHERLOCK.