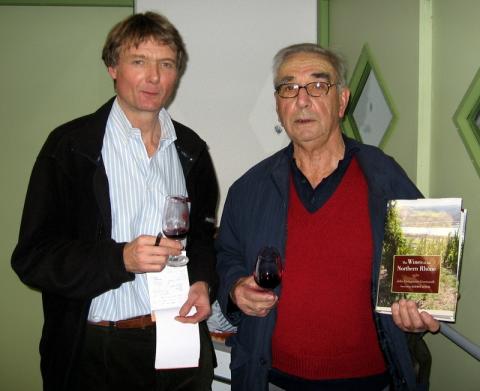 LEARNING ABOUT WINE
JANUARY-MARCH 2021
PEOPLE, PLACES, BOTTLES
Unless you train to be a winemaker, there is no one recognised route into learning about wine. This helps to multiply the cast of characters that can be found around the subject. For me, "self-taught" is inaccurate, since of course, one depends on others – those others being primarily people, places and bottles.
My early tutelage occurred in 1973 when I was taken off the streets of AIX-EN-PROVENCE, my home, where I scratched around backing horses in a PMU bar on LA PLACE DE L'HÔTEL DE VILLE and teaching English in MARSEILLE to the SOCIÉTÉ DES EAUX, the Water Company, and to JACQUES COUSTEAU's deep sea diving company COMEX.
Example: "you arrive in HOUSTON/ABERDEEN airport – how the heck do you get out of there?" "Err, bonger, je…" etc etc. The art of the French term se débrouiller – to literally unfog yourself – was delivered via my administrations. Little did I know that four years later, I would be in WEST AFRICA during coups d'état trying to do just that myself, but that is another story.
My still grand ami, TIMOTHY JOHNSTON, long time host of JUVENILE'S WINE BAR, rue de RICHELIEU, PARIS, lived in AIX, and at weekends would pour good wine, the lunches extremely extended, TIM noting each wine in a book, often with the label stuck in as well. Hence I received a good few flirtations with les bonnes bouteilles via his hospitality.
Chez my parents, Scotch whisky was drunk with vigour and volume by both Mum and Dad, with the occasional bottle of CHÂTEAU LYNCH BAGES, known as the Englishman's claret, Irish strictly speaking, at Christmas. Pas grande chose on the learning front there, then.
In March 1973, TIM suggested I came along with him on a visit to the LOIRE; he worked for MELVYN MASTER, an Englishman with a fabulous cellar, his father being a director of the Surrey-based brewery FRIARY MEUX. MELVYN based himself in AIX, the wise man, and exported French wines to the USA.
On this trip, I was exposed to the very, very bonnes bouteilles for the first time. The highlight was a visit to a négociant, BERNARD CHOYER, whose cavernous cellars hollowed out from the local tuffe stood near TOURS.
His maître de chai, a veteran clad in long black leather apron and miner's lamp, departed on the tram to find some bottles, and emerged with a MONTLOUIS 1959, followed by a VOUVRAY 1947 [older than me, wow!] and a SAINT-ÉMILION CHÂTEAU MICHOTTE [today CORBIN-MICHOTTE] 1929 – pre Second World War.
This is when things got serious. No larking around. Full concentration, but just as much as anything else, a deep, resonant tuning of the senses, as I sipped liquid history in all its serene glory. The MICHOTTE was delicate, aethereal, still in the game, just a little dry on the finish, but what it represented was much more profound than any on the day appraisal.
GÉRARD CHAVE, from whose wisdom I have drunk deeply over now almost 50 years, has always told me: "where is the truth? The truth is in the old bottles – before notoriety came along, with all the coverage and the modern methods."
As 1973 passed from spring into autumn, my circumstances changed substantially, meaning that by the Longest Day, June 21st, I had set off in my NSU 1200 TT, a white arrow with a rear engine and imminent threat of taking off if you pushed the very bendy accelerator to the ton, 160 km/hr - legal tender in those days along the legendary N7 road that linked PARIS to the MED.
My destination: HERMITAGE, to visit MAX CHAPOUTIER as a hired ghost writer [by MELVYN, a man of incessant ideas] for a new project called the WINES & RESTAURANTS OF THE RHÔNE. There was absolutely nothing written on the RHÔNE then, not a single book, just anecdotes or brief sections in books on the WINES of FRANCE.
More learning came my way in a rush then, the half day spent with MAX CHAPOUTIER encompassing a full vineyard visit to the Mighty Hill, kicking the granite rock and dirt on LES BESSARDS, seeing the rows of often chestnut casks, a legacy of the ARDÈCHE roots of the CHAPOUTIER family, and finally, being seated in a capacious pale brown leather armchair in the boardroom, served a 1961 HERMITAGE BLANC CHANTE-ALOUETTE followed by a 1947 HERMITAGE BLANC CHANTE-ALOUETTE. Another vintage older than me once more tickled my senses, while the title, the Singing Lark, added winsome appeal to these handsome, memorable wines.
By now, people, places and bottles were presenting a full educational onslaught. There was GEORGES VERNAY, attempting to halt the decline of CONDRIEU and its rare VIOGNIER variety – just 12 hectares of CONDRIEU in 1971, which, allied to the 1.7 hectares of CHÂTEAU-GRILLET down the road, was literally all that existed in the whole wide world, apart from the odd plant mixed in a jumble with the SYRAH/SERINE, mostly in the southern sector at CÔTE-RÔTIE.
At CÔTE-RÔTIE there was GEORGES JASMIN, whose father ALEXANDRE had come from CHAMPAGNE to be the chef at the CHÂTEAU d'AMPUIS, GEORGES born in 1904 and passing on wisdom that traversed two World Wars. A gentle request for magnums of the 1971 saw them hand bottled, hand labelled, the capsule waxed by Madame, as was the way in those days.
Or ETIENNE GUIGAL, a reserved man, a warrior for labour, who had worked at J.VIDAL-FLEURY, the owner JOSEPH VIDAL-FLEURY, suited and willowy, very much the SEIGNEUR of AMPUIS, the patron of the business from 1908 until his death in 1976. ETIENNE had hauled himself from basic vineyard tasks to being cellar master, then head vigneron. His keen, promising son was one MARCEL, who in 1984, 38 years after ETIENNE left VIDAL-FLEURY to start his own enterprise, bought LA MAISON VIDAL-FLEURY and made it part of E.GUIGAL.
At CORNAS, there was the incalculable wisdom of AUGUSTE CLAPE, my hero, to draw upon. There was walking in the vineyards discussing soil vineyard care, exposure, fitting together the pieces of Nature's' puzzle, before descending into the gloom of the cellar where each plot's wine was tasted, judged, discussed, with an eye on what each one would bring to the eventual blend.
Meanwhile, the bottles were sending their messages of tuition. That autumn of 1973, I visited CHÂTEAU RAYAS in CHÂTEAUNEUF-DU-PAPE for the first time. LOUIS REYNAUD, a slight man with the air of a kindly professor of letters about him, softly spoken, twinkly eyed, remarked "oui, MONSIEUR LIVINGSTONE, il y a des jolies choses dans la vie" as I drooled over his LIQUOUREUX 1955 BLANC, a golden sheathed wonder.
This was followed by a seminal moment, on my own, in AVIGNON. Up for the cup after RAYAS, I drove there for dinner, and decided to visit the two star MICHELIN restaurant, the height of bourgeois respectability in the city known for its deep-pocketed residents [more stuffy, and an older vibe than AIX, even though AIX was known as the 16th arrondissement of PARIS], HIÉLY LUCULLUS. My clothes were scruffy, my espadrilles worn. I climbed the staircase to the first floor, and asked for a table.
With no prior booking, I was immediately on the back foot, make no mistake about that; coupled with my accented French and my stringy appearance, I was in the doldrums, and was duly shown to a miserable table well away from the coiffeured, CHANEL-clad clientele. "A lovely corner table for you, MONSIEUR," the lying toad.
"Right," I thought. Perusing the wine list, well before any notions of grub, I noted a SAINT-ÉMILION CHÂTEAU CANON, vintage 1945. In 1973, there were four vintages of the century – 1929, 1945, 1947 and 1961. Nearly all old bottles to be found in restaurants were BORDEAUX, some were BURGUNDY and SAUTERNES, almost no RHÔNE.
Here was one of the four. Good going. "That will do nicely", I surmised, so ordered it well before any dishes. It was decanted by a bemused sommelier, the level good.
My orange RHODIA 14 notebook at my side, I settled down to write about my dinner companion. It was fantastically balanced, long and aromatic, a silken delight. I particularly remember noting how many different nuances it delivered as it aired, little nudges and winks along its journey. Two pages of notes were taken.
"Can this wine really have been made while Europe lacked all sorts of vineyard labour, utensils, had no copper for spraying, a shortage of corks, and so on?" I asked myself. It was perfectly wondrous.
By the end of the meal, even the head waiter was visiting my table, and paying attention. Well, I got him into line alright. Then, a bit like the scene in BLOW UP with the YARDBIRDS, when DAVID HEMMINGS wins the fight for the piece of broken guitar, gets out in the street, looks again at it, and tosses it away, I paid the bill, took the empty bottle with me, and drove home to AIX to visit the MISTRAL nightclub. At least there was no fight that night, whereas MARSEILLE GANGSTERS and a VIETNAMIENNE proved my undoing there at a later date.
Such is EDUCATION À L'ANCIENNE, and I wouldn't have had it any other way.
Wishing all subscribers and readers a very BONNE ANNÉE 2021.