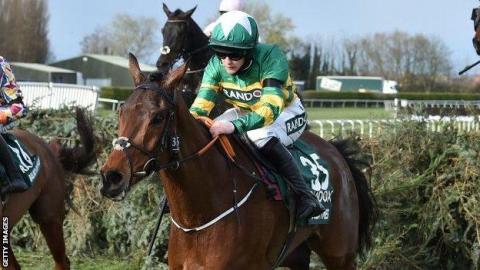 ONCE YOU MOVE FROM VILLAGES TO CRU, CAN YOU RAISE YOUR GAME?
APRIL/JUNE 2021
GO, RACHAEL BLACKMORE! GO RASTEAU!
RACHAEL BLACKMORE has been a jockey I have followed in Ireland for the past two to three years. She is extremely capable, and, had it not been for another rider's attachment to the most powerful stable, she would have been Champion Jockey of Ireland by now. As it is that gent is now injured, and RACHAEL has just won the Grand National for her classy trainer HENRY DE BROMHEAD, the horse MINELLA TIMES, one that did not go unbacked in the L-L household, running off a very handy low weight.
Rachael recently hit the headlines over here through her inspired riding at the Cheltenham National Hunt Festival, where she rode six winners over the four days (27 races open to her, but not a ride in each of those), showing immense tactical prowess and determination, mixed with bouncing back from falls, on one day three of those. Now the NATIONAL is deep icing on her cake - history has been made.
Her story has been written up, and here is part of it from the Racing Post of Sunday 28 March, 2021. A young trainer called Denise O'Shea had linked up with Rachael at Christmas 2015, when Rachael hadn't even ridden three winners; "I didn't know Rachael before she rode for me," recalls Denise O'Shea; "my regular jockey was at another meeting, and Rachael's agent rang me, suggesting her. I said we would go with her. About an hour later this new number came up on my phone. It was Rachael. She wanted to come down and sit on the horse. Maybe that's the sort of thing that happens in bigger stables, but it's not the sort of thing that happens to a small outfit like mine.
By turning professional, she knew she'd have to work ten times harder to get where she wanted to be. She always had the talent, but you have to put in the work and she did that."
From my point of view, Rachael, who at 31 is at the top of her game, allies tactical sense – where to have her horse on the track, with a view to besting other jockeys if in a tight pocket around a bend, for example - with very good judgment of pace, the latter allowing her horses to run efficiently over any distance from a fast 2 miles to a steadier 4.5 miles, as she did with Minella Times.
Rachael's story brought to mind what happens when a VILLAGES appellation is promoted to the ranks of full Cru, similar to Rachael's turning professional. There is work to do to justify the extra status, improvement has to be forthcoming. In the SOUTHERN RHÔNE, the most recent example of rising to Cru has been CAIRANNE, preceded by RASTEAU.
RASTEAU recently celebrated the first 10 years as Cru. Upon their promotion, I told ROBERT CHARAVIN, the lanky, forthright, kick-ass PRESIDENT of the GROWERS UNION, the SYNDICAT DES VIGNERONS, that they had three years to make their mark. My message was that at all costs, growers had to be driven away from thinking that Cru equalled licence to raise prices and sit back and watch the money pour in.
The key in such circumstances is Quality and Communication. Growers have to push to be more mindful of their vineyards, and to be more detailed in the cellar. Perhaps investment is required to make marginal gains – that could be equipment, better crop sorting, higher quality corks, a myriad of steps along the path from vineyard to bottle. It can mean hard work, just as it did for Rachael.
Communication is also important. The world needs to be aware that this is a vineyard to be reckoned with. There can be fun communiqués, convivial events – at RASTEAU, the middle of May in normal times is when there is a joyful walk for hundreds through the vineyards, a trek of some kilometres with the scenic accompaniment of the garrigue, the pine trees, the green oaks, and, of course, the pitstop for local fuel and food.
Rasteau has a good, active press office. Other promoted Villages from well before Rasteau are rarely in the footlights – one thinks of BEAUMES-DE-VENISE, VINSOBRES, for example, and one cannot but feel that they are missing a trick.
Rachael Blackmore is an inspiration to many people now, the secret is out, and her tale will encourage others to work harder, to improve, and to take nothing for granted. As it should for any French appellation when it receives promotion. Thanks a million, Rachael, as your trainer Henry de Bromhead was repeating over and over after the great race.
So, to find out how RASTEAU fared in their first 10 years as a CRU, log in, go to Wines and Tastings, click on The First Ten Years of Rasteau in the left hand column, and read a vintage by vintage report on this appellation.