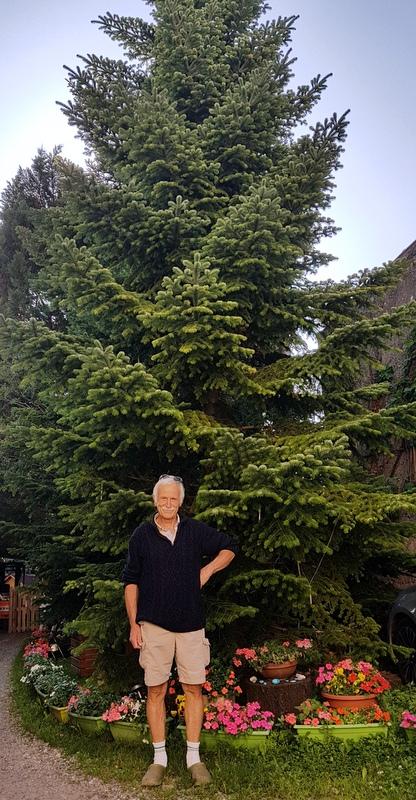 A VISIT WITH A DIFFERENCE
AUGUST/SEPTEMBER 2021
THE ZANY WORLD OF BERNARD FAURIE & HIS BUREAUCRATIC NEIGHBOURS
I have been visiting Bernard Faurie, the artisan grower of the Hermitage hill, since he left his factory job to cultivate the collection of family vines in 1980. We go way back.
From 2021, Bernard has relinquished most of his vineyard to his son-in-law Emmanuel Darnaud, retaining just a tidy 0.2 hectare on the wonderful Le Méal, vines planted by his father in the 1960s. These he will continue to work.
Emmanuel will be renting the other vineyards, 1.5 hectares in all, and needs to learn to make wine with the same lightness of touch as Bernard, not a given in an era when machines and muscle have often upstaged the thoughtful, hands-off approach.
On this occasion, probably somewhere near my 40th visit to Bernard, I found the great man in top form, scampering around even more than usual, and energized by the new reality of having more time to himself.
Now, a warning: if you see a seventy-something white haired individual wearing dark glasses whizzing towards you, be it in the streets of Tournon, or, more probably, in the hills above Tournon, it will be Bernard atop his electric scooter, taking absolutely no prisoners as he wheels along at great speed. The French for the scooter, trottinette électrique, is much more lyrical than the Anglo-Saxon, by the way, conveys images of high kicking Lippizaner horses stepping out.
"It goes very fast and well," he comments; "I had a bit of a problem with 5 cm of snow up at 1,300 metres – the scooter got through it well at first, but then the battery shut down," he says with marked disappointment, even bafflement. And the dark glasses? "I started wearing dark glasses to avoid being recognized."
On this visit, I tasted both 2019 in bottle and the new 2020 vintage; after the whites, there were half a dozen of his deeply coloured reds. 2019 is a vintage of which Bernard says "I like it well – there's a balance between tannins, power, finesse and elegance – and the wines travel straight, which they have to in my view."
Having finished the tasting, I informed Bernard that I had a rendezvous fixed 100 yards across the road from his cellars for my Covid PCR test, very kindly fixed up for me by Coralie Jasmin when I visited her family in Ampuis, thank goodness for that. Bernard is a refusenik on the vaccine, so could give me no advice on the procedure I could expect.
My obvious newly acquired problem was the state of my teeth and my tongue, blackened by the tasting of the bold reds of Hermitage. Bernard kindly provided me with a bottle of Evian which I proceeded to gurgle and gargle under his pine trees in the garden. The pine trees are splendid, and, testament to Bernard's green fingers, started life as his Christmas trees!
I then set off for the Laboratory Testing Centre, only to be met by a wall of typical latent French hostility as I announced myself to the receptionist – I could almost read the "Foreigner Alert – this man presents a problem" sculpted on her brow, backed by the aggressively delivered "you do realise that you have to pay for this?"
With much sighing and intake of breath from her, we commenced on the form filling. When we reached the contact email address on the form, I told her, in French, my address was jll . . . @ . . . drinkrhone.com. The fingers tapping the keyboard paused abruptly after the @ . . . She looked up and repeated, as a question "drinkrhone.com?"
I answered "oui . . . et j'espère . . . que . . . vous . . . drinkrhone…".
Wham! Light switch moment. She was transformed. Off we went, swapping comments, humour included. Surely they could not refuse me my test now, I thought. Then came the dénouement - in France, they only check your nose, so all my frantic Evian efforts were rendered surplus to requirements, while the cost - €50 - was at least half that of GB. You do truly live and learn.
BONNE DÉGUSTATION to all.