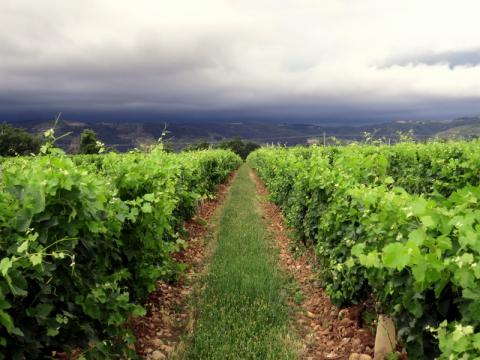 2021: ADIÓS ROLLER SKATES
JULY 2021
NORTHERN RHÔNE 2021
THE SPELL HAS BEEN WELL AND TRULY BROKEN
The run of vintages on roller skates, when ripeness comes along smoothly, crop quality is high, and yields are pretty decent, is over for the Northern Rhône. 2021 is reverting to pre-solar days, marked by constantly changing weather veering between sudden heat, sudden collapses in the heat and a proliferation of rain, some of it very heavy.
This is on top of the frost destruction on 8 April. The damage was set up by a very hot March – people eating outside in temperatures of 25°-28°C. "The vines also thought it was spring, and off they went," recounted YANN CHAVE at CROZES-HERMITAGE.
At CÔTE-RÔTIE, CHRISTOPHE BONNEFOND told me that his high vineyards on La Brosse lost 95% since they stayed in the shadow all that morning, whereas low zones in the same lieu-dit fared OK, high zones not – Mollard lost 90% at the top, nothing at the bottom. "On La Landonne, I decided to prune late and work against excess ripeness, so pruned in April, which meant the buds hadn't broken."
Frost hit vines have clambered back into some sort of contention, but it can mean that the same plant can have bunches ripening three to four weeks apart, with a lot of cutting and sorting needed come harvest time, a labour cost that will be high.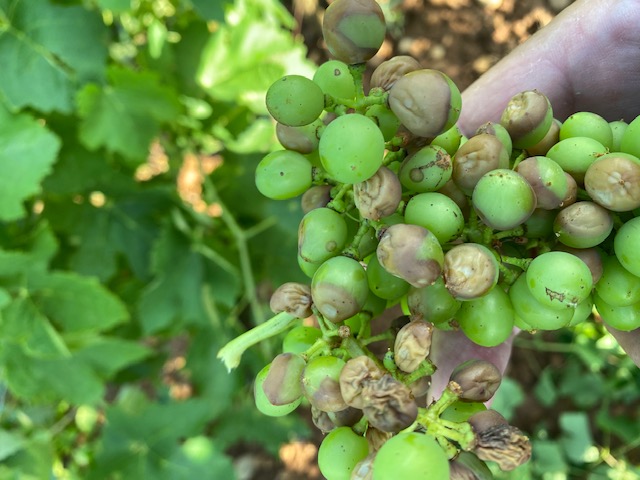 BLACK ROT ON SYRAH AT CROZES-HERMITAGE, JULY 2021
The late June, early July weather has brought the creeping menace of blight, with mildew and a relative outrider, black rot, on the agenda, the latter not seen since the run of hot years from 2009 started. Mildew is treated with copper, black rot with copper and sulphur treatments, but the latter's treatments are only 60% to 70% efficient, I am told.
Growers report that this year they have already gone past the total number of treatments for the whole of the 2020 growing season. Hail arriving unusually from the East also hit Mercurol within the Crozes appellation in late June, 30% losses there in some vineyards, very localised.
It's not all doom and gloom, though. STÉPHANE ROUSSET from the northern sector of hillside, terraced vineyards at CROZES-HERMITAGE told me: "yes, the rain means more work, but we have accumulated hot and dry years, and it's good to return to less extreme temperatures, especially as the winter was very dry. For me, the rain is welcome."
BERNARD FAURIE at HERMITAGE agreed: "the rain hasn't been negative, since it was so dry in the spring: we still need to catch up on reserves. I don't watch the quantity of rain – I watch how the soils conduct themselves – when they show a surfeit, that they are gorged, then there is a problem, not before."
THIÉRRY ALLEMAND at CORNAS is also sanguine: "c'est bien," he told me. "There's been a bit of loss from frost and hail, but it's an advantage that the vines are now growing well, flourishing, with large grapes forming. There won't be a lot of harvest, but it can be balanced."
It's unlikely that the harvest date will fall before mid-September, a good two+ weeks later than the sometimes record early harvest dates of 2020. The prospect of a second consecutive vintage that can express terroir more than extreme weather influences is encouraging for all amateurs of Northern Rhône en finesse.