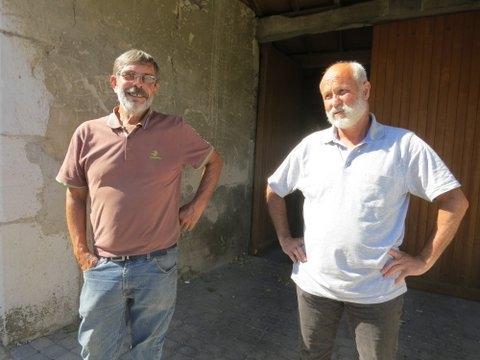 EXPECTATION IN THE AIR, ANOTHER GOOD 5 YEAR
SEPTEMBER 2015
There is something about a year that ends in 5. For now, 2015 is starting to resemble 1985, with a little of 2005 and 1995 in it as well. 1985 was a year of well balanced wines all across Europe, the fruit of a sunny summer. 1995 and 2005 were both very good, but more marked by strict tannins than was 1985.
Growers are happy, and a uniform theme is that of a homogenous ripening, across appellations and across grape varieties. Harvesting is under way, as befits a hot vintage with large tracts of dry weather. However, the saving grace this year has been well-timed summer falls of rain which helped the vineyards avoid stress during the periods of heat.
2015 NORTHERN RHÔNE
THIÉRRY ALLEMAND at CORNAS is well on the go, and ahead of the local pack. He told me: "I started my harvest on Saturday 29 August, and did another two days this week; I will finish on 8 September. The maturity is good – around 13° all over. I have done any cap punching yet, but the colour in the vats is black and joli. The yield matches 2011 more or less – a round 28-29 hl/Ha.
The last rain was three weeks ago – we had 11 mm (0.4 in) and the grapes aren't large due to the dry conditions. We have another two weeks with no rain forecast as well. The technicians such as the oenologues say this year will be like 1989 – hard and not balanced. I say it is a beau year, like 1999. One of the challenges is to extract only softly or to go slowly this year in the cellar. I am one of the few to have harvested here, and I know that if people go for a very, very ripe crop they risk overdoing the extraction and having wines that lack freshness and balance."
Elsewhere at CORNAS, the CLAPE family have harvested their whites, and started on their SYRAH on 5 September, as did FRANCK BALTHAZAR. Many have not yet started.
2015 SOUTHERN RHÔNE
There is optimism in the air across the region. From CAIRANNE, which is on the threshold of ascending to its own cru status, above a VILLAGE, DENIS ALARY, President of the Syndicat des Vignerons and owner of the accomplished DOMAINE ALARY, reported: "a superb vintage is in sight. The 120 mm (4.8 in) of rain in June was vital to allow reserves of humidity in the soils during the hot summer weather. It wasn't a real heat wave for us here – it was just hot for around 30 days, peaking at around 39°C, through most of July. August wasn't as hot as July. So it is a hot vintage but not a strong heat wave one as was 2003.
The third week of August rain of 35 mm (1.4 in) has been crucial – it was the first rain since June, and has allowed the tannins to soften, and will also allow ripening to be properly achieved. Ripening has been very homogenous this year, with no pests nor water stress.
The white crop has been harvested, and we are starting the reds now, this weekend of 5-6 September."
CHÂTEAUNEUF-DU-PAPE swung into action on the white harvest at the end of August, with estates such as PÈRE CABOCHE (makers of an aperitif, zesty style white), CHÂTEAU MONT REDON (aperitif, fresh and early drinking white), CHÂTEAU LA NERTHE (always one of the first to harvest) and PATRICE MAGNI fast to attack the white crop.
From there, JEAN-PAUL VERSINO of the excellent, traditionally styled DOMAINE BOIS DE BOURSAN gave this view: "it's been a very interesting year. With rainfalls at good moments, we haven't suffered from the hot weather. Here at CHÂTEAUNEUF the temperatures reached 35°C to 36°C, unlike the 40°C in AVIGNON." [of course, this takes us back to the time of Pope JOHN XXII, who between 1318 and 1333 organised the building of the CHÂTEAU to escape the high summer heat of Avignon. Voilà – the weather repeats itself].
"Yes, 70 mm (2.8 in) of rain on 20 June allowed us to get through the whole summer without water stress, so the leaves are still green. At the start of August, another small fall of 5-6 mm (0.2 in) was followed by around 25 mm (1 in) on 24-25 August. The bunches are looking good. One small worry was fog for a couple of days in early September – that's worse than rain. However, we have had Mistral wind after cool mornings, which are a very good help for the phenolic freshness.
All red varieties are moving forward well, with the MOURVÈDRE faster than usual thanks to the rain; the GRENACHE is 12.5° to 13.8° now, and the SYRAH 12.5° to 13°. If the neXt two weeks are fine, as forecasted, then I would harvest around 8-9 September for my SYRAH, and 14-15 September for the GRENACHE, and that would mean it will be a rich year, with dense wines, robust wines. There may be some low level of acidity, for example from the southern zone, whereas the acidity levels up in the north-west sites such as PIED DE BAUD and MONT REDON are good and fresh.
I expect yield to be 30 hl/ha without problem. So we are lined up for a classic Châteauneuf-du-Pape vintage, unlike the last vintages 2013 and 2014, which were either on low crop or lower ripeness than this year.
I harvested my white crop on 4 September – their balance is good, with the ROUSSANNE ranging from 12.8° to 14.5°. The white is very aromatic, very joli, with good matter and a nice richness."
GIGONDAS is always weeks behind CHÂTEAUNEUF-DU-PAPE, so frequently benefits from an Indian summer – a fine and warm September. This could be the case in 2015, with LOUIS BARRUOL of the top notch CHÂTEAU DE SAINT COSME, the new President of the Syndicat des Vignerons after FRANCK ALEXANDRE of DOMAINE LES TEYSSONNIÈRES, informing me: "I have felt for several months that we have a potentially major vintage on our hands – une Grande Année. The bunches have good shape, and the phenolic ripening of skins and pips, tannins is very beau, as well. Cool nights have helped.
The winter rain was a great help this year, which means that the vineyards didn't suffer in July, while another 60 mm (2.2 in) in August was also important, centred on around 50 mm (2 in) on 24 August. That's about five weeks before our harvest here, so it was well timed. If we can have another three weeks of good weather, then we have won the race.
The ripening this year hasn't been prey to what happened in 2003 and 2011, when the sugar ripening got ahead of the tannins – it has been a concerted process of ripening, which of course will help balance. The GRENACHE has done well this year, more than in the past two vintages.
As for yield – after the big crop in 2014, one would normally expect a reduced crop the next year. But luckily it's been OK this year. Our only hindrance has been black rot in June and July – this is very rare here, and in fact I have never seen it before in my time here, so that will be something that will return in future, I fear. We lost 5% from that.
I have harvested my white crop – they are attractive, but perhaps lack freshness, with the malic acidity low due to the heat of July. But their pH levels are good; my CÔTES DU RHÔNE white is 13°."