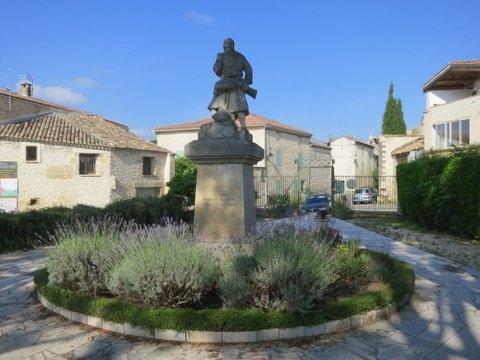 CHRISTOPHE DELORME: AN APPRECIATION
JULY 2015
Christophe blended local roots – his maternal grandfather was a founder of the Tavel Co-operative and his mother a Lafond – with outside drive and ideas. In 1998, he told me that he enjoyed the Tavel he was making in 1987, his first full year at the Domaine de la Mordorée when aged 25, but "the nose lacked aroma and freshness - it was cooked." With his degree in commerce, and having seen his father Francis successfully build and sell a business in nuclear industry clothing, he was not the sort of man to sit idly by and let that situation continue.
His solution was to extend the duration of the cool maceration of the crop, but also to install a destemmer, since a long maceration could bring vegetal and bitter elements to the wine. He also upgraded the press and the cooling system. There was no hanging about.
"It made our style of Tavel very different from the others," he told me, adding that after ten years, the other domaines had moved closer in style to Mordorée. When I asked him about the wine's longevity, or lack of it, he responded that one needed a lot of concentration behind the early aromas, and then the wine could live well; he pointed to a 1988 that had been fresh when drunk in 1996.
For me personally, Christophe's work with his red and white Liracs was outstanding. His Lirac La Reine des Bois red 2010 was exceptional, balanced and very long, while his whites, which I would often buy, were true examples of the capability of white Rhônes to flourish, pause, then flourish again over a much longer spectrum than most people appreciated. His Reine des Bois white 2001, when drunk in December 2010, held the body of a southern wine, but age had brought finesse, clarity and style – an evolution that would certainly have thoroughly pleased Christophe.
Christophe was the great enthusiast, always buzzing like a bee. Action always prevailed over introspection. There was his Condrieu project, with 0.75 hectare originally planted at Malleval in 2004; also Châteauneuf-du-Pape, where four plots were marked by a collection of wonderfully old vines, dating from the 1920s to the 1960s. As the son of a committed chasseur, or game sportsman, the title of the first special Châteauneuf in 2005, a wine not made every year, was La Plume du Peintre, named after the mythical feather of the woodcock or bécasse. The project was a great success, with his Châteauneuf reds becoming much sought after in the international market.
Never one to sit still, Christophe was prone to fretting, however. I have the image of him in his cellars, clad in slim fit Bermuda shorts and white plimsolls, striding around while talking to me, the chat accompanied by surging energy and arm gesticulations. He worried about the state of his vineyards at the approach of storms – something he could not control; he worried about the level of copper in the soil – something he could control, by cutting the level of copper that he applied to his vines.
His commitment to detail in the vineyard has been commented on to me by fellow growers; his zeal in this all-important aspect of a vigneron's life encouraged others to raise their standards. He was prepared to work with low yields in pursuit of increased quality; he ardently supported manual harvesting, regarding machine harvesting as a path that went one way – downwards.
He once lamented that "not enough growers around here really love their craft (métier)", and with his English speaking, his open mindedness to ideas, his restless spirit that in some ways went against his being a simple countryman, I have no doubt that at times he felt like an outsider in his own land.
Now he is gone, a whirlwind blown out at the sadly young age of 52. The more he knew and the more he learned, the more Christophe set himself new challenges; detail mattered to him. His pursuits were many: explore what could be done with the lees, see how much he could get out of the Mourvèdre, his favourite grape – "I adore it because it is difficult" - leave the top of vats of red wine open for three days before bottling, work on the fermentation temperature, dabble with his Embers Wine that reflected both his daughter Ambre's name (she had helped to harvest the grapes) and an experiment in noble rot, whereby 750 kg of grapes were required to make just 220 litres of wine, more than double the usual amount of crop.
Domaine de la Mordorée was also tireless in presenting itself and Tavel to a wide audience. Only in April 2015 did it show its wines – the only Gard domaine present – at the Marché des Vins de Cairanne. Christophe always made time to talk – at length if asked many questions – even when in the middle of events such as Vinisud or Découvertes en Vallée du Rhône. His enthusiasm and ability to summarise how things were going in the vineyards or in the marketplace never lost their upbeat, "anything is possible" tempo.
Agitator, man with drive and self-belief, who told me "that's what I'd really like to do – make Grand Vin," drawing his inspiration from Marcel Richaud and Frédéric Alary, both at Cairanne. Well, Christophe, dear Christophe, you achieved that. In your all too short life, you packed in more than many people could ever aspire to doing. Around the world your wines pleased, brightened and enhanced people's lives, while at home at Tavel, you won the respect and admiration of vignerons and vigneronnes for all you did for the village and its wines. May you rest in peace.