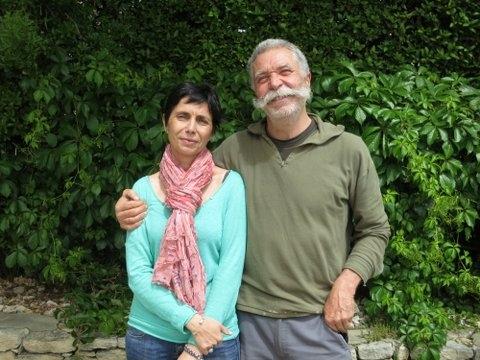 LEADING LIGHTS AT VACQUEYRAS
JANUARY 2015
DOMAINE LA FOURMONE is centred on 20 hectares at Vacqueyras; the 10 hectares of Gigondas are at 380 metres on Le Petit Montmirail, where there is limestone present in the clay, the vineyards surrounded by pine trees and garrigue outcrops. Concrete vat raising and low cellar intervention help the wines to retain freshness, and they regularly provide good value at around €11 for the Vacqueyras at the cellar door. The 2013 reds are above average in both appellations. Marie-Thérèse is also an accomplished painter, who likes to capture the vivid essence of her region in her landscapes. Her son Albin has been working on the domaine since 2011.
Serge Férigoule also has his son Frédéric looking after his vineyards. LE SANG DES CAILLOUX has been biodynamic since 2011. Serge rotates the name of his classic Vacqueyras every three years; they are named after his three daughters – Azalaïs (2012), Doucinello (2011), Floureto (2010) – while his old vines cuvée Lopy, which includes a good slug of Syrah dating from the late 1960s (it was rare to have Syrah planted at Vacqueyras then) and Grenache dating back to the 1940s-1950s, is produced every year. These are genuine wines derived from the heated lands of upper Provence.
Notes on 2013 GIGONDAS and 2013 VACQUEYRAS are now being posted. The great mass of 2013 NORTHERN RHÔNE REDS and WHITES are being tasted at the end of January, and notes will follow on them during February.
Meanwhile a very Happy 2015 to all readers and subscribers. Among the young vintages, 2011s will be showing well, as well as the 2013s from the lower level of the pyramid, their clear fruit and sparkling freshness attributes in the immediate term.