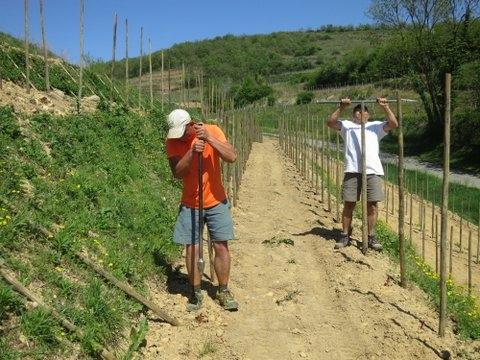 YOUNG SYRAH VINES AND THEIR WOODEN STAKES
MAY 2015
The clement spring has allowed growers to proceed with plenty of vineyard activity. Apart from tying the young branches to avoid snapping from the wind, there is work on the planting of new vines. In this case, PASCAL FAYOLLE is putting the stakes for 2,000 SYRAH on his newly grubbed out 11 terraces that cover 0.4 hectare. The ground was cleared in 2013, and then left until this year to allow the terraces to stabilise. It takes two men two days to drive in all the wooden stakes.
CROZES-HERMITAGE is indeed the appellation that I term the one of snow and snakes. In the northern sector, where soils are often a loose granite and high up, roads can be closed in times of snow. In the southern sector, which forms the majority of the appellation, I have seen crows feasting off road-kill in the form of a snake.
The northern sector wines bear red fruits, and fine tannins, whereas the southern sector wines more usually express black fruits with racy, streamlined tannins, and evoke the first footsteps towards Provence. "In 2014 I would like a little more depth and tannin on my reds," commented PASCAL.