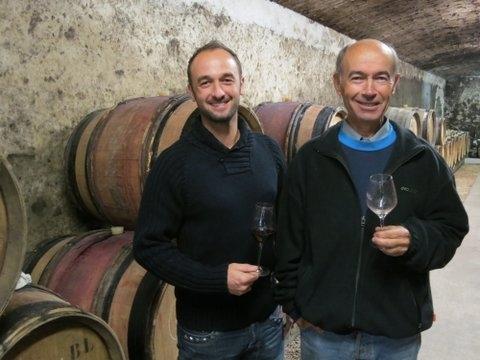 MOVING SMOOTHLY TOWARDS THE FINISHING LINE
AUGUST 2015
2015 NORTHERN RHÔNE
from HERMITAGE, MARC SORREL reports: "I was in the vineyard this morning, 3 August, and it looks magnificent. The last rain was two falls of 40 mm (1.6 in) on 10 and 16 June; since then, we had 8 mm on 31 July, and that's it. The June rain got us through July, when we had a good two weeks of canicule (very high heat), up to around 35°C at the hottest.
My SYRAH on LES PLANTIERS [low down, beside the railway], MÉAL and GREFFIEUX is joli; there is some stress on the high zones, where the soil is shallow. The veraison (grapes changing colour) has been very precocious this year, starting 12 July, and nearly all done now – it started on 2-3 August in 2013, for instance.
It's still hot, over 30°C, but I don't associate this year with 2003, which ran with high heat all across June, July and August. Perhaps 2009 was similar. The bunches are attractive, with good clusters and well-sizes grapes. The crop size is good, perhaps better for the SYRAH than the white grapes. At this rate, I might be harvesting the whites around 8-10 September, and the SYRAH five to six days later."
2015 SOUTHERN RHÔNE
from CHÂTEAUNEUF-DU-PAPE, LAURENT CHARVIN of DOMAINE CHARVIN reports: "the vineyard is very, very healthy. The only small thing was some black rot, which we haven't seen recently, but that's been sorted out. The veraison on the GRENACHE is 80% completed. There's no rot, and the yield is average size plus a bit. We had 10 mm (0.4 in) of rain on 31 July, with the previous rain between 60 and 80 mm (2.4 in-3.2 in) in mid-June. Here and there are signs of stress on the vegetation, but things are running well.
You have to remember that this is a region accustomed to temperatures at 30°C or more, so the heat this year hasn't been extraordinary. There is no comparison with 2003 – neither the same high heat nor the same drought. Nights have been warm, obviously, but are a bit fresher now. At this rate, I might be harvesting the GRENACHE around 8 September."