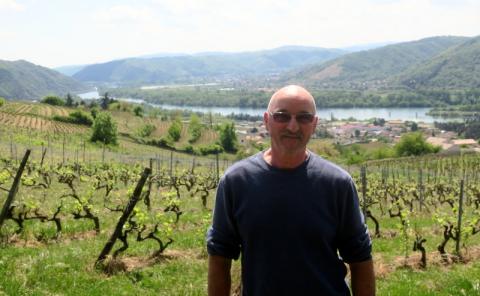 FOR SALE
JULY-SEPTEMBER 2022
RHÔNE VINEYARDS & DOMAINES: HOT DEALS
The acquisition by the GUIGAL family of DOMAINE DE NALYS at CHÂTEAUNEUF-DU-PAPE just before the 2017 harvest marked a step change across the Rhône Valley, since it signalled a clarification of what has historically been an undervalued vineyard region.
With buildings, equipment and stocks of wine included, the price per hectare pushed towards seven figures. It was a shrewd move by the Guigals, since acquiring 53 hectares across the Northern Rhône would have taken them years and years, with multiple purchases left and right to approach any such surface area.
The GUIGALs have since augmented their Châteauneuf holdings through the purchase of the once celebrated LES CLEFS D'OR, piloted into prominence in the 1960s and 1970s by JEAN DEYDIER, a domaine with good holdings across 18 hectares often near the village, including La Crau, Grenache of 1905 and 1950, and Les Pialons, 1946 Grenache present. It had been on a steady down trend in the past ten years.
There was also a further purchase of 6 hectares near Bédarrides in the east of the appellation, bringing the GUIGAL coverage at CHÂTEAUNEUF-DU-PAPE to 77 hectares now.
The GUIGALs moved once more this year, in May 2022 completing the acquisition of the splendid CHÂTEAU D'AQUÉRIA at TAVEL, an estate with a beautiful house and a grandeur of the past attached. Its owner VINCENT de BEZ had lost his fight against cancer, and this was another example of a vacant succession.
AQUÉRIA comprises 47 hectares of TAVEL and a connected 18 hectares of LIRAC from sandy, en finesse soils. Just as the purchase of NALYS gave CHÂTEAUNEUF added impetus, so the AQUÉRIA takeover will really push TAVEL closer to the spotlight.
Whether it is a post Covid effect or not, there are more transactions occurring now. Perhaps there are growers who a more ready to call it a day as life becomes more complicated. The incidence of mildew, frost and hail since 2018 has been high, and notably stressful, ongoing drought conditions also leading to reduced yields. 2021 brought more setbacks, some domaines wiped out by frost – no DOMAINE DU VIEUX TÉLÉGRAPHE VENTOUX in 2021, for example.
Interrupted sales is another pressure point – any dependence on the CHR Café Hotel Restaurant trade was punished during Covid, the entertainment sector across Europe now suffering from a lack of staff prepared to work the anti-social hours, especially at weekends.
Then there are supply line issues. Bottles are scarce, domaines forced to place time sensitive rosé in dark bottles, domaines waiting over six months for magnums and so on. There is said to be a, for once, genuine Ukraine effect, many bottles being made there in quieter times. The supply of bottle capsules is also under pressure.
The context therefore lends itself to those with no successor in sight to shrug their shoulders and sell. One example, from the Northern Rhône, is MAXIME CHOMEL, whose cellar and house stood in isolation above the village of Gervans at CROZES-HERMITAGE, with magic views of the River Rhône winding its way below.
MAXIME's son is an osteopath in Saint-Étienne, and not interested in taking up the baton. MAXIME started work at 16 and a half years' old, and is now 61. "I was an electrician at first, then have built up the domaine since 1983. I am proud that I managed to create a beau domaine, and to plant jolis terroirs," he says. Right next to his house was mainly apricot trees when he arrived, accounting for around 8 hectares.
"There's a lot of Syrah on loess here – usually it's Marsanne – and that gives a bit more length and a more silken side to the wine than the more powerful, aromatic wines from the granite," he adds. He is off to a house at ROMANS SUR ISÈRE with a garden and the approval of his wife, and is, I feel, a relieved man.
The purchaser of MAXIME's 10.5 hectares of Crozes and 1.5 ha of Collines Rhodaniennes Viognier is STÉPHANE VEDEAU, the owner of CLOS BELLANE at VALRÉAS and the SCEA LA FERME DU MONT based at Rasteau, which produces two very sound quality Châteauneuf-du-Pape reds, as well as Côtes du Rhône and Villages reds of a high standard.
STÉPHANE will be active from the 2022 harvest onwards, and the domaine will be officially organic from 2023. STÉPHANE told me: "I am very excited – about where it is located, an incredible location it is, one that gives me a lot of good vibes – it will be possible to make very elegant, fresh, pure wines." For one man relieved, another man excited, therefore – a spread of emotion on a personal level.
A similar situation faced the longstanding organic and biodynamic DOMAINE DU JONCIER of MARINE ROUSSEL at LIRAC. MARINE took over from her Pa, and faced some of the additional challenges of a woman on her own in the early days, always battling away to secure a successful continuation on the family lands.
Recent years have been difficult, with attempts at crowd funding to help upgrade facilities, followed by 2018, which MARINE termed: "a disaster – 7 hl/ha. I had to buy crop for my Côtes du Rhône red."
These have been wines with character, MARINE favouring years such as 2014, of which she said: "I like the offbeat years such as 2014 – they have elegance, freshness, purity. I didn't expect purity and balance – I was expecting wines that wouldn't be clean and clear. They aren't keeping wines, but they are charming."
The buyer in this instance, after the 2021 harvest, is CHÂTEAU MONT-REDON from CHÂTEAUNEUF-DU-PAPE, under the stewardship of PIERRE FABRE. In so doing, he has added a second biodynamic property to his portfolio, following the purchase in 2020 of the excellent DOMAINE DE L'ORATOIRE SAINT-MARTIN at CAIRANNE, where the ALARY brothers similarly did not have obvious successors to take over.
The transactions so far mentioned have all been by entities established in the RHÔNE. There are recorded examples of financial groups owning domaines – Insurance Groupama, for instance, were the old owners of NALYS, while CHÂTEAU LA GENESTIÈRE at TAVEL is in the hands of CHRISTIAN LATOUCHE, CEO of the Lyonnais Fiducial Group, finance and accountancy advisers. Their impact has been reasonably limited, though.
Since 2019 a new big beast has appeared in the form of MAISONS & VIGNOBLES STRASSER RADZIWILL, led by ARNAUD and ISABELLE STRASSER, a family from the board of the Casino supermarket group. Their first move was for a large part – over 13 hectares - of the DOMAINE LA MILLIÈRE in the north of CHÂTEAUNEUF-DU-PAPE, where MICHEL ARNAUD chose to sell after personal tragedy and a lack of a next generation. This has since been re-named LE PRIEURÉ DES PAPES.
It was followed by the purchase of old family, and reasonably priced restaurants La Garbure and Le Pistou in the village of Châteauneuf-du-Pape, not far from La Mère Germaine, its lease also bought, and now a flashy, expensive Michelin starred restaurant. A new wine bar-restaurant on the concourse near the Vinadea shop has also entered the portfolio, while the La Mère Germaine brand has been launched for three wine shops called Les Caves de la Mère Germaine situated in Paris [boulevard Saint Germain], Brussels and Lourmarin in the Lubéron. Are you keeping up at the back of the class?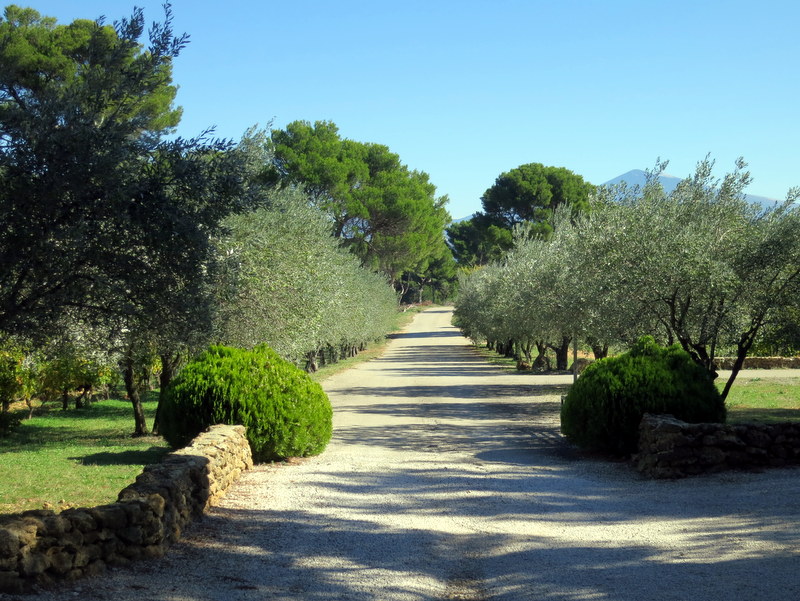 VIEW DOWN THE ENTRANCE DRIVE TO DOMAINE DE COYEUX
The real trophy in their spending spree in my view is the DOMAINE DE COYEUX, the 112 hectare estate high above BEAUMES-DE-VENISE, bought in July, 2021. This has the most glorious aspect, with stunning views of Mont Ventoux, air that is several times clearer and more intoxicating than that of the hot plain, and limitless potential as a country hotel.
Its backstory has been mixed since it ascended in a rush in the late 1970s under the colourful YVES NATIVELLE, a gentleman from an army cavalry family and an executive in marketing at Rhône Poulenc until his wine conversion. After good years of sales and success, he fell victim to a refusal to accept that a rogue beam of wood from a ship, a decorative piece treated with xylophène, had infected his cellar and penetrated every bottle he produced.
Eventually he sold in 2013 to the de Feraudy brothers, two locals who used to hunt on the property when young and who had since made their money in chemical recycling, as well as in fruit and vegetables from nearby Aubignan. They could not make it pay as they wished, sales of Muscat de Beaumes being difficult, so sold on to the STRASSER family, at what appears to have been a breakeven-plus rate.
With a world economy heading for recession, the future of marginal wine estates could be called into question, but, from my subject of enthusiasm, horseracing, one only has to look at the prices of young geldings [no stud fee potential] that fetch £200,000 after winning a modest point-to-point in Ireland, prices paid to achieve the "glory" of leading in a winner at the most esteemed meetings.
The Châteauneuf-du-Pape market these days suggests that €800,000 will get you one hectare of 30 year-old Grenache, which makes one realise that there is, as they say, a lot of money out there. For those on more modest budgets, perhaps €25,000 for a hectare of VENTOUX would represent decent value.
Make no mistake: the march of outside investors will keep going – a move that brings the Valley closer to the often internationally financed Bordeaux, where managers are installed as a matter of course. The halcyon days of the Rhône grower greeting you with "well lived in" hands are starting to fade, I regret to write.